(L'Ecume des Jours)
France/Belgium. 2013.
Crew
Director – Michel Gondry, Screenplay – Luc Bossi & Michel Gondry, Based on the Novel by Boris Vian, Producer – Luc Bossi, Photography – Christophe Beaucarne, Music – Etienne Charry, Visual Effects Supervisors – Arnaud Fouquet & Romain Strabol, Visual Effects – Be Digital (Supervisors – Benjamin Ageorges & Jean-Louis Dousson), Animation Director – Valerie Pirson, Special Effects Supervisor – Julien Poncet, Makeup Effects – Guillaume Castagne, Frederic Laine & Perrine Poirier, Production Design – Stephane Rozenbaum. Production Company – Brio Films/Studio Canal/Scope Pictures/France 2 Cinema/Herodiade/RTBF/Belgacom/Cinemage 6/Cinemage 7/La Banque Postale Image 5/Manon 2/Anton Capital Entertainment, S.C.A./Canal +/Cine +/France Televisions.
Cast
Romain Duris (Colin), Audrey Tautou (Chloe), Gad Elmaleh (Chick), Omar Sy (Nicolas), Aissa Maiga (Alise), Charlotte Le Bon (Isis), Sacha Bourdo (The Mouse), [uncredited] Michel Gondry (Dr Mangemanche), Vincent Rottiers (The Priest), Philippe Le Torreton (Jean-Sol Partre), Alain Chabat (Gouffe), Zinedine Soualem (Director of Weapons Factory)
---
Plot
Colin is a man of modest wealth such that he does not have to work. When his friend Chick, who is obsessed with collecting the works of the philosopher Jean-Sol Partre, announces that he has found a girlfriend in Alise, the niece of Colin's lawyer/chef Nicolas, Colin decides it is time that he found love too. He goes to a party and meets the peculiar and awkward Chloe. The two go out, fall in love and marry. However, while on their honeymoon, Chloe falls ill and is diagnosed with having a rare lily growing inside her lung. Colin finds that only treatment for this is surrounding her with flowers. Having given a chunk of his fortune away to Chick, who has spent it all collecting the works of Jean-Sol Partre, Colin finds that the medical treatments are draining his funds, meaning that he is forced to go out and get a job.
---
French director Michel Gondry became a cult director with his eccentric and highly creative music videos for artists such as Beck, Bjork, The Chemical Brothers, Daft Punk, Foo Fighters, Massive Attack, Kylie Minogue, Radiohead, The Rolling Stones, Sinead O'Connor, Kanye West and The White Stripes, among others. Gondry made his feature film directorial debut with Human Nature (2001) and then had the acclaimed hit of the memory-bending Eternal Sunshine of the Spotless Mind (2004). Gondry next went onto The Science of Sleep (2006), an appealingly delightful mix of romance, dreams and wacky surrealism, and came to Hollywood for the comedy Be Kind Rewind (2008), wherein Jack Black makes ultra-low-tech copies of popular films, and the disastrous big-budget version of The Green Hornet (2011). This was followed by the less high-profile drama The We and the I (2012) and the animated documentary Is the Man Who is Tall Happy? An Animated Conversation with Noam Chomsky (2013) and subsequent to this Microbe and Gasoline (2015) about two teen inventors on a journey.
Mood Indigo kicks in with one of the most bewilderingly strange openings in recent memory. We pass through Romain Duris's home where a man in a mouse suit (Sacha Bourdo) lives a perfect existence in miniature climbing up and down ladders to get to the sink and so on, even having a miniature glasshouse that the cook reaches down into for supplies. Meanwhile the cook, who is really a moonlighting lawyer (Omar Sy), gets aid from the head of a chef (Alain Chabat) that pops up to offer advice from tv screens everywhere and even hands him items out of the fridge. In trying to prepare the meal, both Romain Duris and Omar Sy are forced to try to catch eels as they pop in and out of the taps. The food is stop-motion animated while Duris and his guest Gad Elmaleh are served on a corrugated table and all the dishes are simply swept onto the floor when the next course comes. The doorbell is shaped like a mechanical bug that is constantly trying to scuttle away. Duris introduces Gad Elmaleh to one of his inventions – the pianocktail, which creates a cocktail mix depending on the type of music one plays.
After the dreadful Hollywood venture of The Green Hornet, Mood Indigo cheerfully puts Michel Gondry back in the same frame as The Science of Sleep – conducting a romance of sorts with all of the capriciously eccentric whimsy he can muster. The film is based on the classic French novel Froth on the Daydream (1947) by Boris Vian but Gondry is not terribly concerned about the plot, more in serving up scene after scene of visual nonsense.
Omar Sy takes Romain Duris to a party and teaches him a dance known as the biglemoi that involves something to do with them harmonising conflicting sound vibrations, which causes their dancing legs to become optically extended like a fairground trick mirror. In a charming scene, Romain Duris and Audrey Tautou conduct their first date by being flown across Paris in fairground bubble car that is attached to a crane and surrounded by fake clouds.
At the marriage ceremony, the two couples must have a cart race through the cathedral to decide which pair will be the winner and be granted the honour of being the ones who are married, while the priest (Vincent Rottiers) gets inside a streamlined metal Jesus-shaped rocketship and flies about inside the church. After marrying, Romain Duris and Audrey Tautou depart in a see-through glass limousine. They stop in an open field for a picnic, which takes place with a dividing line down the middle of the screen where on one side it is sunny and perfectly fine and on the other Romain Duris sits in pouring rain.
While Audrey Tautou is on the phone, she finds that the walls of her room have narrowed, while later they become circular where it is explained that "music is making the room round." Characters are pursued through the streets by a giant-sized shadow, which is then run over by a car. Diners have the difficulty of food trying to escape from the plates or else collapsible furniture that instantly springs back into place.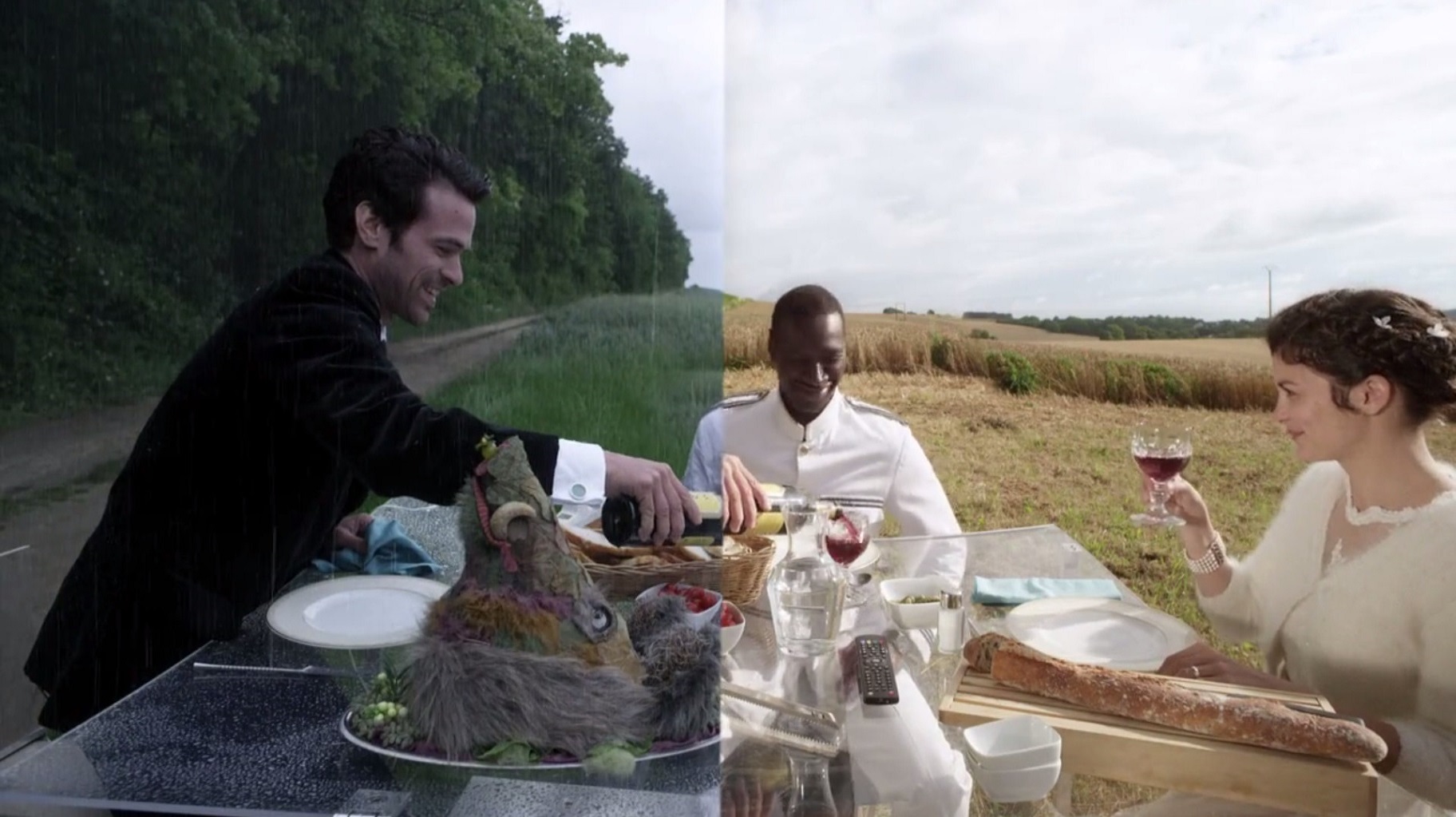 There is the wonderfully satiric image of Romain Duris getting a job in greenhouse that grows guns, which consists of human bodies lying on mounds of dirt where he is told that the warmth of the body is needed to keep the guns warm before they hatch – Duris is later fired because the guns he hatches have a bad habit of drooping. As Audrey Tautou becomes ill, the apartment where they live starts becoming smaller, where it and the exteriors are overgrown in fungi and the colour tone dampens eventually to the point the entire film is in black-and-white.
You feel that this is a film in the pure auteur sense, one where the nominal romance proves to be at most a springboard for Michel Gondry to jump off into all the wild and eccentric imaginings in his head. Creativity for creativity's sake alone. It makes for an appealingly silly fantasy. Unfortunately for Gondry, the film ended up being a box-office flop.
(Winner in this site's Top 10 Films of 2013 list. Nominee for Best Director (Michel Gondry) at this site's Best of 2013 Awards).
---
---