---
Crew
Director – Robert Day, Screenplay – David T. Chantler, Based on the Novel by H. Rider Haggard, Producer – Michael Carreras, Photography – Harry Waxman, Music – James Bernard, Music Supervisor – Philip Martell, Special Processes – Bowie Films, Special Effects – George Blackwell, Makeup Effects – Roy Ashton, Art Direction – Robert Jones. Production Company – Hammer/Seven Arts.
Cast
John Richardson (Leo Vincey), Ursula Andress (Ayesha), Peter Cushing (Major Hollis L. Holly), Bernard Cribbins (Job), Rosenda Monteros (Ustane), Christopher Lee (Billali), Andre Morell (Haumeid)
---
Plot
Palestine in 1918, just after the end of World War I. Discharged from the army, Leo Vincey and the ex-historian Major Hollis L. Holly are penniless. Vincey is then abducted and taken before the beautiful Ayesha who says she has been waiting a long time for him to return. She gives him a ring and a map and tells him to prove himself by coming to where she lives beyond the Mountains of the Moon. Vincey and Holly set out on an expedition, crossing the perilous desert wastes, to eventually arrive at the lost city of Kuma where Ayesha rules with a cruel hand. She tries to persuade Vincey that he is the reincarnation of her love Kallikrates from 2000 years ago, whom she stabbed after finding with another woman. She has bathed in the Flame of Eternal Life and waited the long centuries for him to return to her.
---
H. Rider Haggard was one of the great adventure writers of the 19th Century. Haggard travelled extensively throughout Africa and worked in various departments of the British public service abroad. He developed a love for colonial Africa and wrote several non-fiction books on the subject. Haggard produced a great many works of fiction, but the two he will remain most famous for are King Solomon's Mines (1885), which introduced the world to adventurer Allan Quatermain, and She (1887). Both works were legendary and Haggard sequelized them a number of times with eleven other Quatermain adventures and three She sequels, including She and Allan (1921) wherein both characters meet up.
She should sit up there along with Dr Jekyll and Mr Hyde (1886) and fairy-tales like Snow White and Cinderella as the story that has been adapted the greatest number of times in fantastic cinema. This was something like the tenth or twelfth film versions. (See below for other adaptations). Most of the adaptations of She were conducted in the silent era, which is probably apt as She is an old-fashioned Age of Exploration type of fantasy, a genre that has failed to make it into the modern era.
Along with Pierre Benoit's very similar and oft-filmed L'Atlantide (1919), She represents a peculiar melding of the Age of Exploration fantasy with a twisted image of sexuality. Like Bram Stoker and Dracula (1897), there is a great deal of repressed sexuality beneath the surface of the stories. Both She and L'Atlantide hold an image of woman as an impossibly beautiful but equally deadly object of desire (in L'Atlantide the immortal queen wears her lovers out and keeps their bodies preserved).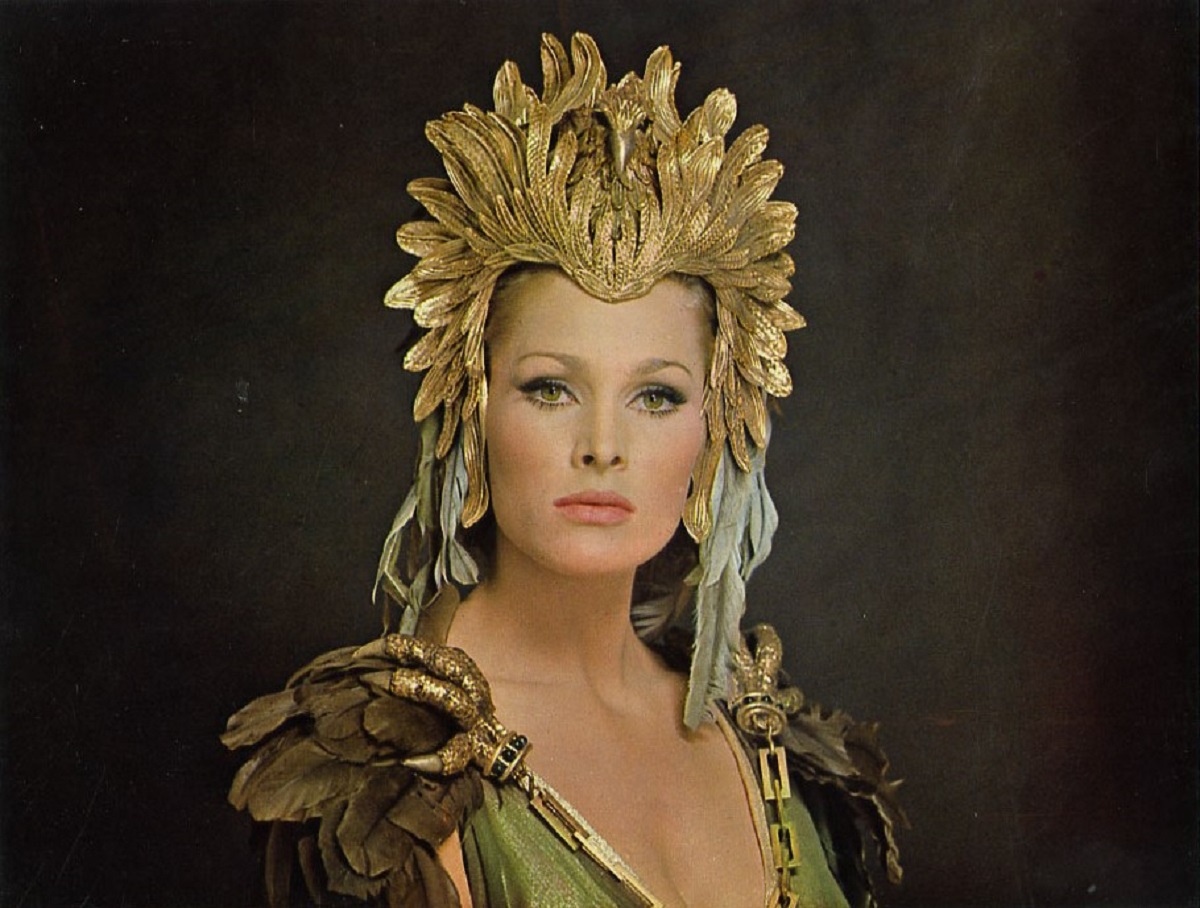 This version of She was produced by Hammer Films. Hammer were at their peak when they made She, having had enormous success with their The Curse of Frankenstein (1957) and Dracula/The Horror of Dracula (1958) remakes, as well as a host of sequels to these and various other remakes of classic horror works. She was the first in what is termed Hammer's exotica cycle and led to other lost world and prehistoric adventure films like One Million Years B.C. (1966), Slave Girls/Prehistoric Women (1967), The Lost Continent (1968), When Dinosaurs Ruled the Earth (1970) and Creatures the World Forgot (1971).
Probably the decision to remake She was inspired by the cycle of Cinemascope historical spectaculars of the era – films like The Ten Commandments (1956), Ben Hur (1959) and the Italian Hercules films. She represented a move away from Hammer's horror product, where Hammer abandoned their usual lavish studio-bound period surroundings to go outdoors. There does seem an awkward attempt to make She still identifiably a Hammer film – Hammer staples Peter Cushing and Christopher Lee are cast, but only in minor parts where it feels as though they are there because it is a Hammer film and they are expected to be there.
Unfortunately, She is also one of Hammer's dullest films. It aspires to the epically spectacular but remains doggedly earthbound. The trek through the desert feels as though it has been shot no further away than amidst Spanish scrubland and at no point ever gives the impression that the travellers are lost amidst an endless desert.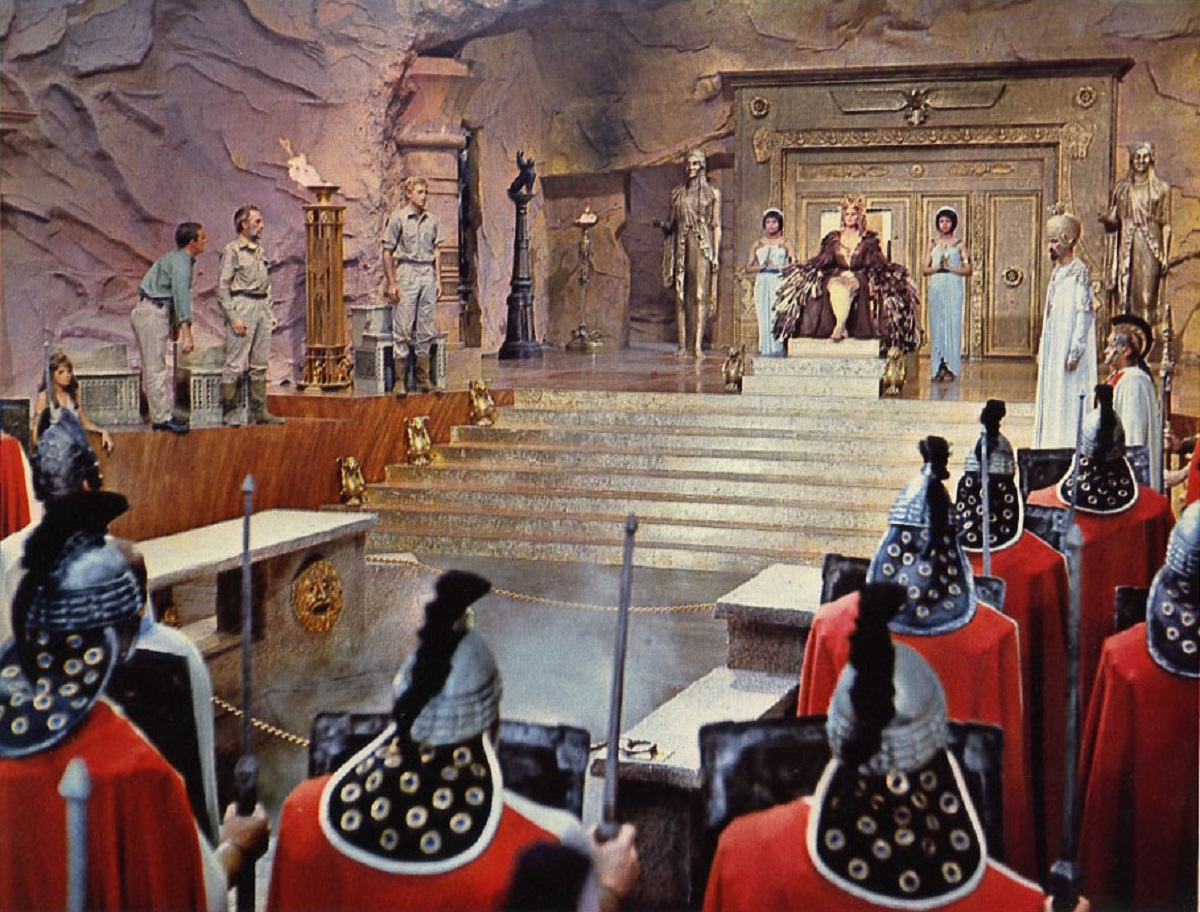 The sets for the lost city only achieve epic size lavishness on rare occasions – one such moment is the entrance to the city, which comes flanked by an enormous statue towering over it; another is Ursula Andress's appearance in a fabulous elaborate gold and feather headdress. But little else achieves this kind of spectacular and the film never catches one up in its sweep. Maybe the problem is just Hammer trying to conduct a Cinemascope spectacle on one of their usual economy budgets.
John Richardson and Ursula Andress are cast as immortal lovers but both are wooden actors who never convey any of the turbulent passion inside. The scene where Richardson bows down and accepts Ayesha's way is meant to represent a tragic fall, but the subsequent scene where the slave girl Ustane's ashes are returned to her father contains far more emotion than this does. Nevertheless, the ending where Vincey is left immortal after Ayesha dies and swears to wait until she returns is a far more interestingly downbeat ending than most lost world films and conveys some conviction.
Hammer made a sequel The Vengeance of She (1967), which retained John Richardson as Vincey/Kallikrates but recast the title role with Olinka Berova. This version is generally agreed upon as being disappointing by all who have seen it.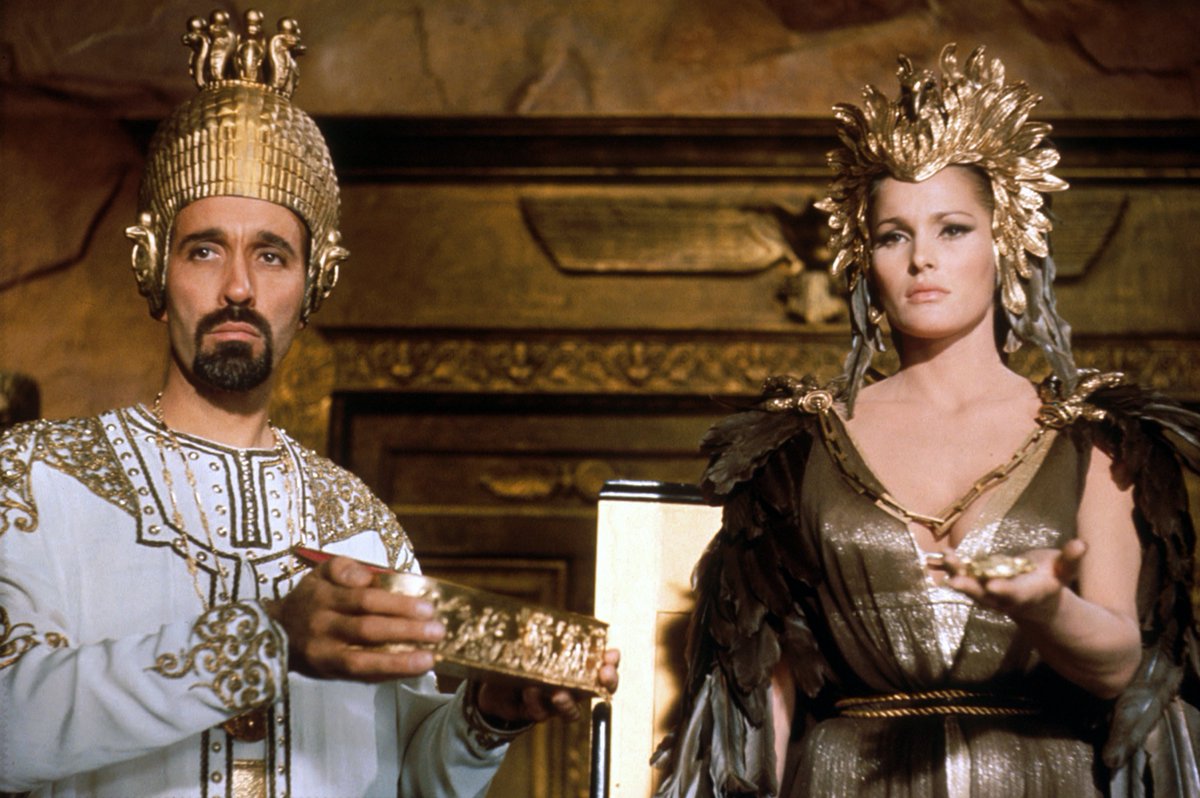 Other adaptations of the H. Rider Haggard story are:– Georges Melies's The Pillar of Fire (1898), She (1908), She (1911), She (1916), She (1917), She (1925) and the sound remake She (1935), as well as the subsequent international production She (2001). All but last three versions are lost. She (1983), despite acknowledging the H. Rider Haggard novel as its source, has nothing to do with lost cities or flames of immortality and is an incredibly bad post-holocaust film.
Director Robert Day made a number of other genre films. He imported Boris Karloff to England for The Haunted Strangler/Grip of the Strangler (1958) where Karloff plays a writer who becomes possessed by the spirit of a murderer, and Corridors of Blood (1962), where Karloff plays an experimental anaesthetist who goes awry. Day also made First Man Into Space (1959) and a host of Tarzan films – Tarzan the Magnificent (1960), Tarzan's Three Challenges (1963), Tarzan and the Valley of Gold (1967), Tarzan and the Great River (1968) and Tarzan and the Jungle Boy (1968). The majority of Day's work in the 1970s and beyond was in television, where he made a number of genre tv movies including Ritual of Evil (1970) about an occult investigator and the psychic powers film The Initiation of Sarah (1978).
---
---