---
Crew
Director/Screenplay – John Roecker, Producers – Tim Armstrong & John Roecker, Music – Tim Armstrong & Roddy Bottum, Songs – Roddy Bottum. Production Company – Hellcat Films.
Voices
Billie Joe Armstrong (Charlie Hanson), Nelly Posbourne (Sharon Hate), Theo Kagan (Hadie May Klutz/Susan Hatkins), Jane Wiedlin (Squeaky), Asia Argento (Habagail Folger), Tim Armstrong (The Narrator), Warren Fitzgerald (The Judge), Matt Freeman (Mr Habianca), Jen Johnson (Mrs Habianca)
---
Plot
In the year 3069, a nomad finds a copy of the book 'Healter Skelter'. This causes him to flash back to the story of the messianic Charlie Hanson who appeared to Susan Hatkins claiming to be the Son of God. Charlie gathered others and created a group that he named The Family and took them to live in the desert. While dumpster diving for food, the girls met self-absorbed, drug-addled Hollywood actress Sharon Hate who was dismissive of them. After learning that Sharon was coming to invade their desert to shoot a film, Charlie decoded messages from Beatles records to realise that God was telling them to kill her and bring about Healter Skelter.
---
Live Freaky! Die Freaky! is a debut feature film from John Roecker. Roecker has made Live Freaky! Die Freaky! as a Claymation feature. It feels like one of the shorts that appears in Spike and Mike's Sick and Twisted Festival of Animation having been spun out to feature length. If nothing else, an entire Claymation feature devoted to the story of Charles Manson and his followers must count as a first. Not to mention that the film revels in offensive bad taste that would put South Park (1997– ) or Team America: World Police (2004), which have been a clear influence, to shame. That is surely evident a few scenes in when Manson/Hanson appears to one of his followers Susan Hatkins, announces that he is the messiah and they engage in a vigorous bout of Claymation sex.
For a time, you get the feeling that Live Freaky! Die Freaky! is all over the place and just trying to be as offensive as possible in the hope that some of it sticks. However, there comes a point where the film suddenly finds its feet. And this is with the introduction of the film's equivalent of Sharon Tate. Tate is usually seen as a beautiful innocent with a bright future who was tragically cut down in mid-bloom. The film's spin is to cast her as a self-absorbed, drug-addicted celebrity airhead. As she is being beheaded, she is complaining: "The indignity of being killed by a commoner. What will the society page say tomorrow?" We are introduced to her in a biting scene where she drives by three of the Manson Girls as they are dumpster diving for food scraps and the conversation between the two plays out as a satirical class war.
A little later the film revels in its bad taste glory where we have Sharon's gay assistant confessing that he quite happily has sex with cerebral palsy and Down's Syndrome sufferers, before a coked-up Sharon demands that he put a rubber band on his dick, pretend she is a man and have sex with her. Even after the slaughter occurs, their severed heads are talking and she is complaining "Who's going to fuck me now? All my best features are on the floor" and demanding that someone finish getting her detached body off.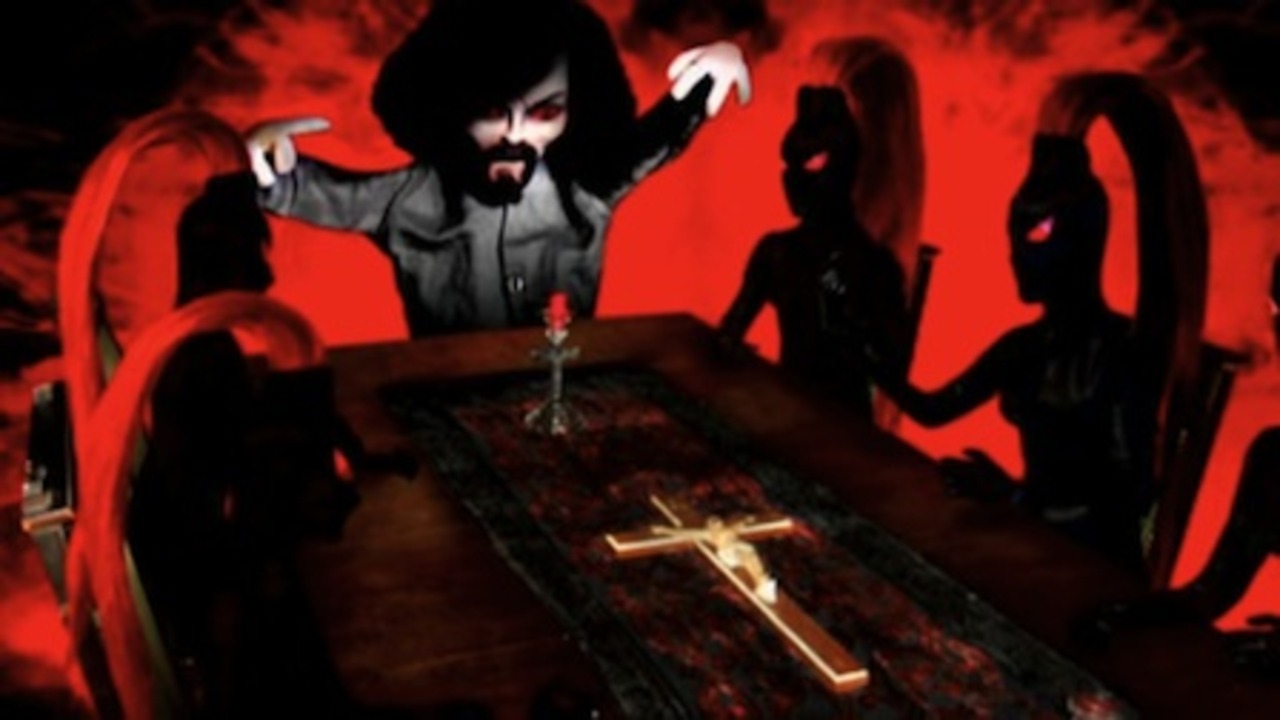 The film ends on a song sung by one of the girls All the Good Things (We Could Have Done), a beautifully lyrical piece that manages such savage rhyming couplets as "How are we going to survive/Not having Frank Sinatra skinned alive?/We can almost hear his curses/Peel off his skin and make them into purses."
One of the surprising things about the film is the cast line-up that John Roecker brings together, which consists of voice actors who are all better known as musicians, including Billie Joe Armstrong, the lead singer of Green Day, as Charles Manson (and other members of the group such as Tre Cool). In other roles can be found musicians such as Theo Kogan of Lunarchicks, Davey Havok of AFI, Jane Wiedlin of The Go-Gos, Travis Barker of Blink 182, Lars Frederiksen of Rancid, Sean Yseult of White Zombie and brothers Benji and Joel Madden of Good Charlotte, among others.
There have been a number of Manson-based works over the years including the tv mini-series Helter Skelter (1976) with Steve Railsback as Manson; the film The Manson Family (2003); the tv mini-series remake of Helter Skelter (2004) with Jeremy Davies as Manson; Leslie, My Name is Evil (2009), which focuses on the Manson Girls; the low-budget House of Manson (2014); Wolves at the Door (2016), a home invasion film about the Tate murder; Charlie Says (2018) with Matt Smith as Manson; The Last of the Manson Girls (2018); the bizarre The Haunting of Sharon Tate (2019) based around Sharon Tate supposed precognition of the murders;, the cheap The Manson Family Massacre (2019); Quentin Tarantino's alternate retelling Once Upon a Time in Hollywood (2019); and the documentary tv mini-series Helter Skelter: An American Myth (2020).
---
Trailer here
The song All the Good Things (We Could Have Done) here:-
---