USA/Germany. 2005.
Crew
Director – Harvey Frost, Teleplay – Pamela Wallace, Producers – Albert T. Dickerson III & Jeff Kloss, Photography – James Wrenn, Music – Mark Watters, Production Design – Yuda Acco. Production Company – Hallmark Entertainment/Alpine Medien/Larry Levinson Productions.
Cast
Steve Guttenberg (Nick Claus), Crystal Bernard (Beth Sawtelle), Mariette Hartley (Joanna Hardcastle), Armin Shimerman (Ernest), Dominic Scott Kay (Jake Sawtelle), John Wheeler (Nick Claus Sr), Marcia Ann Burns (Virginia Claus), Roark Critchlow (Mark Montgomery), Julie Ariola (Winifred), Kelly Hazen (Joanie)
---
Plot
It is eleven days before Christmas and Nick Claus, having now inherited the role of Santa from his father, learns that Christmas will lose its spirit unless he is married. However, he and Beth Sawtelle are unable to arrange their ideal wedding in this timeframe. Beth's only choice is to hand organisation of the wedding over to her mother Joanna Hardcastle. After they travel to Joanna's estate in Texas, Beth discovers that her mother is taking over control of the wedding and changing everything. Meanwhile, Nick is being forced to work overtime to organise Christmas and has no time to spend on the wedding plans. Moreover, Beth's mother has no Christmas spirit, meaning that Beth is unable to tell her the truth about who Nick is. Meanwhile, Beth's old flame Mark Montgomery turns up, determined to woo her back.
---
Meet the Santas is a sequel to the Christmas tv movie Single Santa Seeks Mrs. Claus (2004). Single Santa was made for the Hallmark Entertainment tv channel by director Harvey Frost and featured Steve Guttenberg as Santa's son coming to the US to woo single mom Crystal Bernard as his wife. Harvey Frost and most of the principal cast have reunited for Meet the Santas here, which no doubt sits high on the list of sequels that the whole world was absolutely burning to see. The title seems to have been contrived to mimic the then recent hit success of Meet the Parents (2000) and Meet the Fockers (2004).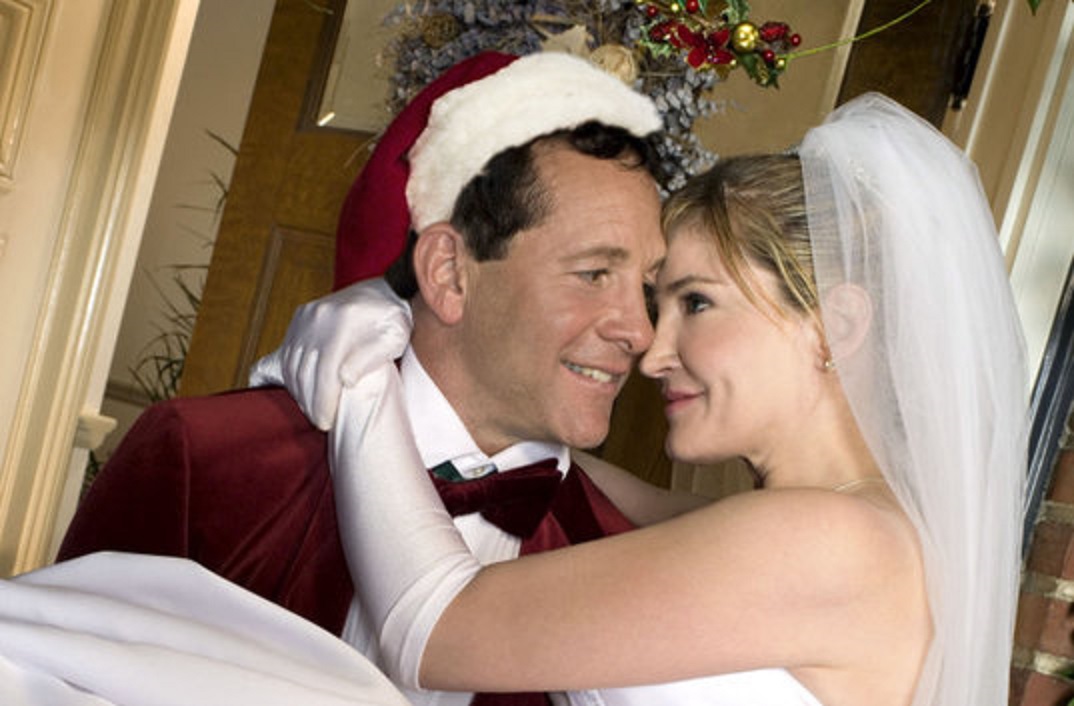 It is amazing how much mileage these two Single Santa films have managed to obtain from the exceedingly lightweight premise of Santa's son getting married – a plot that was in turn heavily borrowed from The Santa Clause 2 (2002). It is all told in terms of cliche characters – Mariette Hartley as the conservative society mother who disapproves of her daughter's marriage choice, the old flame (Roark Critchlow) trying to woo Crystal Bernard back. The story is arranged around false dramatic conflicts and constraints – the need for Steve Guttenberg's Nick to get married before Christmas; the lack of any real doubt that Guttenberg will realise that he has been neglecting Crystal Bernard for his work; the mother and the ex being so caricatured that we can see that Crystal Bernard will never for a moment have any conflict about which lifestyle she is torn between. It gets very silly and eventually descends to the level of food fights.
Meet the Santas also proves to be astonishingly traditional in its virtues. Everything, for instance, centres around how Christmas will fall apart if Santa isn't married, which does start to smack just a little too much of the evangelical Christian stipulation of no sex or unwed cohabitation before marriage. These Hallmark Christmas films all tend to involve a similar plot about a new generation of the Santa family trying to maintain the mantle of tradition inherited from their parents.
Meet the Santas has the disadvantage of again featuring Steve Guttenberg as Santa's son, a role that seems to ache under the strain of watching the annoying Guttenberg working as hard as he can to ingratiate himself with the audience. The score has been composed out of orchestral variants on Christmas Carols – the rest is incredibly insipid filler music.
---
Trailer here
---