---
Crew
Director – Walt Becker, Screenplay – Randi Mayem Singer & Adam Sztykiel, Producers – Ross Bagdasarian & Janice Karman, Photography – Peter Lyons Collister, Music – Mark Mothersbaugh, Animation Supervisor – Matthew O'Callaghan, Visual Effects – Weta Digital Limited (Senior Supervisor – Joe Letteri, Supervisors – Ken McGaugh & Edwin Rivera), Production Design – Richard Holland. Production Company – Bagdasarian Company/TSG Entertainment.
Cast
Jason Lee (Dave Seville), John Green (Miles), Tony Hale (Agent James Suggs), Kimberley Williams-Paisley (Samantha), Bella Thorne (Ashley Grey), Eddie Steeples (Barry), Charmin Lee (Judge), Retta (Party Planner), Laura Marano (Baby Sitter)
Voices
Justin Long (Alvin), Matthew Gray Gubler (Simon), Jesse McCartney (Theodore), Caley Cuoco (Eleanor), Christina Applegate (Brittany), Anna Faris (Jeanette)
---
Plot
Dave tells the Chipmunks that he is wanting to slow down and stop touring. He introduces them to Samantha, the girl he has been seeing for the last few months, but the Chipmunks do not like her son Miles who enjoys tormenting them. When the Chipmunks discover a ring among Dave's things, they realise he is planning to propose to Samantha while on a trip to a record launch in Florida. Dave departs, leaving the Chipmunks behind in the care of Miles. The Chipmunks and Miles realise that this means they will be stuck together and so join forces to stop the engagement. They set out to travel to Florida but the Chipmunks' antics on board a flight has them placed on a No Fly list and pursued by a ruthlessly determined Air Marshal.
---
The end of Western civilisation is upon us – an evident sign being none other than that a major studio has devoted considerable resources and multi-million dollar budgets to selling the public on the activities of a trio of chipmunks with sped-up helium voices and their inane mischief-making antics and pop culture babblings. It is surely a clear sign that we are at the end of creativity when a studio can churn not one but four of these films – Alvin and the Chipmunks: The Road Chip follows Alvin and the Chipmunks (2007), Alvin and the Chipmunks: The Squeakquel (2009) and Alvin and the Chipmunks: Chipwrecked (2011) – and that audiences flock to them in such numbers despite universally terrible reviews (the first two entries were both in their respective year's Top 10 grossing films).
All of that said, I enjoyed The Road Chip more than the other Alvin and the Chipmunks films (or perhaps what I mean to say is I at least hated it less than the others). Under new director Walt Becker, who also directed Van Wilder (2002) and Wild Hogs (2007), the film seem less annoying and there is less of the aiming for smartass one-liners and hip pop culture references.
You do have to grate your teeth through the painfulness of hearing squeaky-voiced renditions of Iko Iko (1965) and Baby Got Back (1992) and there is a good deal of product placement for American Idol (2002– ), which is coincidentally also produced by distributor 20th Century Fox. There are all the usual fart, pee and poop jokes, even gags about chipmunks being fired into someone's nuts, although one scene where Josh Green tries to go through airport security with chipmunks hidden in his pants holds a mild amusement.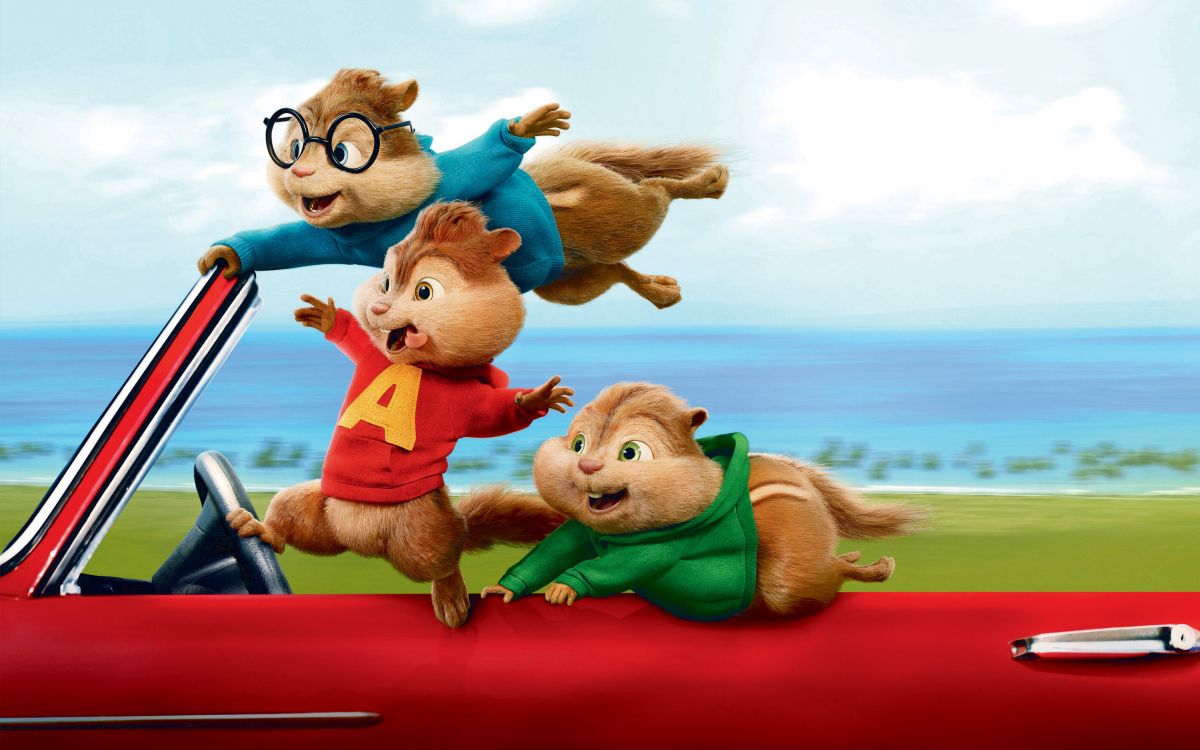 The film's story arcs are big simplistic family entertainment ones – a road movie bromance between two parties that initially detest each other; comic interludes along the way; a comically caricatured law enforcement figure pursuing them. There are jokes made about The Exorcist (1973) and a cameo from John Waters, which gets the line "Don't judge me, I saw Pink Flamingos [1972]." Given that these are films that respectively feature decidedly less than family-friendly scenes with an underage girl masturbating with a crucifix and someone eating a doggy poo, it makes you wonder exactly what audience the filmmakers imagined The Road Chip was being made for.
The film leaves you to ponder some odd questions – the Chipmunks are massive singing sensations and must be making a lot of money, yet are only allowed a $40 allowance. Is this not a relationship that could be considered exploitative? How for that matter is Dave able to legally adopt the chipmunks? Surely this is a question that must be preceded by some type of law change that would allow animals to be regarded as children so why does the film not have to engage us in a big debate about the classification of animals in terms of personhood status along the lines of the one we had in Ted 2 (2015).
Director Walt Beacker later went on to make Clifford the Big Red Dog (2021).
---
---