---
USA. 2010.
Crew
Director – Michael Lembeck, Screenplay – Lowell Ganz, Babaloo Mandel, Randi Mayem Singer, Joshua Sternin & Jeffrey Ventimilia, Story – Jim Piddock, Producers – Jason Blum, Mark Ciardi & Gordon Gray, Photography – David Tattersall, Music – George S. Clinton, Visual Effects Supervisor – Jake Morrison, Visual Effects – CIS-Vancouver (Supervisor – Randy Goux) & Prime Focus (Supervisors – Chris Harvey & Chad Wiebe), Special Effects Supervisor – Alex Burdett, Production Design – Marcia Hinds. Production Company – 20th Century Fox/Walden Media/Mayhem Pictures/Blumhouse Productions/Dune Entertainment.
Cast
Dwayne Johnson (Derek Thompson), Ashley Judd (Carly Harris), Stephen Merchant (Tracy), Julie Andrews (Lily), Chase Ellison (Randy Harris), Ryan Sheckler (Mick Donnelly), Destiny Grace Whitlock (Tess Harris), Seth MacFarlane (Ziggy), Barclay Hope (Coach), Brandon T. Jackson (Duke), Darien Provost (Gabe)
---
Plot
In Lansing, Michigan, Derek Thompson is a star ice hockey player, nicknamed the 'Tooth Fairy' because of his aggressive court antics that frequently knock out opponents' teeth. While Derek is full of his own stardom, others see him as over-the-hill. When she loses a tooth, Derek readily disillusions his girlfriend Carly Harris's six-year-old daughter Tess of the existence of the Tooth Fairy. Derek then wakes up with a set of wings and a summons from the Department of Dissemination of Disbelief. For destroying children's beliefs, he is sentenced to act as a tooth fairy for two weeks. He is armed with invisibility spray, shrinking paste, amnesia dust, cat repelling alarms and trained how to fly so as to enter into children's bedrooms and collect teeth. In spite of this, Derek finds the job hazardous and tough with the callouts for him to go into action come at highly inconvenient times. He determines to do things his own way and in so doing starts to change the others around him.
---
From probably the top wrestling superstar in the world in the early 00s to movie action hero to Disney star to … being dressed in a pink tutu with fairy wings!!! There is something about the career of The Rock, who nowadays goes by the more vanilla name of Dwayne Johnson, that makes one cringe ever so slightly. In the early 00s, Johnson made a meteoric rise to become the number-one superstar of the WWF/WWE wrestling circuit as The Rock, with handsomely chiselled profile, a perfect eye for parody moves and effortless ability to wield audience rapport. Johnson translated this to film first with a supporting appearance in The Mummy Returns (2001) and then taking the lead in its spin-off The Scorpion King (2002). Subsequent action hero roles ensued in the likes of Welcome to the Jungle (2003), Walking Tall (2004), Doom (2005), even a serious acting role in Southland Tales (2006). But then a funny thing happened – Johnson dropped the name The Rock and started to rebrand himself as plain ordinary Dwayne Johnson. In so doing, the action hero started to find a new audience in family fare – deflating his tough guy persona and playing up against a cute kid in The Game Plan (2007), appearing in Disney's Race to Witch Mountain (2009), doing voice work in cartoons with Planet 51 (2009), appearing also in Walden Media's Journey 2: The Mysterious Island (2012) … and donning fairy wings here. It is difficult to know whether it is the lure of multi-million dollar paycheques or whether The Rock's true audience is a juvenile one but it is hard to think that a tough guy can retain much composure after doing successive roles like these. Nevertheless this did prove to be the case and Johnson has become one of the top stars of the 2010s.
Tooth Fairy is mounted by Walden Media, a company that have been developing a strong profile as a producer of family entertainment over the last few years with the likes of The Chronicles of Narnia: The Lion, The Witch and the Wardrobe (2005) and sequels, the remake of Charlotte's Web (2006), Bridge to Terabithia (2007), Mr Magorium's Wonder Emporium (2007), The Seeker: The Dark is Rising (2007), The Water Horse (2007), City of Ember (2008), Journey to the Center of the Earth 3D (2008), Nim's Island (2008), The Giver (2014), A Dog's Purpose (2017), The Star (2017), Dora and the Lost City of Gold (2019) and A Babysitter's Guide to Monster Hunting (2020). Walden Media are a Christian-backed company and some of their earlier works in particular show a faith bias. Tooth Fairy (a project that has been knocking around for at least two decades and was at one point to star Arnold Schwarzenegger) is their first effort in the light comedy niche where most contemporary family entertainment pitches itself and their first film that can be called an outright comedy. The basic premise of the story is very similar to an earlier tv movie Toothless (1997), which starred Kirstie Alley as a woman who is likewise reluctantly forced to act as a Tooth Fairy.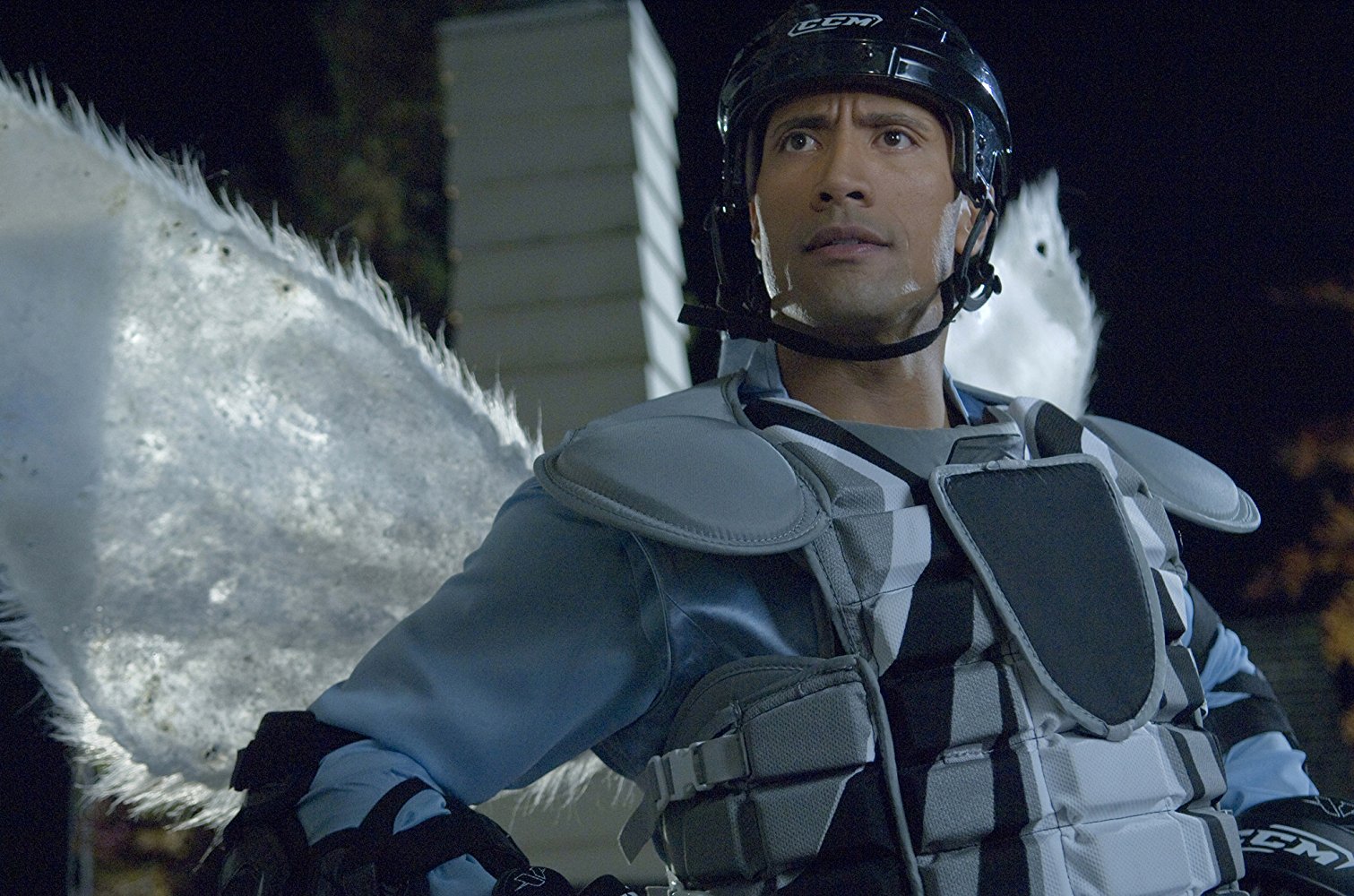 The director of Tooth Fairy is Michael Lembeck. Within the fantasy genre, Lembeck previously made The Santa Clause 2 (2002) and The Santa Clause 3: The Escape Clause (2006) – these also feature an appearance from a Tooth Fairy played by Art La Fleur (along with other mythical creatures). In a similar vein to the Santa Clause sequels, Tooth Fairy spins a family comedy out around the everyday dealings of legendary figures. Essentially, Tooth Fairy appears to have been conceived around the absurdity of a tough guy outfitted in a tutu and fairy wings. Unfortunately with Michael Lembeck at the helm, this gets played down at a level of excruciatingly witless comedy. Dwayne Johnson is put through some embarrassing scenes engaged in a 'fairy fight' with Stephen Merchant, conducting skateboard stunts to escape from a giant-sized cat, invisibly humiliating cocky rival Ryan Sheckler in the ice hockey rink, or being strung up in mid-air as balls are whacked at him and so on. The script pulls out a never-ending source of agonizingly lame tooth and wing puns, even shoe puns as Dwayne Johnson is miniaturized and Stephen Merchant threatens to squish him.
About halfway through, the film realizes that the tooth fairy schtick is limited and starts getting serious whereupon it sidetracks off into a long subplot about Dwayne Johnson bonding with girlfriend Ashley Judd's teenage son Chase Ellison and encouraging him to play guitar, which in turn gives Johnson the impetus to inspire Stephen Merchant's supervisor to earn his fairy wings and to find his own courage back in the hockey rink again. Everything is underlined by a heavy-handed message about people taking a chance to pursue their dreams. This is laid on with requisite degrees of sentiment and struggle. The big letdown about this is that for a film with a plot that is about characters taking risk, you find that Dwayne Johnson did exactly the opposite during shooting. Rather than learn how to ice-skate, he had the production crew build a harness that towed him around the ice rink – you think that maybe the parallels between the actor and the on-screen character who is self-assured in the glow of his own stardom but no longer makes any effort is perhaps a little close to the truth.
Dwayne Johnson makes for a perfect cartoon-character in live-action with his ability to slide into profile and radiate either of the three expressions he has perfected – a glower of menace, a quizzically raised eyebrow or a surprised double-take that shows the whites of his eyes. Johnson is not much of an actor – this is certainly evident here where he is required to play an ordinary guy for much of the time, at which he proves wooden. Even when Johnson smiles, it feels more like some puppet master has jerked a string that pulls every muscle in his face into relief at once. The scene-stealer proves to be gangly British comic and Ricky Gervais associate Stephen Merchant. Julie Andrews turns up as the fairy supervisor and plays with a class that far exceeds the material at hand. Ashley Judd makes minimal effort as Dwayne Johnson's girlfriend. Seth MacFarlane has some silly scenes as the fairy equivalent of James Bond's Q – a performance that one would swear is based on Billy Crystal's appearance as the wizard in The Princess Bride (1987).
Tooth Fairy 2 (2012) was a dvd-released sequel starring Larry the Cable Guy.
---
Trailer here
---