---
Crew
Director – Shawn Levy, Screenplay – David Guion & Michael Handelman, Story – Mark Friedman, David Guion & Michael Handelman, Producers – Chris Columbus, Shawn Levy & Mark Radcliffe, Photography (3D) – Guillermo Navarro, Music – Alan Silvestri, Visual Effects Supervisor – Erik Nash, Visual Effects – Cinesite, Digital Domain (Supervisors – Swen Gilberg & Lou Pecora), Lola/VFX, Method Studios (Supervisor – Chad Wiebe), MPC (Supervisor – Seth Maury) & Zoic, Special Effects Supervisor – Stephen Hamilton, Makeup Effects/Creature Design – Adrien Morot & Kathy Tse, Production Design – Martin Whist. Production Company – 21 Laps/1492 Entertainment.
Cast
Ben Stiller (Larry Day/Laa), Robin Williams (Teddy Roosevelt), Owen Wilson (Jedediah), Steve Coogan (Octavius), Dan Stevens (Sir Lancelot), Rebel Wilson (Tilly), Ricky Gervais (Dr McPhee), Skyler Gisondo (Nick Daley), Rami Malek (Akmenrah), Ben Kingsley (Merenkhare), Patrick Gallagher (Attila the Hun), Dick Van Dyke (Cecil Fredericks), Mizuo Peck (Sacajawea), Mickey Rooney (Gus), Bill Cobbs (Reginald), Andrea Martin (Rose)
---
Plot
Larry Day is managing the opening of a new exhibition at the Natural History Museum when the exhibits, which are performing as part of the opening, start behaving erratically and cause chaos. Larry discovers that this is due to the tablet starting to corrode. He learns that the only option is to go to the British Museum and ask the help of the exhibit of Akmenrah's father in resetting the amulet. Accompanied by his son Nick, Larry travels to London, along with several of the other exhibits. Inside the museum, they begin a madcap chase to get to the Egyptian wing and reset the tablet before it corrodes entirely and kills the exhibits. They are forced to deal with hordes of the British Museum's exhibits, which are coming to life for the first time. These include a figure of Sir Lancelot who, unaware that he is made of wax, snatches the tablet believing it is the Holy Grail.
---
Secret of the Tomb was the third film in the series that began with Night at the Museum (2006) and continued through Night at the Museum 2 (2009). I can't say I am a fan of the series. The first film had a slight, mildly amusing premise and the rest was carried by effects and formula filmmaking.
If that had been that, the Night at the Museum would have come out and been quickly forgotten. As with Hollywood thinking though, one success begets another and another – even if the initial premise of figures in a museum coming to life feels like it is being awkwardly stretched and made to act as a franchise when it was almost certainly not intended that way at the time of the original writing. With the death of both Robin Williams and Mickey Rooney, this hopefully means that the Night at the Museum series is at an end.
When it comes to Night at the Museum: Secret of the Tomb, there is the feeling that everybody has been assembled and is going through the motions but nobody much seems to have their hearts in it beyond collecting a paycheque. Back are all the familiar characters including Ben Stiller (whose advancement to a successful businessman in the second film has conveniently been forgotten and he has now lapsed back to being a security guard), Robin Williams (in his second-to-last performance) as Teddy Roosevelt, the miniaturised duo of Owen Wilson and Steve Coogan, Ricky Jervais as the museum head, Akmenrah, Attila the Hun, Sacajawea, the dinosaur skeleton, the Easter Island moai and the monkey, although this time we get a new actor as Ben Stiller's son. Also back are Dick Van Dyke, Mickey Rooney and Bill Cobbs, the villains from the first film whose actions there are now swept under the carpet and forgiven.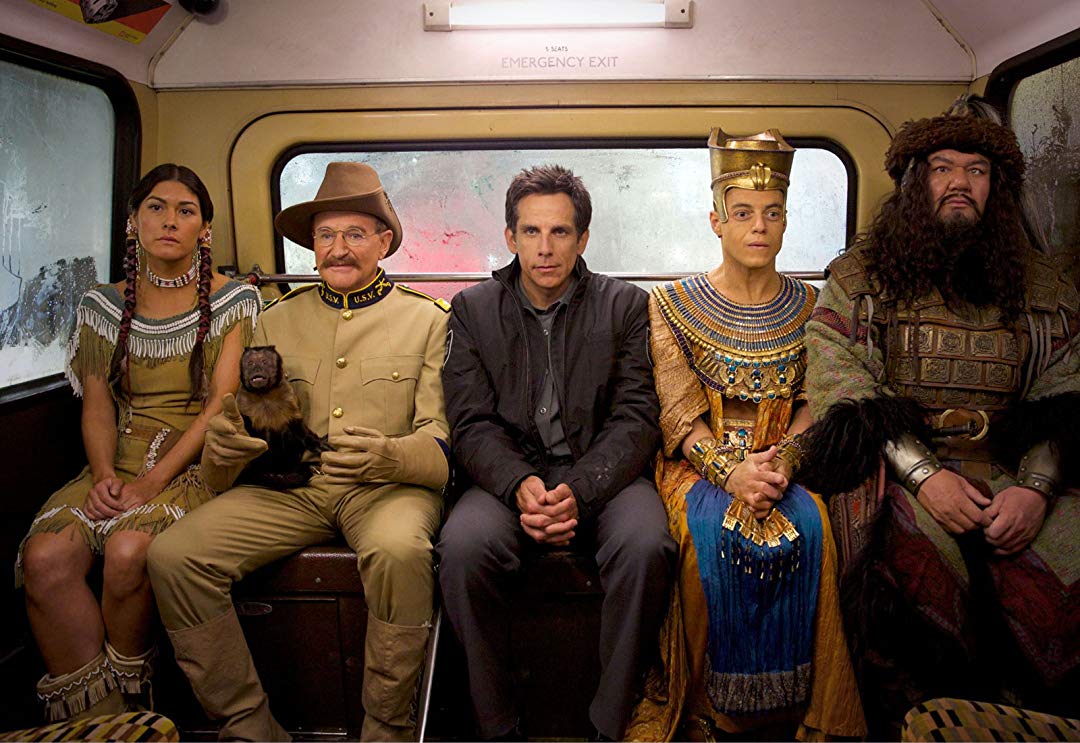 Everybody is shuffled through a series of uninspired new set-pieces. Ben Stiller tackles a stone Chinese demon figure come to life, there is a new dinosaur. Jedediah and Octavius are swept down a giant-sized ventilator shaft and forced to flee as a model of Vesuvius erupts, which the monkey douses by pissing on it. There is the effect borrowed from the second film of being able to travel inside works of art where here Ben Stiller and Dan Stevens fight through the topsy-turvy architecture of an M.C. Escher painting (although for all that, the sequence is not nearly as clever as you expect it to be). And that surprisingly is it. The most amusing sequence is not even an effects-driven one but a cameo from Hugh Jackman, dropping into Wolverine mode during a stage version of Camelot (1960).
There is nothing in this film that feels like it is not simply coasting by on your familiarity with the characters and stealing $12 from your pocket for the privilege of doing so. Nobody seems particularly cheerful at being there. Ben Stiller looks even more depressed than usual – you would think that if someone let the amount of unhappiness come through that he has in his last few performance, it would be time to quit the profession or go on antidepressants.
It is also sad that this was one of Robin Williams' last screen performance. On screen, his Teddy seems hollow, to be moving with difficulty and lacking in much of the sparkle that Williams gave the two previous outings. In real life, Williams was suffering from Lewy Body Dementia, one of the side-effects of his Parkinson's, which has been speculated led to his suicide in August 2014. This produces hallucinations, paranoia and difficulty with motor control while walking. You suspect that this is something that was badly coming through on the set and the filmmakers did their best to cut around it.
The best performances are from the newcomers to the series – Australian comedian Rebel Wilson in an extremely silly performance as the museum's security guard and from Dan Stevens, unrecognisable from Downton Abbey (2010-5), as the show's Lancelot.
Subsequently, there was the animated film Night at the Museum: Kahmunrah Rises Again (2022).
---
---