---
Crew
Director – David Jones, Screenplay – Peter Barnes, Based on the Novel by Charles Dickens, Producer – Dyson Lovell, Photography – Ian Wilson, Music – Stephen Warbeck, Visual Effects – Framestore & CFC (Supervisors – Tim Greenwood & Mike McGee), Production Design – Roger Hall. Production Company – Hallmark Entertainment.
Cast
Patrick Stewart (Ebenezer Scrooge), Richard E. Grant (Bob Cratchit), Joel Grey (Ghost of Christmas Past), Desmond Barrit (Ghost of Christmas Present), Saskia Reeves (Mrs Cratchit), Bernard Lloyd (Jacob Marley), Dominic West (Fred), Kenny Doughty (Young Scrooge), Laura Fraser (Belle), Ian McNeice (Albert Fezziwig), Trevor Peacock (Joe), Elizabeth Spriggs (Mrs Riggs), Ben Tibber (Tiny Tim), Liz Smith (Mrs Dilber), Crispin Letts (Topper Haines), Celia Imrie (Mrs Bennett), Edward Petherbridge (Foster), Jeremy Swift (Williams)
---
Plot
Ebenezer Scrooge is mean-spirited and concerned only with making money. It is Christmas Eve and Scrooge sneers down on all Christmas spirit. That night Scrooge receives a visitation from the ghost of his former partner Jacob Marley, followed by the ghosts of Christmas Past, Present and Yet to Come. Each of these show Scrooge the tenderness that he has forgotten in the past, the misery that his mean-spiritedness causes in the present and the grim and lonely future that awaits him if he does not repent of his ways.
---
Charles Dickens' A Christmas Carol (1843) is an undisputed classic. Its' story of the miser's redemption has been borrowed countless times and the story itself has been adapted to the screen and television more than 40 times to date. (See below for other versions). There have been some very good adaptations of A Christmas Carol – see A Christmas Carol (1938) with Reginald Owen and Scrooge (1951) with Alistair Sim – but this production made for tv would have to count as one of the very best. This version comes from Hallmark Entertainment, the production arm of the Hallmark cable channel. Hallmark have made some standout adaptations of perennial literary and fantasy classics in recent years – indeed, this was the first of no less than three adaptations of A Christmas Carol they made and was followed by the sex-changed A Carol Christmas (2003) and the musical A Christmas Carol (2004).
In this case, Hallmark have brought on board British director David Jones, who has made various BBC tv plays and serious dramatic films like Betrayal (1982), 84 Charing Cross Road (1986) and an adaptation of Franz Kafka's The Trial (1993). In the central role, Hallmark have obtained no less than Patrick Stewart. Patrick Stewart brings a particular history to the part in that he essayed the role of Scrooge in a one-man Broadway play that he also wrote and directed, which premiered in 1991 and has been revived several times in the decade since.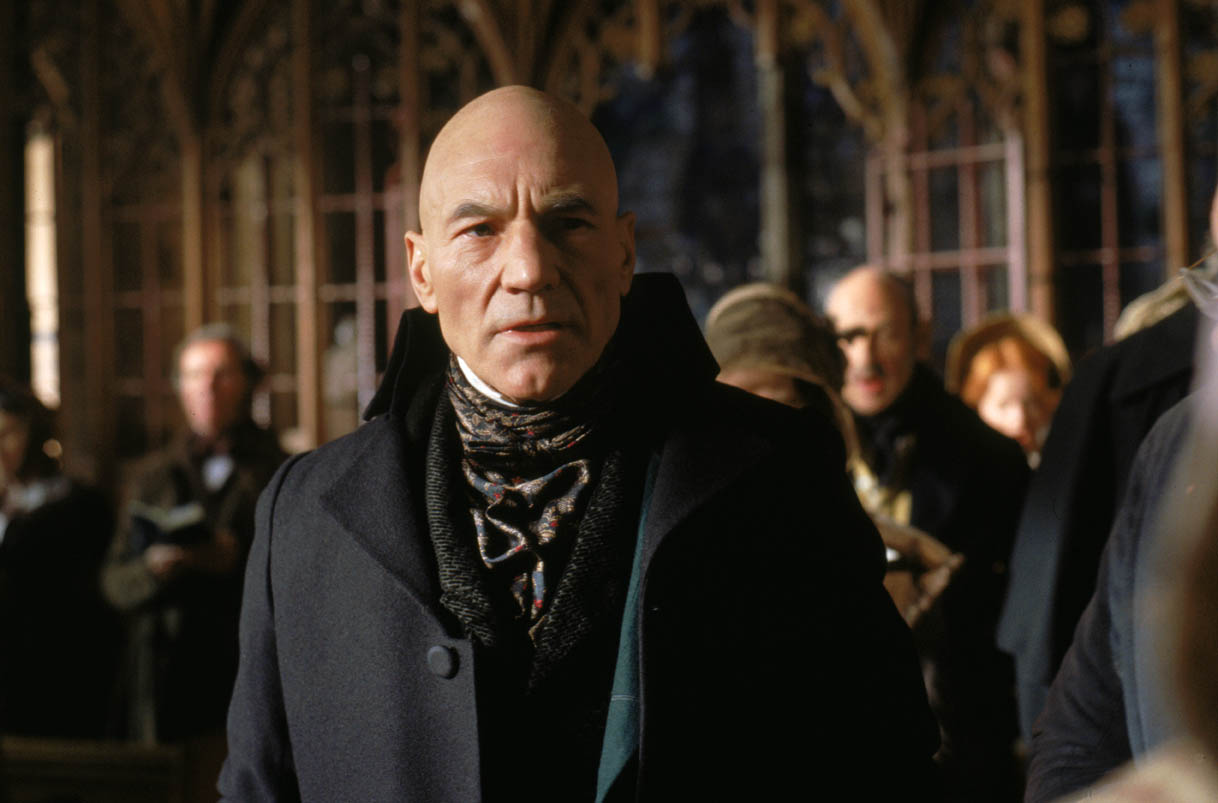 David Jones has an exceptional grasp of the Victorian period milieu. The streets and Scrooge's office have a downbeat realism and look authentically like we are there; while the Cratchit dinner scene evokes a sense of painfully threadbare poverty. The film is considerably aided by an excellent script. Writer Peter Barnes has an exceptional ear for period dialogue. Moreover, he uses the opportunity to explore Scrooge's character, especially during the Fezziwig flashbacks.
Most striking of all is during the appearance of Marley's ghost, where Barnes adds meaning to the standard clanking chains and David Jones pulls away to offer extraordinary images of skies filled with ghosts and lost souls trying painfully to connect with the homeless and make up for their mean-spiritedness in corporeal life.
In fact, what we have is a version of A Christmas Carol written and directed to a far more adult level than almost any other adaptation of the story. Most of the other below-mentioned versions are all sold as children's, or at least family, films but it is hard to imagine this version easily being digested as children's fodder.
Other adaptations of A Christmas Carol include:– a number of lost silent adaptations made respectively in 1901, 1908, 1910, 1913, 1916, 1923 and 1928. Sound versions include:– Scrooge (1935), a British sound version with Seymour Hicks as Scrooge; A Christmas Carol (1938), an American version with Reginald Owen; a Spanish adaptation (1947); Scrooge (1951), a British production starring Alistair Sim; Scrooge (1970), a British-made musical adaptation starring Albert Finney; a short animated version A Christmas Carol (1971) from animator Richard Williams; Mickey's Christmas Carol (1983), a 25 minute animated short from Disney where the Scrooge role was played by Scrooge McDuck and Mickey Mouse was cast as Bob Cratchit; the modernised updating Scrooged (1988) with Bill Murray; The Muppet Christmas Carol (1992), which enacted the tale with the Muppets and starred Michael Caine as Scrooge; a British-German animated adaptation Christmas Carol: The Movie (2001); the conservative-backed An American Carol (2008) where a liberal filmmaker is persuaded of their ways; the animated Barbie in A Christmas Carol (2008); and Robert Zemeckis's motion-capture animated A Christmas Carol (2009) starring Jim Carrey. TV adaptations include A Christmas Carol (1943), a 60 minute live version, which was apparently one of the first ever experimental tv broadcasts; The Christmas Carol (1949), a half-hour American adaptation starring Taylor Holmes; A Christmas Carol (1950), a British adaptation starring Bransby Williams; A Christmas Carol (1953), a half-hour American adaptation starring Noel Leslie; a German production (1960); Carol for Another Christmas (1964), a production written by Rod Serling as a United Nations Special that updated the tale as an anti-war parable; a Canadian production Mr Scrooge (1964); A Christmas Carol (1977), a British production starring Michael Hordern; Scrooge (1978), a Canadian production starring Warren Graves; Rankin-Bass's one-hour animated adaptation The Stingiest Man in Town (1978); An American Christmas Carol (1979), starring Henry Winkler, which updated the story to the Depression era; Skinflint: A Country Christmas Carol (1979), starring Hoyt Axton, a bizarre American adaptation populated entirely by Country and Western singers; A Christmas Carol (1981), an American adaptation starring William Paterson; A Christmas Carol (1982), an American adaptation starring Richard Hilger; A Christmas Carol (1984), a lavish British-made production starring George C. Scott; a French tv adaptation (1984); Blackadder's Christmas Carol (1988), a sardonic take on the story using the characters from the popular British tv series Blackadder (1983-9); Scrooge: A Christmas Sarah (1990), a British version that cast Scrooge as a woman (Sarah Greene); A Christmas Carol (1994), a British-made ballet adaptation; A Christmas Carol (1997), an American-made animated adaptation; Ebenezer (1997), a bizarre American adaptation that recast the tale as a Western starring Jack Palance; Ms. Scrooge (1997), an American version that also cast the role with a woman (Cicely Tyson); A Christmas Carol (2000), a modernised adaptation where Scrooge (Ross Kemp) was a petty loanshark; A Diva's Christmas Carol (2000) with Vanessa Williams as a self-absorbed pop singer; Scrooge and Marley (2001), a one-hour adaptation starring Dean Jones; Hallmark's sex-reversed A Carol Christmas (2003) starring Tori Spelling; Hallmark's musical adaptation A Christmas Carol (2004) with Kelsey Grammer; the Italian-made A Christmas Carol (2004); the modernised Karroll's Christmas (2004) starring Tom Everett Scott; the Doctor Who tv special A Christmas Carol (2010) where a time-travelling Doctor becomes the Ghosts of Christmases Past and Present to intergalactic miser Michael Gambon; the low-budget Canadian-made A Christmas Carol (2015); the dark adult BBC mini-series A Christmas Carol (2019) starring Guy Pearce; and the modernised musical Spirited (2022) starring Ryan Reynolds. Also of interest is The Man Who Invented Christmas (2017) about Charles Dickens and the writing of A Christmas Carol.
Hallmark's other genre productions are:- the sf mini-series White Dwarf (1995), The Canterville Ghost (1996), Gulliver's Travels (1996), Harvey (1996), the Christmas musical Mrs Santa Claus (1996), Murders in the Rue Morgue (1996), the children's horror Shadow Zone: The Undead Express (1996), the medical thriller Terminal (1996), The Odyssey (1997), the cloning thriller The Third Twin (1997), 20,000 Leagues Under the Sea (1997), the monster movie Creature (1998), Merlin (1998), the sf film Virtual Obsession (1998), Aftershock: Earthquake in New York (1999), Alice in Wonderland (1999), Animal Farm (1999), the tv series Farscape (1999-2003), Journey to the Center of the Earth (1999), The Legend of Sleepy Hollow (1999), The Magical Land of the Leprechauns (1999), Arabian Nights (2000), the modernised Hamlet (2000), Jason and the Argonauts (2000), Prince Charming (2000), the mini-series The 10th Kingdom (2000) set in an alternate world where fairy-tales are true, the medical thriller Acceptable Risk (2001), The Infinite Worlds of H.G. Wells (2001), Jack and the Beanstalk: The Real Story (2001), The Monkey King/The Lost Empire (2001), My Life as a Fairytale: Hans Christian Andersen (2001), Snow White (2001), the series Tales from the Neverending Story (2001), the fantasy adventure Voyage of the Unicorn (2001), the Sherlock Holmes film The Case of the Whitechapel Vampire (2002), Dinotopia (2002), The Hound of the Baskervilles (2002), the Christmas film Mr St. Nick (2002), the Christmas film Santa Jr (2002), Snow Queen (2002), the modernised A Carol Christmas (2003), Children of Dune (2003), the American Indian legends mini-series Dreamkeeper (2003), the children's monster film Monster Makers (2003), Angel in the Family (2004), A Christmas Carol (2004), Earthsea (2004), 5ive Days to Midnight (2004) about forewarning of the future, Frankenstein (2004), King Solomon's Mines (2004), the Christmas film Single Santa Seeks Mrs. Claus (2004), Dinotopia: Quest for the Ruby Sunstone (2005), Hercules (2005), the thriller Icon (2005), Meet the Santas (2005), Mysterious Island (2005), the disaster mini-series Supernova (2005), The Curse of King Tut's Tomb (2006), the alien invasion mini-series Final Days of Planet Earth (2006), Merlin's Apprentice (2006), the bird flu disaster mini-series Pandemic (2006), the disaster mini-series 10:15 Apocalypse (2006), the psychic drama Carolina Moon (2007), the psychic drama Claire (2007) and the ghost story Something Beneath (2007).
---
---