aka Kiss of the Beast; Phantoms
---
USA. 1990.
Crew
Director/Story – Charles Band, Screenplay – Dennis Paoli, Producers – Charles Band & Debra Dion, Photography – Mac Ahlberg, Music – Pino Donaggio, Music Conductor – Natale Massara, Special Effects Supervisor – Fabio Galliano, Makeup Effects – Greg Cannom, Art Direction – Giovanni Natalucci. Production Company – Full Moon Entertainment/Rock Salt N.Y. Production.
Cast
Sherilyn Fenn (Catherine Beaumancini), Malcolm Jamieson (Lawrence Fauvrey/Oliver Fauvrey), Hilary Mason (Martha), Charlie [Spradling] (Gina), Alex Daniels (Beast)
---
Plot
Catherine Beaumancini arrives in Italy to take over a family castle she has inherited. Her best friend Gina invites a travelling circus to dinner. However, the circus people drug them and the handsome, cruel ringmaster Lawrence Fauvre seduces Catherine. Unseen by Catherine, Lawrence allows his twin brother Oliver to take his place in bed with her. As they make love, Oliver transforms into a wolf. Catherine, not understanding there are twin brothers, tries to understand how Lawrence can be cruel one moment and tender the next. Eventually, she discovers that the two brothers have been cursed to an immortal existence until the love of a woman can kill off the beast.
---
Meridian/Kiss of the Beast is one of the better items to emerge from the Band family's prolific output of low-budget video-made genre films. Father and son Charles and Albert Band usually produced under the Empire, Full Moon Entertainment, Pulse Pounders or Kushner-Locke labels. Meridian/Kiss of the Beast is one of the sporadic opportunities when Charles Band takes the director's chair. While one has not seen all of Charles Band's directorial outings, it is probably his best film – a world of difference from other cheap and dreary fare from his hand such as The Alchemist (1983), Parasite (1982), Metalstorm: The Destruction of Jared-Syn (1983), Prehysteria! (1993), The Gingerdead Man (2005) and Evil Bong (2006). Pitched as an erotic fairytale, with many similarities to Walerian Borowczyk's The Beast (1975), Meridian is certainly a much better piece than the usual B-budget slime and pop-up creature effects quickies produced by the Bands.
The mood sustained by the film is unusually effective. As director, Charles Band tends to overdo the slow-motion camerawork, symptomatic of well-budgeted erotica's penchant to take itself on the pretentiously serious side. Nevertheless, some of the fantastique erotic images in the film are undeniably potent – like the striking scene where the twin transforms into the beast at the point of orgasm during sex with Sherilyn Fenn, or the image of the beast appearing to caress Fenn as she sits on a bed in a white nightgown.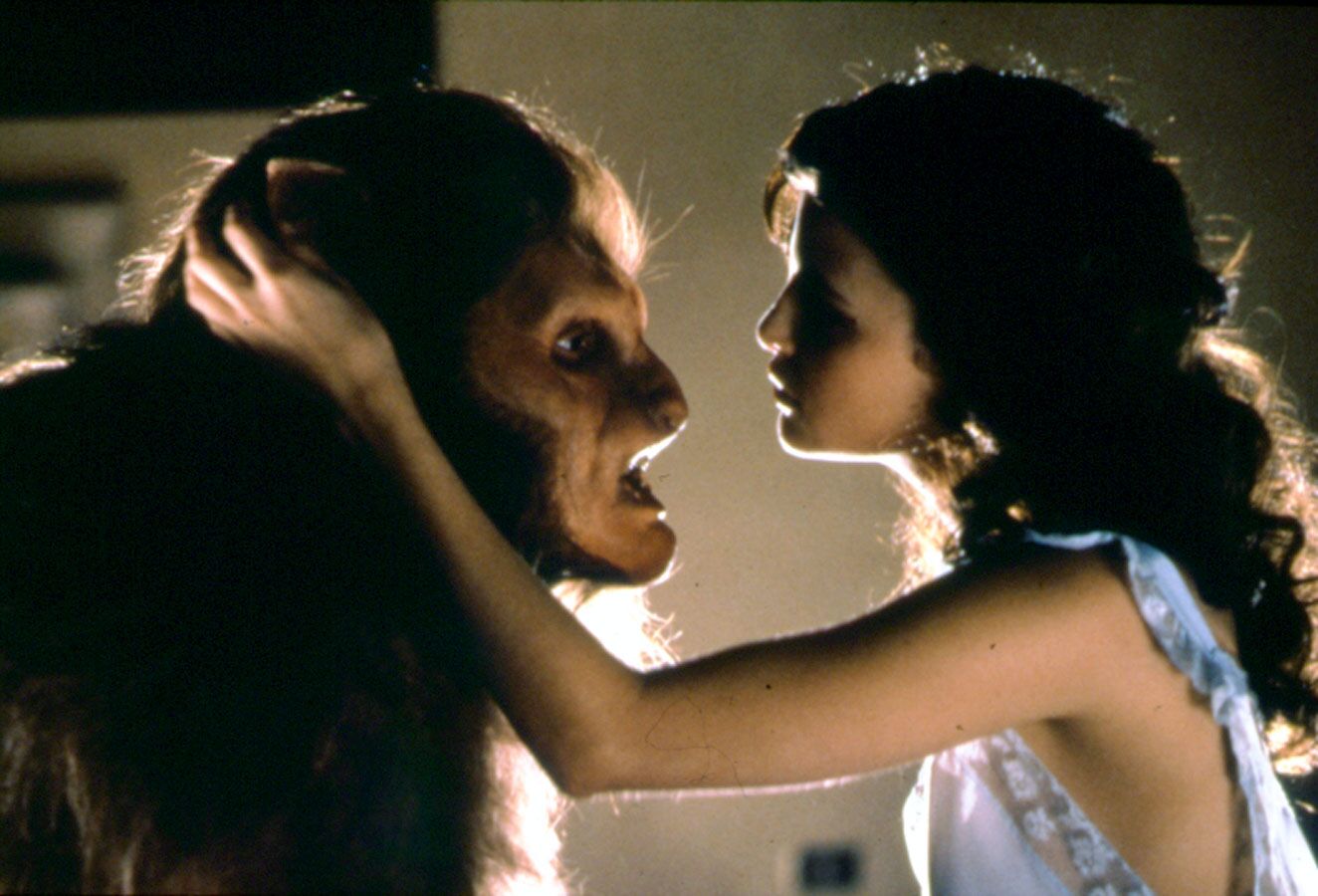 The scene that works the best in the film is the surprise when the priest tells Sherilyn Fenn that the maid Martha (Hilary Mason), who has been established as an unremarkable support character, died six months before. Considerable aid is received from Pino Donaggio's moody score. On the less convincing side, the wolf looks somewhat cartoonish with its cute ears and far too anthropomorphically expressive face.
The moodily handsome Malcolm Jamieson is effective as both the handsomely cruel brother and his haunted good twin. The film's non-performer is Sherilyn Fenn who has still to demonstrate any real ability in anything she has been in other than taking her clothes off. All she demonstrates here is a cross-eyed vacancy and one is at a loss, other than the obvious hormonal one, to explain where the short-lived Sherilyn Fenn cult came from.
Charles Band has produced over 200 films. As director, his other genre films include:- Crash (1977), Parasite (1982), The Alchemist (1983), Metalstorm: The Destruction of Jared-Syn (1983), an episode of The Dungeonmaster/Ragewar: The Challenges of Excalibrate (1984), Trancers/Futurecop (1985), Pulse Pounders (1988), Crash and Burn (1990), Trancers II (1991), Doctor Mordrid (1992), Dollman Vs. the Demonic Toys (1993), Prehysteria! (1993), Head of the Family (1996), The Creeps/Deformed Monsters (1997), Hideous (1997), Mystery Monsters (1997), Blood Dolls (1999), Puppet Master: The Legacy (2003), Dr Moreau's House of Pain (2004), Decadent Evil (2005), Doll Graveyard (2005), The Gingerdead Man (2005), Evil Bong (2006), Petrified (2006), Dead Man's Hand (2007), Decadent Evil II (2007), Dangerous Worry Dolls (2008), Evil Bong II: King Bong (2009), Skull Heads (2009), Evil Bong 3D: The Wrath of Bong (2011), Killer Eye: Halloween Haunt (2011), The Dead Want Women (2012), Devildolls (2012), Puppet Master X: Axis Rising (2012), Ooga Booga (2013), Unlucky Charms (2013), Gingerdead Man vs Evil Bong (2013), Trophy Heads (2014), Evil Bong 420 (2015), King of Cult (2015), Evil Bong: High 5 (2016), Evil Bong 666 (2017), Puppet Master: Axis Termination (2017), Evil Bong 777 (2018), Barbie & Kendra Save the Tiger King (2020), Barbie & Kendra Storm Area 51 (2020), Corona Zombies (2020) and Evil Bong 888: Infinity High (2022).
---
Trailer here
---