---
Crew
Director – Bill Condon, Screenplay – Stephen Chbosky & Evan Spiliotopoulos, Based on the 1991 Film Written by Linda Woolverton, Producers – David Hoberman & Todd Lieberman, Photography (3D) – Tobias Schliessler, Music – Alan Menken, Lyrics – Howard Ashman & Tim Rice, Visual Effects Supervisors – Kyle McCulloch & Kelly Port, Visual Effects – Digital Domain & Framestore (Supervisor – Glen Pratt), Special Effects Supervisor – Paul Corbould, Production Design – Sarah Greenwood. Production Company – Disney/Mandeville Films.
Cast
Emma Watson (Belle), Dan Stevens (The Beast), Luke Evans (Gaston), Kevin Kline (Maurice), Josh Gad (Le Fou), Ewan McGregor (Lumiere), Ian McKellen (Cogsworth), Emma Thompson (Mrs Potts), Nathan Mack (Chip), Stanley Tucci (Cadenza), Audra McDonald (Mme. de Garderobe), Gugu Mbatha-Raw (Plumette), Hattie Morahan (Agathe)
---
Plot
18th Century France. A prince leads a cruel and selfish life. He turns away a beggar woman who comes asking for help, only for her to reveal she is a sorceress who places a curse that turns him into a beast and transforms his castle. She leaves a rose, telling him that if he does not find love before all of the petals fall the changes will become permanent. In the village of Villeneuve, Belle, the daughter of the inventor Maurice, is regarded as odd because she reads books. The self-important Gaston is determined to marry her but Belle has no interest in him. Maurice goes off to sells some of his trinkets but is diverted by a fallen tree and ends up at the Beast's castle. He is welcomed by the living ornaments and furnishings that are the Beast's transformed servants but angers The Beast when he plucks a rose from the garden to take home for Belle. When her father fails to returns, Belle goes in search of him and finds him in the Beast's dungeon. She elects to take his place, realising it will mean she must stay forever. As she settles in, a slow relationship begins to grow between her and the gruff and unfriendly Beast. The furnishings are hopeful this will turn into love before the last rose petal falls. Meanwhile, after Maurice returns with stories of the Beast, Gaston, in his determination to marry Belle, drums up a lynch mob to storm the castle.
---
Beauty and the Beast (1991) was the beginning of the modern Disney animation renaissance. Before that, the studio's animation department had languished in twenty-five years of neglect since Walt Disney's death in 1966 with their animated output trickling down to a sporadic release every 2-3 years. Beauty and the Beast, which ended up being nominated for a Best Picture Academy Award, saw a massive resurgence for Disney animation. The film was re-released in 2001, remastered for IMAX with the addition of an entire new animated song sequence, and in 3-D in 2012. Disney made a video-released sequel Beauty and the Beast: The Enchanted Christmas (1997). The film gained a whole new life and popularity after being turned into a Broadway musical in 1994.
Ever since the 1990s, Disney have been on a relentless program of remaking their classic films. We have had live-action remakes of animated films such as The Jungle Book (1994), 101 Dalmatians (1996) and Maleficent (2014), as well as remakes of live-action films such as That Darn Cat (1997), Flubber (1997), The Parent Trap (1998), Freaky Friday (2003), Herbie: Fully Loaded (2005), The Shaggy Dog (2006) and Race to Witch Mountain (2009). This was a fad that seemed to peter out with the commercial disappointment of Tron Legacy (2010).
On the other hand, a few year later, further remakes of Cinderella (2015), which earned $200 million at the US box-office, and The Jungle Book (2016), which earned an enormous $360 million domestically. This was followed by a new version of Pete's Dragon (2016) that trailed along with a not immodest $76 million, saw a sudden new sparking of interest. Beauty of the Beast topped all of these, earning nearly $500 million at the US box-office. As a result, Disney has announced a slew of remakes and revivals of other animated classics that include Mary Poppins Returns (2018), Aladdin (2019), Dumbo (2019), Lady and the Tramp (2019), The Lion King (2019), Mulan (2020), Cruella (2021), Pinocchio (2022), The Little Mermaid (2023) and Peter Pan and Wendy (2023).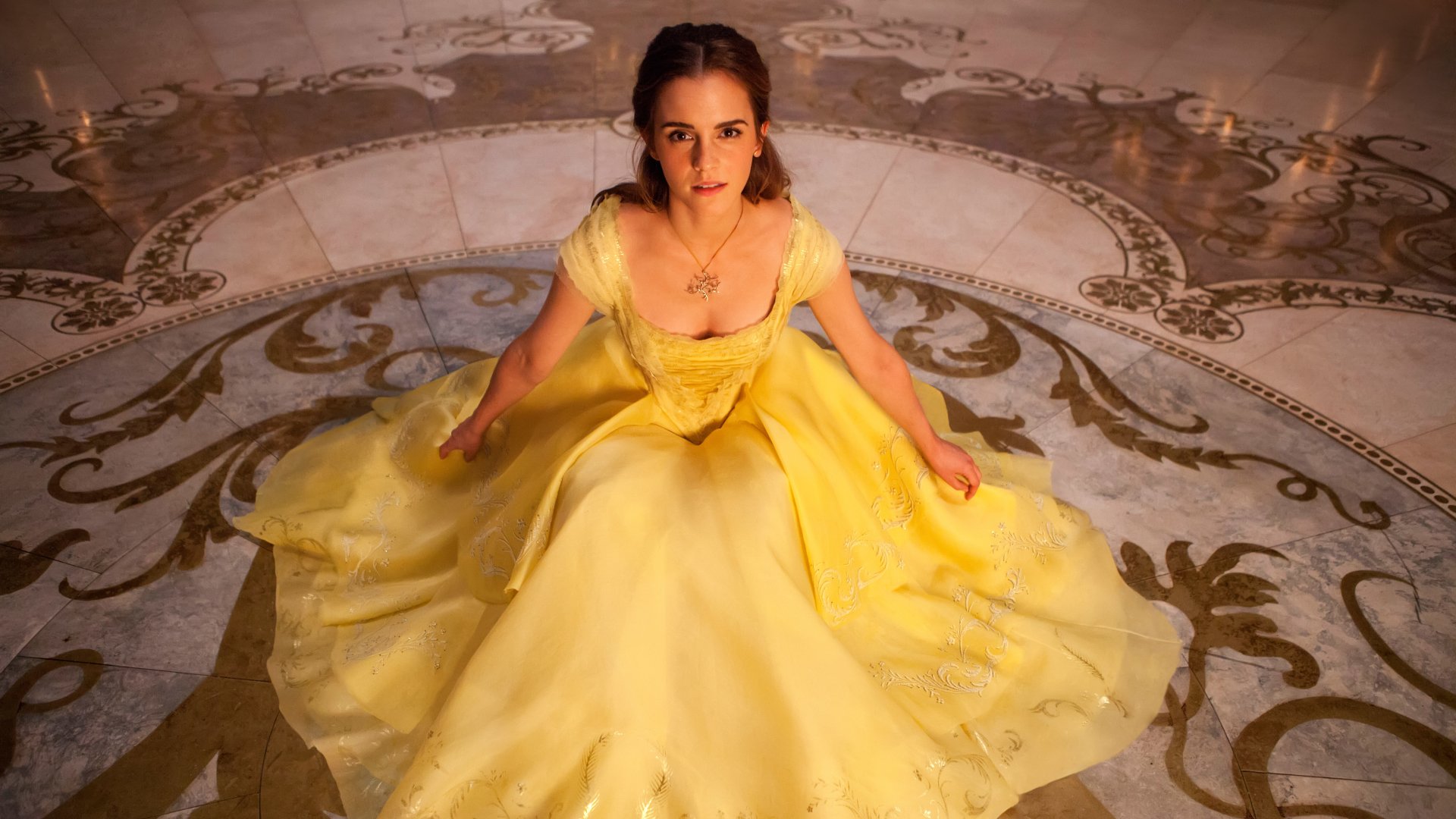 The new Beauty and the Beast has been mounted with an extraordinary lavishness. Every frame of the film is gorgeous to behold with stunning ice laden grounds of Gothic castles, artfully decaying and exquisitely detailed interiors lit in golden candlelight, balls with hundreds of dancers in attendance. Even the villagers in impoverished backwater Villeneuve have gowns and costuming that would not be amiss in a royal court.
On the other hand, I never fully warmed to the romantic film we are supposed to be watching. Emma Watson is coming into her own on the back of the Harry Potter films. Equally though, I find her plain in terms of looks and adequate as an actress but never anything that sets the screen alight either in terms of beauty or plaintive emotional appeal. I keep asking where in her performance is the radiance, loveliness and pure-heartedness that makes a Disney princess; all that we get seems like a fairly plain teenage girl in period costume.
On the other side of the coin, Dan Stevens spends all his time replaced by a mocap Beast. Like the far superior Christophe Gans film Beauty and the Beast (2014), this is a Beast that suffers from Uncanny Valley – you are less certain of a character being in front of you than you are seeing a CGI Beast – and one where the expressions on its face seem less fearsome and noble than they do distinctly odd at times.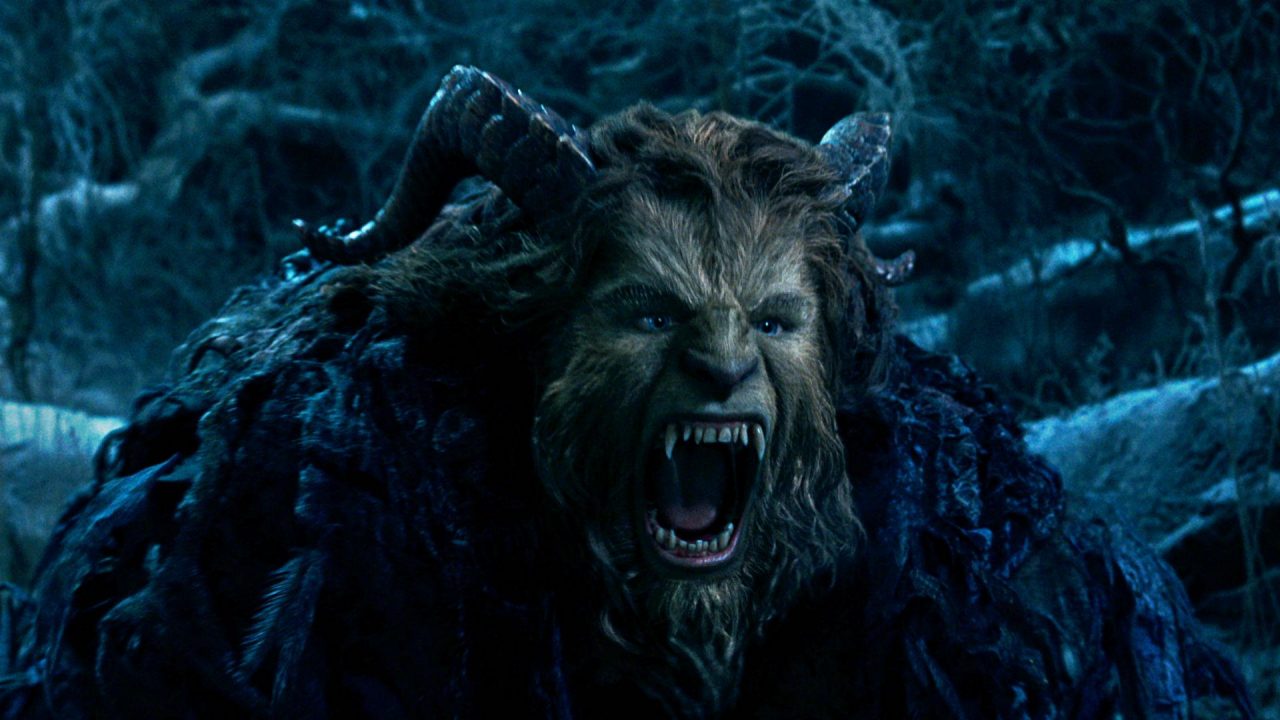 The other actors are all fine in their parts. There was the big kerfuffle about making Le Fou gay, which became a storm in the teacup about nothing. Most of the rest of the world has gotten perfectly used to seeing gay characters on screen and Disney seems still stuck back in the 1990s era – the period when it was okay for Ellen DeGeneres to come out on Ellen (1994-8) only to thereafter have all mention of such excised and she spend the rest of the series in a state of chastity – where we are supposed to consider it groundbreaking having Le Fou making a couple of flirtatious comments.
The one thing that the film does well is the talking plates, teapots and dressers. They serve no more purpose than the talking sidekick animals do in most regular Disney animated films. However, voiced by an all-star cast line-up, they end up stealing the show out from the rather staid romance being put on around them by the humans. The visual effects team are in their element and some of the scenes the furnishings appear in shine – especially one where they put on a dinner for Emma Watson. On the other hand, the scene where they repel the attack by the villagers by battering them with piano keys, flung saucers, pouring hot water on the attackers and the wardrobe dressing them in drag is very silly.
I liked Beauty and the Beast for the lavishness of the production. On the other hand, I liked other versions of the story (see below) better. Both the Jean Cocteau Beauty and the Beast (1946) and Christophe Gans' Beauty and the Beast are much more visually adventurous films. This feels moribund by its necessity to have to also be a remake of the Disney animated film. This leaves it with the baggage of having to include all the talking crockery and furniture and especially of having to be a musical. This leads you to question who the audience watching the film is. Is it the audience that grew up on the animated film or is it the audience that came to see it as a Broadway musical? In which case what you feel you are sitting down to watch is not so much another Disney live-action film as you are joining the same audience that came to see films like Chicago (2002), The Phantom of the Opera (2004) or Mamma Mia (2008).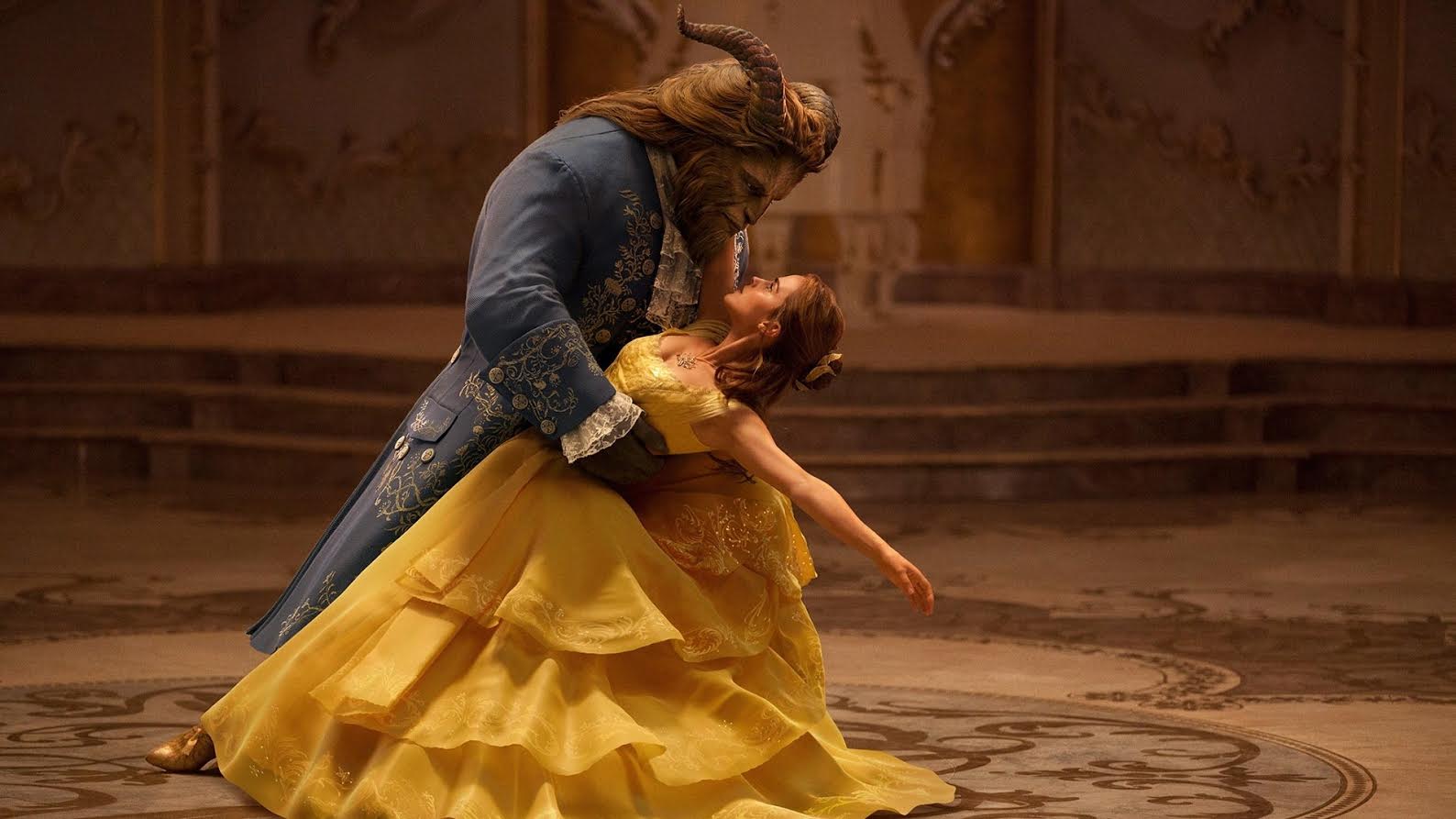 Director Bill Condon broke into the industry as the screenwriter of Michael Laughlin's duo of genre films Dead Kids/Strange Behavior (1981) and Strange Invaders (1983). As a screenwriter, Condon went onto the likes of FX 2 (1991) and Alec Baldwin's problem-ridden Shortcut to Happiness (2003). Condon started directing with the horror film Sister Sister (1987) and went onto Candyman: Farewell to the Flesh (1995). He found his calling with Gods and Monsters (1998) about the life of director James Whale and went onto a bunch of high-profile films that include Kinsey (2004), Dreamgirls (2006), The Fifth Estate (2013), The Twilight Saga two-parter Breaking Dawn Part 1 (2011) and Breaking Dawn Part Two (2012) and Mr. Holmes (2015), as well as wrote the screenplay for Chicago (2002).
Other versions of Beauty and the Beast include:– several lost silent versions made variously in 1899, 1903, 1905, 1908, 1912, 1913 and 1922; Jean Cocteau's classic version Beauty and the Beast (1946) with Jean Marais and Josette Day; the stodgy Technicolor adaptation Beauty and the Beast (1961) starring Mark Damon and Joyce Taylor; Beauty and the Beast (1976), a tv movie adaptation starring George C. Scott and Trish Van Devere; a Czech adaptation Beauty and the Beast (1979); a 1984 episode of Shelley Duval's Faerie Tale Theater starring Klaus Kinski and Susan Sarandon and directed by Roger Vadim; the Cannon Movie Tales adaptation Beauty and the Beast (1987) with John Savage and Rebecca De Mornay; Beauty and the Beast (1991), the Disney animated adaptation; Beauty (2004) starring Martin Clunes and Sienna Guillory, a modernised retelling; Beauty and the Beast (2009) starring Estella Warren, which turned the fairytale into a cheap fantasy adventure; Beastly (2011) starring Alex Pettyfer and Vanessa Hudgens, which transplanted the fairytale into a modern high school setting; the tv movie Beauty and the Beast (2012) starring Ruith Bradley; Christophe Gans' exquisitely dreamy Beauty and the Beast (2014) with Lea Seydoux and Vincent Cassel; and Belle (2021), an anime version set in Virtual Reality. Beauty and the Beast (1987-90) was a fantastical contemporary urban tv series loosely based on the fairy-tale, starring Ron Perlman and Linda Hamilton, and was later remade as Beauty and the Beast (2012-6) starring Kristin Kreuk and Jay Ryan.
(Nominee for Best Production Design at this site's Best of 2017 Awards).
---
---