---
Crew
Director – Richard Rich, Screenplay – Brian Nissen, Story – Brian Nissen & Richard Rich, Producers – Richard Rich & Jared F. Brown, Music – Lex de Azevedo, Songs – Lex de Azevedo & David Zippel, Animation Supervisor – Steven E. Gordon, Digital Enhancement – Angel Studios & DreamQuest Images (Supervisor – Tim Landry), Art Direction – James Coleman & Mike Hodgson. Production Company – Next Entertainment/Rich Animation Studio.
Voices
Howard McGillin (Prince Derek), Michelle Nicastro (Princess Odette), Jack Palance (Rothbart), John Cleese (Jean-Bob), Steve Vinovich (Puffin), Steven Wright (Speed), Joel McKinnon Miller (Bromley), Sandy Duncan (Queen Uberta), Dakin Matthews (King William)
---
Plot
Prince Derek and Princess Odette are brought together as children from two neighbouring kingdoms. As they mature, they grow to love one another. Just as they announce their engagement, the exiled sorcerer Rothbart snatches Odette. Rothbart then places a curse on Odette whereby she is transformed into a swan, only ever able to return to human form when she stands in the moonlight over the lake beneath Rothbart's castle.
---
Richard Rich was a former animator at Disney and director of several of their films. (See below). Rich left Disney and formed his own company in the 1990s where he became one of several people attempting to emulate the renewed success that Disney were having. Rich's The Swan Princess is one of the few non-Disney animated films that have sought to conduct the animated fairy-tale story patented by Disney – and moreover, to have succeeded in doing so.
Unlike the Disney films of the 1990s, Richard Rich seeks no grander artistic pretensions, seeks nothing other than telling a simple and effective fairy-tale. [The story in question is taken from Tchaikovsky's ballet Swan Lake (1877), minus the music]. Such is something that The Swan Princess succeeds at rather well – indeed it is a better, more emotionally plaintive film than many of its Disney contemporaries such as Pocahontas (1995), The Hunchback of Notre Dame (1996) and Hercules (1997).
Everything in The Swan Princess works very nicely – the animation is simple and unadorned; the emotions engendered are sweet and noble. The familiar characterisations of the bumbling comic sidekicks are especially well done in this case, with John Cleese scoring highly as a French frog who merely thinks he is a prince.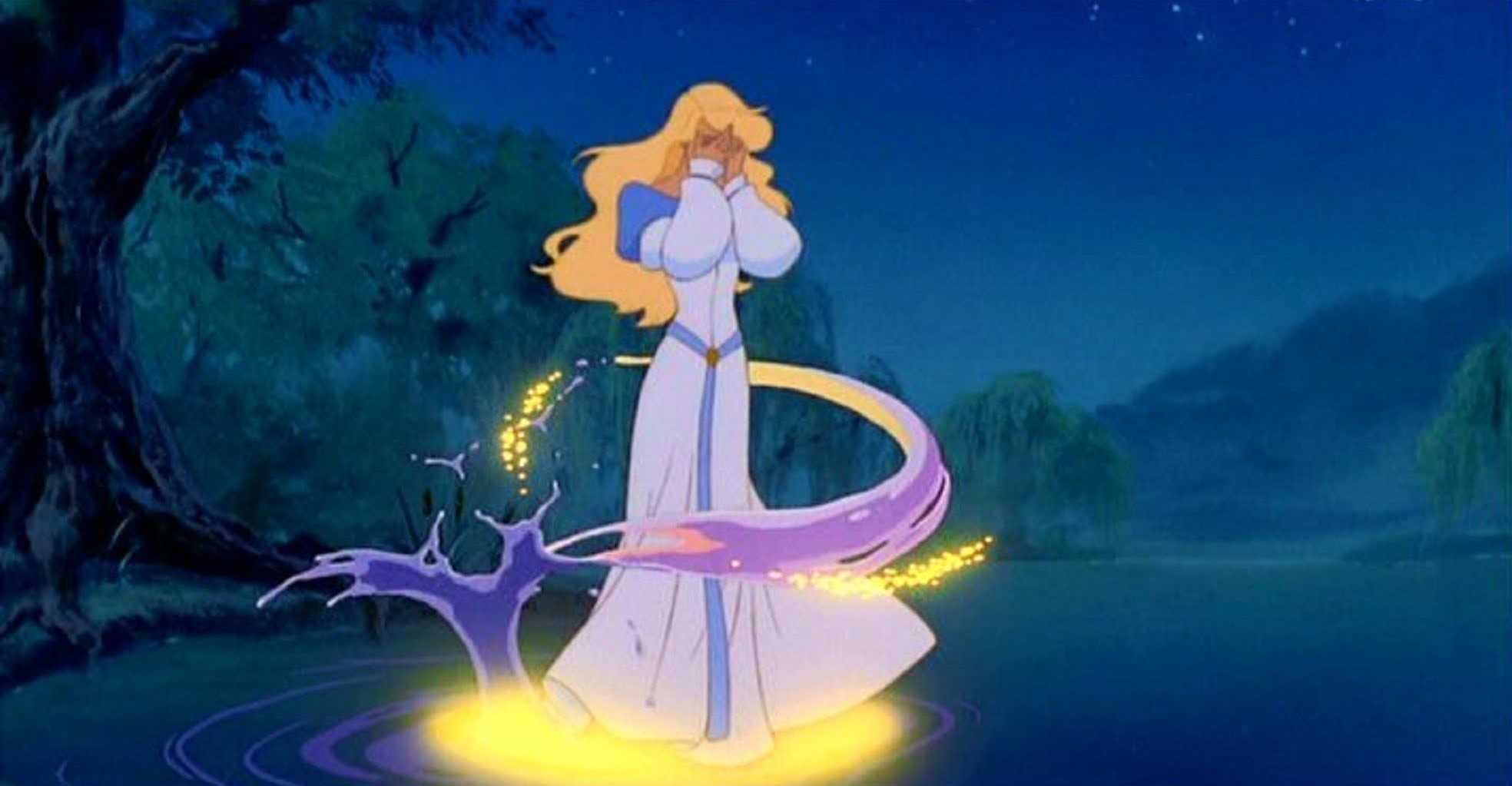 The only fault is one that could be made of many animated films – in the desire to conserve on animation, it has a short running length, which means that some scenes are rushed – there is, for example, no scene where we see the sorcerer turn the princess into a swan. Although there is one scene where this is made to work in the film's favour where we see Derek and Odette grow to adulthood and the romance between them blossom from childish petulance to love all within the space of one song.
Richard Rich made five sequels – The Swan Princess and the Secret of the Castle/The Swan Princess: Escape from Castle Mountain (1997), The Swan Princess III (1998), The Swan Princess Christmas (2012), The Swan Princess: A Royal Family Tale (2014), The Swan Princess: Princess Tomorrow, Pirate Today! (2016), The Swan Princess: Royalty Undercover (2017), The Swan Princess: A Royal Myztery (2018) and The Swan Princess: Kingdom of Music (2019). A further animated version of the Swan Lake story can be found in Barbie of Swan Lake (2003).
The Swan Princess was the first solo directorial outing of former Disney animator Richard Rich. At Disney, Richard Rich had co-directed The Fox and the Hound (1981) and The Black Cauldron (1985). He then formed his own company, making a series of animated Biblical shorts – Joseph in Egypt (1992), Abraham and Isaac (1992), Moses (1993) and Joseph's Reunion (1995). Subsequent to The Swan Princess, Rich directed the disappointing The King and I (1999), co-directed The Scarecrow (2000), based on Nathaniel Hawthorne's Feathertop (1852), co-directed The Trumpet of the Swan (2001) and then solo directed Muhammed: The Last Prophet (2004). Most recently, Rich produced Alpha and Omega (2010) for Crest Animation and then directed three video sequels Alpha and Omega 2: A Howl-iday Adventure (2013), Alpha and Omega 3: The Great Wolf Games (2014), Alpha and Omega: The Legend of the Saw Toothed Cave (2014) and Alpha and Omega: Family Vacation (2015).
---
---