aka Legend of the Red Dragon; Legends of Shaolin
(Hong Xiguan)
---
Crew
Directors – Wong Jing, Action Director – Corey Yuen, Screenplay – Wong Jing, Producers – Helen Li & Sum Shia Wai, Photography – Tom Lau, Music – Wong Bong, Art Direction – Raymond Li. Production Company – Upland Film Corporate.
Cast
Jet Li (Hung Hei-Kwan), Chingmy Yau (Red Bean), Tse Miu (Hung Man Ting), Deannie Yip (Granny/Chu Siu Sin), Gai Chun Wa (Ma Ling Yee)
---
Plot
The warrior Hung Hei-Kwan and his young son Man Ting are forced to take a job as bodyguards to the wealthy Ngai because they need the money. At the same time, Ngai falls prey to the thief Red Bean who conducts a confidence scam along with her mother in which they pretend that her mother is dead and Red Bean offers to sell herself as a wife in order to get the money for the burial. As Hei-Kwan exposes Red Bean's scheme, he finds himself falling for her. Ngai's son Ma Chiu Hing comes from the Shaolin kung fu school and is one of five young children who have had part of a map leading to the school's treasure, which is to be used for an uprising, tattooed on their backs. When the entire school is slaughtered by enemies, the four other children escape and take refuge at Ngai's house. As the army, headed by Hei-Kwan's old nemesis now become a poisonous monster, comes, Hei-Kwan, Red Bean and her mother are forced to cooperate in order to protect the children.
---
The New Legend of Shaolin was an entry in Hong Kong's mid 1990s flying swordsman cycle. It was directed by Wong Jing whose company had produced a number of these films and starred the emergent Jet Li. The title of the film was designed so as to appear as though it was a sequel to the popular Shaolin films, which were part of the original kung fu series' in the 1960s and 70s.
The New Legend of Shaolin is one of the most outrightly enjoyable of Hong Kong's Wu Xia entries. There are all the expected wild moves and acrobatics but Wong Jing adds a few moves of his own – people don't just do flying attacks but do them three deep; a leader flies in over his follower's heads by running across their thrown swords; the opening battle is a wicked parody of the Japanese Baby Cart series and features the villain facing the hero while swinging a burning twelve foot long pole on the end of his hooked arm; the alleyway fight where the heroine's mother dodges a machine-gun like hail of needles and defeats her opponent with a gob of spit; and the poison man who flies into battle in a beetle-shaped chromium car, while a phalanx of soldiers fly in with their shields rolled into one giant chromium ball.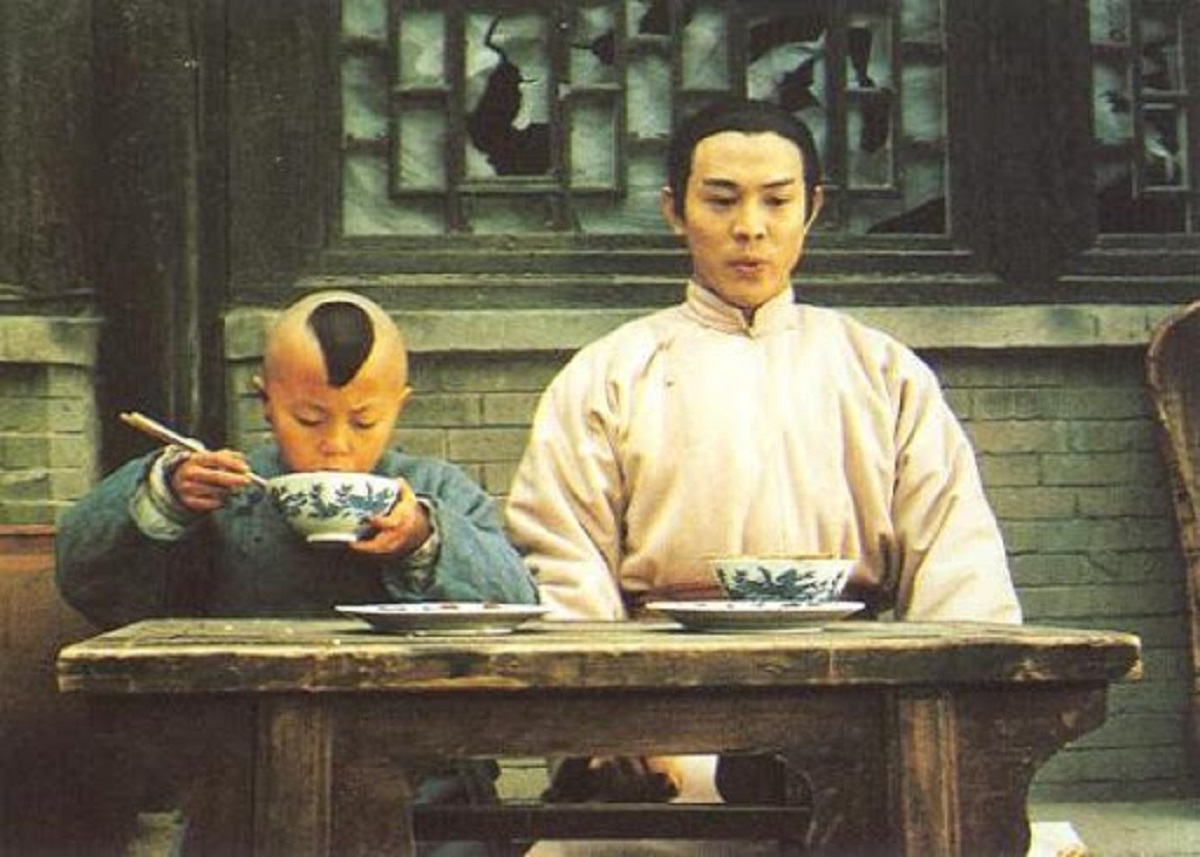 As one might gather, The New Legend of Shaolin is one Wu Xia entry that has a considerable sense of humour. There is a good deal of play made out of the heroine's mother pretending to be a corpse as part of a scam she and her daughter run. Wong's direction is equally adept with the martial arts as with the comedy, sometimes both at once, like a fight that ducks around a sleeping man and especially a romantic flirtation as the heroine does needlework ending with both she and Jet Li tying one another into various positions.
Jet Li is characteristically wooden, although is balanced out by Chingmy Yau who has a wonderful perkiness and a delightful range of expressions. The show is fairly much stolen by young Tse Miu as the son who has some incredible martial arts moves, including at one point the delightfully tongue-in-cheek one of being able to do push-ups while balanced upside down on a single finger.
---
---