(Lung Fu Moon)
---
Crew
Director – Wilson Yip, Screenplay – Edmond Wong, Based on the Comic Book by Yuk Long Wong, Producer – Nansun Shi, Music – Kenji Kawai, Visual Effects – Chibi (Digital Vision) (Supervisor – Koan Hui). Production Company – Mandarin Film Ltd/Shanghai Film Co/Beijing Polybona Film Publishing Co Ltd.
Cast
Donnie Yen (Dragon Wong), Nicholas Tse (Tiger Wong), Shawn Yue (Turbo Shek), Angela Dong (Ma Xiaoling), Xiao Ran Li (Lousha), Wah Yuen (Wong Jianglong), Kuan Tai Chen (Ma Kun), Louis Koo (Shibumi)
---
Plot
In the midst of the wars between Hong Kong triads, two old childhood friends, Dragon and Tiger, find themselves caught in a fight for the possession of the Lousha Amulet, which will grant the possessing side a deal with metal-masked Shibumi. As the two renew their friendship across opposing sides of the conflict, both are also drawn to women on either side.
---
Dragon Tiger Gate is one of the biggest hits to emerge from Hong Kong during the mid-2000a. It is an effective run through the Hong Kong style of martial arts filmmaking – a genre that has started to dry up somewhat in the early 2000s.
Director Wilson Yip had begun directing with a segment of the horror anthology 01:00 AM (1995) and then the crime drama Daze Reaper (1995). Yip's success came with the horror film Bio Zombie (1998), followed by efforts like the crime drama Bullets Over Summer (1998) and the big hit of the martial arts film Kill Zone (2005). Yip has ventured through numerous genres, ranging from romance to action. His other genre films include the martial arts/action film Skyline Cruisers (2000); 2002 (2001) about a ghostbusting team; a bizarre mummy comedy The Mummy, Aged 19 (2002); The White Dragon (2004), a comedic flying swordsman film; and the remakes of A Chinese Ghost Story (2011) and Happy Magic/Magic to Win (2011). The greatest successes he has enjoyed in the West came with the popular martial arts biopic Ip Man (2008) and its sequel Ip Man 2 (2010).
Dragon Tiger Gate follows on from The Storm Riders (1998), which began to mix Wu Xia filmmaking with Western-styled CGI effects. Here Wilson Yip manages an extremely assured blend of standard Hong Kong action stylistics and modern CGI, Steadicam and blurred cut-up motion. Dragon Tiger Gate kicks in with a series of action scenes that rock the theatre and blow away all the wimpy Western imitators that have tried to jump on the popularisation of Wu Xia that came after The Matrix (1999) and Crouching Tiger, Hidden Dragon (2000).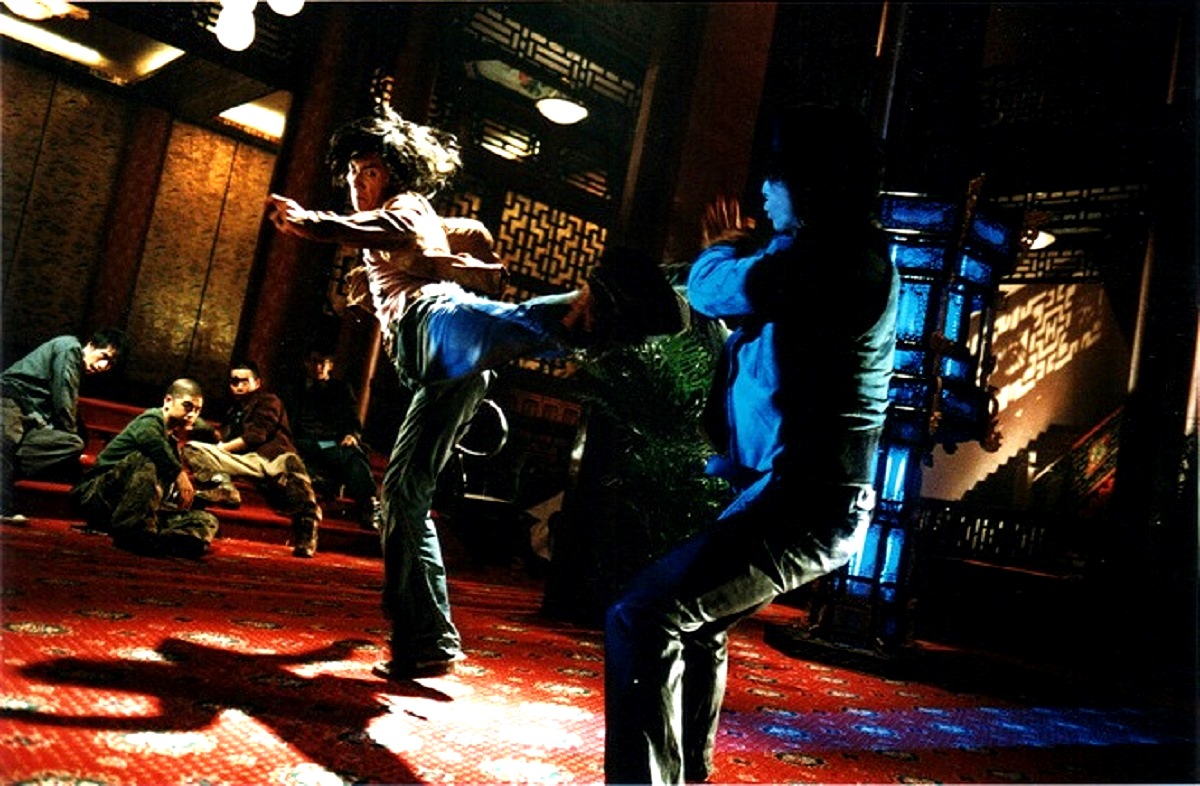 The film opens with a turbo-charged sequence where Nicholas Tse erupts into action and starts kicking people all around a restaurant, even through the ceiling, and using circular dining tables as giant discuses. A few minutes later there comes an even more amazing sequence with various parties meeting up in a Japanese restaurant and a fight erupting between dozens of combatants crowded together in small rooms, where Yip then whips his camera up to an aerial shot looking down across the rooms as the parties' fight, while diners in other rooms eat on undisturbed. The film is shot in a beautifully stylised way – the lighting and colours of the backgrounds are exquisite. Everything also comes highly posed with just about every one of the actors having haircuts that come with forelocks artfully draped across one eye.
Dragon Tiger Gate doesn't have many fantasy elements per se, although the martial arts sequences are so fantastical that they clearly become so. Minor fantasy elements can be found in the possibly supernatural villain in a beaten gold mask, as well as a sequence where Angela Dong goes to the Zen master to plead for Nicholas Tse's life and is asked to pick up a host of prayer beads as they fall down the steps of the temple, only for this to prove to be an illusion to test her.
The minus side of Dragon Tiger Gate is that it slows down in between the martial arts scenes. The story spends a little too much time on the two heroes and their backstory as children, as well as the two women that either becomes attracted to.
(Nominee for Best Cinematography at this site's Best of 2006 Awards).
---
---