aka The Legend of Zu; Zu Time Warriors
(Shu Shan Zheng Zhuan)
---
Crew
Director/Producer – Tsui Hark, Screenplay – Liman Choi & Tsui Hark, English Language Version Written by Adam Bernardi, Photography – Foon Hang Sang, Herman Yau Lai To & William Him Wai Llin, Music – Ricky Ho, Visual Effects – Digital Dimension (Supervisor – Benoit Girard), Menford Electronic Art and Computer Design Company Limited (Director – Eddy Wong) & Pixel Magic, Additional Visual Effects – Cinefex Workshop Company Limited, Production Design – Cyrus Ho Kim Hung, Martial Arts Director – Yuen Wo Ping. Production Company – Distant Horizons/China Star Entertainment Group/Film Workshop/One Hundred Years of Film Company.
Cast
Ekin Cheng (King Sky/English Version – Blue Wolf), Sammo Hung (White Eyebrows/English Version – White Lion), Cecilia Cheung (Enigma/English Version – Princess Dawn), Louis Koo (Red/English Version – Red Hawk), Patrick Tam (Thunder), Kelly Lin (Amnesia), Zhang Ziyi (Joy), Jacky Wu (Ying)
---
Plot
There are two mountains, Omei and Kun Lin, that stretch above the mortal world and whose inhabitants have great powers. Amongst them, Onyx desires to live by more than continued reincarnation and moves across the countryside as a malevolent cloud, devouring human souls so as to become immortal. The monk White Lion rallies his warriors against the menace. White Lion seeks to wield the Infinity Sword against Onyx by uniting the lifeforces of the two mountains but the chosen warriors fail. The warrior Blue Wolf's teacher Princess Dawn is killed but reincarnates in the body of a mortal. Elsewhere, the warrior Red Hawk rescues a tiny fairy being but ends up being possessed by Onyx's minions.
---
Tsui Hark's Zu: Warriors from the Magic Mountain (1983) is fairly much regarded as the point that started the Hong Kong Wu Xia cycle. Although there were antecedents, Zu's wacky mix of Eastern beliefs, casual fantasy and gonzo martial arts action caught on and inspired a host of other films. Tsui Hark went onto become a major name as director and as producer of the likes of A Chinese Ghost Story (1987) and sequels, Swordsman (1990) and sequels, as well as many of John Woo's early action films. (See below for Tsui Hark's other films).
Zu Warriors/The Legend of Zu is variously described as a remake or a sequel to Zu: Warriors from the Magic Mountain – perhaps more correctly, it can be regarded as a reworking. Zu Warriors came towards the very end of the traditional Wu Xia cycle around 2000 where many of its prime movers and shakers had emigrated overseas to avoid Britain's handover of Hong Kong back to China in 1997. In the meantime, Wu Xia had found two major new influences – the arrival of CGI effects, which quickly came to supplant traditional wirework. Secondly, there were the international hits of The Matrix (1999) and Crouching Tiger, Hidden Dragon (2000), which saw Wu Xia being popularised to Western audiences and quickly copied by Hollywood.
By the end of the 00s, many traditional directors in the genre started to return to work under mainland Chinese backing, making Wu Xia films as lush fantastical showpieces on big budgets designed for international consumption. Zu Warriors marks the end of the classic 1980s-90s cycle and the dawn of the new era – the point when Tsui Hark discovered CGI and showed the promise that this would hold for the genre in the decade ahead.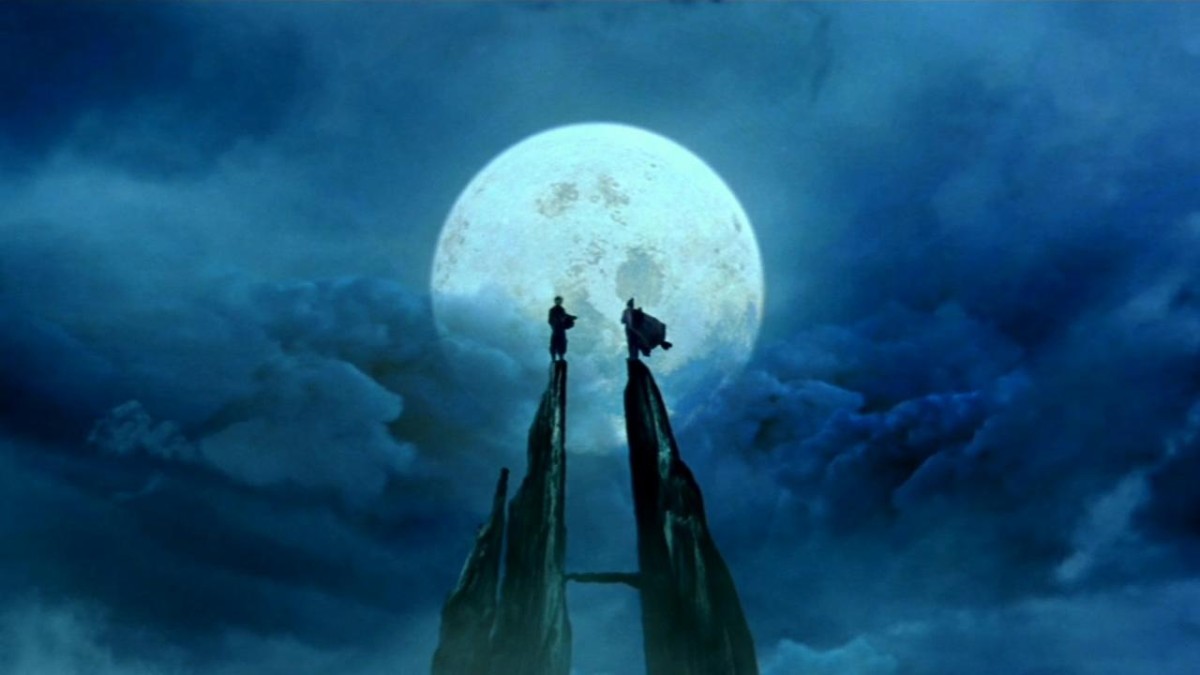 From its opening, it is apparent that Tsui Hark has not merely leapt onto CGI as a means of doing more advanced things with the flying swordsmen genre, as you could say of a lesser contemporary like The Storm Warriors (1998), but has used it to create something entirely fantastique that exists on another level altogether. While most Wu Xia films offer wild and wacky combat moves, here Tsui Hark ups this by a factor of about ten until what we are watching is something akin to a superhero movie. Everybody flies and wields power blasts (where the various CGI designers seemed to have discovered fractals and have delivered everything in a mind-spinning arrays of patterns). Others fly around with giant metal wings with metal feathers that also double as knives they can fire at combatants or whip off to become vertebrate swords. The setting is a world that seems dominated by two peaks rising out of the mists and of islands that float in the sky. People have conversations, talking to one another while standing in silhouette on opposing mountain peaks outlined against a moon that seems to inhabit most of the sky.
While the CGI is spotty at times, what you cannot deny is the new quantum level that it allows Tsui Hark to take Wu Xia to and the dreamy exquisite world he has built it out into. The problem that prevents Zu Warriors from becoming a great work is the same one shared by Zu: Warriors from the Magic Mountain – that the film has a plot that is almost impossible to follow, involving a great many factions all fighting each other at cross-purpose and for reasons that are often unclear. At various points, you are not even sure whether you are dealing with characters or their reincarnations.
Zu Warriors/The Legend of Zu was a box-office disappointment when released in Hong Kong. The film was picked up for US release by Miramax who even released trailers to theatres in 2001 but then dumped the film direct to video in a dubbed version where it was shorn of some 15 minutes of material, which reportedly makes a confusing plot almost impossible to follow.
Tsui Hark's other genre films as director are:- The Butterfly Murders (1979), We're Going to Eat You (1980), Aces Go Places III: Our Man from Bond Street/Mad Mission III: Our Man from Bond Street (1984), Green Snake (1993), Butterfly Lovers (1994), Black Mask 2: City of Masks (2002), Missing (2008), Detective Dee and the Mystery of the Phantom Flame (2010), Flying Swords of Dragon Gate (2011), Young Detective Dee: Rise of the Sea Dragon (2013), Journey to the West: Demon Chapter (2017) and Detective Dee: The Four Heavenly Kings (2018). Tsui Hark has also produced A Chinese Ghost Story (1987), The Laser Man (1988), Roboforce/I Love Maria (1988), A Chinese Ghost Story II (1990), Swordsman (1990), A Terracotta Warrior (1990), A Chinese Ghost Story III (1991), The King of Chess (1991), New Dragon Gate Inn/Dragon Inn (1992), Swordsman II (1992), Iron Monkey (1993), The Magic Crane (1993), Swordsman III: The East is Red (1993), Wicked City (1993), Burning Hell in Paradise (1994), Black Mask (1996), A Chinese Ghost Story: A Tsui Hark Animation (1997), Master Q (2001), Vampire Hunters/The Era of Vampires (2002), Sword Master (2016) and The Thousand Faces of Dunjia (2017).
---