---
West Germany/France. 1981.
Crew
Director/Screenplay – Andrzej Zulawski, Adaptation/Dialogue – Zulawski & Frederic Tuten, Producer – Marie-Laure Reyre, Photography – Bruno Nuytten, Music – Andrzej Korzynski, Music (US Version) – Art Phillips, Special Effects – Charles-Henri Assola & Daniel Braunschweig, Creature Effects – Carlo Rambaldi, Art Direction – Holger Gross. Production Company – Marianne/Oliane/Soma.
Cast
Isabelle Adjani (Anna/Helen), Sam Neill (Marc), Heinz Bennett (Heinrich), Margit Carstensen (Margie), Michael Hogben (Bob), Shaun Lawton (Zimmerman)
---
Plot
The secret agent Marc returns home from an assignment only for his wife Anna to tell him that she is leaving him for another man Heinrich. The breakup causes their mutual sanities to fray. Marc becomes involved with their son's teacher Helen who resembles Anna. She kills several people and gives birth to a bizarre creature in a subway. He hires two detectives to follow her and eventually discovers that her new lover is a tentacular creature.
---
This bizarre oddity was a film that nobody knew what to make of it when it came out but one that has steadily been gaining ground as a weird headspace cult classic ever since. Exactly what it is about could be anybody's guess.
It is filled with bizarre events that are delivered at a pitch of histrionic melodramatics. Variously:– Sam Neill tries to slash his wrists with an electric breadknife over his marriage breakup and then finds a perfected twin of wife Isabelle Adjani in the schoolteacher Anna; she after about five minutes of wailing and vomiting in a subway tunnel gives birth to a tentacled monster that she spends the rest of the film fucking (it later turns into a twin of Neill). A pair of detectives with pink socks wander through the film. In the end, Neill and Adjani's son tries to drown himself in the bath, before everything ends in the flash of a nuclear detonation.
All of this bizarreness is considerably aided by director Andrzej Zulawski's demented visual style. Zulawski seems only ever to be able to direct at a manically deranged pace or in dull meaningful pauses. The camera continuously wanders in and out of rooms in long tracking shots and there are weirdly disjointed lapses between shots. The streets, trains, cafes and bars of West Berlin (where the film was shot) seem to be completely empty of people. The film is lit in a washed-out blue light and the characters all painted in white-face – along with the hysterically shrieked performances of both Sam Neill and Isabelle Adjani, the film seems more like kabuki theatre colliding with European arthouse cinema at its most wilfully pretentious.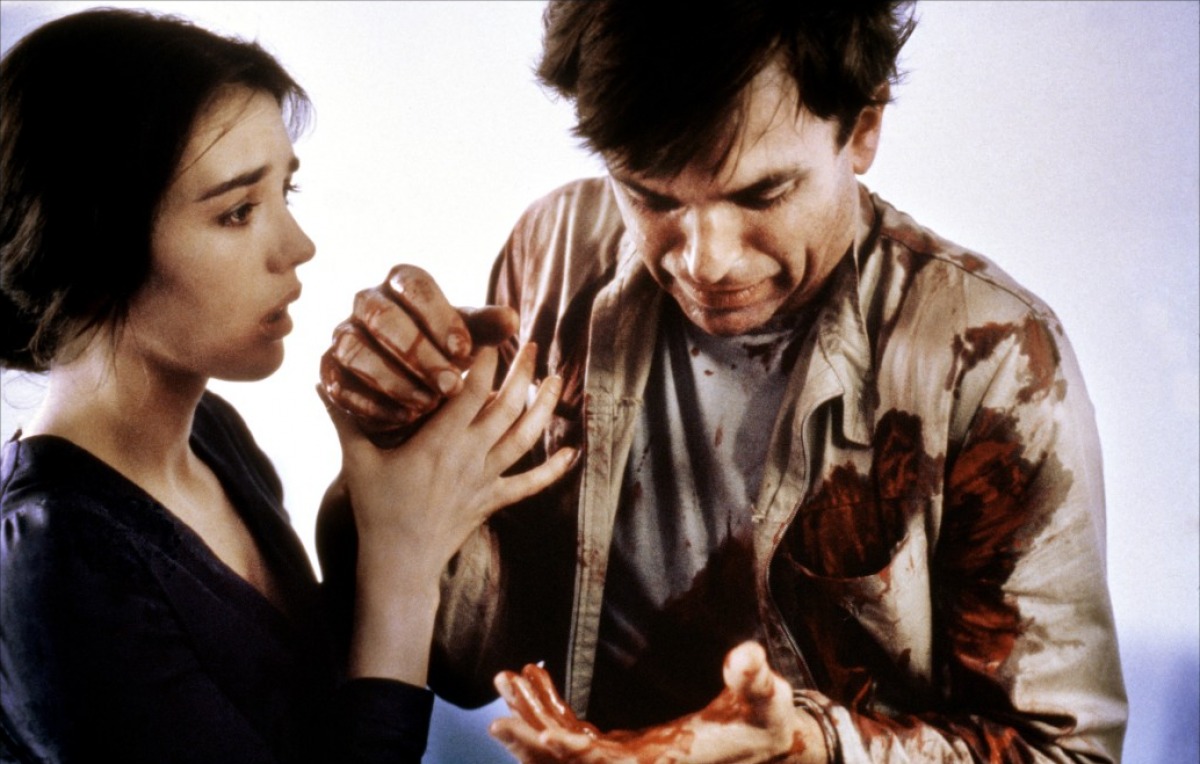 Somehow in all of this, Isabelle Adjani was awarded the Palm D'Or for Best Actress Award at Cannes that year for the role. Certainly, she should be celebrated for being able to attain an entire film at the histrionic pitch of a near-nervous breakdown – but is it a great performance?
Andrzej Zulawski feels like he has much he wants to say. Symbolism – The Berlin Wall representing divisions, everybody seeks perfected clone versions of the other – often looms as though he is pointing a big arrow at it. However, what he is trying to make a film about is not at all clear – marriage breakup? an out-and-out horror film? monsters from the Id? There is so much going on that everything eventually collapses into symbolic overkill, not to mention narrative incoherence.
You can draw nominal similarities to David Cronenberg's The Brood (1979), which featured a husband trying to rescue his estranged wife from a psychotherapeutic technique that allowed her to express herself by physically giving birth to monsters. Possession could almost be a subjective, internalised version of The Brood – one that comes sans the explaining rationale of pschyotherapeutic techniques.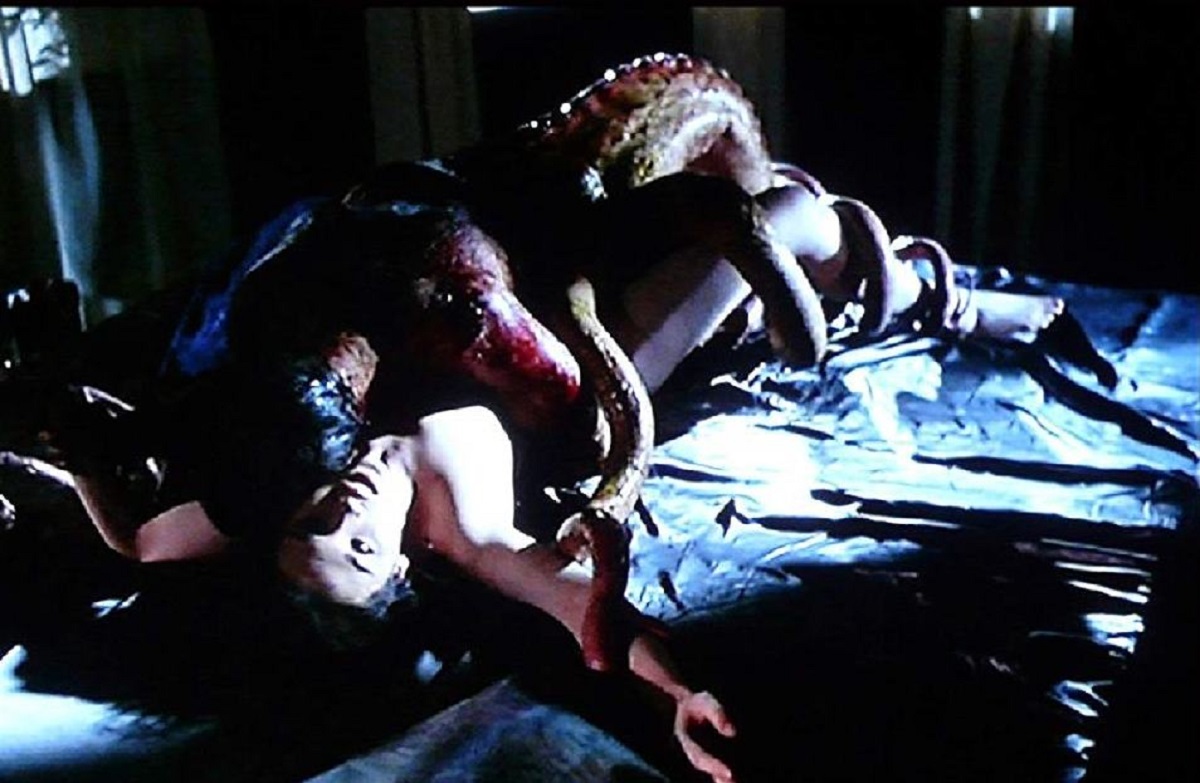 Indeed, Possession almost seems to inhabit the same kind of surreal interior territory as Roman Polanski's mental breakdown film Repulsion (1965) – it seems to be a subjective work from the inside of the emotional traumas of separation. However, if that is what it is, Andrzej Zulawski gives us no handholds. Everybody in the film seems nuts and it is never clear whose emotional trauma we are seeing – Neill's or Adjani's. That said, there is definitely a small cult that regards Possession as a minor masterpiece. Even Sam Neill called this the favourite among his films.
The international version of the film runs to 127 minutes, the US distributor cut 45 minutes out and attempted to rearrange scenes in a vain attempt to provide greater clarity. It didn't help. The original US cinematic release was promoted with free barf bags; in the UK, the film was declared a video nasty and banned.
Ukranian-born, Polish-based director Andrzej Zulawski has made a number of other films since, including Boris Godunov (1989), My Nights Are More Beautiful Than Your Days (1989), Fidelity (2000) and Cosmos (2015). Zulawksi's one other venture into genre cinema has been The Devil (1972), a historical film set in 19th Century Poland that depicts the barbarism of the period with reportedly extremely graphic results, and the epic science-fiction film On the Silver Globe (1988).
---
---