aka Dorian Gray as Reflected In the Yellow Press; The Image of Dorian Gray In the Press
(Dorian Gray im Spiegel der Boulevardpresse)
---
Crew
Director/Screenplay/Photography/Production Design – Ulrike Ottinger, Producer – Renee Gundelach, Music – Peer Raben. Production Company – Ulrike Ottinger Film.
Cast
Veruschka von Lehndorff (Dorian Gray), Delphine Seyrig (Frau Dr Mabuse), Tabea Blumenschein (Andamana), Toyo Tanaka (Hollywood)
---
Plot
Newspaper magnate Frau Dr Mabuse decides to create her own mass-media sensation by building press attention up around the innocent and unworldwise playboy Dorian Grey. She sets Dorian up with the beautiful opera singer Andamana and then splashes every detail of their affair across the presses. The innocent Dorian is unaware of Mabuse's sinister manipulations until Dr Mabuse decides to break up the romance.
---
Nobody is joking when they describe German director Ulrike Ottinger as an alternate filmmaker – Ottinger is someone so underground she could pass for an entire subway system. Ottinger had been a filmmaker in the Berlin arts scene for a decade before this, with works little seen outside of Germany that included the documentary Berlin Fever (1973) and surrealist films such as Laokoon and Sons (1974), The Bewitchment of the Drunken Sailors (1975), Madame X – An Absolute Ruler (1977), Portrait of a Woman Drinker (1979) and Freak Orlando (1981).
Dorian Gray was Ottinger's most high profile work, with a modest budget that allowed her to bring on board names like the German model/aristocrat Veruschka and the elegantly classy Delphine Seyrig, best known for Daughters of Darkness (1971). Subsequently, Ottinger would go onto make other works like Joan of Arc of Mongolia (1988), Exile Shanghai (1997) and The Twelve Chairs (2004), but her output has become more sporadic in the 1990s, mostly in documentaries.
This is a film where you can palpably detect the director's concerted effort at trying to be avant garde. The set-ups frequently defy belief – Ottinger loves operas, she stages two of them – one is a nominally classical piece but staged on a beach framed by curtains and wings, with the audience seated in a cave encased by drapes that flow all the way down the beach and the characters dressed in plastic macs and with New Wave hairstyles and kitchen cutlery used as armour; the other a lunatic kabuki of leftover Mikado chorus-liners seemingly let loose on a Yoko Ono repertoire.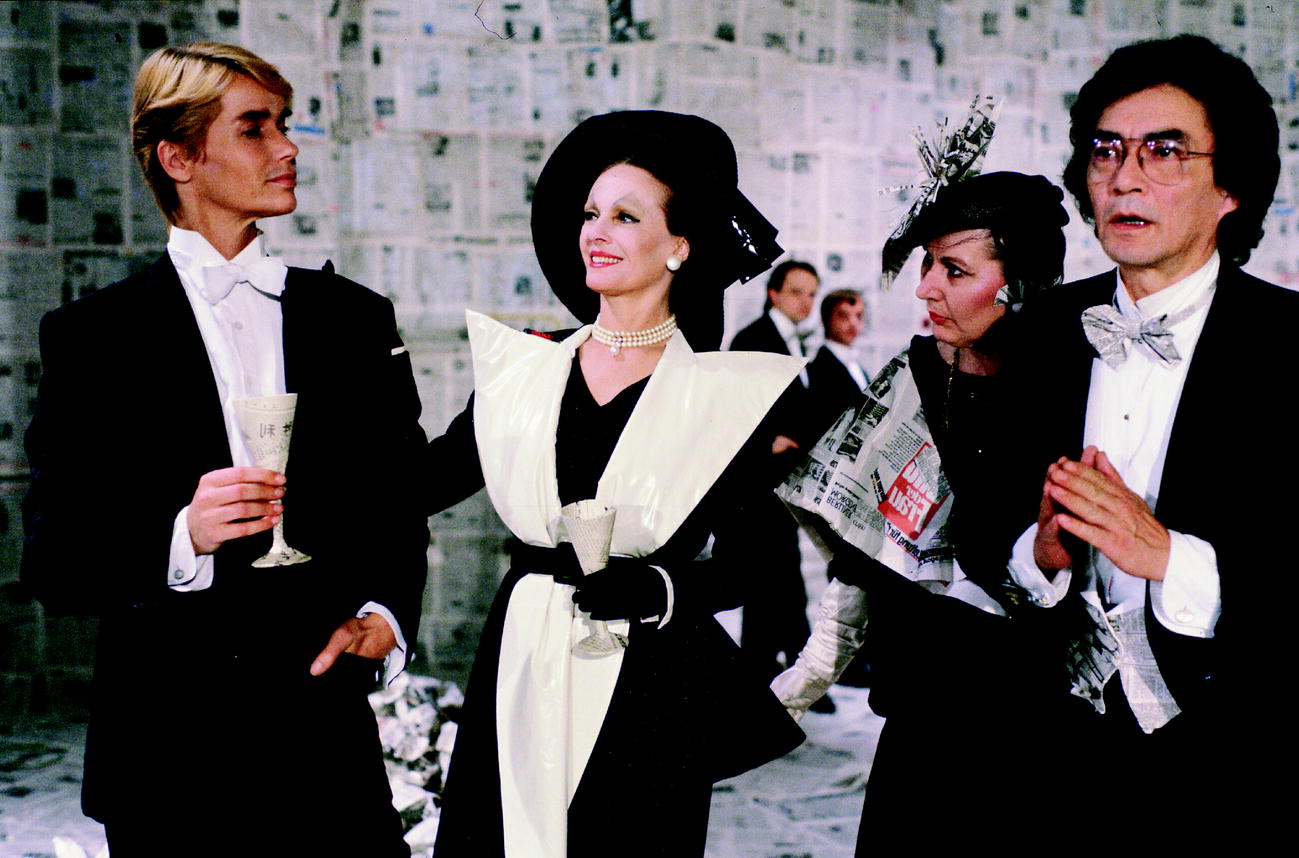 Bizarre non-sequitirs are everywhere – Veruschka is chauffeur-driven about by a dog; a party is held in room that is entirely papered in newspapers, including the lapels of the waiters. The hero is played not too convincingly by a woman (not that it matters). Delphine Seyrig is decked out in what might be termed stiletto lapels upon which she seems in imminent danger of being about to do herself an injury, while her dialogue is equally divided between German, French and English. Ottinger quotes from Germany cinematic history by naming characters Dr Mabuse and the Golem, as well as a Dorian Grey, to no particularly clear point.
It's alternate but is it art? Ottinger's set-ups are lengthy and static and after 2½ hours of these rambling set-pieces and not the remotest resemblance of a plot (it could be a series of filmed still-lifes for all the enervation the film has), the majority of the audience at this screening had walked out. Outside of Ottinger's wilful bizarreness, there is little to the film – there is a slim plot, which is frequently abandoned, and the only real message seems to be to wheel out histrionic outrage at the gutter press, something that seems too easy a target and with Ottinger having nothing new to say about it.
---