---
Crew
Director – Florian Zeller, Screenplay – Christopher Hampton & Florian Zeller, Based on the Play by Florian Zeller, Producers – Philippe Carcasonne, Simon Friend, Jean-Louis Livi, David Parfitt & Christopher Spadone, Photography – Ben Smithard, Music – Ludovico Einaudi, Visual Effects – Umedia (Supervisor – Mikael Tsnguy), Production Design – Peter Francis. Production Company – F comme Film/Embankment Films/Cine-@.
Cast
Anthony Hopkins (Anthony), Olivia Colman (Anne), Rufus Sewell (Paul), Imogen Poots (Laura), Mark Gatiss (The Man), Olivia Williams (The Woman)
---
Plot
The aging Anthony is visited by his daughter Anne in his apartment in London. She is upset because Anthony has threatened his latest caregiver but he has no memory of doing so. Anne also announces that she is going to move to Paris to be with a new man in her life. However, things begin to blur for Anthony and an unknown man turns up in the apartment who insists that he has been married to Anne for ten years, while Anne becomes a woman he does not recognise. In other blurrings of memory, Anne and her husband Paul try to arrange a new caregiver for Anthony with Laura, while Paul becomes frustrated with the burden that Anthony has become on Anne's life. Even the apartment that Anthony lives in shifts and changes and may not even belong to him.
---
The Father is the sort of awards-friendly film that usually doesn't get covered here on Moria. It was nominated for a swathe of end of year awards, including four Golden Globes, six BAFTAs (including winning for Best Film, Best Adapted Screenplay and Best Actor for Anthony Hopkins), and nominated for six Academy Awards, including for Best Film, Best Adapted Screenplay, Best Actor (Anthony Hopkins) and Best Actress (Olivia Colman). I came across some reviews that called it, among other things, a film set in the multiverse, which made me curious to check it out.
French playwright and novelist Florian Zeller makes his directorial debut with the film. Zeller's books and plays have been getting enormous critical acclaim since the early 2000s. The most acclaimed of these was La Pere (The Father) (2012), which originally premiered in French and then translated into English where it received multiple awards, including such plaudits as "the most acclaimed new play of the last decade." Zeller has made two follow-up works, The Mother (2015) and The Son (2019), which adopt the same shifting perspective with other family members.
The film opens on a standard seeming scene with Anthony Hopkins as a senior in his apartment (where the film remains for the duration). Daughter Olivia Colman has come concerned after he threatened his caregiver, during which she also informs him that she has found somebody and is moving to Paris. Through this, we get clear indication that Anthony Hopkins is suffering from Alzheimer's and cannot remember saying anything to his caregiver and then claiming he conducted a test to see whether she was trustworthy and left his watch out for her to take before Olivia finds where he has hidden his watch.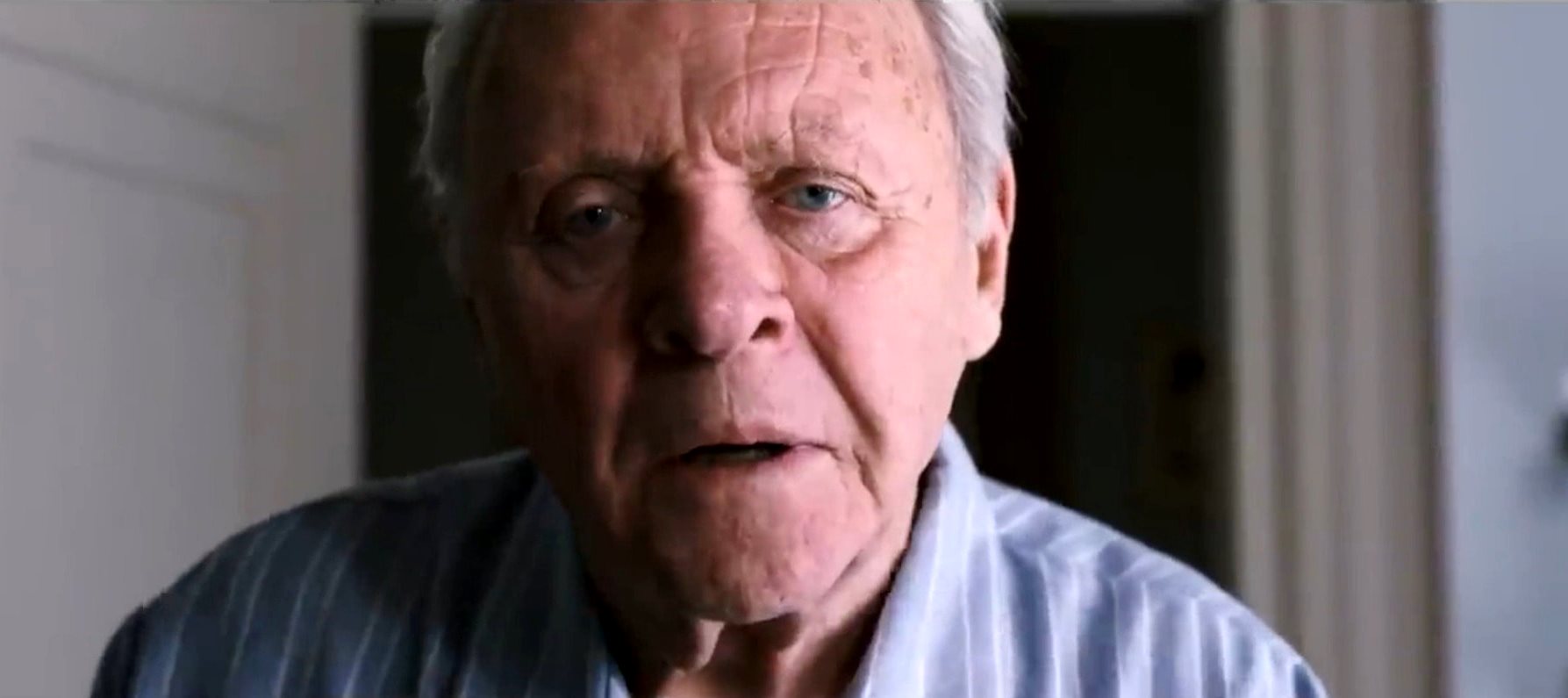 Things then start to get weird. Anthony finds a man he does not recognise (Mark Gatiss) in the house. He claims he is Anne's husband and, despite she saying she was moving to France to be with someone, says that they have been married for ten years and moreover that they own the apartment. Anne then returns to the apartment but we are bewildered because this is not Olivia Colman but Olivia Williams even though her hairstyle and manner is similar and she acts in all way as though she is Anne. Equally bewilderingly, as Anthony mentions Gatiss, she has no idea who he is talking about and insists she has been divorced for five years, while Gatiss seems to have vanished when Anthony returns to the other room.
This sense of shifting reality plays right throughout the film. The apartment Anthony Hopkins lives in abruptly goes from his home to one maybe owned by his daughter and her husband to an entirely different apartment he does not recognise to a room at a retirement home. Hopkins develops a cranky, likeable relationship with new caregiver Imogen Poots who reminds him of his other daughter. Imogen mentions about the accident the daughter suffered and empathises how horrible it must have been but this is news to him. However, when the new caregiver is introduced for her first day on the job, it turns out to be someone else altogether in the person of Olivia Williams.
Anne's husband Rufus Sewell expresses concern in several scenes about how her duty of responsibility to Anthony has become a burden that is dragging her life down and that they should do about it. Rufus then becomes Mark Gatiss who aggressively begins to slap Anthony while going on about him "getting on their tits." Anne comes running to find Rufus in the room and Anthony cowering, seemingly fighting demons in his head. In another shift, Anthony is in the hospital and Olivia Williams and Mark Gatiss are now members of the nursing staff, while it turns out that rather than any of the scenarios involving husbands Anne has moved to Paris as she said she was intending to do at the start.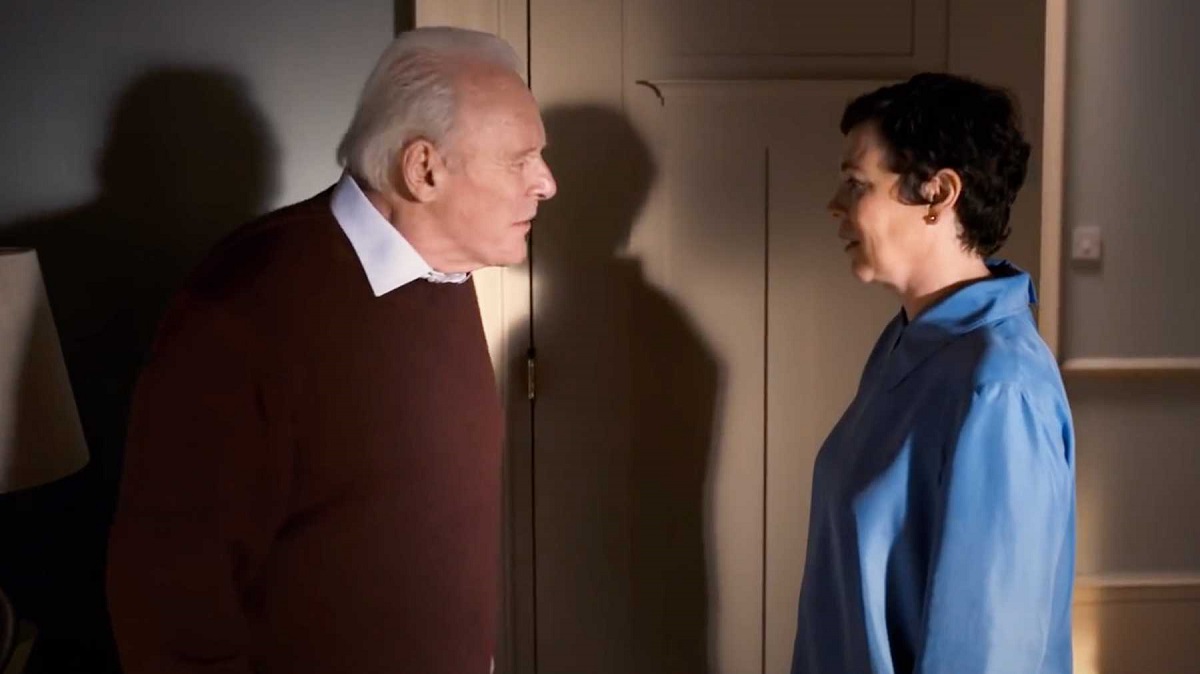 This is a film that gives us no easy footholds. Florian Zeller's intention was to place us inside the subjective headspace of someone experiencing Alzheimer's rather than simply make a drama objectively depicting someone suffering from the condition as we get in say a film like Away from Her (2006). We see Anthony Hopkins' constant sense of bewilderment at not being certain about who the people in his life are. Even the film's timescale and where and when things are happening seems to shift and change. At the end, we see Hopkins break down in a despairing cry of "Who am I?" At the same time, we also see that he is no victim of this and is crafty and cranky, teasing Imogen Poots with made-up stories about being a tap dancer or having been in the circus or cruelly turning on her and tearing apart her manner as condescending.
Does this make The Father a genre film? At the end of it, I can only say I am not sure – and that is exactly the point of the film. Florian Zeller's intent was to make a film about the confused state of mind of someone suffering from Alzheimer's. You can accept the film as just that and there need be nothing more complicated to it than that. On the other hand, Zeller also employs the sense of subjective reality we get in films like Roman Polanski's Repulsion (1965) and Ingmar Bergman's Hour of the Wolf (1968). There is a much similarity to the identity blurrings in Luis Buñuel's That Obscure Object of Desire (1977) or works like David Lynch's Lost Highway (1997), even the surreal shiftings of memory in Last Year in Marienbad (1961). I was, in particular, reminded of the shifting identity confusions we had in Robert Altman's Images (1972) and David Cronenberg's Spider (2002).
Is The Father a multiverse film? It could be – this is a film that is so open-ended it leads to different interpretations – although I suspect talking about a multiverse is a more literalistic framework being placed on it that was intended by Florian Zeller. Nevertheless, these ambiguities and the film's shifting uncertainties make it a well worthwhile watch.
(Winner in this site's Top 10 Films of 2020 list. Nominee for Best Director (Florian Zeller), Best Adapted Screenplay and Best Actor (Anthony Hopkins) at this site's Best of 2020 Awards).
---
Trailer here
---