---
France/Switzerland. 1977.
Crew
Director – Alain Resnais, Screenplay – David Mercer, Producers – Yves Gasser & Klaus Hellwig, Photography – Ricardo Aronovitch, Music – Miklos Rozsa, Production Design – Charles Merangel & Jacque Saulnier. Production Company – Action-Films/Societe Francaise du Production/FR3/Citel Films.
Cast
John Gielgud (Clive'Langham), Dirk Bogarde (Claud Langham), Ellen Burstyn (Sonia Langham), David Warner (Kevin Woodford), Elaine Stritch (Helen Wiener)
---
Plot
Aging writer Clive Langham lies at home, ill. While sitting in bed, he composes a novel in his head. In the story, lawyer Claud Langham prosecutes Kevin Woodford, a soldier on trial for murder whose defence is that the man he killed was a werewolf who begged to be put out of his misery. After the trial ends with an acquittal, Claud's wife Sonia brings Woodford home, intending to have an affair with him. Claud is unconcerned and resumes seeing his former mistress Helen Wiener after she calls him to tell him that she is dying. The characters change as the old man composes the story. The next morning is the Langham's 78th birthday. As his three children gather to celebrate, we see that he has based the characters in his story on them.
---
French director Alain Resnais (1922-2014) first emerged in the late 1950s and rapidly became one of the key figures of the French New Wave with films such as Hiroshima Mon Amour (1959), Last Year in Marienbad (1961) and La Guerre est Finie (1966). Many of Resnais's films have a focus on memory – Hiroshima Mon Amour blurs between past and present, while the overtly fantastical Last Year in Marienbad circles around people meeting in a mysterious hotel and is filled with shifting ambiguities about whether they met there the previous year or not. Resnais would go onto make other films such as Je T'aime, Je T'aime (1968), which dealt with his preoccupations with memory in science-fiction terms, and Smoking/No Smoking (1993), one of the first films on the theme of multiple realities resulting from different choices.
Providence was Alain Resnais' first English-language film and he again returns to these preoccupations with memory. Providence is an interesting film, although it is a much more traditional and not as visually ambitious as Last Year in Marienbad was. As the film gets underway, it gradually becomes apparent that what we are watching is a story that is being composed by aging writer John Gielgud as he lies in bed. (It is possible that Providence may have offered inspiration for the Dennis Potter tv mini-series The Singing Detective (1986), which has the same essential theme of a writer lying in bed ill, composing a story that allegorically winds in the people from his life).
The telling of the story comes with self-conscious authorly effect – we see amusing changes of direction within the story as John Gielgud changes his mind or pauses to gather his thoughts – one character (Elaine Stritch) blurs into what later becomes apparent is a memory of John Gielgud's late wife; the hotel room the lover's tryst takes place in changes when Gielgud's voice decides that the venue isn't right; and later a character wonders aloud why he has an erection, which is clearly Gielgud's randiness coming through.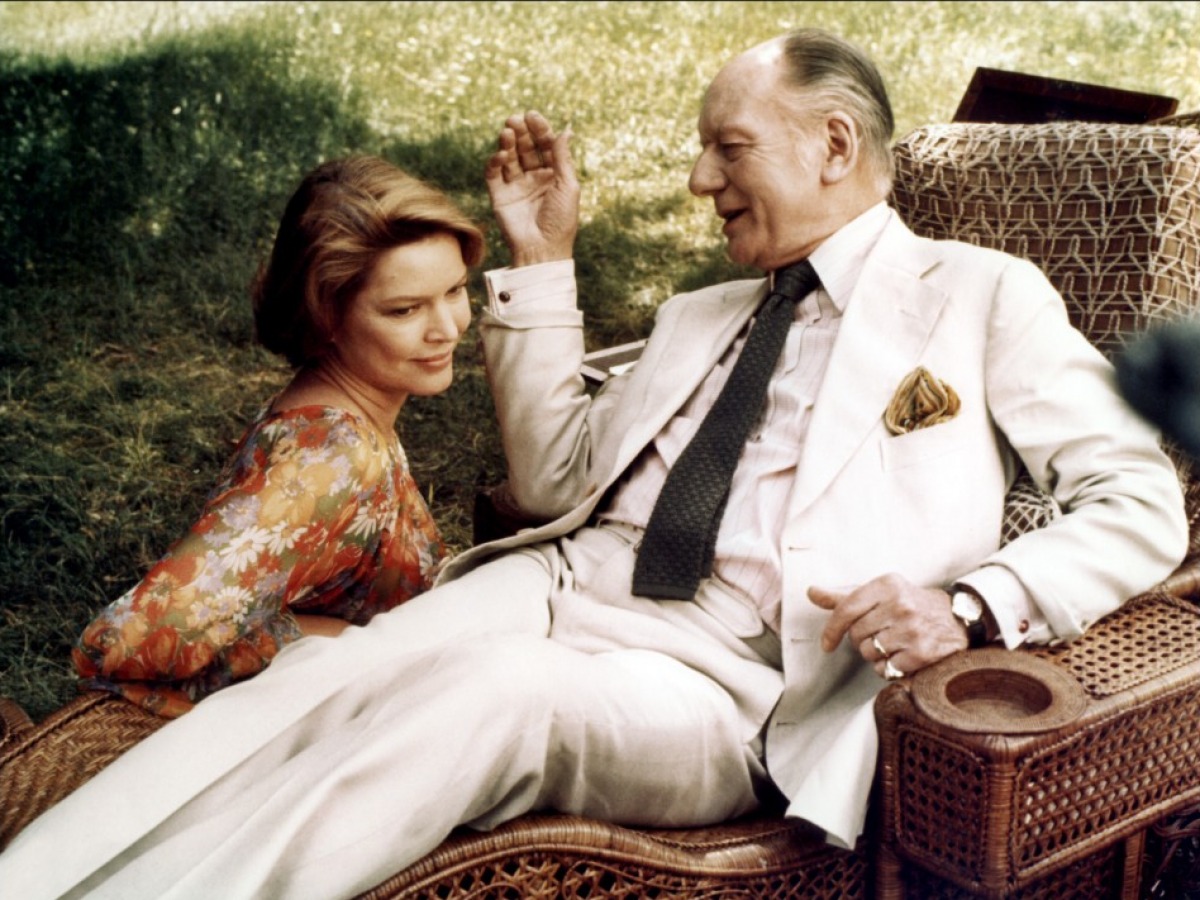 The narrated story-within-the-story starts well. There are some wonderfully droll scenes – like the perfect nonchalance that Dirk Bogarde maintains after he walks in to find Ellen Burstyn and David Warner together. Some of the dry dialogue that is handed to Dirk Bogarde is simply marvellous. Alas, a typically French pseudo-intellectualism eventually begins to overtake the exercise. The dialogue gets appallingly pretentious:– "On subatomic physics, one becomes confused between the infinitely small and the infinitely large." Or some of Dirk Bogarde's fey opinings on marriage – "What is the bourgeoisie wife? What, if not someone who has lost faith in the capacity of the human for radical transformation?" and exchanges like "What is this huge, huge sense of spiritual emptiness?" "Yours is the misery of tranquillity." The story-within-the-story starts well but gradually and fatally Providence loses any impetus and talks itself to death.
What almost does save Providence from its pretensions is the excellent twist reversal that comes in the last few minutes. [PLOT SPOILERS]. Here the next morning arrives and John Gielgud goes out to his country garden to await the arrival of his children for his birthday party. Here it becomes apparent that the characters within the story were all distorted versions of his children. What is interesting is how Alain Resnais inverts what is usually the case when films create a contrast between fictional and real-world counterparts – here the real world scenes are happy and idyllic and the surroundings sunny and pastoral.
By contrast, it is not the fictionalisation that is a perfected vision as is usually the case in these types of story, but a fantasy that sees a dark, troubled undertow to the pastoral scene before us where John Gielgud is imagining Dirk Bogarde and Ellen Burstyn's happy marriage as bored and troubled and where his guilt over his wife's death keeps intruding. The contrast that Resnais and playwright David Mercer – best known for Morgan: A Suitable Case for Treatment (1966) – make during this section is fascinating. John Gielgud gives a wonderfully wry and irascible performance, one where you truly can see the power and greatness that he had as an actor.
---
---