(Psiconautas, Los Niños Olvidados)
---
Spain. 2015.
Crew
Directors/Screenplay – Pedro Rivera & Alberto Vazquez, Based on the Graphic Novel Psiconauts by Alberto Vazquez, Producers – Farruco Castroman, Carlos Juarez & Luis Tosar, Music – Aranzazu Calleja, Animation Director – Khris Cembe, Art Direction – Alberto Vazquez. Production Company – Zircozine Animation/Basque Films/Abrakam Estudio/La Competencia.
---
Plot
Dinky is a mouse who lives on a small island that has suffered from a terrible industrial accident. Dinky seeks to escape from the island. She wants to take her friend Birdboy who lives in the lighthouse with her. However, Birdboy is dependent on drugs that cause him to have terrible hallucinations, while he is also harassed by the island's two police officers who accuse him of being the drug dealer his father was.
---
Psychonauts, The Forgotten Children – which should not be confused with the videogame Psychonauts (2005) – is a debut animated feature for Pedro Rivera and Albert Vazquez. Vazquez is a Spanish multi-media artist who had previously published Psychonauts as a back-and-white graphic novel (I am unable to get a date for this as it does not appear to have had any English-language translation). Vazquez teamed with Pedro Rivera to first adapt this into a thirteen-minute short film based on the character of Birdboy (2011), which received some international acclaim. The two worked on a further short, the unrelated Unicorn's Blood (2013), before embarking on this feature film.
Psychonauts, The Forgotten Children is a difficult film to label. In most respects, the characters could easily be the ones who inhabit a standard talking animals animated adventure for moppets – the mouse Dinky and her friend Birdboy are the familiar small, cute figures that you find here. For some reason, I kept comparing the film to The Extraordinary Adventures of the Mouse and His Child (1977) with which it has some similarities. The nightmare scenes reminded me of the animated sequences in Pink Floyd – The Wall (1982) or perhaps the character style of Art Spiegelman's Maus (1991). These comparisons give you a sense of just what opposite poles it is that Psychonauts straddles.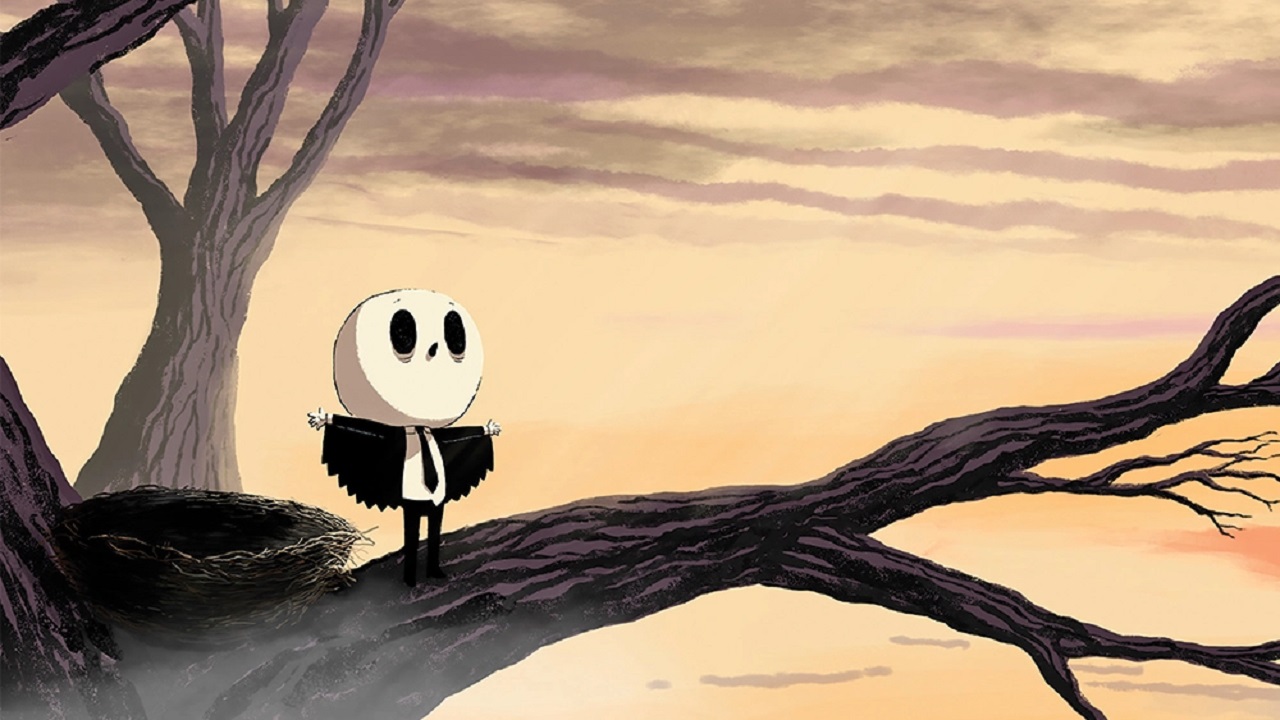 Certainly, the world and sensibilities of Psychonauts is about as far from cutsie pre-teen animation as you can get. The world, sketchily but effectively drawn, is a wasteland in the aftermath of an industrial disaster. Several of the characters suffer either from drug problems or mental health issues – Birdboy must regularly pop pills but is subject to hallucinations where he is pursued by black figures that look a cross between crows and The Babadook (2014). We meet a mother who has become grossly obese and bedridden as a spider crawls out of her nose. It is a bleak film. If it would have a message, it would seem to be an allegory for characters trapped in a nowhere town, desiring to escape from real world issues like drug pushing/addiction, mental health and petty police brutality.
The film is also one that operates on a surrealist level – Dinky's family consist of her father who wears a cat suit and a brother in a dog mask, while elsewhere a rubber duck has violent flashbacks. Plot is fairly loose and it is more like a crosscut narrative that switches back and forward between character strands. The film is fairly simply drawn but has undeniable effect, particularly when it comes to the vividness of some of Birdboy's visions. It is also a film not without a sense of humour, in particular the quirkily appealing character of an ambulatory alarm clock.
(Screening Courtesy of Sparks Animation Festival)
---
---