---
Crew
Director/Producer – Butch Lukic, Screenplay – Heath Corson, Music – Kevin Riepl, Animation – Moi Animation (Directors – Hyeonho Jung, Joonsik Jo, Kidoo Kim & Jeonggil Lee). Production Company – Warner Bros. Animation.
Voices
Roger Craig Smith (Batman/Bruce Wayne), Chris Diamantopoulos (Green Arrow/Oliver Queen), Will Friedle (Nightwing), Charlie Schlatter (The Flash), Yuri Lowenthal (Red Robin), Dana Snyder (The Penguin/Oswald Cobblepot), Phil LaMarr (Man-Bat/Dr Kirk Langstrom), John DiMaggio (Killer Croc), Keith Szarabajka (Silverback), Laura Bailey (Cheetah), Alastair Duncan (Alfred Pennyworth), Richard Epcar (Commissioner Gordon)
---
Plot
In Gotham City, Batman, Nightwing and Red Robin, joined by Green Arrow and The Flash, deal with a series of robberies. These are conducted by what they term the Animalitia, comprised of various super-villains with animal properties, including Man-Bat, Killer Croc, Cheetah and the intelligent gorilla Silverback. Batman deduces that they are connected to The Penguin who has just built Gotham's new tallest building The Aviary. Batman discovers that The Penguin with the aid of the Animaliitia and his robot army is planning to divert the asteroid The Midas Hand to crash on Gotham City so that he can obtain its gold.
---
Batman Unlimited was a line of Mattel toy figures released in 2015 based on various DC heroes and villains, plus assorted vehicles, costumes and accessories. Animal Instincts was the first of several animated films based on the Batman Unlimited toys and was followed by Batman Unlimited: Monster Mayhem (2015) and Batman Unlimited: Mechs vs Mutants (2016). There was also a tv series Batman Unlimited (2015-6) that appeared on the DC Kids YouTube channel, which ran for 32 episodes of around three minutes apiece, each featuring Batman fighting another super-villain (all of which were toys in the Batman Unlimited line).
Warner Bros. Animation have had success producing a number of animated films based on DC Comics properties with the DC Universe Original Animated Movies. Some of these are excellent. The Batman Unlimited films, while also produced under the same Warner Bros. Animation banner and by the same methods (ie. the animation shipped out to South Korean animation studios), is not one of these. You might not be mistaken in thinking so – director Butch Lukic was even a producer and director on the various original Batman (1992-5), Superman (1996-2000), Batman Beyond/Batman of the Future (1999-2001) and Justice League/Justice League Unlimited (2001-5) animated shows under Bruce Timm, which led to the DC Universe Original Animated Movies.
Animal Instincts was released eight days after the Batman Unlimited YouTube series premiered. You can see that both have been conceived in exactly the same way. The web series consisted of no more than a succession of battles between Batman and assorted super-villains, all of which were being sold as part of the Batman Unlimited toyline. This is more of exactly the same but having been draw out to 77 minute length and given a plot.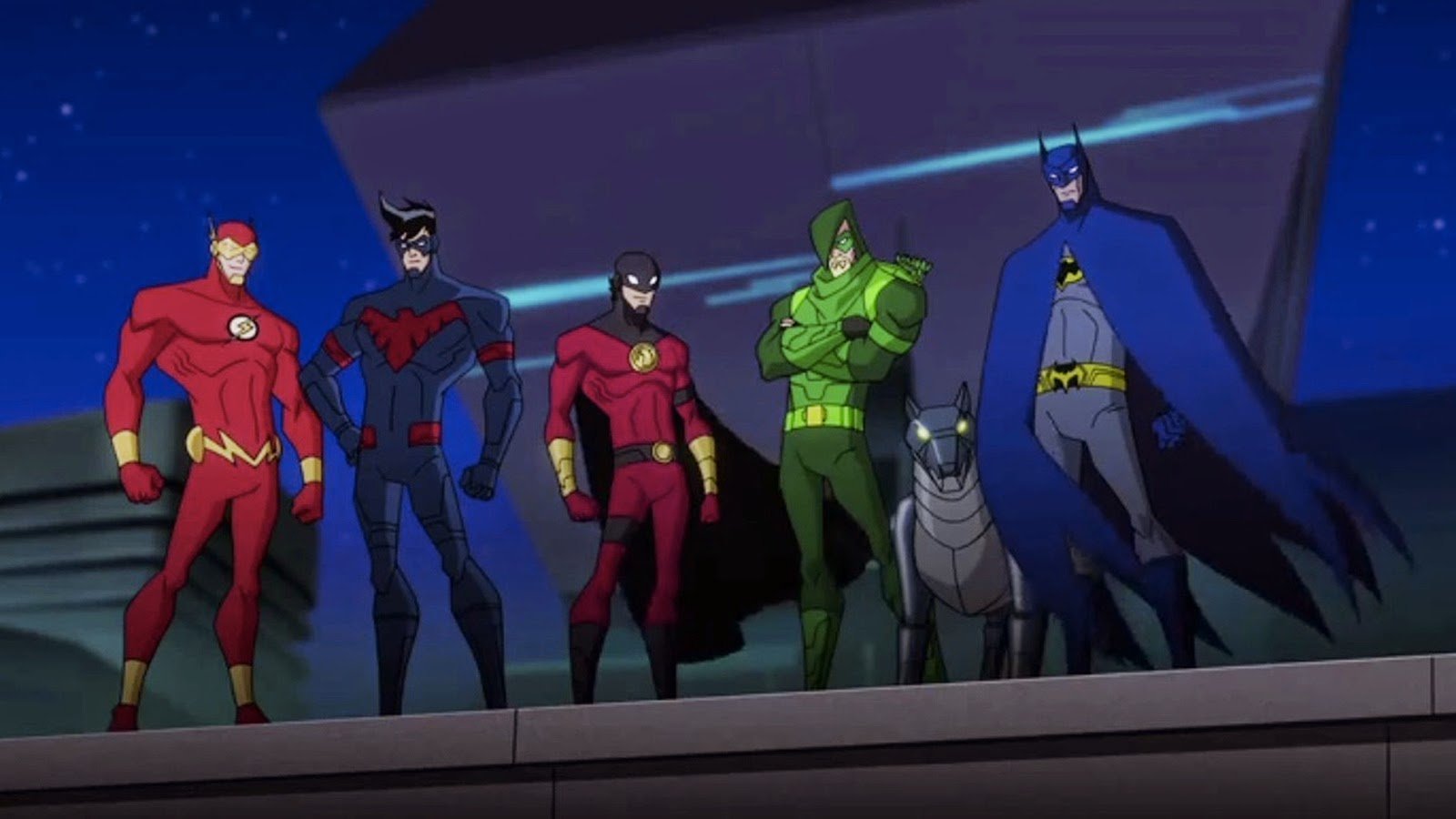 That said, the plot is not a very well structured one that only serves to bring together the various heroes and villains. Batman is aided by Nightwing and Red Robin, the first time the latter character has appeared on the screen. For no reason that is ever explained, Green Arrow and The Flash just turn up in Gotham City to aid in the fight. On the opposing side are a host of super-villains – The Penguin, Man-Bat, Killer Croc, Cheetah (a principal villainness from Wonder Woman comics) and the original character of the intelligent ape Silverback (whom you suspect was meant to be Gorilla Grodd but they didn't have the copyright licensing).
The animal definitions seems a little stretched, Some of these are villains that transform into animals (Man-Bat, Cheetah), while Silverback is an ape. On the other hand, both The Penguin and Killer Croc are simply misshapen humans – indeed, The Penguin's only animal feature is that he bears the name of an animal. This loose association of an animal motif is extended (or perhaps one should say contorted) to become a team of villains. There is no more explanation given for any of the villains to be together than that.
There is little to the film that feels as though it has not been conceived as anything more than an extended toy commercial. The Penguin conceives a mad science scheme that seems far-fetched – bringing a massive meteorite crashing down on Gotham City. There is a whole bunch of futuristic tech – flying police cars, security personnel in armoured power suits – that make you think Butch Lukic was more back directing episodes of Batman Beyond but these appear to be just more toy merchandising opportunities. Of all the films released under the Warner Bros. Animation banner, this has to count as one of the slightest and least.
---