---
Crew
Director – Carlos Saldanha, Screenplay – Jenny Bicks, Yoni Brenner, Carlos Kotkin & Carlos Saldanha, Story – Don Rhymer & Carlos Saldanha, Producers – Bruce Anderson & John C. Donkin, Music – John Powell. Production Company – Blue Sky Studios.
Voices
Jesse Eisenberg (Blu), Anne Hathaway (Jewel), Jemaine Clement (Nigel), Andy Garcia (Eduardo), Leslie Mann (Linda Gunderson), Rodrigo Santoro (Tulio Monteiro), Bruno Mars (Roberto), Kristen Chenoweth (Gabi), George Lopez (Rafael), Jamie Foxx (Nico), will.I.am (Pedro), Rachel Crow (Carla), Amandla Steinberg (Bia), Pierce Gagnon (Tiago), Miguel Ferrer (Big Boss), Tracy Morgan (Luiz)
---
Plot
Living in their sanctuary in Rio, Blu and Jewel now have three children. Linda and Tulio have also married. While on an expedition up the Amazon, the two of them discover a nest of blue macaws, having believed that Blu and Jewel were the only two left alive. When the news is announced, Jewel decides that she, Blu and the children should set forth into the jungle to meet their own kind. They undertake the journey and are greeted by Eduardo, the leader of the flock, who reveals he is Jewel's father and that she was lost as a child. Eduardo tries to show Blu their ways but Blu feels uneasy away from civilised comforts, especially when Eduardo makes a point of rejecting all that is human. Meanwhile, their old enemy the cockatoo Nigel has set out to seek revenge. Blu also discovers that a logging operation is threatening the home of the macaws.
---
Ever since their emergence as an animation studio in the early 2000s with Ice Age (2002), Blue Sky Studios has become one of the most successful contemporary animation houses. They have made other works such as Robots (2005), Horton Hears a Who! (2008), Epic (2013), The Peanuts Movie (2015), Ferdinand (2017) and Spies in Disguise (2019).
Mostly though, the studio has spent the time (and had their greatest box-office successes) by cannibalising themselves. The Ice Age series has been spun out in an endless series of sequels, Ice Age 2 (2006), Ice Age 3: Dawn of the Dinosaurs (2009), Ice Age: Continental Drift (2012) and Ice Age: Collision Course (2016), which have reduced the small charms of the original to the utterly formulaic. Indeed, it is largely Blue Sky's influence that has had animation of the 2010s conceived as a series of tentpole films and their lead has been followed by other studios like Pixar, DreamWorks and Illumination. I mean, while Rio (2011) was a modest success, can one really say it was a film that won hearts and minds so much that people were lining up for a sequel? Or is it just lazy thinking that says it is easier to recycle what went before and know that people will return for a given familiar.
Blue Sky have so lowered the bar with their Ice Age films, reducing them to an interchangeable formula that makes them difficult to tell one from another, that one had little enthusiasm for Rio 2, which here becomes another attempt to spawn a franchise. Rio had a moderate likeability. It had a certain colour, even if its plot and characters felt like they came entirely by way of a well-shuffled set of cliches. I gave it a passable review at the time but must confess that by the time the sequel started to wheel out the familiar characters that the original had made so little impression on me that it felt like a strain to recognise who was meant to be who and what their relevance was to the story first time around.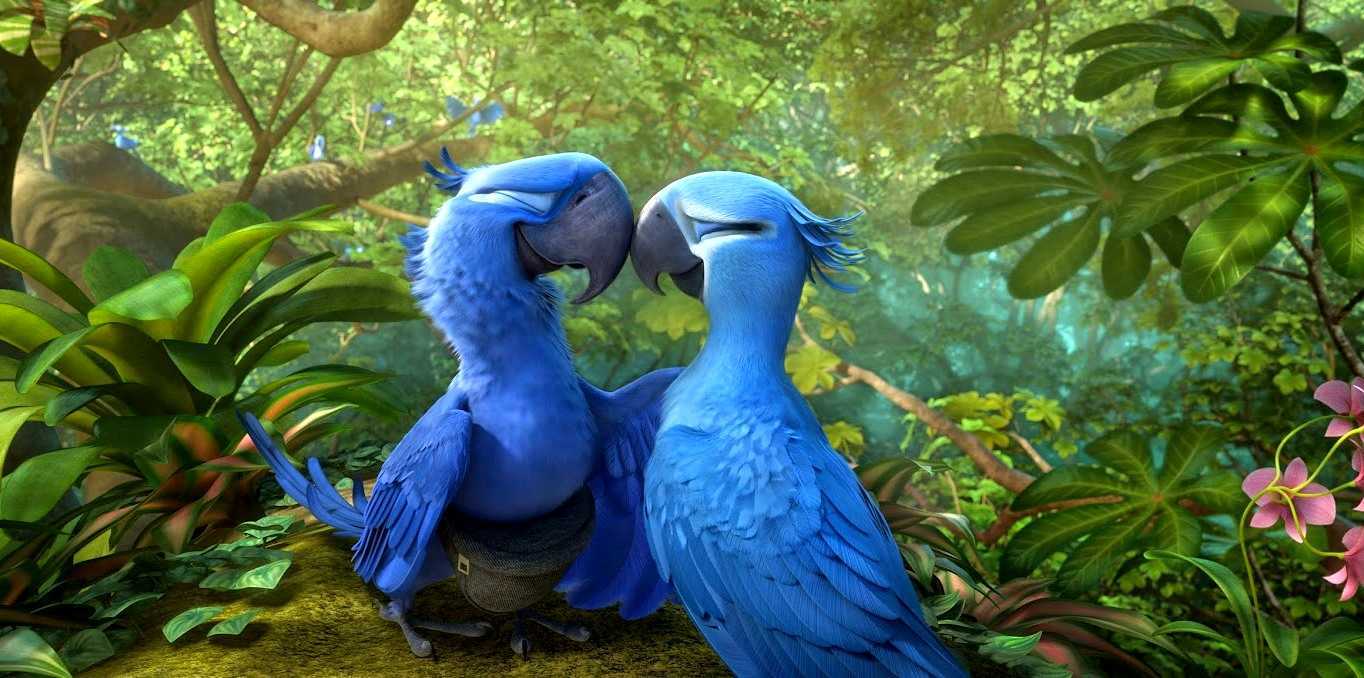 I will admit that, despite such lowered expectations, I enjoyed Rio 2 more than any other Blue Sky film since probably about Robots. It shifts its characters around in a series of easy plot arcs – the principal story we have here is another variant on the first film's one of the pampered pet venturing out into the wilds for the first time.
While the first film held a fairly clean story arc, the sequel has an extraordinarily busy one having to reintroduce the characters from the last film and seemingly give all of them something to do. For no particular reason, this involves not merely Blu, Jewel and their family heading into the Amazon but also for Linda and Tulio, the supporting characters of Nico and his friend Pedro, as well as the villainous Nigel accompanied by the bulldog Luiz, to have to make separate journeys to the same area of the Amazon for reasons that have more to do with the need to reintroduce familiar characters that any clearly defined character motives. That said, the Jemaine Clements-voiced Nigel manages to steal the show, aided a great deal by a lovelorn Kirstin Chenoweth-voiced poison frog – the death scene the two undergo is side-splitting.
If Rio 2 seems overly busy in terms of its story – or at least the shuffling of its player cards in lieu of a story – it compensates for this in the sheer exuberance of its visuals. Carlos Saldanha determines to make the film's colour palette as vibrant and as exciting as possible. The Amazon overflows with colour. Aside from a rather silly but brief part making pancakes at the beginning and a sequence the film probably didn't need where a standoff between two rival macaw tribes is sorted out over a game of soccer, the sequel keeps the slapstick comedy sequences to a minimum. The film also throws in some enormously colourful song numbers.
---
---