---
Crew
Director – Chris Palmer, Screenplay – Tim Sheridan, Based on the Graphic Novel Batman: The Long Halloween by Jeph Loeb & Tim Sale, Producers – Jim Krieg & Kimberly S. Moreau, Music – Michael Gatt, Supervising Animation Director – Mac Whiting, Animation – The Answer Studio (Supervising Director – Kazuyoshi Yakeuchi). Production Company – Warner Bros. Animation.
Voices
Jensen Ackles (Batman/Bruce Wayne), Josh Duhamel (Harvey Dent/Two-Face), Naya Rivera (Catwoman/Selina Kyle), Billy Burke (Commissioner James Gordon), Laila Berzins (Sofia Falcone), Titus Welliver (Carmine Falcone), Alistair Duncan (Alfred Pennyworth), Julie Nathanson (Gilda Dent), Robin Atkin Downes (The Scarecrow/Thomas Wayne), Josh DiMaggio (The Mad Hatter), Katee Sackhoff (Poison Ivy), David Dasmalchian (Calendar Man/The Penguin), Jim Pirri (Sal Maroni), Fred Tatasciore (Solomon Grundy/Vincent Falcone), Troy Baker (The Joker), Zach Callison (Young Bruce Wayne)
---
Plot
The villain known as Holiday is still at large but Batman has been missing since Valentine's Day. Bruce Wayne has been placed under the influence of Poison Ivy's mind control plants and persuaded to sign over substantial holdings of Wayne Industries to Carmine Falcone. Catwoman is able to free Bruce from Ivy's clutches. As Batman returns to fighting crime, rumours spread throughout the media that Harvey Dent is Holiday. Batman obtains what seems to be conclusive evidence when he finds Holiday's pistols in Harvey's basement. Sal Maroni, one of Falcone's tough guys, turns himself in and Harvey places him in court. However, this is a ruse where Maroni then throws a vial of acid at Harvey while on the witness stand, disfiguring the left side of Harvey's face. Recovering in hospital, Harvey's mind snaps down the middle and he now rebrands himself as the villain Two-Face.
---
This was the 40th of the DC Original Animated Movies. The others have included Superman: Doomsday (2007), Batman: Gotham Knight (2008), Justice League: The New Frontier (2008), Green Lantern: First Flight (2009), Superman/Batman: Public Enemies (2009), Wonder Woman (2009), Batman: Under the Red Hood (2010), Justice League: Crisis on Two Earths (2010), Superman & Batman: Apocalypse (2010), All-Star Superman (2011), Batman: Year One (2011), Green Lantern: Emerald Knights (2011), Batman: The Dark Knight Returns Part I (2012), Justice League: Doom (2012), Superman vs. The Elite (2012), Batman: The Dark Knight Returns Part II (2013), Justice League: The Flashpoint Paradox (2013), Superman Unbound (2013), Batman: Assault on Arkham (2014), Justice League: War (2014), Son of Batman (2014), Batman vs. Robin (2015), Justice League: Gods and Monsters (2015), Justice League: Throne of Atlantis (2015), Batman: Bad Blood (2016), Batman: The Killing Joke (2016), Justice League vs Teen Titans (2016), Batman and Harley Quinn (2017), Justice League Dark (2017), Teen Titans: The Judas Contract (2017), Batman: Gotham By Gaslight (2018), Suicide Squad: Hell to Pay (2018), Batman: Hush (2019), Justice League vs The Fatal Five (2019), Reign of the Supermen (2019), Wonder Woman: Bloodlines (2019), Justice League Dark: Apokolips War (2020), Superman: Man of Tomorrow (2020), Superman: Red Son (2020), Batman: Soul of the Dragon (2021), Injustice (2021), Justice Society: World War II (2021), Catwoman: Hunted (2022) and Green Lantern: Beware My Power (2022).
Batman: The Long Halloween (1996-7) is a classic graphic novel series from Jeph Loeb and artist Tim Sale, originally published in thirteen issues. It was set not long after Batman's first appearance and was intended as an origin story that shows many of the familiar super-villains coming together, in particular telling an origin story for Two-Face. This was the second half of a two-part animated adaptation of The Long Halloween from the DC Original Animated Movies. The first part Batman: The Lost Halloween Part One (2021) was released one month before this, while the two combined parts were released as a single three-hour film one month after that. The same production crew and cast work on both films.
I was very impressed with Batman: The Lost Halloween Part One. The DC Original Animated Movies had been steadily chugging through a competent if never standout range of releases for the last few years under directors like Sam Liu and Jay Oliva. Under new incoming director Chris Palmer, Batman: The Lost Halloween Part One immediately opened with an extraordinary depth of artwork and exhilarating action sequences that promised to take the series to a new level. It was something that presaged well for the future of the DC Original Animated Movies not to mention made one eager to see The Long Halloween Part Two, the concluding chapter of the saga.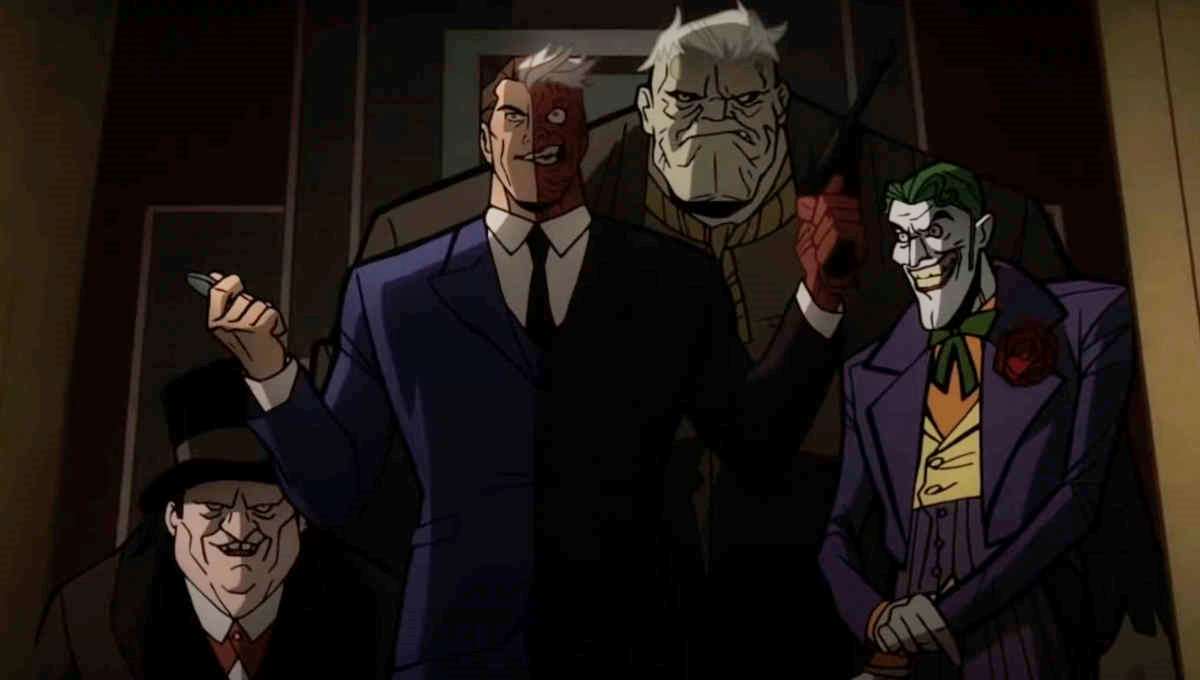 I expected great things of The Long Halloween Part Two but disappointment began to set in from the opening where the fantastic credits sequence from The Long Halloween Part One, which came with white lines weaving through a montage of clips depicting life on the streets in Gotham City before coalescing into the bat emblem, has been replicated but reduced from to no more than a handful of static panels. Now it is just a routine credits sequence that holds none of the excitement that the first film did. We then go into a confusing cold open where Bruce Wayne is held a mind-controlled prisoner of Poison Ivy at Wayne Manor. We are thrown into the sequence with no lead-in, which proves a bewildering opening for any film, especially given that Ivy had only background presence in the first part. Maybe it is that this is intended to be run together as one three-hour film, even so such a scene would still come as abrupt and confusing.
The rest of the film continues the sprawling saga of the Falcone family, the Holiday killings and the introductions of numerous familiar Super-Villains. Of these, the best gets to be The Scarecrow who has some fine scenes riding about on a horse-drawn carriage infecting Batman and others with fear gas, while accompanied by The Mad Hatter who is played as something akin to Warwick Davis in the Leprechaun (1993) and sequels, albeit with the accent of a gangster from London's West End.
The most disappointing of the super-villains is Two-Face, the big story that The Long Halloween is based around. We get Sal Maroni throwing acid, Harvey Dent's disfigurement and rebirth as Two-Face, all as expected. On the other hand, Two-Face promptly becomes just another of the costumed crazies running around. What I looked for in this but never found was a psychological explanation of Harvey's split – like why he does everything by twos, the importance of the coin toss. I know all of these answers from reading the comic-book Batman but I never actually felt them fall into place here like they should in an origin story.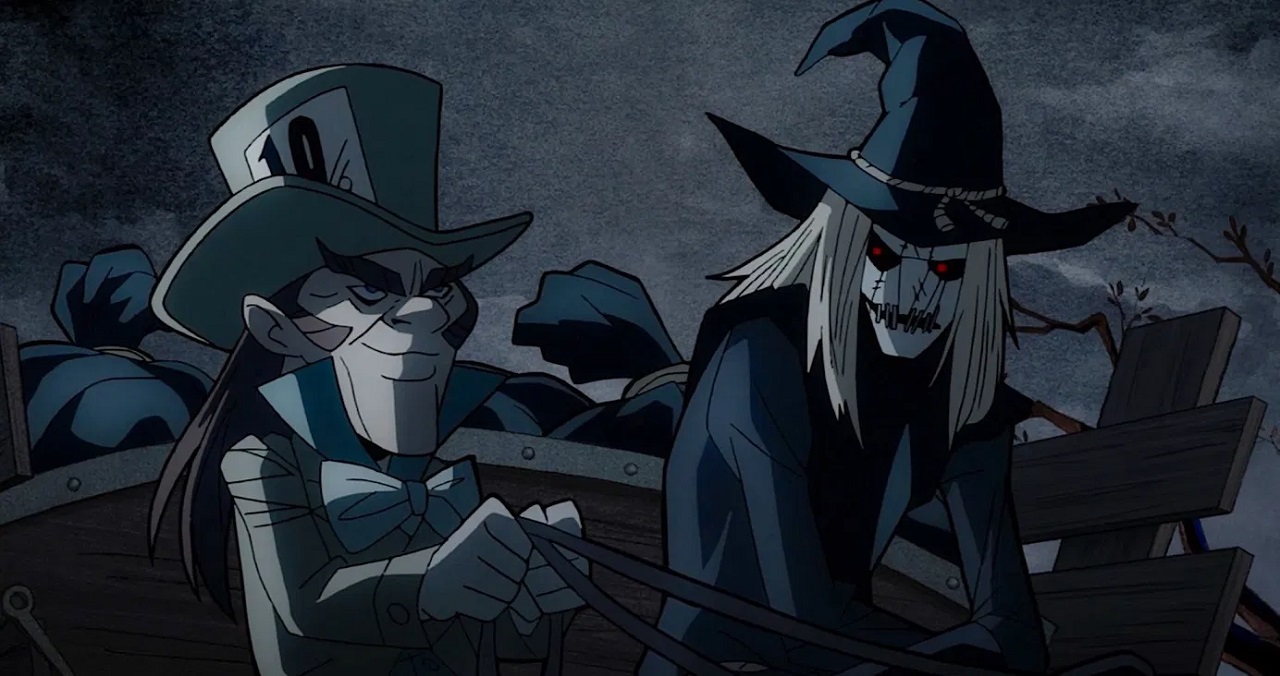 The other disappointment I felt with The Long Halloween Part Two was a continuation of the standout artwork quality of Part One. I do have to keep reminding myself that the two films were made to be released as one, nevertheless many audiences are seeing them released in two parts first and it feels as though the people making the second part regarded these audiences as unimportant. The first part contains some stunning, theatrical quality artwork and exhilarating action sequences but there is no equivalent here, what we have just looks like the same animation we have in all the other DC Original Animated Movies films. Indeed, what we have feels for the most part more like a regular mob crime drama. The plot itself is often slow. The issue here is that the other DC Original Animated Movies films have gotten into the habit of condensing classic graphic novels to being told in a 70-80 minute timeframe and so when The Long Halloween takes a greater running time to tell the story and retains faithfulness to the original, which was told in thirteen issues, it emerges as far slower in pace.
The other disappointment is the revelation of the identity of Holiday. I reached the end of the film confused as to who Holiday actually was and ended up having to go back to the Wikipedia summary of the original comic-book to clarify points. [PLOT SPOILERS] There seems to be three different people who were operating as Holiday – Alberto Falcone, Harvey Dent before becoming Two-Face and Dent's wife Gilda. This may have worked on the printed page but seems way too complicated an explanation to easily follow on screen without having to rewind and watch the film again.
---
Trailer here
---