---
Crew
Directors – Greg Tiernan & Conrad Vernon, Screenplay – Matt Lieberman, Story – Matt Lieberman, Erica Rivinoja & Conrad Vernon, Based on the Comics Created by Charles Addams, Producers – Gail Berman, Alison O'Brien, Alex Schwartz & Conrad Vernon, Music – Jeff Danna & Michael Danna, Animation – Cinesite Vancouver, Production Design – Patricia Atchison. Production Company – Bron Creative/Jackal Group/Cinesite Studios.
Voices
Oscar Isaac (Gomez Addams), Charlize Theron (Morticia Addams), Chloe Grace Moretz (Wednesday Addams), Finn Wolfhard (Pugsley Addams), Nick Kroll (Uncle Fester), Allison Janney (Margaux Needler), Elise Fisher (Parker Needler), Bette Midler (Grandma), Snoop Dogg (Cousin It), Tituss Burgess (Glenn), Chelsea Frei (Bethany), Catherine O'Hara (Grandma Frump), Martin Short (Grandpa Frump), Jenifer Lewis (Great Auntie Sloom)
---
Plot
Gomez Addams and Morticia Frump marry but the ceremony is interrupted by villagers with burning torches come to drive them out of town. The Addamses set out to find a new place, along the way picking up the asylum escapee Lurch who becomes their butler. They eventually settle in a gloomy mansion in New Jersey. Thirteen years later, they have given birth to two children Wednesday and Pugsley. Pugsley now learns that the wider family are arriving in two weeks to witness him undergoing the Sabre Mazurka ritual to denote his coming of age. However, he keeps failing miserably at mastering the swordsmanship required. Meanwhile, the town below them has been taken over and redesigned by home makeover tv star Margaux Needler who has renamed it Assimilation. Margaux then discovers the eyesore that is the Addams Family mansion and determines to make it over. Wednesday meets Margaux's daughter Parker and decides she wants to try out the new thing she hears about called junior school. There she starts to discover and become affected by conformity, while Parker starts to adopt Wednesday's non-conformist ways. Riled at this, Margaux stirs the townspeople up to drive the Addamses out with burning torches.
---
The Addams Family were a series of single-panel cartoons created by Charles Addams that appeared in The New Yorker magazine beginning in 1938 and ending with Addams' death in 1988. Addams created the distinctive look of the characters and the focus on ghoulish black humour – their enjoyment of torture, mayhem and the like. Oddly the characters were never given names by Addams until their first screen incarnation in the popular live-action tv series The Addams Family (1964-5), which ran for two seasons and gained a cult following over the years. They were revived in animation a few years later with The Addams Family (1973) from Hanna-Barbera with a young Jodie Foster voicing Wednesday, which lasted for sixteen episodes, while the original tv series cast reunited in the special Halloween With the New Addams Family (1977).
The modern incarnation that most people are probably familiar with was the two popular big-budget film revivals The Addams Family (1991) and Addams Family Values (1993) with Raul Julia as Gomez, Anjelica Huston as Morticia and a young Christina Ricci as Wednesday. The film series would probably have continued however was discontinued after the death of Raul Julia in 1994. The rights did pass over to Saban International who made a cheap direct-to-video film Addams Family Reunion (1998) with Tim Curry as Gomez and Darryl Hannah as Morticia. In between this, there was also the animated tv series The Addams Family (1992-3), a disliked live-action revival series The New Addams Family (1998-9) and the Tim Burton live-action tv series Wednesday (2022- ) focusing on Wednesday (Jenny Ortega) in college, even an Addams Family Broadway musical in 2010.
This is a new animated feature film version of The Addams Family produced by Canadian company Bron Creative, The direction has been handed to Conrad Vernon, a DreamWorks Animation director who co-directed the likes of Shrek 2 (2004), Monsters vs Aliens (2009) and Madagascar 3: Europe's Most Wanted (2012). Vernon co-directs here with Greg Tiernan, an Irish-born director who has made a whole heap of episodes of the various Thomas the Tank Engine tv series and founded Nitrogen Studios based in Vancouver. Vernon and Tiernan previously collaborated on co-directing the hilariously R-rated Sausage Party (2016).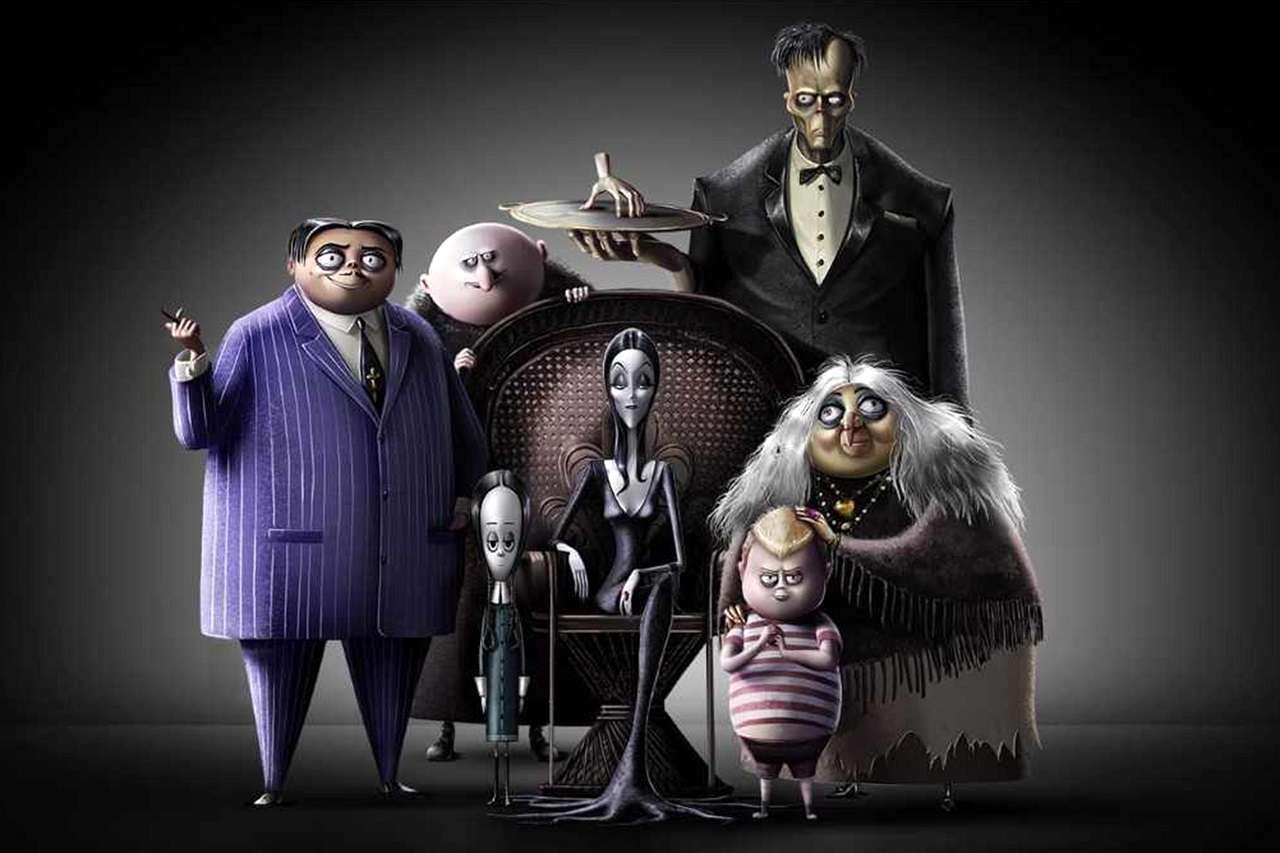 Having become accustomed to the other live-action versions of The Addams Family, seeing the characters here with Morticia and Wednesday in particular designed like elongated stretch figures that look as though the lens is out of focus is somewhat off-putting. It is as though the characters have all stepped out of something like Tim Burton's Corpse Bride (2005). On the other hand, you later realise that this is actually the characters modeled according to the way Charles Addams originally drew them in the cartoons.
The voice casting is adequate but nothing standout, Oscar Isaac and Charlize Theron are passable as Gomez and Morticia; I preferred Raul Julia and Anjelica Huston. Chloe Grace Moretz makes Wednesday seem too much of an ordinary girl and lacks any of the acidly-barbed sarcasm that Christina Ricci did to perfection. The worst is Nick Kroll as Uncle Fester. While Jackie Coogan and Christopher Lloyd delivered the part as a cuddly demented oddball with a few screws loose, Kroll jumps in with the brassy voice of someone like a Jackie Gleason or Rodney Dangerfield who talk like they are in the advanced stages of lung cancer and gives us a Fester who seems like a gleeful pervert who is only one step away from incarceration on serious harassment charges.
The film went out with a PG-rating and a family audience pitch, which you cannot help but feel waters down the kinky, perversity that is the essence of the Addams Family. The 1990s live-action films also had PG-ratings but were actually quite a bit more suggestive and kinky than this film. We have one scene where Gomez gets worked up after Morticia starts to speak French but that is it – their usual passion is rather muted. Similarly, the film drops mention of the kids torturing and killing anyone – at most we get a scene of Gomez with his head in a vice and Wednesday using Uncle Fester for target practice with her how and arrow.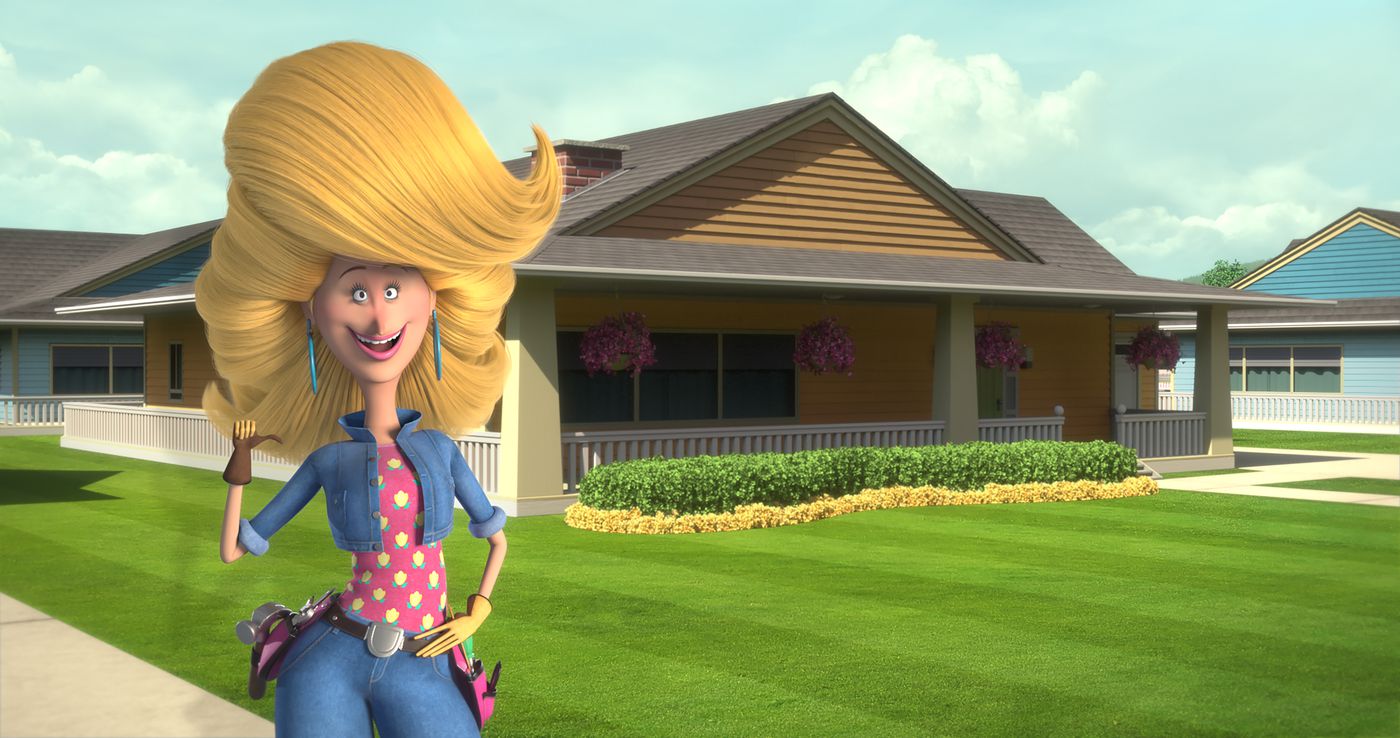 Nevertheless, the film does get the essential kookiness and perverse anti-values of the Addams Family sufficiently to work on many counts. It never quite hits a deliciously barbed vein of dark humour that ran through the 1990s films but there is sufficient series of visual gags concerning living houses, lions, octopi, weird plant creations and so forth in the background. It the prologue scenes, the film also serves as an Addams Family origin story, which we have never had before, depicting their marriage, their flight to New Jersey (Charles Addams' home state) and the recruitment of Lurch, who is revealed to be an escapee from an asylum for the criminally insane, and their settling into the mansion.
The one part where the film does find the essential Charles Addams vein of black humour are the scenes with Wednesday standing up to the bullying Bethany at school and conducting Frankenstein experiments with frogs, There is also a dichotomy set up between the Addams' kooky individuality and makeover host Margaux Needler and her blandly homogenous town, not very subtly named Assimilation. There is the appealing scene where we see Wednesday having decided to join them and retuning home wearing a pink outfit. However, this is quickly reversed only a couple of scenes later and the idea that the Addams are as much about conformity as Margaux is thrown aside. Margaux's villainy never amounts to much of a battle of values – as say the hilarious Pocahontas scene in Addams Family Values did – and she is defeated with a disappointingly casual flick of the plot switch.
Addams Family 2 (2021) was a sequel, reuniting the same creative and voice talents.
---
---