---
USA. 2016.
Crew
Director – Jay Oliva, Screenplay – J.M. DeMatteis, Music – Frederik Wiedmann, Animation – The Answerstudio (Supervising Director – Kazuyoshi Takeuchi). Production Company – Warner Bros. Animation.
Voices
Jason O'Mara (Batman/Bruce Wayne), Yvonne Strahovski (Batwoman/Katherine Kane), Sean Maher (Nightwing/Dick Grayson), Stuart Allan (Robin/Damian Wayne), Gaius Charles (Batwing/Luke Fox), Morena Baccarin (Talia al Ghul), James Garrett (Alfred Pennyworth), Travis Willingham (The Heretic), Robin Atkin Downes (The Mad Hatter/Jervis Tetch), Ernie Hudson (Lucius Fox), Geoff Pierson (Colonel Jacob Kane), Jason Spisak (The Calculator/Kutler/Killer Moth), Steve Blum (Firefly/Black Mask), John DiMaggio (Tusk), Matthew Merger (Hellhound/Chuckie Sol), Bruce Thomas (Commissioner James Gordon)
---
Plot
Batman is joined by Katherine Kane, who has adopted the alias of Batwoman, as he faces a group of villains who are being led by a new figure known as The Heretic. Following an explosion in which the warehouse goes up, nobody hears anything from Batman for several weeks. Alfred is forced to fabricate Bruce Wayne's disappearance from Wayne Enterprises. Realising that this means that all the criminals will take advantage of Batman's absence, Dick Grayson returns to Gotham City and adopts the Batman suit. He is joined by Damian who returns from seclusion in the monastery to put the Robin suit back on, as well as Batwoman and Lucius Fox's son Luke who assumes a flying suit to become Batwing. As they try to piece together Bruce's disappearance, they discover that he has been abducted by Talia al Ghul who has subjecting him to a brainwashing process that turns him against them and that she is planning a means whereby the League of Shadows will be able to achieve world domination via the mind control of key personnel.
---
Batman: Bad Blood was the 24th of the DC Universe Original Animated Films. It joins Superman: Doomsday (2007), Batman: Gotham Knight (2008), Justice League: The New Frontier (2008), Green Lantern: First Flight (2009), Superman/Batman: Public Enemies (2009), Wonder Woman (2009), Batman: Under the Red Hood (2010), Justice League: Crisis on Two Earths (2010), Superman & Batman: Apocalypse (2010), All-Star Superman (2011), Batman: Year One (2011), Green Lantern: Emerald Knights (2011), Batman: The Dark Knight Returns Part I (2012), Justice League: Doom (2012), Superman vs. The Elite (2012), Batman: The Dark Knight Returns Part II (2013), Justice League: The Flashpoint Paradox (2013), Superman Unbound (2013), Batman: Assault on Arkham (2014), Justice League: War (2014), Son of Batman (2014), Batman vs. Robin (2015), Justice League: Gods and Monsters (2015), Justice League: Throne of Atlantis (2015), Batman: The Killing Joke (2016), Justice League vs Teen Titans (2016), Batman and Harley Quinn (2017), Justice League Dark (2017), Teen Titans: The Judas Contract (2017), Batman: Gotham By Gaslight (2018), The Death of Superman (2018), Suicide Squad: Hell to Pay (2018), Batman: Hush (2019), Justice League vs The Fatal Five (2019), Reign of the Supermen (2019), Wonder Woman: Bloodlines (2019), Justice League Dark: Apokolips War (2020), Superman: Man of Tomorrow (2020), Superman: Red Son (2020), Batman: Soul of the Dragon (2021), Batman: The Long Halloween Part One (2021), Batman: The Long Halloween Part Two (2021), Injustice (2021), Justice Society: World War II (2021), Batman and Superman: Battle of the Super Sons (2022), Catwoman: Hunted (2022) and Green Lantern: Beware My Power (2022).
Bad Blood should be considered less a Batman film than a Batman Family film. Batman is sidelined for much of the show – and when he reappears, he has been brainwashed and turned against the others. The story has been highlighted to allow supporting Batman characters such as Nightwing (the former Robin, Dick Grayson), the new Robin, Bruce's son Damian, and the recently introduced character of Lucius Fox's son Luke who becomes Batwing and the rebooted version of Batwoman to come to the fore. (If you watch right to the end, there is also a surprise last scene cameo from the 1960s Batgirl). These are characters that have become more prominent in DC's post-2011 continuity reshuffle The New 52, notably the Katherine Kane version of Batwoman who has been written as an LGBT superhero and Luke Fox's adoption of the Batwing costume. Bad Blood is also construed as the concluding chapter in a trilogy of DC Universe Original Animated Films that follow the introduction of Justin Wayne that ran through Son of Batman (2014) and Batman vs. Robin (2015). (Damian goes back to 2006 but the version we have here draws on the character reboot conducted in The New 52 storylines).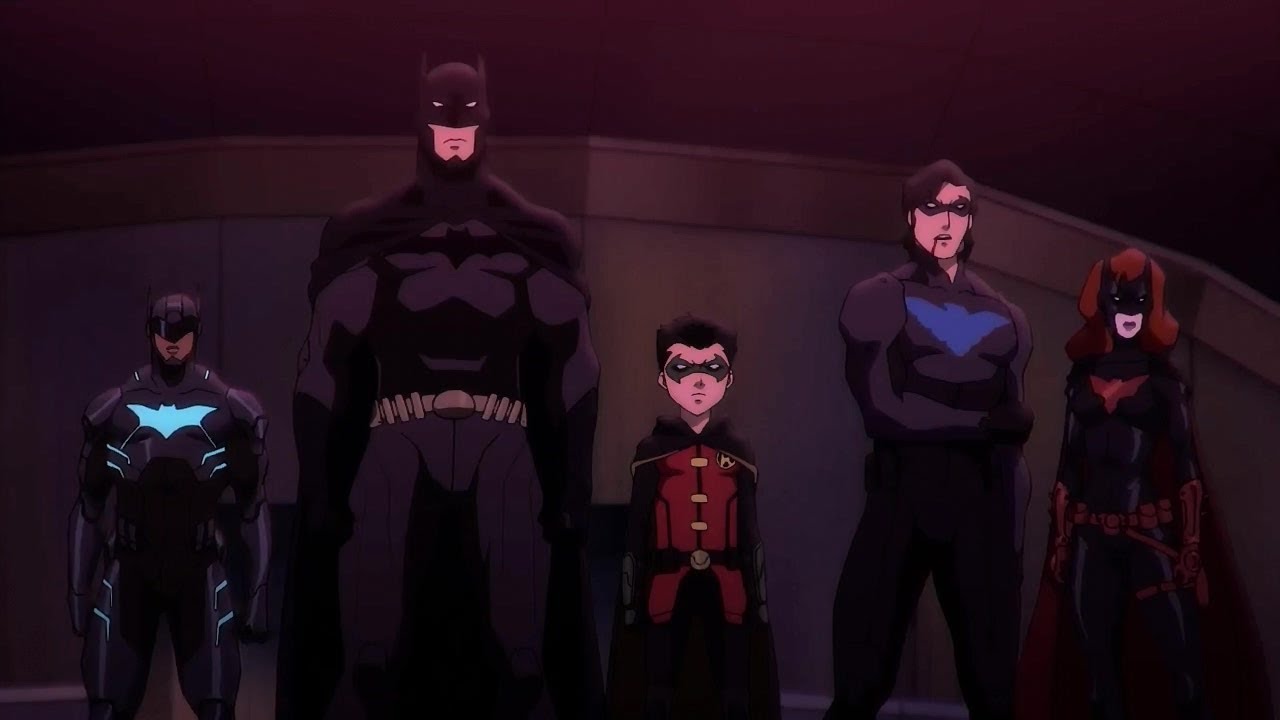 Batman: Bad Blood is not specifically based on any graphic novel, as many of the DC Universe Original Animated Films are. That said, it often resembles DC's The Death of Superman (1992-3) storyline in which Superman was seemingly killed and for a time there were a host of wannabes and impostors running around Metropolis trying to fill the gap. Bad Blood is a mixed bag. One of the downsides of the way that DC are adapting their stories in the animated films – by selecting graphic novels from here and there, not to mention from different periods of DC's regular continuity reshuffles – is that there is no storytelling continuity to any of it. Characters are introduced and it is just assumed that we know who they are. Most of the Batman Family have not appeared in an animated film before; there are also a large number of super-villains running around, many of them C-listers like Tusk, Killer Moth, Firefly and The Calculator, and we don't get any easy clues as to who they are. In other words, what we have is a film that is largely pitched to the hardcore comics-reading audience rather than the casual sampler who picks it off the dvd rack (most outlets shuffle the films into the children's section, for instance, where I would argue the DC Universe Original Animated Films left any such categorisation behind a long time ago).
There are some good pieces of writing. Batwoman is a strong character and the film holds nothing back in its portrayal of her as an LGBT character, even showing her awkwardly trying to hook up with Rene Montoya in a gay bar at one point. And there are eminently quotable lines like "Nuns with M16's and katanas!", "That'd make them nunjas."
On the minus side, there is the characterisation of Batman – writing him out for much of the film, turning him into a villain – which is a major minus especially given that it is his name above the title. The plot also has awkward devices like giving Talia al Ghul an absurdly powerful device that can allow her to brainwash anybody in the world; or else introducing The Heretic as a major new villain uniting the minor villains, only to unmask and then instantly sideline him and allow Talia to come in out of nowhere.
---
Trailer here
---