---
Crew
Directors/Producers – Michael Herz & Lloyd Kaufman, Screenplay – Lloyd Kaufman, Andrew Osborne, Jeffrey W. Sass, Story – Lloyd Kaufman, Photography – Bob Williams, Music – Bob Mithoff, Special Effects Design – Pericles Lewnes, Transformation Effects – Timothy Considine, Art Direction – Michael Odell Green. Production Company – Troma/Nancon Ltd/Giga Communications.
Cast
Rick Gianasi (Sergeant Harry Griswold/Kabukiman), Susan Byun (Lotus), Bill Weeden (Reginald Stuart)
---
Plot
Police detective Harry Griswold is dining in a Japanese restaurant when armed men burst in and shoot a kabuki master. Without Harry realising, the kabuki master breathes his dying spirit into him. Subsequently, Harry finds himself inadvertantly transforming into Kabukiman, a superhero in kabuki costume who harnesses Japanese-themed superpowers to defeat evildoers.
---
Sgt. Kabukiman N.Y.P.D. was Troma Films' take on superhero films. Troma's The Toxic Avenger (1984) and sequels were also superhero parodies but Sgt. Kabukiman N.Y.P.D. is far more amusing a send-up of the genre than they proved to be. The surprising thing about Sgt. Kabukiman N.Y.P.D. is that it is not down at the abysmal depths of taste and technical ineptitude from where most Troma product usually emerges. There is the usual run of wilfully bad taste that is almost a certified trademark for Troma product – lawyers vomited on from above by a queasy flying Kabukiman, a dwarf who has a dead body dropped on him in the first few moments and such like – but in comparison to most Troma films, it is a model of restraint.
Sgt. Kabukiman N.Y.P.D. is not a film likely to win any awards but it is made with a certain degree of likeability and professional expertise. The production values are good and the actors are of a much higher calibre than is usual for these films – stand-out here is Susan Byun's strong and forceful portrayal of the love interest, although it is sometimes hard to work out if Rick Gianasi's dim-witted, slob hero is meant to be caricature or not.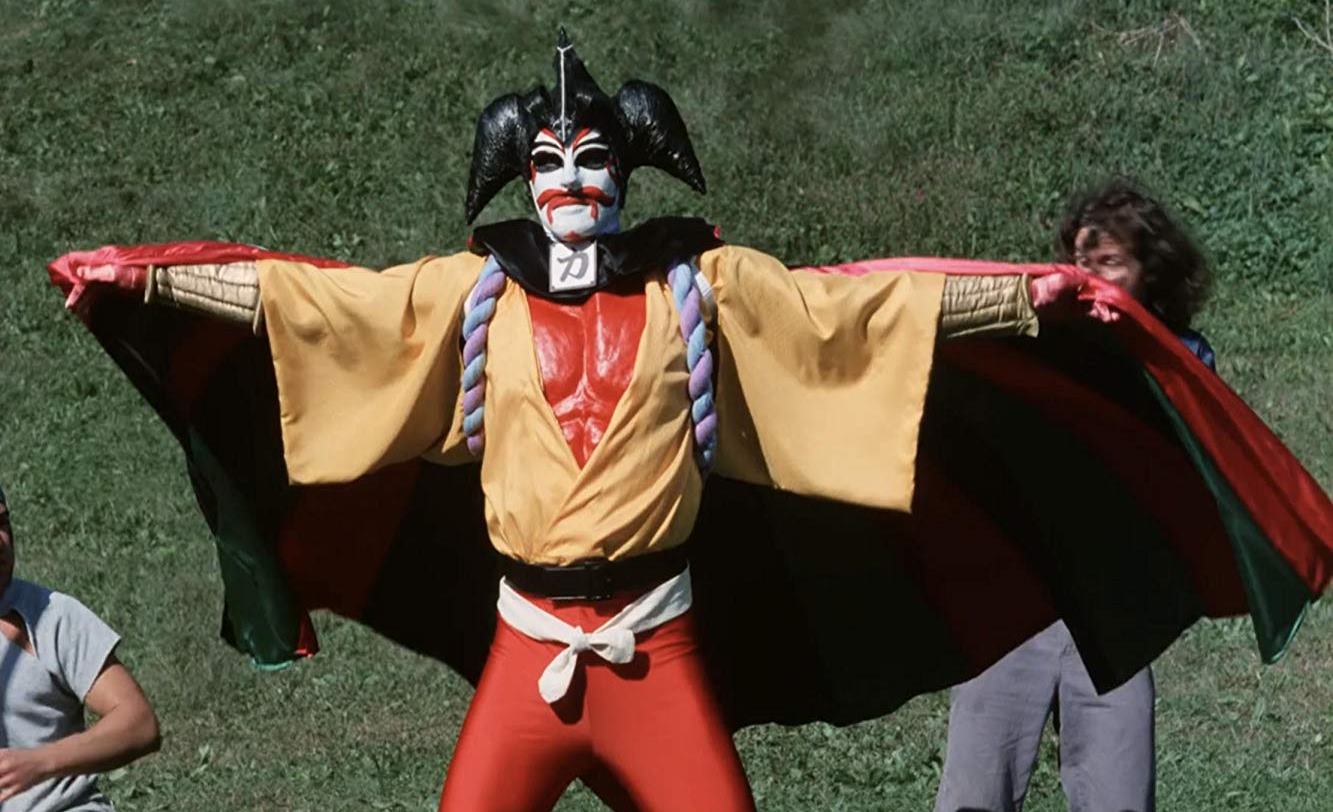 There are times when the film's parody is rather well done. The transformations into kabuki costume are amusing parodies of the transformations on tv's The Incredible Hulk (1977-81) – there is little more charmingly daft than the image of a person straining then suddenly manifesting a pair of getas. Most funny is the shot where Rick Gianasi yanks a hoodlum into frame with the hood squealing, "Who are you?" to which the answer is a growled "I'm Kabukiman" in parody of the scene from Batman (1989).
There is sense of humour at play that seems so silly it verges on the surreal – like the sequence where Rick Gianasi transforms into an oversized clown and the subsequent chase on a child's bicycle, or where Gianasi finds his centre through a recitation of haiku. Much of the wacky humour is made as a play on traditional Japanese trappings – villains killed by deadly sushi, fans, even giant-sized cameras. Some of Troma's biggest fans are apparently the Japanese and Sgt. Kabukiman N.Y.P.D. is a clear attempt to appeal directly to this market.
---
---