---
Crew
Director – Lloyd Kaufman, Screenplay – James Gunn & Lloyd Kaufman, Producers – Michael Herz & Lloyd Kaufman, Photography – Brendan Flynt, Music – Willie Wisely, Makeup Effects – Louis Zaharian, Production Design – Rochelle Berliner. Production Company – Troma.
Cast
Will Keenan (Tromeo Que), Jane Jensen (Juliet Capulet), Maximillian Shaun (Cap Capulet), Valentine Miele (Murray Que), Steve Gibbons (London Arbuckle), Flip Brown (Brother Lawrence), Debbie Rochon (Ness), Sean Gunn (Sammy Capulet), Patrick Connor (Tyrone Capulet), Earl McKoy (Monty Que), Gene Terinoni (Detective Ernie Scalus), Jacqueline Tavarez (Rosy), Garon Peterson (Fu Chang), Lemmy (Narrator)
---
Plot
Cap Capulet and Monty Que, former partners in the New York porn film industry, have bitterly parted ways. Their extended families violently feud whenever they meet. Monty's son Tromeo invades a Capulet masked ball where he and Cap's daughter Juliet become entranced with one another. Despite the family feud and Juliet's pending marriage to geekish meat merchant London Arbuckle, they try to find love together.
---
Baz Luhrman's hit teen updating of Shakespeare in Romeo +& Juliet (1996) proved to be a heaven-sent opportunity for filmmakers/distributors Lloyd Kaufman and Michael Herz. Under their Troma Films banner, Kaufman and Herz have either made or distributed such masterpieces of good taste as The Toxic Avenger (1984), Class of Nuke 'Em High (1986), Surf Nazis Must Die (1987), Stuff Stephanie in the Incinerator (1989), Chopper Chicks in Zombietown (1991), A Nymphoid Barbarian in Dinosaur Hell (1990), Pterodactyl Woman in Beverly Hills (1994), Teenage Catgirls in Heat (1997) and Poultrygeist: Night of the Chicken Dead (2006) – all actual titles. Romeo +& Juliet provided them with the opportunity to make the perfect punning title on their company name and launch into the 1990s Shakespearean cinematic vogue with gusto. Tromeo & Juliet was their biggest budgeted film up to that point and one of the few Troma films to ever get a cinematic release. Surprisingly enough, it even received coverage in some serious film magazines at the time.
With Tromeo & Juliet, the basic gag – a bad taste rendition of William Shakespeare's Romeo and Juliet – comes completely upfront and is all there is to the film. Much of Tromeo & Juliet seems conceived as a game of how many bad taste variations on the play the film can conduct – thus the Montagues and Capulets become former partners in the porn industry; Juliet and the Nurse do lesbian scenes together; Romeo whacks off to adult cd-roms with titles that are bad taste Shakespeare puns like As You Lick It and Much Ado About Humping; the priest sympathises with Romeo and Juliet's frustrated romantic woes, whereupon the film cuts to daydreams of him frolicking with young boys and so on.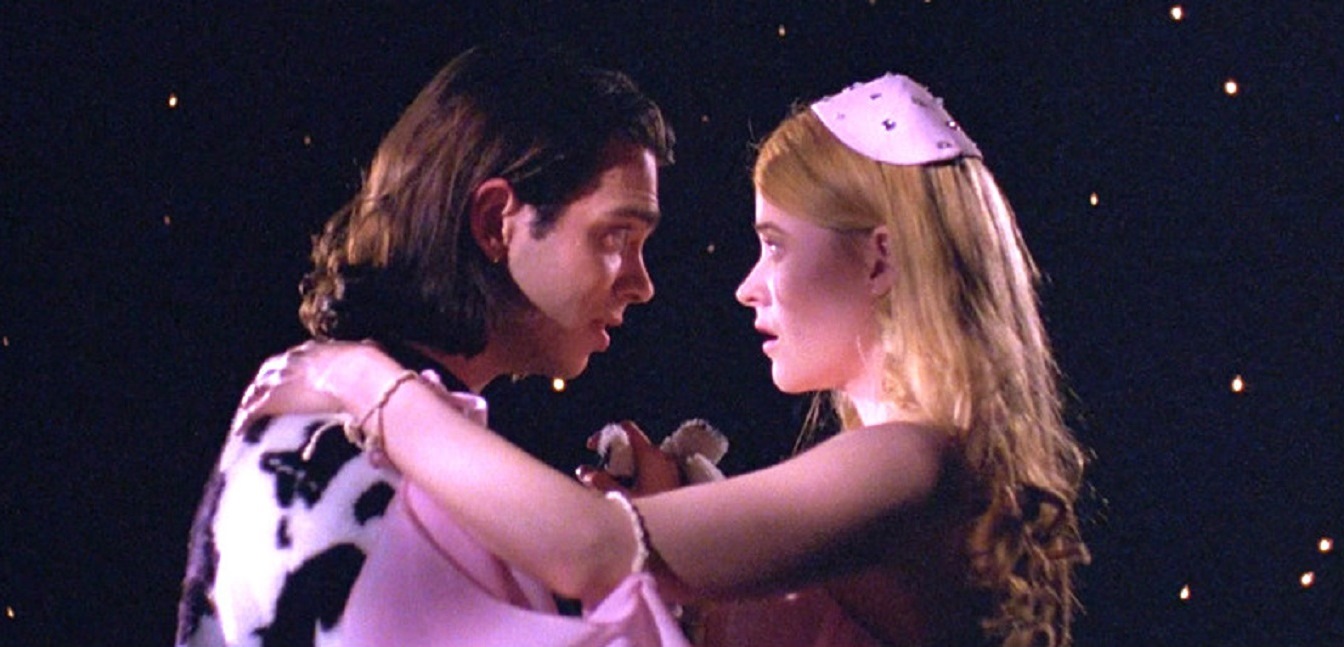 When the film runs out of perverse things it can do with Shakespeare, it packs as many gooey meltdowns, limb severings, head splatterings, bad taste gags and unfaked on-camera nipple piercings as it possibly can. The constant reaching for effect eventually becomes tedious and the exceedingly slim premise proves too cute to hold the film up. The end credits are filled with jokes – including the credit writer listing an 0800 number for "women with big melons" to ring him – that run nearly as long as the legitimate credits do.
There are odd moments where Tromeo & Juliet achieves a flaky cod sincerity that is about as near to playing it straight as Troma ever gets. Some of its collusions of Shakespearean prose and modern colloquialism – "What light from yonder plexiglass …." or "Parting is such sweet sorrow," "Yeah, totally sucks" – prove occasionally amusing. In all other regards – the bad acting, the cartoonishly silly violence, the absurdly unconvincing makeup effects and constant straining for bad taste – Tromeo & Juliet is well and truly a Troma film.
One of the more interesting names on the credits is that of co-writer James Gunn subsequently graduated to a screenwriter of A-list films such as Scooby-Doo (2002), Dawn of the Dead (2004) and Scooby Doo 2: Monsters Unleashed (2004) and then went on to direct the likes of Slither (2006), Super (2010), the Marvel Comics adaptations Guardians of the Galaxy (2014) and Guardians of the Galaxy: Vol. 2 (2017), and The Suicide Squad (2021).
---
---