---
Crew
Director – Matthew Vaughn, Screenplay – Jane Goldman & Matthew Vaughn, Based on the Comic Book by Mark Millar & John S. Romita Jr, Producers – Adam Bohling, Tarquin Park, Brad Pitt, David Reid, Kris Thykier & Matthew Vaughn, Photography – Ben Davis, Music – Marius De Vries, Ilan Eshkeri, Henry Jackman & John Murphy, Visual Effects Supervisor – Matthias Lindahl, Visual Effects – Double Negative, Ghost (Supervisor – Martin Gardeler), Lipsync Post (Supervisor – Tom Collier) & The Senate VFX (Supervisors – Richard Higham & Anton Yari), Special Effects Supervisors – David Harris & Laird McMurray Film Services (Supervisor – Laird McMurray), Production Design – Russell De Rozario. Production Company – Marv Films/Plan B/KA Films LLC.
Cast
Aaron Johnson (Dave Lizewski/Kick-Ass), Chloe Grace Moretz (Mindy Macready/Hit Girl), Nicolas Cage (Damien Macready/Big Daddy), Mark Strong (Frank D'Amico), Christopher Mintz-Plasse (Chris D'Amico/Red Mist), Lyndsy Fonseca (Katie Deauxma), Clark Duke (Marty), Evan Peters (Todd), Omari Hardwick (Sergeant Marcus Williams), Xander Berkeley (Detective Vic Gigante), Garrett M. Brown (Mr Lizewski), Michael Rispoli (Big Joe), Stu 'Large' Riley (Huge Goon), Kofei Natei (Rasul), Jason Flemyng (Lobby Goon), Johnny Hopkins (First Gang Kid), Ohene Cornelius (Second Gang Kid), Deborah Twiss (Mrs Zane)
---
Plot
Teenager Dave Lizewski is a frustrated nerd. Tired of being mugged by hoods, he wonders why there are no superheroes in real life and then begins to speculate if he could become one. He orders a coloured wet suit and mask from a catalogue and calls himself Kick-Ass. In his first attempt to stop two lowlife thugs, he is stabbed and then run over by a car. Coming out of hospital with his nerve endings slightly disconnected, he returns to action. This time, as tries to stop hoods beating up another guy, he is filmed on cellphone cameras by a watching audience. This is posted online and makes headlines. Kick-Ass suddenly becomes a phenomenon. Dave becomes best friends with beautiful classmate Katie Deauxma, even thought she thinks he is gay. She asks Kick-Ass to sort out a drug dealer who is harassing her. Going into the drug den, Dave is attacked by the gang but is saved by Hit Girl, a masked eleven-year-old girl who slaughters the entire gang. She and her father Big Daddy – in reality Damien Macready and his daughter Mindy – have been inspired by Kick-Ass to adopt superhero costumes. Damien is a former cop who seeks revenge against crime kingpin Frank D'Amico for being framed and sent to jail as a drug dealer. D'Amico believes Kick-Ass is the one who killed his dealers and seeks to eliminate him. After an unsuccessful attempt to kill Kick-Ass, D'Amico's 17-year-old son Chris comes up with the idea of creating his own superhero costume. As Red Mist, he becomes Kick-Ass's best friend with the intention of luring him into a trap.
---
Kick-Ass is one of sudden spate of films we had around 2010 about superheroes with no powers. First up was the hilarious Canadian-made Defendor (2009) with Woody Harrelson as a slightly backward man who believes he is a superhero, and this was followed by James Gunn's Super (2010) with Rainn Wilson as a man who adopts a costume to fight crime after his wife leaves him and the Australian Griff the Invisible (2010), even a documentary Superheroes (2011) about real-world examples of people who dress up as superheroes to fight crime. We have had various other superheroes without any powers films before with the likes of The Projectionist (1971), Hero at Large (1980), Blankman (1994), Orgazmo (1997), Special (2006) and the South Korean A Man Who Was Superman (2008).
Kick-Ass started in 2008 as a comic-book, created by Scottish comic-book author Mark Millar and released under one of Marvel's subsidiary imprints. Mark Millar has developed a substantial reputation in the 00s and is currently the world's top-paid comic-book writer. Starting out on UK's 2000 AD, Millar gravitated to work on DC Comics and Marvel, creating the Ultimate X-Men (2001-9) revamp, turning out hit stories like Superman: Red Son (2003) in which Superman is raised in the Soviet Union, and Marvel's The Ultimates (2002-4) and Civil War (2006-7), as well as a number of original independent titles such as Chosen (2004) and Wanted (2003-5). The latter was filmed as the James McAvoy-Angelina Jolie Wanted (2008), although bore little resemblance to Millar's original work. The Ultimates also formed the basis of the two animated Marvel films Ultimate Avengers (2006) and Ultimate Avengers II (2006), while there was also an animated adaptation of Superman: Red Son (2020) and the live-action tv series adaptation of Jupiter's Legacy (2021).
A film version of Kick-Ass was pitched to director Matthew Vaughn around the same time as Millar's comic-book started. Matthew Vaughn came to notice as producer of several Guy Ritchie films Lock, Stock and Two Smoking Barrels (1998), Snatch. (2000) and Swept Away (2002), before making his directorial debut with the Ritchie-styled gangster film Layer Cake (2004). However, the film that gained Matthew Vaughn attention was his second one, the Neil Gaiman-adapted fantasy Stardust (2007), which became a modest word-of-mouth hit despite mixed reviews. This made Matthew Vaughn into a name noticed in Hollywood and he was at one point being attached to direct the film version of Marvel Comics' Thor (2011).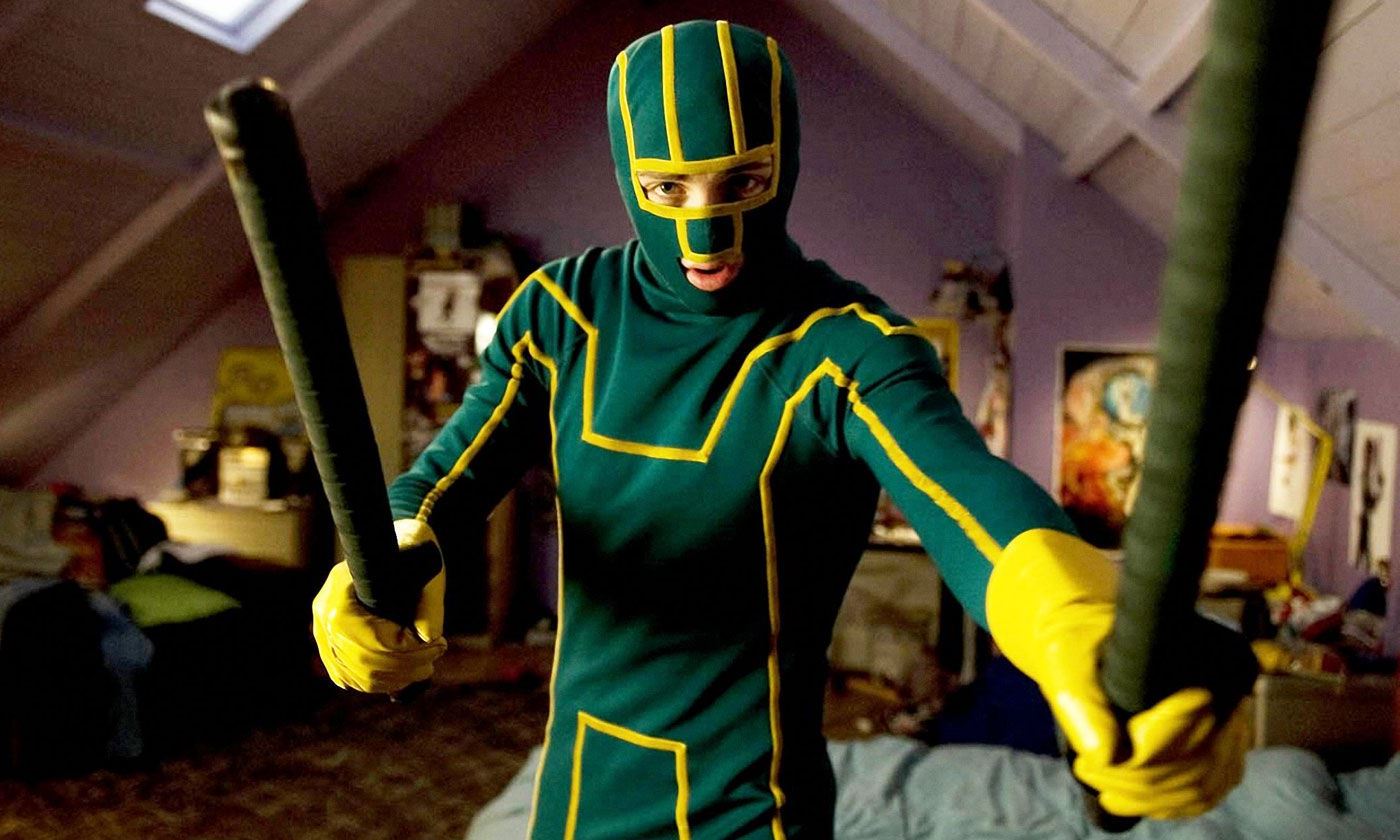 Vaughn was subsequently given the reins of a real superhero film with X: First Class (2011) followed by three further Mark Millar adaptations, the spy films Kingsman: The Secret Service (2015). Kingsman: The Golden Circle (2017) and the prequel The King's Man (2021). Vaughn has also acted as producer on other comic-book adapted properties such as Kick-Ass 2 (2013), X-Men: Days of the Future Past (2014) and Fantastic Four (2015), as well as Silent Night (2021). Vaughn co-writes with Jane Goldman who has tuned the scripts for each of his films since Stardust, as well as other works such as The Woman in Black (2012), The Limehouse Golem (2016) and Miss Peregrine's Home for Peculiar Children (2016).
Despite gaining a name, Vaughn nevertheless has some difficulty raising the financing for Kick-Ass due to the degree of violence and adult content and eventually did so independently. In particular, the image of a foul-mouthed eleven-year-old girl attracted considerable outrage from conservative parental groups after R-rated trailers of Kick-Ass were released to the internet.
Kick-Ass arrived with an enormous anticipation. The blogosphere was abuzz red hot with the slaverings of fanboys ever since the trailers and posters went out. The film certainly makes a play for the fan market with numerous in-jokes – various comic-books namedropped and used as comparison points, even in terms of preferred artists like the Steve Ditko version of Spider-Man. In his pop quiz, Nicolas Cage asks Chloe Grace Moretz the name of John Woo's first film and she not only answers correctly but also gives the Cantonese title. A movie theatre billboard announces The Spirit 3 – finally someone else recognises the merits of Frank Miller's unjustly slammed version of The Spirit (2008)! That said, despite its clear pitch to the fan audiences, Kick-Ass opened to far less box-office than was expected by industry prognosticators, clearly indicating that the fanboy market has difficulty carrying something to the wider sphere.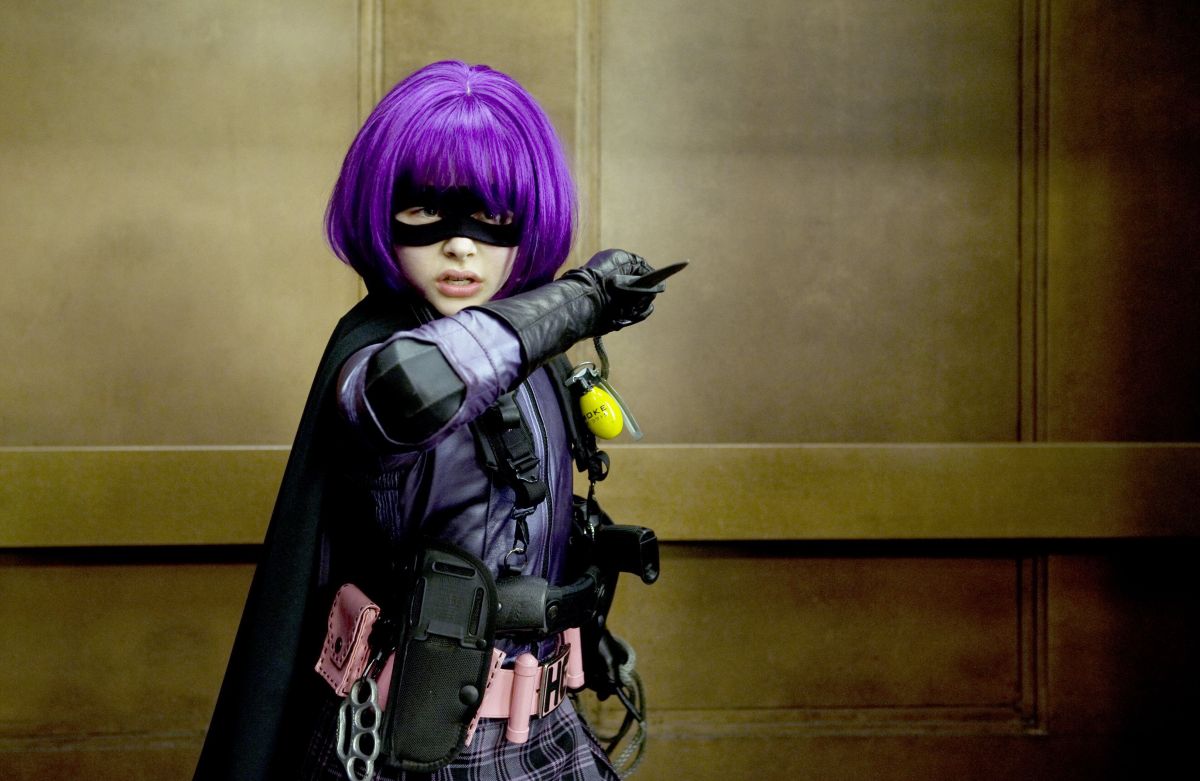 I must admit, while all the hype called Kick-Ass 2010's cult masterpiece, I found it enjoyable but underwhelming. The film emerges an uneasy mix of a Judd Apatow nerd comedy – I kept thinking of Superbad (2007), no doubt due to the presence of Christopher Mintz-Plasse – and an ultra-violent vigilante drama along the lines of one of The Punisher films. The film walks an uneasy line between parodying the superhero and in trying to be one as well, frequently teetering well over onto one side of the line and then back to the other, leaving us unsure whether we are meant to be rooting for or laughing at our heroes.
I happily went with Kick-Ass during the initial scenes as we follow Aaron Johnson through his determination to become a superhero, constructing his costume and going into action. Aaron Johnson is well cast in the part and Lyndsy Fonseca sweetly appealing opposite him, while the comic deflations work amiably. Kick-Ass never does anything radically new to reinvent or deflate the superhero film in these scenes (or anywhere). Maybe its distinction is that it is the first superhero film to embrace the YouTube and MySpace generation, all of which play crucial plot points in the film.
About 40 minutes in, Kick-Ass deviates from its nerd superhero comedy and suddenly takes a turn for something different. This is the point that Aaron Johnson's venture into the drug den is interrupted by Chloe Grace Moretz who bloodily eliminates the entire gang. It is from this point that Kick-Ass's Judd Apatow-styled nerd comeuppance comedy suddenly kicks into a very different gear.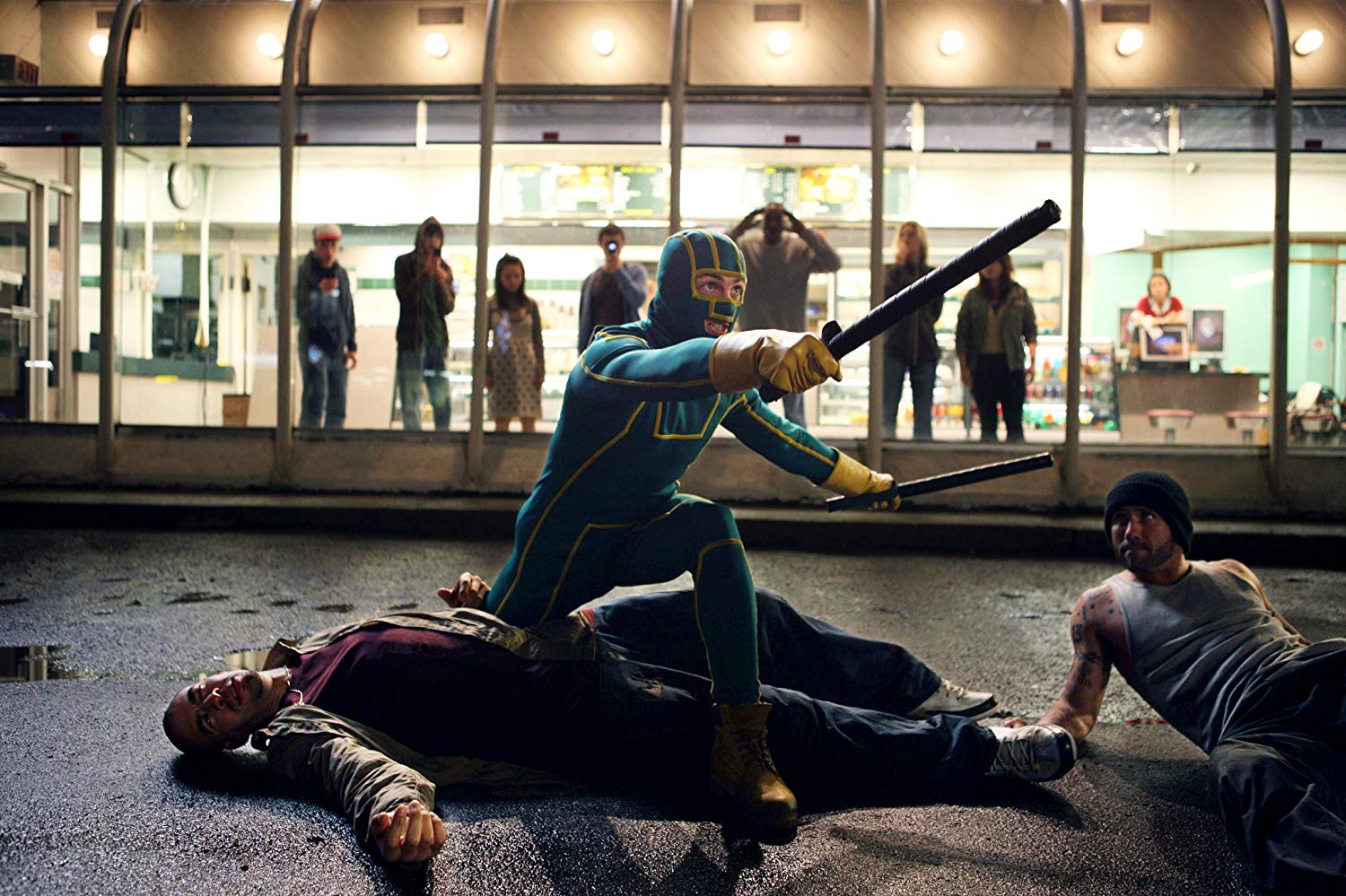 Without any doubt, Chloe Grace Moretz wipes the entire movie out from under everyone else, including the name actors more than thrice her age. Matthew Vaughn comes up with some fairly kick-ass action scenes, including a climax with a gun-toting Chloe Grace Moretz entering an apartment building and massacring an army of armed goons. It is also in these scenes that Kick-Ass crosses the line from a deflated superhero comedy into a fanboy fantasy that is ultimately no different from the very comic-books it seeks to parody and deflate.
When a film like this drags its superheroes into reality, the only options open to it as a story are either to show the disparity between the comic-book fantasy and the harsh reality and/or tell a story about the non-superheroes triumphing over the odds despite. In this regard, Kick-Ass wants to have its cake and eat it – it wants to both have everyday nerd superheroes but also have a full fantasy of comic-book triumph where the heroine can demonstrate amazing combat skills and the hero can ride rocket backpacks in to save the day.
Though making a virtue of the heroes with no powers, the film has to cheat several times in order to give its heroes some advantages – by outfitting Big Daddy with a vast arsenal of weapons and gadgets and allowing Hit Girl to become an expert martial artist and conveniently have a suitcase containing three million dollars under her bed. Even nerd superhero Aaron Johnson gets the ability to feel diminished pain due to his nerve endings being blocked – shades of Darkman (1990).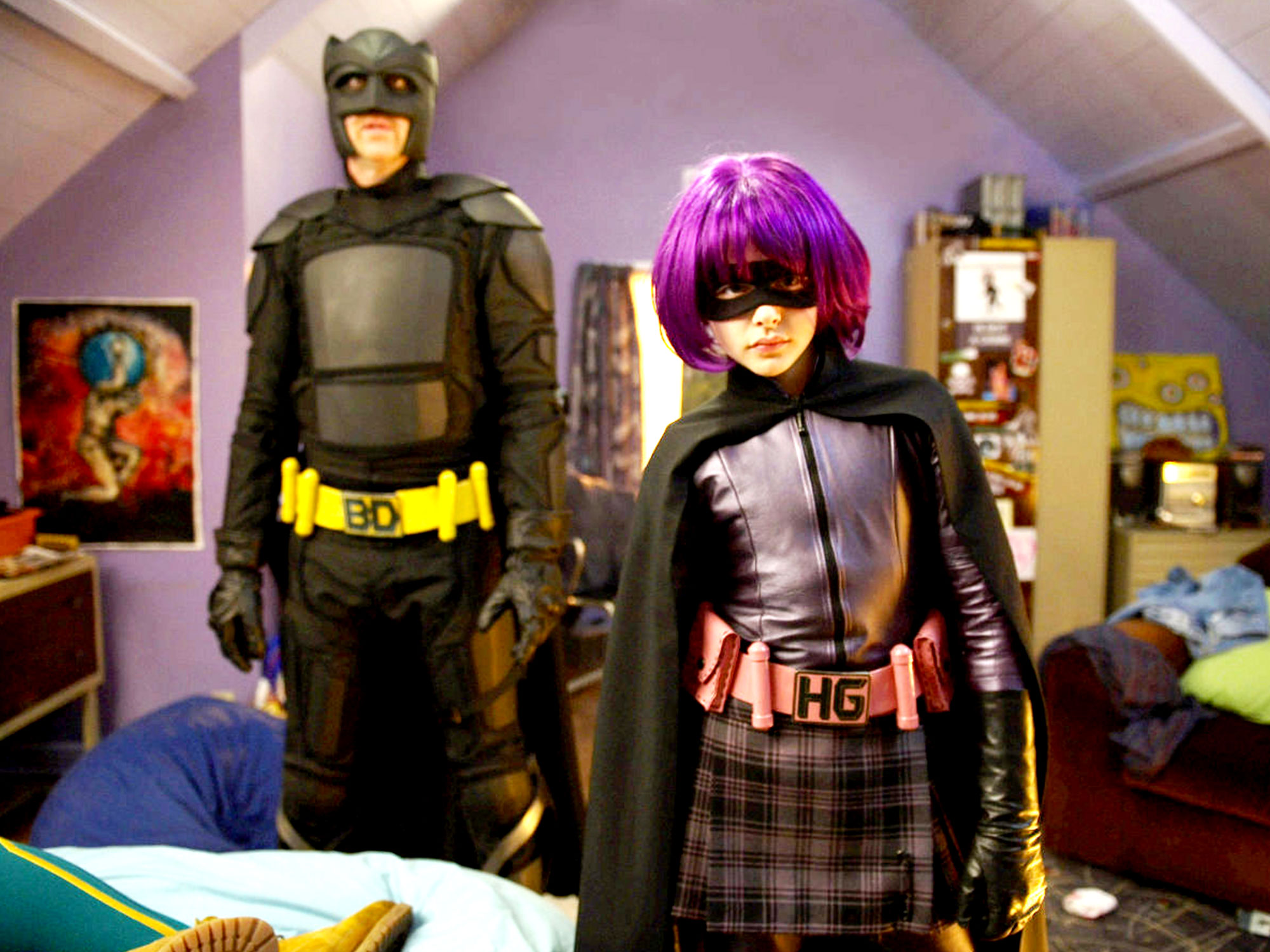 The far superior Defendor did the deflation of the superheroic ideal much better by showing the gaping distance between Woody Harrelson's comic-book ideals and the reality on the street and allowing no convenient plot devices to aid him. Kick-Ass contrarily seems to want to play into rather than deflate it. The film notedly opts for more traditional happy ending morality than the comic-book where the heroine Katie Deauxma turned on and humiliated hero Dave Lizewski after finding out that he wasn't gay.
It is in trying to both have its cake and eat it too, Kick-Ass seems ever so calculated. It seems intended more as a work designed to tweak certain things that are going to get its fanboy audience worked into a lather of excitement – much ultra-violence involving wire-flying martial arts and big guns; an acerbically foul-mouthed young girl heroine; a comeuppance fantasy where the comic-book reading nerd gets the girl and becomes a hero; a tick list of references to other comic-books to win the insider approval of its audience – more than it ever emerges as a work of outstanding genre-bending originality.
Most of the cast, although not Matthew Vaughn as director, reunited for a sequel Kick-Ass 2 (2013).
(Winner for Best Actress (Chloe Grace Moretz) at this site's Best of 2010 Awards).
---
---