---
Crew
Director/Screenplay – Jeff Wadlow, Based on the Comic-Book Created by Mark Millar & John Romita Jr, Producers – Tarquin Pack, Brad Pitt, David Reid & Matthew Vaughn, Photography – Tim Maurice-Jones, Music – Henry Jackman & Matthew Margeson, Visual Effects Supervisor – Hugh McDonald, Visual Effects – nVizible, Special Effects Supervisor – Sam Conway, Prosthetics Supervisor – John Schoonrad, Production Design – Russell De Rozaio. Production Company – Universal/Marv Films.
Cast
Aaron Taylor-Johnson (Dave Lizewski/Kick-Ass), Chloe Grace Moretz (Mindy Macready/Hit Girl), Christopher Mintz-Plasse (Chris D'Amico/The Mother Fucker), Morris Chestnut (Detective Marcus Williams), Jim Carrey (Colonel Stars and Stripes/Sal Bertolini), Claude Lee (Brooke), Garrett M. Brown (Mr Lizewski), John Leguizamo (Javier), Lindy Booth (Night Bitch/Miranda Swedlow), Olga Kurkulina (Mother Russia/Katrina Dombrowski), Clark Duke (Marty Eisenberg/Battle Guy), Augustus Prew (Todd Haynes/Ass Kicker), Donald Faison (Dr Gravity), Iain Glen (Uncle Ralph), Lyndsey Fonseca (Katie Deauxma), Steven Mackintosh & Monica Dolan (Remembering Tommy), Yancy Butler (Angie D'Amico), Andy Nyman (The Tumor), Daniel Kaluuya (Black Death), Tom Wu (Genghis Carnage), Wesley Morgan (Simon), Tanya Fear (Harlow), Ella Purnell (Dolce)
---
Plot
Dave Lizewski has hung up the Kick-Ass superhero costume and accepted the mundane high-school life. Bored with this, he searches out Mindy Macready and asks to partner up. She insists on putting him through a tough training course to teach him how to fight. She is now under the guardianship of Marcus Williams, her late father's partner on the force, and he is keeping a careful eye on her, meaning that she has to sneak out to engage in extracurricular activities as Hit Girl. After she is sprung by Marcus, he forces her to agree to behave normally and introduces her to the company of a clique of teenage girls. Searching for others, Dave encounters the superhero group Justice Forever headed by Colonel Stars and Stripes and made up of various others who have adopted superhero costumes. Meanwhile, Chris D'Amico is obsessed with revenge against Kick-Ass for killing his father. After accidentally electrocuting his mother, Chris inherits the family fortune. Rebranding himself as The Mother Fucker, he decides to become the first super-villain and uses his wealth to assemble a team of killers to track down and eliminate all the superheroes.
---
Kick-Ass (2010) was a modest hit when it first appeared, if not at the box-office certainly in terms of gaining a cult fanboy following. Adapted from Mark Millar's eight-issue comic-book series Kick-Ass (2008-10), it was one of several films that came out around the same time on the comedic theme of superheroes that have no powers along with the likes of Special (2006), Defendor (2009), Griff the Invisible (2010) and Super (2010), even a documentary Superheroes (2011) about examples of people who dress up as superheroes in the real world.
I had mixed feelings about Kick-Ass and failed to fully rave about it in the same way as many in the fan blogosphere did. I felt that Special, Defendor and Super did the superhero with no powers thing far more imaginatively in terms of exposing the gulf between the comic-book fantasy and the real-world. Kick-Ass seemed stuck with both trying to deflate the superhero and also eat its cake too and turn everything into a different type of ultra-violent adolescent fantasy. What you could not deny was that Chloe Grace Moretz totally owned the show.
Kick-Ass 2, which floated around for a time under the amusing title of Kick-Ass 2: Balls to the Wall, is a sequel where most of the original cast (at least those who were not killed off) have been reunited. Following the release of the film, Mark Millar released a five-issue follow-up comic-book Kick-Ass 2 (2010-2), as well as a five-issue spinoff Hit Girl (2012-3) that bridges the two sagas, and subsequently Kick-Ass 3 (2013-4) and Kick-Ass Book Four (2018). The script is directly adapted from Mark Millar's Kick-Ass 2, although does make some substantial changes to it, such as rerouting continuity to fit in with the changes the first film made. Matthew Vaughn was slated to return but eventually dropped out of directing and the new director is the largely unknown Jeff Wadlow who had previously made the fine slasher film Cry Wolf (2005).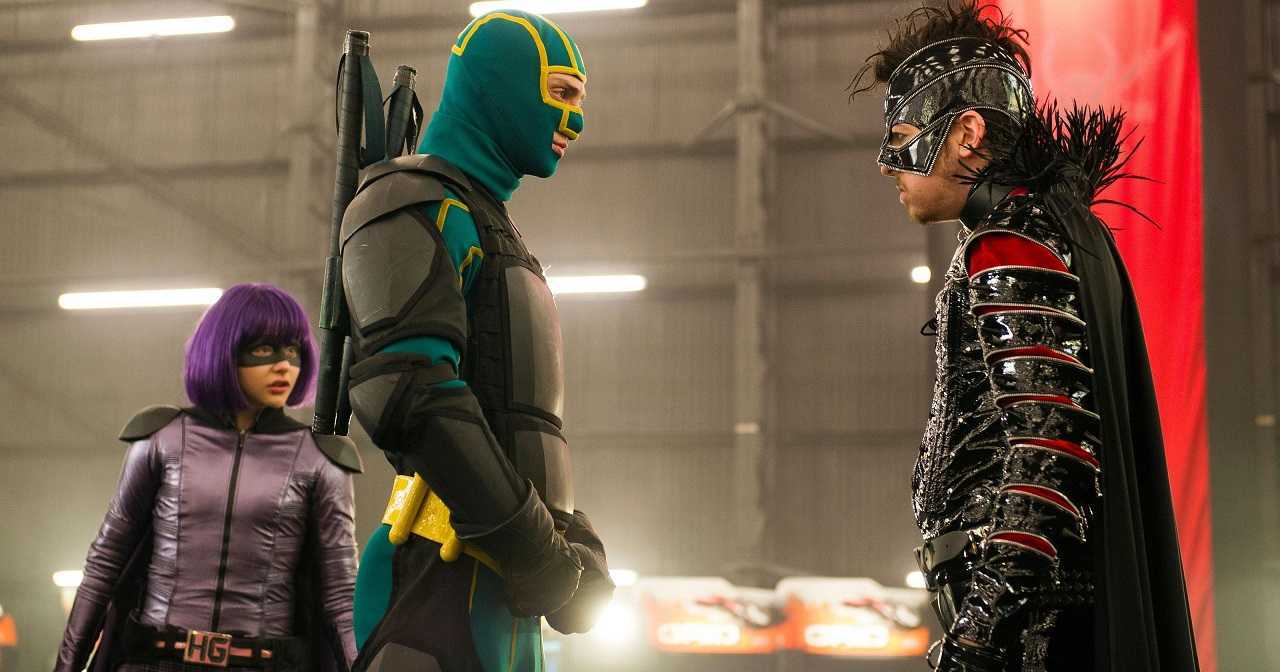 I went into Kick-Ass 2 with so-so expectations and ended up being surprised. In fact, I would have to go as far as to say that I preferred Kick-Ass 2 to the first film. (Quentin Tarantino did too and named it one of his best films of the year). For one, this is a sequel that doesn't simply conduct a repeat of the first film but turns the principal characters upside down, while expanding their stories considerably.
We see Dave undergoing training to actually learn how to fight, while joining a group of others that have taken up the costumed cause. (This is a film very much made with an awareness of the real-life superhero movement as featured in Superheroes). Dave even gets to engage in a romance (all masked). Some of the funniest scenes are watching punk-ass Christopher Mintz-Plasse don his mother's bondage gear to become 'The Mother Fucker', or trying to learn to fight before deciding his superpower will be his money – and then setting out to build a super-villain team, replete with headquarters in a warehouse that has a shark in a tank.
As before, the show is entirely taken over with a winning performance from Chloe Grace Moretz. She has the most substantial character arc, even gets to discover glimmerings of sexual desire. The most fun scenes are those where her guardian Morris Chestnut decides that she should be made over into a normal teenage girl and introduces her to a cliquey group. This comes with some deliciously sardonic lines – "I'd rather by waterboarded than listen to Justin Bieber." The arc that she undergoes here is not unakin to the one that Christina Ricci's Wednesday was put through in Addams Family Values (1993) and the amusing horrors of seeing her being forced to conform – the scene where she delivers a biting riposte to the head bitch and then gets her comeuppance with the 'Sick Stick' is a side-splitting show capper.
Like the first film, Kick-Ass 2 seems caught in a moral grey zone between deflating the superhero and creating its own comic-book fantasy of ultra-violence. To this extent, there are times that it undeniably errs on the side of the pure fantasy rather than realism. Some of Hit Girl's martial arts moves are hard to believe, particularly a kinetic sequence with her avoiding hoods shooting at her around the side of a van, while a scene where the Amazonian Mother Russia (Olga Kurkulina) eliminates an entire suburban street of armed cop cars seems to fall far too much into the realm of being a complete action-movie fantasy.
On the other hand, I very much enjoyed Jeff Wadlow's script for the dexterity of its constant play between reality and fantasy, the cleverness of the use of the superhero and mask as metaphor and the way these are constantly wound back into the script.
Jeff Wadlow subsequently went on to make the non-genre True Memoirs of an International Assassin (2016), Truth or Dare (2018), which has a similar premise to Cry Wolf of a deadly game that conjures demonic forces, and the film remake of tv's Fantasy Island (2020). Wadlow also wrote the script for the Vin Diesel action film Bloodshot (2020). He has also acted as a producer on the tv series' Bates Motel (2013-7), The Strain (2014-7) and Are You Afraid of the Dark? (2019-21).
(Nominee for Best Adapted Screenplay, Nominee for Best Actress (Chloe Grace Moretz) at this site's Best of 2013 Awards).
---
---