---
Crew
Directors – John Francis Daley & Jonathan Goldstein, Screenplay – John Francis Daley, Michael Gilio & Jonathan Goldstein, Story – Michael Gilio & Chris McKay, Producers – Brian Goldner, Jeremy Latcham & Nick Meyer, Photography – Barry Peterson, Music – Lorne Balfe, Visual Effects Supervisor – Ben Snow, Visual Effects – Crafty Apes VFX Ltd (Supervisor – Mark Bortolotto), Industrial Light & Magic (Supervisors – Scott Benza & Dave Dally, Animation Supervisor – Kevin Martel) & MPC (Supervisors – Khalid Almeerani, Axel Bonami & Sreejith Venugopalan), Special Effects Supervisor – Sam Conway, Makeup Effects – Legacy Effects, Makeup/Prosthetics Designer – Alesandro Bertolzzi, Production Design – Raymond Chan. Production Company – Paramount Pictures/eOne.
Cast
Chris Pine (Edgin Darvis), Michelle Rodriguez (Holga Kilgore), Justice Smith (Simon Aumar), Sophia Lillis (Doric), Hugh Grant (Forge Fitzwilliam), Rege-Jean Page (Xenk Yendars), Chloe Coleman (Kira Darvis), Daisy Head (Sofina), Bradley Cooper (Marlamin), Georgia Landers (Zia Darvin)
---
Plot
The bard Edgin Darvin and barbarian Holga Kilgore have been arrested after attempting to steal a Tablet of Reawakening with which Edgin was planning to resurrect his wife Zia from the dead. During a parole hearing, they make an escape from custody. Returning to Neverwinter, they discover that their colleague Forge Fitzwilliam was the one who betrayed them. With the aid of his Red Wizard associate Sofina, Forge has usurped the rightful ruler of Neverwinter, while claiming Edgin's daughter Kira as his own. Edgin and Holga set out rescue Kira. This means reuniting their companions, the magician-thief Simon Aumar and the tiefling shapechanger Doric. They set out on a quest to retrieve The Helm of Disjunction and then make a return to Neverwinter to discover that Forge has begun a games where Sofina is planning to use the massed crowds as a human sacrifice.
---
Dungeons and Dragons is the most famous of all role-playing games. Created by Gary Gygax, the game was originally published in 1974, although what most people are familiar with is Advanced Dungeons and Dragons (1979), which created much more detailed character tables and rules for combat. The has gone through various iterations and numerous expansions since then. Gygax's ingenuity was in boiling a collation of elements taken from J.R.R. Tolkien and assorted other fantasy works down into a system where players could adopt characters such as wizards, warriors, thieves, elves and halflings, with varying abilities, skillsets and moral alignments. With these, players would go through an interactive adventure as determined by the dungeonmaster who spelled out what they saw or faced, where what happened would be determined by player choice and the outcome of combat and magic spells by dice rolls. This became quite a phenomenon during the 1980s and beyond.
The film draws all its material from Forgotten Realms. This was a fantasy otherworld created by Ed Greenwood in 1967 that he later began to adapt for Dungeons & Dragons lore in a series of articles in the game's magazine, before this was developed into what became one of the game's most popular campaign settings. There have been multiple editions of the Forgotten Realms sourcebook and a series of novels written around the setting. From the 1990s, Forgotten Realms was developed out into a series of videogames – some two dozen at current count. The film's characters and much as the fictional setting are drawn from these.
Gary Gygax himself had planned a Dungeons & Dragons movie in the 1980s, although this never ended up being made, and the only incarnation during this time was the animated tv series Dungeons & Dragons (1983-5), which was clearly mad for young children. The game was first adapted to the screen with Dungeons & Dragons (2000) but this was very poorly received. There were two dvd and cable -released follow-ups with Dungeons & Dragons: Wrath of the Dragon God (2005) and Dungeons & Dragons: The Book of Vile Darkness (2013), the latter being the best of the three films.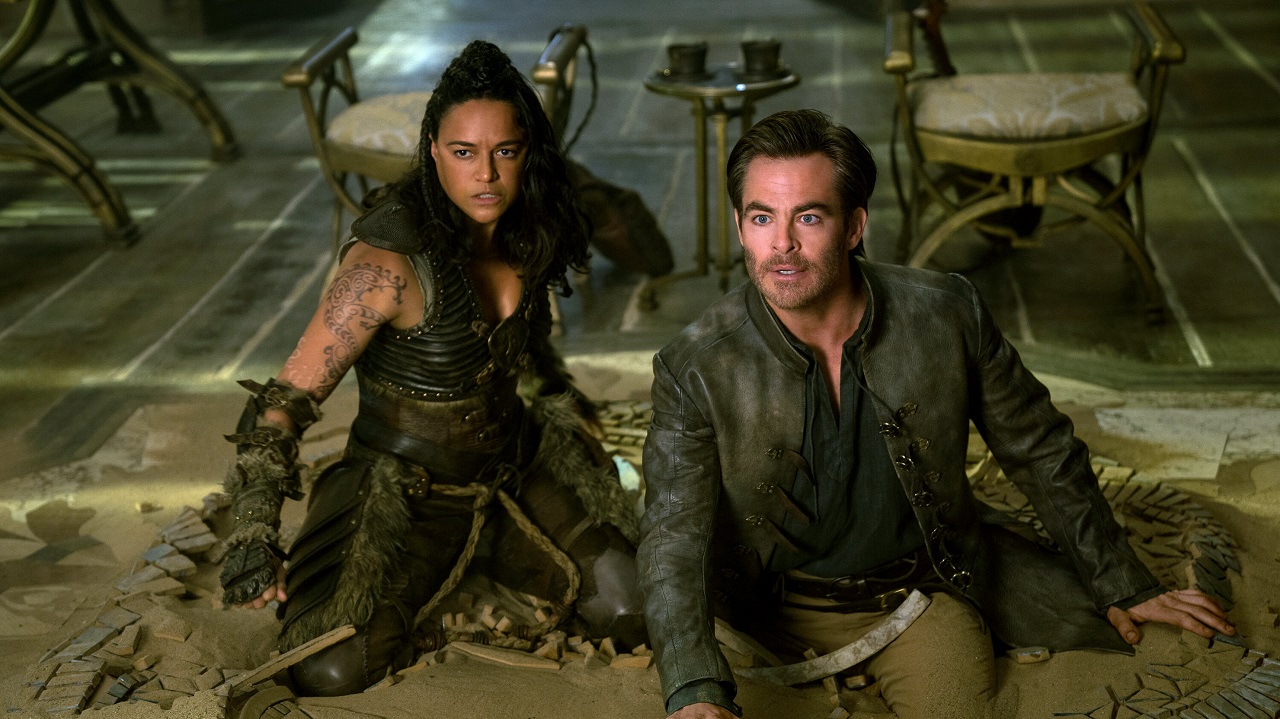 After some years in development, this new Dungeons & Dragons movie appears. It received surprisingly good reviews and reception from gamers and general audiences. A Dungeons & Dragons film should be one that in theory is not too hard to screw-up. The setting is a distillation of fantasy elements and tropes. The story is fairly open – it doesn't even require any actual dungeons or dragons to appear – and there are endless game variations that can be conducted. All you need is a diverse party with various magical and fighting skillsets, a locale like a dungeon, a castle or an underground realm to venture into, some treasure and a variety of creatures to be fought.
There have been a number of films that have used these essential basics ranging from 1980s variants like Hawk the Slayer (1980) and Krull (1983) to the dreadful recent tv likes of The Shannara Chronicles (2016-7) and The Wheel of Time (2021- ) and down the low-budget end of the spectrum the Italian-made Ator films to the quite modest Mythica films. (See Epic Fantasy Films for a more detailed listing).
Dungeons & Dragons: Honor Among Thieves gives us thieves, magic users, halflings, barbarians and whole host of magical gadgetry. There is a great deal of place names, characters and creature classes referred to that are taken from the Forgotten Realms setting. In particular, the film gets a good deal of amusement out of the attempts to teleport into first a moving treasure cart and then the vault using the Hither Thither Staff that creates a portal on the back of a portrait.
I had a good deal of hopes for the film. The major one of these is that it would do the one thing that the 2000 film seemed to miss in a big way – and that was some decent adventuring. But what we get feels a really lightweight fantasy film. One of the greatest problems in Hollywood seems to be the ongoing practice of studio executives taking IPs that have a fanbase and handing them over to directing and writing talents that are utterly unsuited to the material – Joel Schumacher being let loose on Batman, Akiva Goldsman on every work he has ever adapted to the screen, Chris McKay (who has a story credit here) on the Dracula film with Renfield (2023).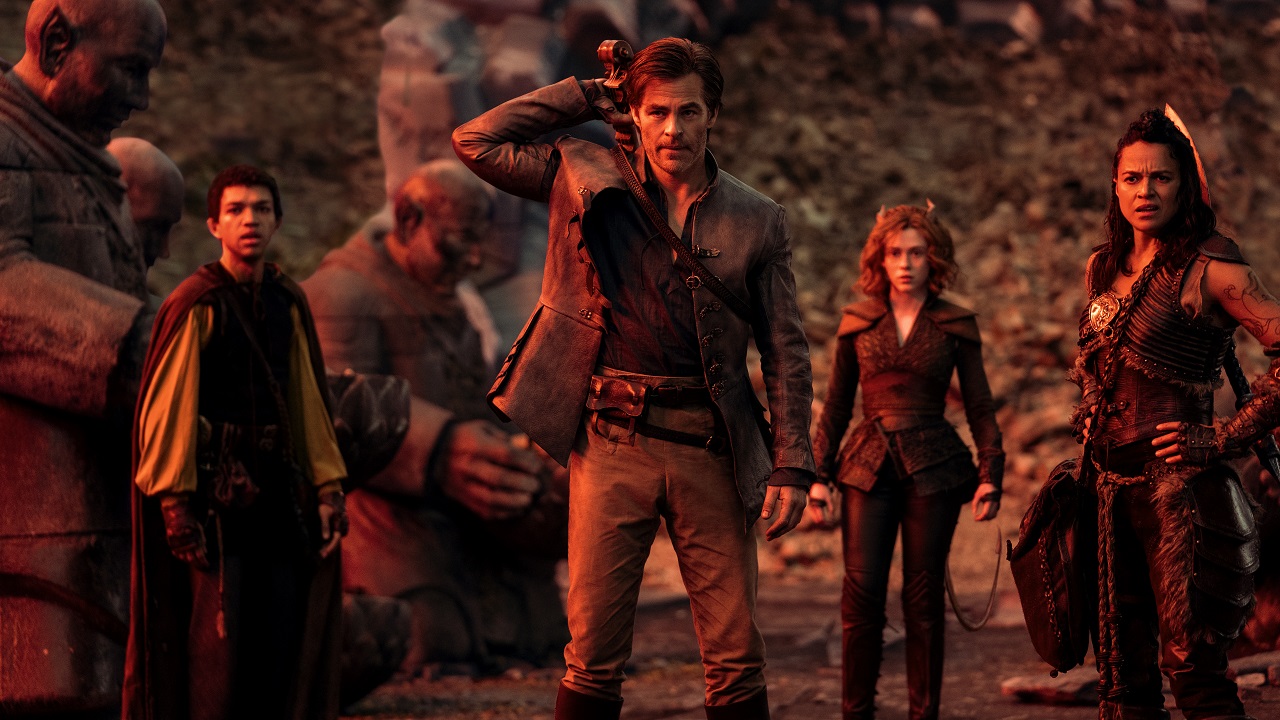 In this case, the film is handed over to John Francis Daley and Jonathan Goldstein who come from a background writing comedy with scripts for Horrible Bosses (2011) and sequel, The Incredible Burt Wonderstone (2013) and Cloud with a Chance of Meatballs 2 (2013), as well as having dipped their toes in the superhero film with Spider-Man: Homecoming (2017) and The Flash (2023). Daley and Goldstein had previously only directed two non-genre comedies with Vacation (2015) and Game Night (2018).
Expectedly, what we get is a film that is passably okay on adventuring but where everything is undercut with humour the whole way through. About the point of the opening scene where we see Chris Pine's hero in a jail cell knitting, you can tell we are not in for a serious film. As per the modern film, characters keep up a line of flip banter throughout. The absolute nadir of these scenes is one where a resurrection spell is conducted on slain soldiers in a graveyard and it dissolves into a series of comic exchanges about asking questions. And there are other scenes like where Michelle Rodriguez sits down to have a domestic reconciliation with her half-sized ex-husband (a cameoing Bradley Cooper) that you badly feel should have been played for comedy.
It is also a film where whatever slender suspension of disbelief there is is constantly being abruptly punctured by very contemporary lines and terminology – Justice Smith stating "I was being ironic," the prisoners facing charges of 'Grand Larceny' or for that matter their whole being brought up before a parole board, which seems an incredibly modern as opposed to mediaeval concept. Not to mention, a party of D&D characters on a quest to rescue Chris Pine's daughter feels like 2020s movie motivation that belongs to a Taken copycat – a standard D&D party should be out there slaying monsters and gathering treasure. I compare this to the people I used to D&D with and the fairly much guaranteed response to a rescue mission, least of all among a party of thieves, would have been the mercenary one of "What's in it for us?" and wanting to know about the reward money.
Maybe this is what audiences have wanted of a Dungeons & Dragons all these years. I had no investiture in the film's setting but it feels utterly generic rather than seeing a world come to life in three-dimensional detail. Even though the film has the normally sterling Industrial Light & Magic on board, some of the effect do look a little uneven, especially some of the early Owlbear sequences. This is an adventure I wanted to be work but the playing to the comedy element kept killing it for me.
---
Trailer here
---