---
Crew
Director – Richard Quine, Screenplay – Daniel Taradash, Based on the Play by John Van Druten, Producer – Julian Blaustein, Photography – James Wong Howe, Music – George Duning, Art Direction – Cary Odell. Production Company – Phoenix Pictures/Columbia.
Cast
James Stewart (Shepherd Henderson), Kim Novak (Gillian Holroyd), Jack Lemmon (Nicky Holroyd), Elsa Lanchester (Queenie), Ernie Kovacs (Sidney Redlitch), Janice Rule (Merle Kittridge), Hermione Gingold (Bianca De Pass)
---
Plot
Christmas nears in New York City. Gillian Holroyd, a witch who runs an anthropological antiquities store, desires love, even though witches are not allowed to fall in love. She settles upon Shepherd Henderson, the publisher who lives upstairs from her. Using her charms, she causes him to abandon his fiancee to be with her within the space of a night. However, Gillian's secret is endangered when Shepherd takes on writer Sidney Redlitch who wants to write a book on the secret society of witches in the city, something that Gillian's cousin Nicky proves only to happy to collaborate on.
---
Bell Book and Candle belongs to a mini-theme of witches in love comedies. This mini-genre was begun with Rene Clair's delightful I Married a Witch (1942) and both I Married and this were the clear inspiration for the long-running tv series Bewitched (1964-72).
The likes of I Married a Witch, Bell Book and Candle and tv series such as Bewitched and I Dream of Jeannie (1965-70) appeal to a male sex fantasy, one where women are seen as mysterious yet coquettish and kittenishly playful. (In both I Married a Witch and Bell Book and Candle their sexual charms are literally magical). These films dally with the fantasy of the free, playful, capricious woman, although ultimately they are divided films, caught between carefree silliness (represented by the woman) and sobriety and social responsibility (as embodied in the man). Invariably, the plot involves the woman sacrificing her powers and accepting the ultimate arbiter of masculine subordination – marriage. Even a modern, post-Sexual Revolution film like Practical Magic (1998) still follows these same basic patterns.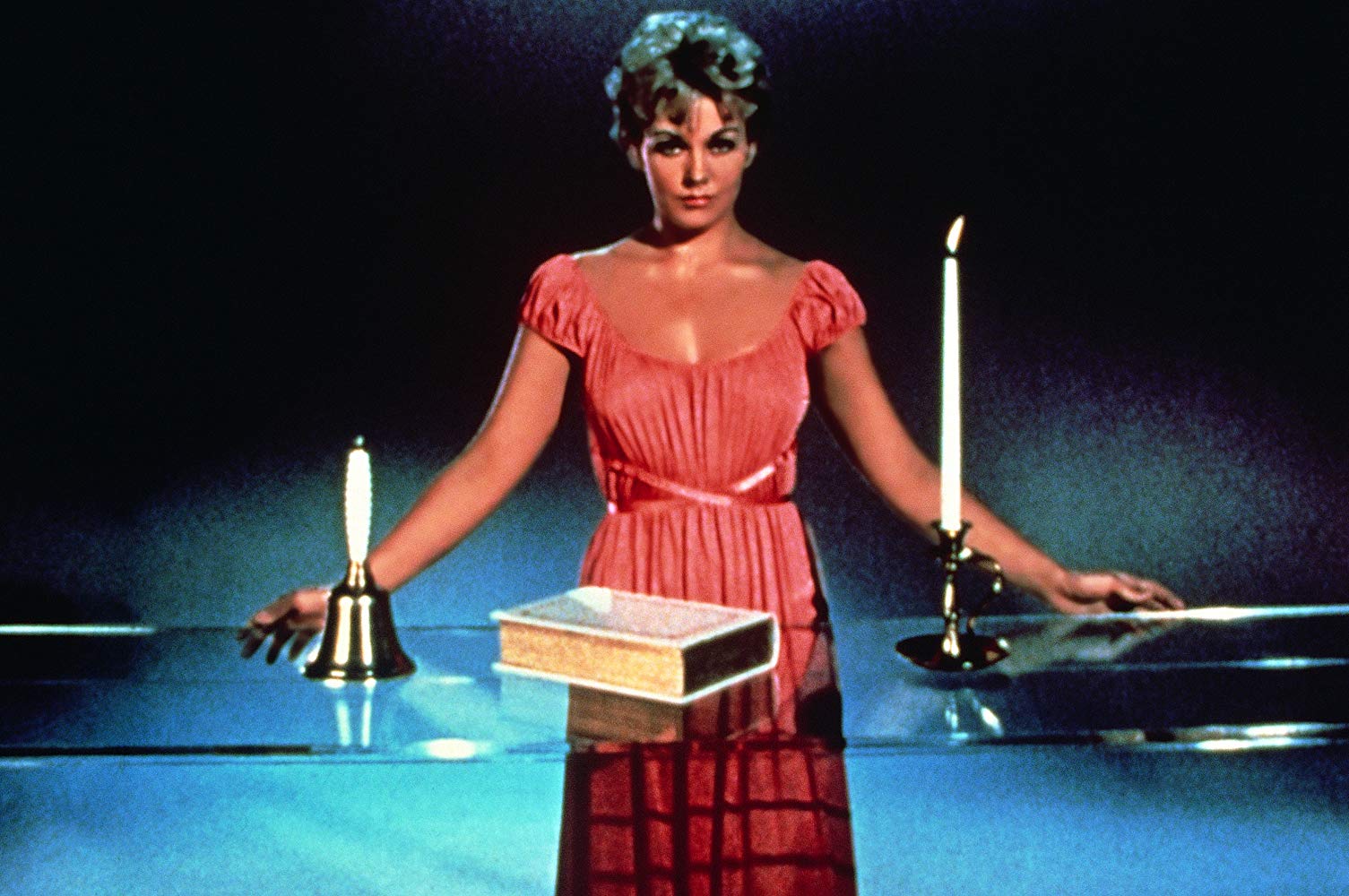 Bell Book and Candle is an appealing venture into the theme. The script is well tuned. The cast is a wonderful light comic ensemble and contains fine comic performances from Jack Lemmon, Elsa Lancaster, Ernie Kovacs and Hermione Gingold. At age 50, James Stewart looks a little too old to seem the eminently desirable bachelor but he gives another engaging variation on the deadpan comic performance he had down pat by this point.
The production values are lush – and look even better in the 2000 digitally restored reissue print seen here. The film does a reasonable job of shuffling locations around so as to keep the story free of its stagebound origins. It is however surprisingly light when it comes to actual displays of magic – only ever providing a green fire and Jack Lemmon's streetlight trick.
At its centre, Bell Book and Candle has the bewitchingly sexy Kim Novak who James Stewart also became obsessively fixated upon in the same year's Vertigo (1958). She is arrayed in a delectably luscious parade of sexily backless gowns and hooded robes. The image of her draped across a couch purring "Won't you come back?" has a bewitching thrill and the moment the camera focuses on her face over the top of the cat, the entire audience is completely captivated.
---
---