---
Crew
Director – Rene Clair, Screenplay – Marie Connelly & Robert Pirosh, Based on the Novel The Passionate Witch by Thorne Smith (Completed by Norman Matson), Photography (b&w) – Ted Tetzlaff, Music – Roy Webb, Photographic Effects – Gordon Jennings, Art Direction – Hans Dreier & Ernst Fegte. Production Company – Masterpiece Productions.
Cast
Veronica Lake (Jennifer), Fredric March (T. Wallace Wooley Jr), Cecil Kellaway (Daniel), Robert Benchley (Dudley), Susan Hayward (Estelle Masterson)
---
Plot
In the 17th century, the witch Jennifer and her father are burnt at the stake by the statesman Wooley. Before she dies, Jennifer places a curse on Wooley that he and his ancestors will all be unhappy in marriage. In the 20th Century, their spirits emerge from an ash tree planted on the site of their burning. Jennifer becomes charmed with Wallace, the latest Wooley descendent, who is about to become unhappily married. And so she fashions herself a body and sets about inducing him to marry her instead.
---
The 1940s was an era filled with light fantasies, usually of the afterlife and angel variety – there were classics such as Here Comes Mr Jordan (1941), A Guy Named Joe (1943), It's a Wonderful Life (1946) and A Matter of Life and Death/Stairway to Heaven (1946). Thorne Smith, whose work this film comes from, was a popular writer in this genre and had a number of his works adapted as films – the popular ghost comedy Topper (1937) and sequels and the bodyswap comedy Turnabout (1940). I Married a Witch is one of the wittiest and most elegant of these light fantasy comedies. The director was Rene Clair who had begun in French experimental cinema during the silent era and then come to Hollywood.
I Married a Witch still holds up beautifully (if a little spottily in the technical effects department). While the humour of many of these comedies often seems corny today, I Married a Witch has lost none of its sly whimsicality. Rene Clair tosses in perfectly charming throwaway gags – broomsticks moving of their own accord, Veronica Lake casually sliding up the banisters or sitting nonchalantly unconcerned in the middle of a burning hotel room.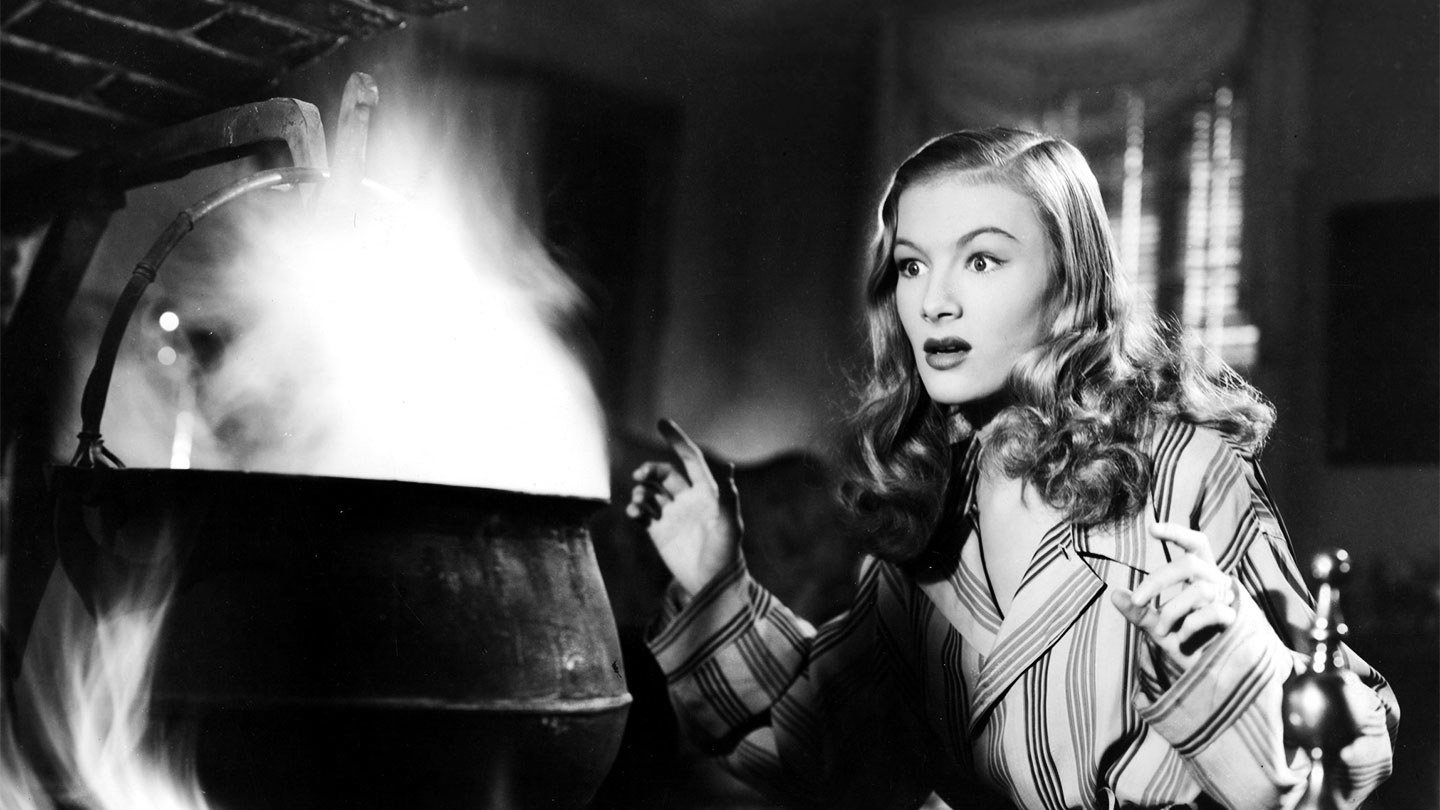 The film's greatest joy is the marvelously coy, kittenish performance from Veronica Lake. She was a popular star of the era, delivering radiant performances in films like I Wanted Wings (1941), Sullivan's Travels (1941) and This Gun for Hire (1942). In most of the parts Lake was cast in, she was the romantic interest, subordinate to the male star of the show. No film ever allowed her to show off with such sexy pixieishness as I Married a Witch did. It is a role that she was born to play and she does so sublimely with a range of capricious expressions that suggest both mischief and innocence at the same time. In one of the most charming scenes, Fredric March asks her to return the coat he lends her to the nearest police station whereupon she throws it out the window at two passing cops and departs in the taxi naked.
Fredric March does a fine job of playing in essence the straight man to Veronica Lake. The volleying of dialogue in the scenes between the two of them is a wholehearted delight. There is also a great performance from Cecil Kellaway. Kellaway was one of the great underrated comedy actors (as opposed to comics) of the era and he has marvellous fun, cackling away with wicked glee as Veronica Lake's father.
I Married a Witch served as inspiration for a number of other works, in particular Bell Book and Candle (1958) and tv's Bewitched (1964-72) and to a lesser extent Practical Magic (1998), which all played comedic variations on the witch in love theme as seen here. These films carry an underlying sexism in the repeated theme of the witch having to sacrifice her powers in order to accept love and eventually surrender to marriage.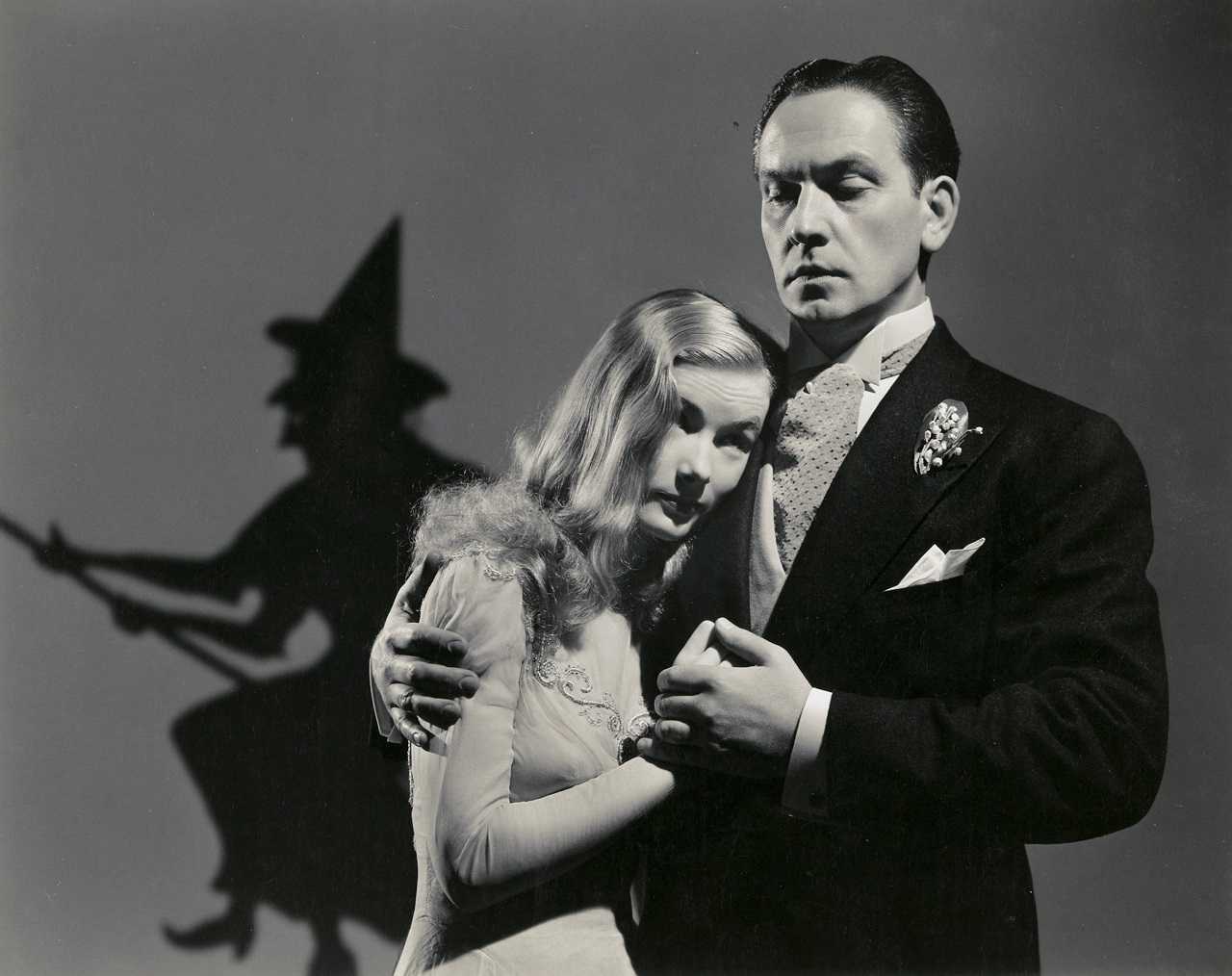 Rene Clair's other genre films were the surrealist silent films Entr'acte (1924) and The Imaginary Voyage (1925); the silent sf film Paris Qui Dort (The Crazy Ray) (1925) about Paris frozen in time; the ghost comedy The Ghost Goes West (1935); It Happened Tomorrow (1944) about a man who can read tomorrow's headlines; the Agatha Christie murder mystery And Then There Were None (1945); Beauty and the Devil (1950), a retelling of the Faust story; and Beauties of the Night (1952) a charming fantasy about a daydreamer.
The film is based on The Passionate Witch (1941), a posthumously completed novel by Thorne Smith (1892-1934), a popular novelist on light fantasy themes. After the success of Topper (1937), there were a number of other films adapted from Thorne Smith's books, including Night Life of the Gods (1935) wherein a magic ring brings a statue to life and the bodyswap comedy Turnabout (1940).
---
---