---
USA. 1998.
Crew
Director – Griffin Dunne, Screenplay – Adam Brooks, Akiva Goldsman & Robin Swicord, Based on the Novel by Alice Hoffman, Producer – Denise Di Novi, Photography – Andrew Dunn, Music – Alan Silvestri, Music Supervisor – Danny Bramson, Visual Effects Supervisor – John Scheele, Visual Effects/Animation – Cinesite Digital Studios (Supervisor – Jay Riddle), Additional Visual Effects – CIS Hollywood, Rose Bush Sequence – Tippett Studio, Driving Sequence – Hammerhead Productions, Special Effects Supervisor – Burt Dalton, Production Design – Robin Standeter. Production Company – Di Novi Pictures/Fortis Films/Warner Bros/Village Roadshow.
Cast
Sandra Bullock (Sally Owens), Nicole Kidman (Gillian Owens), Aidan Quinn (Gary Hallett), Stockard Channing (Aunty Francis), Dianne Wiest (Aunt Jen), Evan Rachel Wood (Kylie Owens), Goran Visnjic (Jimmy Angelo), Mark Feuerstein (Michael), Alexandra Artrip (Antonia Owens)
---
Plot
Persecuted as a witch by the puritans in the 17th Century, Maria Owens places a spell on herself. However, this has had the result of causing all the men that the subsequent generations of Owens women marry to die unnaturally. In the present day, Sally Owens wants to maintain the pretence that she is not a witch in order to be accepted by the community. However, the man that Sally marries is killed in an accident in the street. Her more wayward sister Gillian is passionately involved with East European cowboy Jimmy Angelo. Things go wrong when he abducts her and Sally, and Sally is forced to place a lethal dose of belladonna in his tequila. Panicking, the sisters attempt a resurrection spell. When this goes wrong, they bury Jimmy in the garden. Detective Gary Hallett comes investigating Jimmy's disappearance and they are forced to cover up. However, Sally finds herself starting to fall for Gary.
---
Practical Magic was the second directorial outing of Griffin Dunne, a comedy actor known for films like An American Werewolf in London (1981) and After Hours (1985). Lesser known is that Dunne has several credits as a director with the likes of Addicted to Love (1997), Famous (2000), Fierce People (2005) and The Accidental Husband (2008), as well as one of the segments of the comedy anthology Movie 43 (2013).
Practical Magic is a revamp of the old witch in love domesticity comedy popularised by the likes of I Married a Witch (1942), Bell Book and Candle (1958) and tv's Bewitched (1964-72). Practical Magic is much more modern and New Age than these others – it embraces the more modern conception of witchcraft and herbalism – but in most other regards it rehashes the same sexist assumptions as the abovementioned – of the witch torn in choice between domesticity and having to surrender her powers. The modern difference is that the ending is more liberal, with the witch learning to merely accept rather than have to give up her powers.
Practical Magic gives the impression of having been created as a vehicle around its two stars – Sandra Bullock and Nicole Kidman. It purportedly treats the 1995 source novel by young adult's author Alice Hoffman very loosely (the dread name of Akiva Goldsman lurks on the script). It seems like a film trying to be too many things. For the most part, Griffin Dunne is reasonably successful at playing the film as the white witchcraft comedy that it has been sold as. It is just that every so often Dunne veers off at a tangent and turns the film into something else. In the scenes with Nicole Kidman describing her relationship with Goran Visnjic, the film briefly conjures a sensual heat. In an abrupt reversal, this turns into a comic kidnap thriller and then a would-be black comedy with the two sisters poisoning and then resurrecting Goran Visnjic's corpse.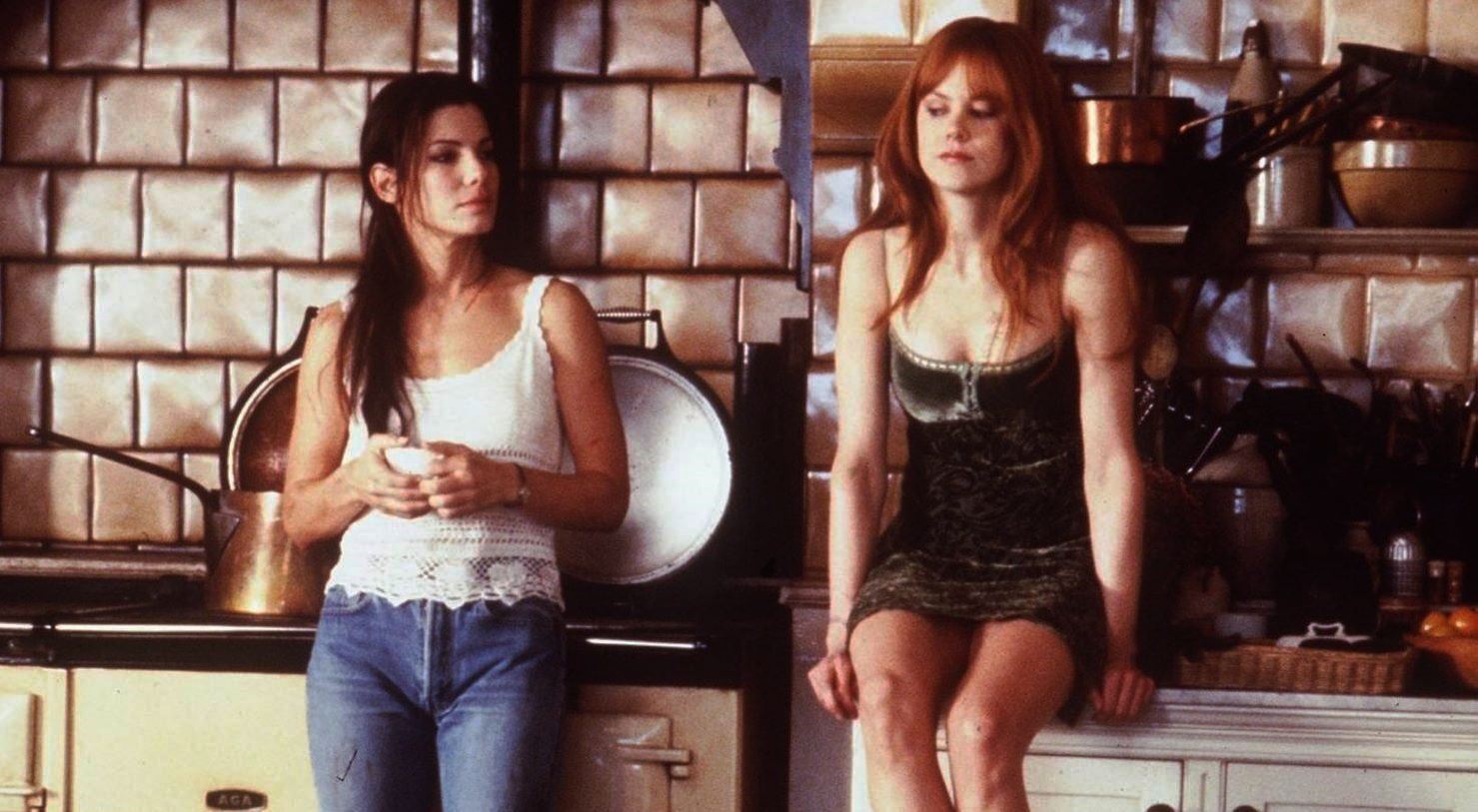 This is then forgotten about and Practical Magic drops into comedy-thriller mode with the heroines having to hide the murder from Aidan Quinn's investigating detective. However, this never gets much time as the case is skewed too much in favour of the romance – with Sandra Bullock willingly going and confessing all early in the action and Aidan Quinn too obviously attracted to her to be interested in doing his job and apprehending her. Then for a time the film seems to be veering off and trying to be a horror film, briefly whipping up some CGI effects with the emergence of Jimmy's spirit and his possession of Nicole Kidman. Griffin Dunne keeps experimenting with so many styles you are not sure what type of film he is trying to make.
Of the two stars, Nicole Kidman has the lighter part, playing the wayward ditz. Sandra Bullock gets the lion's share of the film – she does her Shy Girl Next Door thing but seems to spend the entire film getting flustered. However, the script never pairs the differences between the two sisters off against one another.
It is nicely photographed in the autumnal tones of wistful American nostalgia, is slickly made and on the whole amiable enough. On the other hand, it is extremely slight – it feels more like a feature-length sitcom than a film – when you think about it, the premise would probably have made the better basis for a sitcom than a film (then again it did sort of – tv's Charmed [1998-2006]). There is an amusing end where the townspeople improbably throw off their prejudices and join together in something akin to a witchcraft version of a church prayer circle.
Young adult author Alice Hoffman was subsequently adapted to the screen with the ghost story murder mystery The River King (2005) and the mermaid teen comedy Aquamarine (2006).
---
---