---
USA. 1950.
Crew
Directors – Clyde Geronimi, Wilfred Jackson & Hamilton Luske, Story – Kenneth Anderson, Homer Brightman, Winston Hibler, William Peet, Erdman Penner, Harry Reeves, Joe Rinaldi & Ted Sears, Music Supervisors – Paul Smith & Oliver Wallace, Songs – Mack David, Al Hoffman & Jerry Livingston, Orchestration – Joseph Dubin, Animation Supervisors – Les Clark, Marc Davis, Norm Ferguson, Ollie Johnston, Milt Kahl, Ward Kimball, Eric Larson, John Lounsbery, Wolfgang Reitherman & Frank Thomas, Special Processes – Ub Iwerks. Production Company – Disney.
Voices
Ilene Woods (Cinderella), James G. MacDonald (Gus/Jacques/Bruno), Eleanor Audley (Lady Tremaine), Rhoda Williams (Drizella), Lucille Bliss (Anastasia), Luis Van Rooten (King/Grand Duke), Verna Felton (Fairy Godmother), William Phipps (Prince), June Foray (Lucifer)
---
Plot
After the death of her father, Cinderella is treated as a servant by her cruel stepmother and two stepsisters Drizella and Anastasia. Cinderella's only friends become the mice that she protects from the cat. When notice comes that the King is throwing a ball in order to find a bride for his son and that every maiden in the land is invited, the mice make Cinderella a gown, only for the stepsisters tear it up. However, Cinderella's fairy godmother steps in and magically creates another for her, as well as transforming a pumpkin into a coach and the farmyard animals into coachmen. At the ball, Cinderella entrances the prince but has to flee at midnight when the spell wears off. In her haste, she drops one of her glass slippers. The king sends the Grand Duke throughout the land with the slipper to find the woman who fits it. However, Cinderella's stepmother has had locked her away.
---
Disney is a name that will always stand as a landmark in animation. The artistic height of Disney studio's animation department was the period from 1937 to 1942, the period that ranges from Snow White and the Seven Dwarfs (1937) to Bambi (1942). After this, the War came along and conscripted most of the studio's talent. The latter half of the 1940s was filled with a middling series of portmanteau animated features and ranks as the least inspired or memorable of all Disney animation eras. Cinderella was Disney's first attempt since 1942 to return to the style of classic animation that they had made their name with and its success broached a new post-War era for the studio.
Cinderella of course adapts the famous Charles Perrault fairy-tale, first written in 1697. Cinderella holds the record as the story that has undergone the most film adaptations. What perhaps surprises about this is that, unlike other multiply adapted stories such as Hamlet, Frankenstein, Dracula, Beauty and the Beast and so forth, there is no single adaptation of Cinderella that stands out above the others as being definitive. The Disney version would probably come the closest (at least in the public estimation) but that is more by default and the immortality assured by Disney's habit of reissuing their films every few years, rather than Cinderella's quality.
Cinderella is disappointingly routine. It is a fairly minimalistic run through an overly familiar story. Too familiar really to have any interest. Disney do conduct some minor variations such as having the Grand Duke accidentally break the glass slipper before placing it on Cinderella's foot.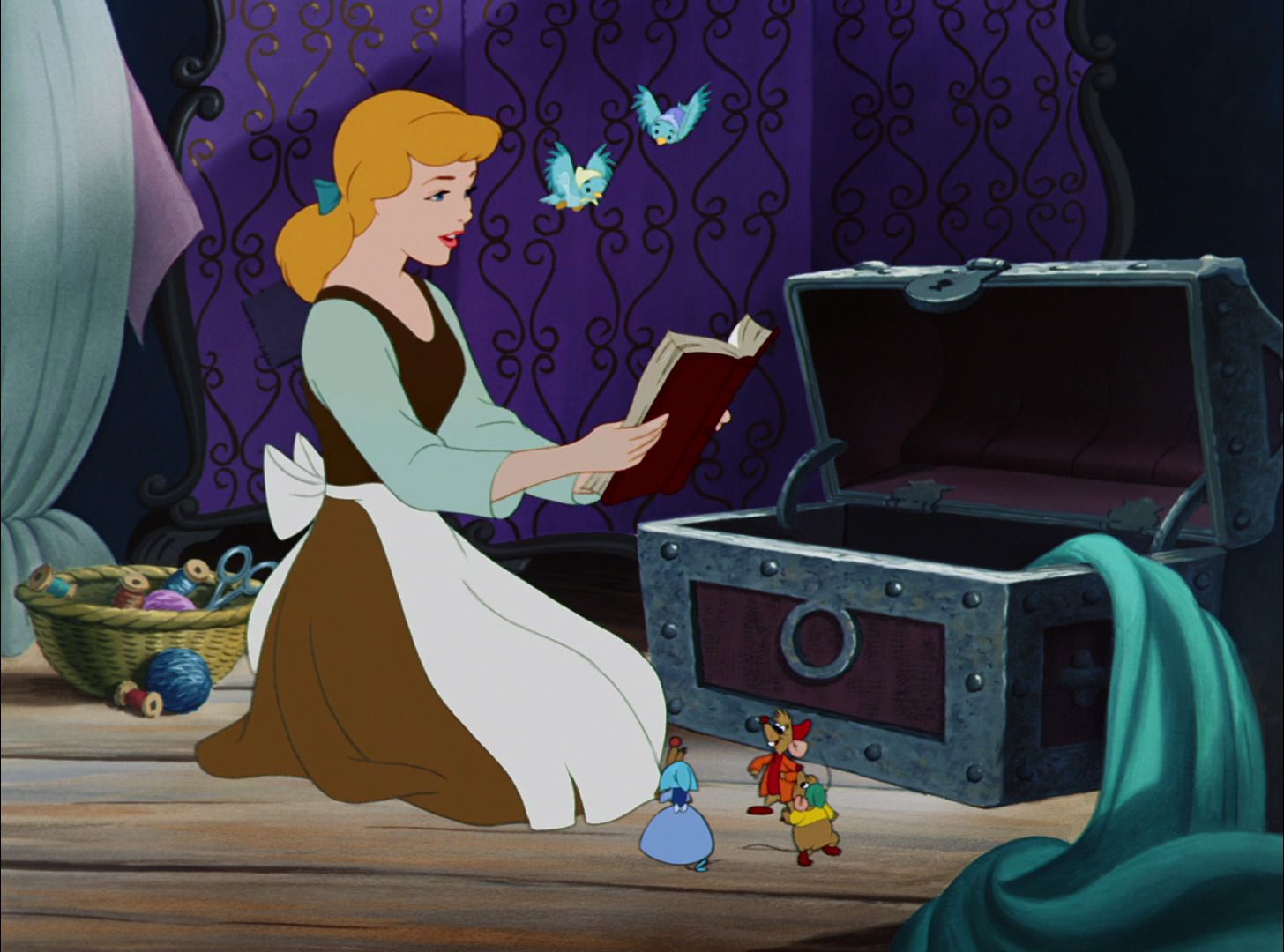 The most noticeable variation is in having – this, remember, is a Disney film – the mice that get transformed into the coachmen and horses, plus most of the farmyard animals being able to speak to Cinderella and be her best friends. Indeed, the usual talking animals pratfoolery of a Disney film is almost allowed to take over the story altogether – the beginning and much of the middle is dominated by an extended series of chases between the clever mice and the evil cat.
This is possibly a good thing as the fairy-tale and the romance are stultifying bland. Cinderella is another of Disney's eternal virgin princesses who radiates an almost divine beatitude and kindness but is utterly bland as a character – she lacks the essential open-eyed plaintiveness and adorable cuteness that makes other Disney heroines such as Snow White, Lady, Beauty and Ariel memorable. The animation is rigid, plain and uninvolving and the romance between Cinderella and the prince never ignites – all it consists of is a dance and that is about it.
During the 1990s and beyond, Disney made a series of cheap video/dvd-released sequels to almost all of their animated films. During this period, Cinderella was sequelized twice as Cinderella II: Dreams Come True (2002) and Cinderella III: A Twist in Time (2007). Kenneth Branagh's Cinderella (2015) was a live-action remake. Cinderella also makes a cameo in Ralph Breaks the Internet (2018).
---
---