(Die Blechtrommel)
---
West Germany/France/USA. 1979.
Crew
Director – Volker Schlondorff, Screenplay – Jean-Claude Carriere, Volker Schlondorff & Frank Seitz, Based on the Novel by Gunther Grass, Producer – Frank Seitz, Photography – Igor Luther, Music – Maurice Jarre, Special Effects – Georges Jaconelli, Production Design – Nicos Perakis. Production Company – Frank Seitz/Bioscop/Hallelujah Artemis/United Artists.
Cast
David Bennent (Oskar Matzerath), Mario Adorf (Alfred Matzerath), Angela Winkler (Agnes Matzerath), Daniel Olbrychski (Jan Bronski), Katharina Thalbach (Maria), Charles Aznavour (Sigismund Markus), Tina Engel (Anna Koljaiczek), Berta Drews (Grandmother Anna), Fritz Halk (Bebra), Maria Oliveri (Roswitha)
---
Plot
After Oskar Matzerath is born, it is only the promise of a tin drum at the age of three that stops him deciding to return to the womb. After seeing the covert sexual games that go on between his mother and her cousin as they conduct an affair, he decides he does not wish to grow up and so he throws himself down the cellar stairs. This fails to kill him but does bring about a condition inhibiting his growth. When his stepfather and various schoolteachers try to take away his beloved tin drum, Oskar demonstrates his talent for a piercing scream that can shatter glass. Meanwhile, the Nazi movement grows and Oskar's stepfather becomes a Brownshirt.
---
Gunther Grass became one of the most celebrated of post-War German writers with his novel The Tin Drum/Die Blechtrommel (1959). There was an undeniably biographical element to the book. Grass himself grew up in Gdansk/Danzig, Poland, shortly before it was annexed during Adolf Hitler's Anschluss. Grass was a member of the Hitler Youth as a child and, after being drafted at the age of sixteen, fought and was wounded in the Second World War. Like Oskar here, Grass's father was a grocer and came from a Polish family, while his mother was a Slavic Pole. When the book came out, Grass's critique of German history and the Nazis caused some controversy.
Subsequently, Grass has become an enormous figure in German literature with his often absurdist and surreal works. He has frequently been a controversial figure, being one of the few writers willing to confront and question the German public's complicity with the Nazis. Although there have been times when his views have been downright eccentric too – he was one of the few who opposed German Reunification in 1990. Grass has also been involved in German politics, actively campaigned for Social Democrat Chancellor Willy Brandt in the 1960s and later wrote a comic novel about it. He was awarded the Nobel Prize for Literature in 1999.
This adaptation of The Tin Drum was made by Volker Schlondorff. It is an interesting film, although one where Schlondorff does not always seem entirely at ease with Gunther Grass's rich vein of black and surrealist humour. Weird womb symbolism seems to lurk in every conceivable corner and the Nazi movement casts a giant shadow over the drama – but you are never entirely sure what point Schlondorff is trying to make with the film. While the book acts as a potent critique of the times, it is not clear in the film what that critique actually is. Certainly, as a film, it is a story that seems longer than it should, especially the sequences with the dwarf circus troupe. (Even then, Schlondorff only filmed half of the book and left out Oskar's story following the War).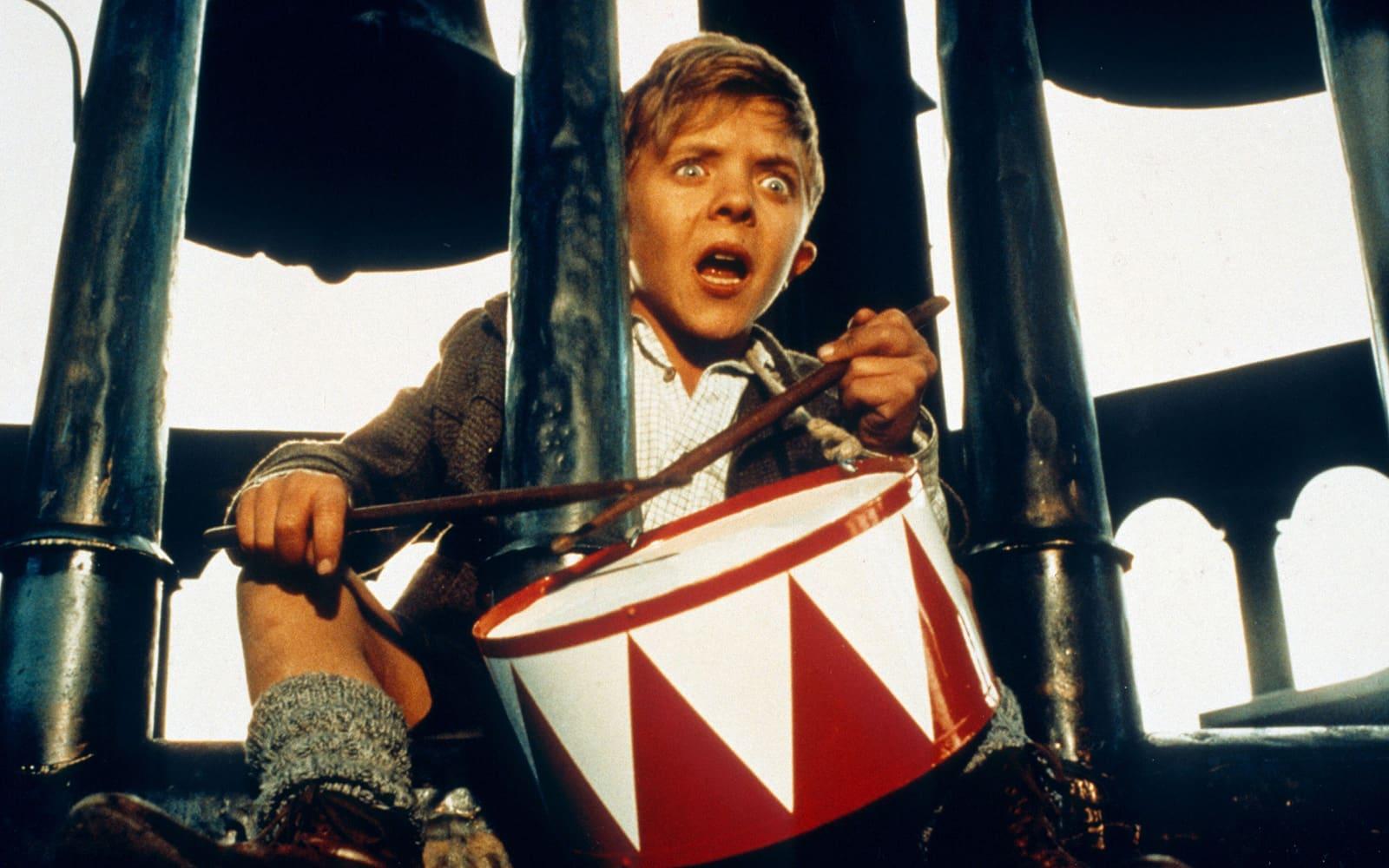 However, there are other times that Volker Schlondorff and Gunther Grass make oddly compatible bedfellows. Schlondorff packs his streets with an extraordinary degree of colour and detail and takes to the material with a sensational visual interpretation – the scene where David Bennent's scream shatters every window in a square is visually stunning and a sequence in which Bennent's drumming offsets a band, turning a Brownshirt march into a dance, is a terrific piece of choreography.
There is a considerable element of grotesquery to the film, none more so than the scenes of the mother forcing herself to eat the eel and the use of a severed horse's head as fishing bait. The film gets considerable support in the wild-eyed on-edge performance of the incredible David Bennent.
The Tin Drum won a host of Best Foreign Film awards in the year it came out, respectively at the Oscars, the L.A. Film Critics and The National Board of Review, as well as receiving the Palme d'Or at the Cannes festival. Volker Schlondorff went onto to make various other films, including the disappointing adaptation of Margaret Atwood's feminist dystopia The Handmaid's Tale (1990), and has never made anything else that has been greeted with the acclaim of The Tin Drum. David Bennent is an actor who should have become a major international talent but instead languishes in German repertory theatre. His one other performance of note was as the androgynous elf in Ridley Scott's underrated Legend (1985).
---
Trailer here
---