USA/Germany. 2001.
Crew
Director – Uli Edel, Teleplay – Gavin Scott, Based on the Novel by Marion Zimmer Bradley, Producers – Gideon Amir & Bernd Eichinger, Photography – Vilmos Zsigmond, Music – Lee Holdridge, Visual Effects Supervisor – Dale Fay, Visual Effects – Pinnacle Studios, Production Design – Rodger Maus. Production Company – The Wolper Organization/Constantin Film.
Cast
Julianna Margulies (Morgaine), Edward Atterton (Arthur), Anjelica Huston (Viviane), Samantha Mathis (Guinevere), Michael Vartan (Lancelot), Joan Allen (Morgause), Hans Matheson (Mordred), Caroline Goodall (Igraine), Michael Byrne (Merlin), Mark Lewis Jones (Uther Pendragon), Clive Russell (Gorlois), Tamsin Egerton (Young Morgaine), Ian Duncan (Accolon), Christopher Fulford (King Lot of Orkney), Freddie Highmore (Young Arthur), David Calder (King Uriens), Noah Huntley (Gawain)
---
Plot
Morgaine tells the true story of Camelot, seeking to disseminate the bad name that she has been given. She tells how she was the daughter of Igraine and Gorlois, the Duke of Cornwall. Viviane, the Lady of the Lake and the high priestess of The Goddess on the blessed isle of Avalon, came to Igraine telling her that she must give herself to Uther Pendragon for the sake of fate. Shortly afterwards, Uther was declared the High King of England. Gorlois sought to overthrow Uther but was killed after Igraine warned Uther. Uther then came to Igraine, disguised as Gorlois, and she gave herself to him. Not long after, Igraine gave birth to a son, which she named Arthur. Arthur and Morgaine grew up very close. Morgaine was taken to become a priestess on Avalon, while Arthur grew into his destiny, taking the sword Excalibur and becoming king. Morgaine was asked by Viviane to become the Virgin Huntress at the Feast of Beltane. There a masked man came and made love to her. Later Morgaine was shocked to realise that her lover was none other than her brother Arthur. She became pregnant and gave birth to a child, Mordred. For making her take part in this abomination, Morgaine spurned Viviane and decided to leave Avalon. Mordred was taken and raised by Morgaine's aunt Morgause. However, when Morgause realised who Mordred's father is, she sought to poison Mordred's mind. Arthur meanwhile had taken the Christian bride Guinevere. Due to Morgause's enchantments, Guinevere was unable to bear a child and give Arthur the heir that he wanted. Morgaine's cousin, the knight Lancelot, was drawn to Guinevere. Arthur, seeing the attraction, allowed the two of them to make love in the hope of siring an heir. Seeking vengeance, Morgause then unleashed Mordred to win Arthur's confidence and be claimed his heir.
---
Marion Zimmer Bradley (1930-99) is one of the essential American writers of fantasy in the 20th Century. Zimmer Bradley first began published in Vortex magazine in 1952 and became a prolific author, publishing numerous books within the science-fiction and fantasy genres. Her most famous works, aside from The Mists of Avalon (1983), was the Darkover sf/fantasy series set on an alien planet where the people have psychic powers, which Bradley started publishing in 1962 and comprises some twenty-five books, collections and collaborations, which are still being continued following Bradley's death. Bradley also oversaw the Sword and Sorceress anthologies and created Marion Zimmer Bradley's Fantasy Magazine in 1988, which often promoted young and undiscovered writers. Bradley is also known for co-founding The Society for Creative Anachronisms. The Mists of Avalon was Marion Zimmer Bradley's most popular novel and was a best-seller to which Bradley wrote four prequels, as well as three that have been posthumously written by Diana Paxson.
Of some controversy is Marion Zimmer Bradley's private life – she wrote several fictional and non-fiction lesbian works and came out in later years. Bradley's husband Walter Breen was also arrested on numerous accounts of paedophilia and Bradley was later sued for complicity in facilitating cover up his activities. She was also accused by both of her children for sexually abusing them.
The Mists of Avalon is essentially a feminist reinterpretation of the legends of King Arthur. The focus of The Mists of Avalon is all on the women of Camelot – Guinevere, Igraine, the enigmatic character of the Lady of the Lake, Morgause (who is the mother of Mordred in some versions of the legend), but especially Morgaine, also known as Morgan le Fay. By giving the story this focus, Bradley turns the Arthurian legends on their head in extraordinary ways.
An idea of exactly how revisionist The Mists of Avalon is being can surely be seen from the very opening scene where the story is being narrated by Morgaine who proceeds to tell how she is the most misunderstood figure of the legend. In any traditional interpretation, Morgaine is usually regarded as the villainess of the Arthurian cycle for having incestuously seduced Arthur but Marion Zimmer Bradley twists this on its head to suggest that both Arthur and Morgaine were innocent parties that were set up as dupes.
To see exactly how strikingly different Marion Zimmer Bradley's interpretation is one need do no more than place The Mists of Avalon up alongside the most other full-blooded and far more traditional cinematic interpretation of the Arthurian legends – John Boorman's Excalibur (1981). Excalibur depicts the rape of Igraine by Uther Pendragon whereas here Igraine is party to a complicity that is being stage-manoeuvred from behind the scenes by the Lady of the Lake.
Arthur is not that important a figure in The Mists of Avalon – indeed, both Lancelot and Guinevere are much more central characters than Arthur, while Merlin is sidelined almost entirely. The pulling of Sword from the Stone, which is the central facet of most other tellings of the Arthurian cycle, is a relatively unimportant piece of drama here, not the crucial scene where Arthur claims his destiny. The Round Table is of little importance – Marion Zimmer Bradley is not at all interested in the chivalry that fires up the usual versions of the Arthurian legends. There is not even anything seen of Arthur and Guinevere's romance. The interpretation that Marion Zimmer Bradley offers here is striking. Equally so, Bradley not only deconstructs the Arthurian cycle but reweaves her own interpretation into an intensely absorbing plot of political chicanery.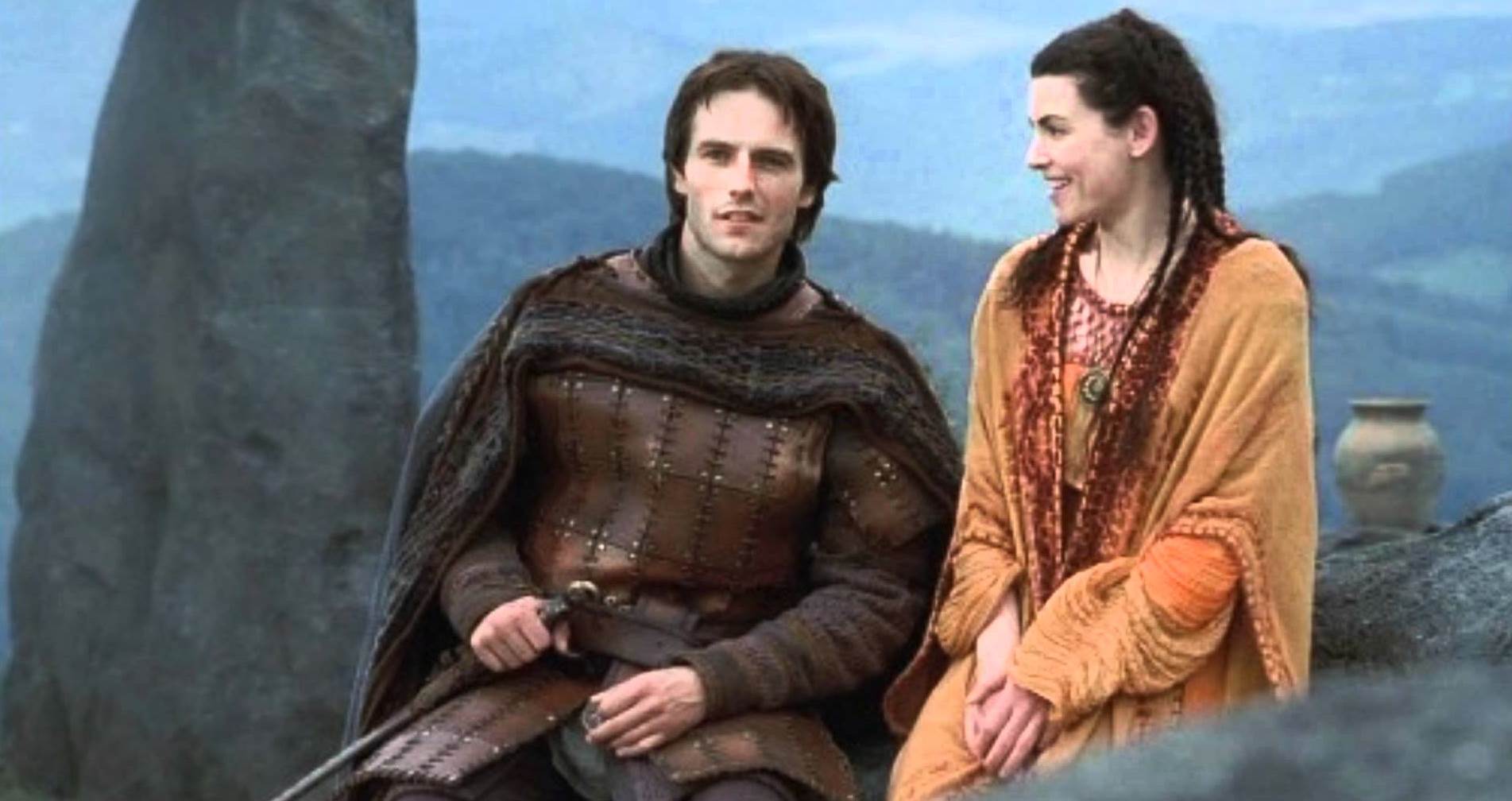 Marion Zimmer Bradley also had well-known pagan sympathies – her ashes were scattered at Glastonbury Tor after her death, for instance. The Mists of Avalon lets unleash with a full blast of Celtic paganism. The mini-series takes its Goddess worship, herbalism and respect for the Earth very seriously and shows it with great pseudo-cultural verisimilitude, even an undeniably Utopian appeal. There is even an appealingly thoughtful coda where Morgaine observes that Goddess worship has passed away but that it has taken on a new guise in the form of Catholicism and reverence of the Virgin Mary. Indeed, the surprisingly strong pro-pagan element and often anti-Christian bias of the story takes one aback, leaving one amazed that the The Mists of Avalon did not end up causing protests from Moral Minority groups when it aired on tv.
Even more daring is the outré sexual element. Bradley places a fascinating spin on the Arthur-Lancelot-Guinevere infidelity. Here Arthur observes the attraction between Lancelot and Guinevere and, when Guinevere cannot conceive due to Morgause's enchantments, sanctions Lancelot joining them in bed to help Guinevere to conceive. That the major sexual scenes of the mini-series involve an explicit threesome and the other is an incestual tryst between a brother and sister, it is amazing that conservative groups were not breaking down the doors of the network in protest.
The Mists of Avalon mini-series was made by German director Uli Edel. Edel appeared in the 1980s with the harrowing drug addiction drama Christiane F. (1981) and has since proven a versatile director who has made films that range all the way from the gritty Last Exit to Brooklyn (1989), the trashy Madonna sexual thriller Body of Evidence (1993) to children's films like The Little Vampire (2000) and the horror film Pay the Ghost (2015), as well as various tv movies and mini-series such as Rasputin (1996), Julius Caesar (2002), Ring of the Niebelungs (2004) and Houdini (2014).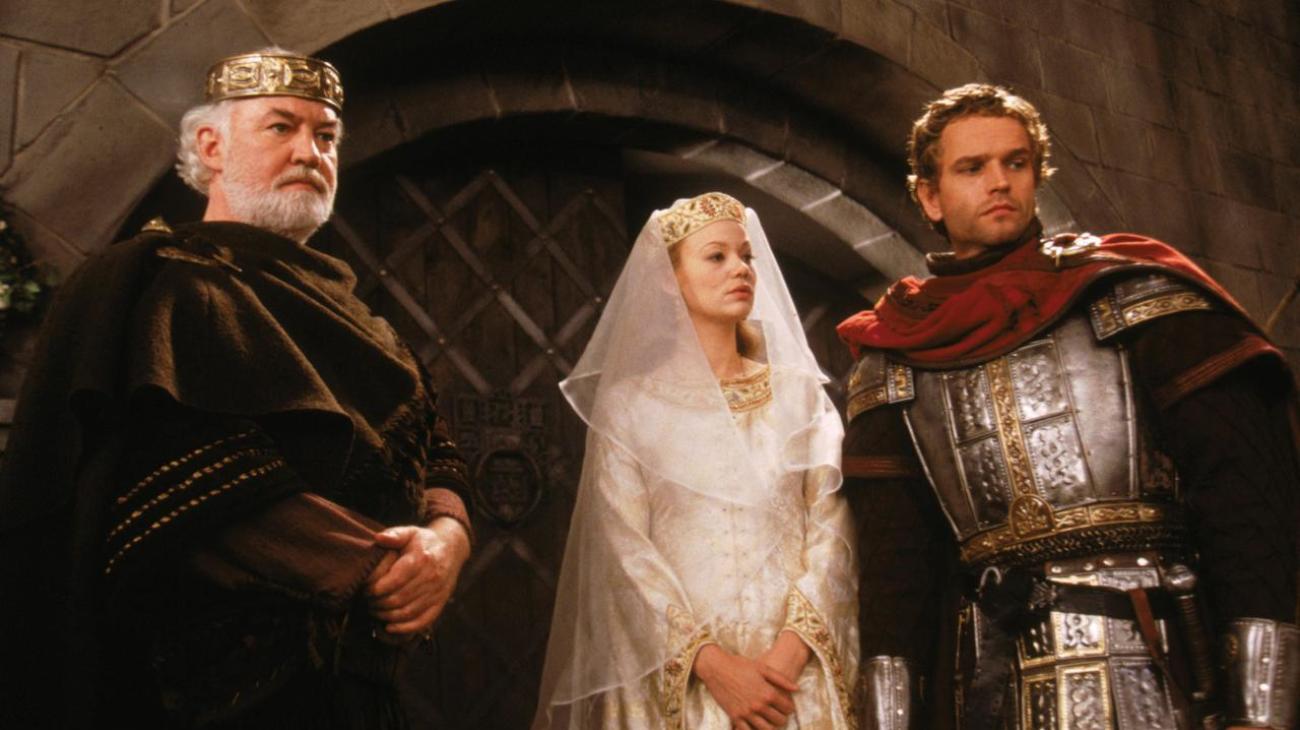 Uli Edel directs some fine scenes. The Feast of Beltane sequence is unusually arresting, all with tattooed bodies, stylised masks and a deer hunt, shot in flaming light. It is a scene that has a striking eroticism, which could have been even more intense had the mini-series been made for an adult audience and not constrained by tv censorship. One of the best scenes is where Lancelot visits Morgaine in Avalon and they look down upon Glastonbury seeing the Christian flower children passing by unnoticing, where Lancelot then asks Morgaine to part the mists for him and he meets one girl who looks up – which turns out to be Guinevere. This is a beautifully written scene, especially in terms of introducing Guinevere and the attraction between her and Lancelot, and has a lovely ending where Morgaine lets the mists fall and Guinevere cannot see Avalon again and fearfully dismisses the two of them as being Faerie Folk. Edel manages a convincing depiction of the world the story takes place in with some good period sets, locations and expansive camerawork and mounts one big, spectacular battle scene at the climax.
Cast in the central role of Morgaine is Julianna Margulies, who became a high-profile name on the basis of her recurring role in tv's ER (1994-2009), although who has since failed to parlay her clout into the same sort of stardom that ER co-star George Clooney did, for instance. One would expect a role like Morgaine to have a dark ambiguity but Julianna Margulies gives a performance that only seems to drift through the show in a detached way.
The mini-series certainly does feature some strong actresses with the likes of Anjelica Huston, Joan Allen, Caroline Goodall and Samantha Mathis but none of them give performances that stretch their acting capabilities. Angelica Huston brings her customary regality to the role of Viviane. As Morgause, Joan Allen seems to be channelling Miranda Richardson. Edward Atterton makes for a stolid Arthur.
There are some interesting faces elsewhere. One can see Michael Vartan just before he became the male lead on tv's Alias (2001-5), as well as Freddie Highmore, the acclaimed child performer from Finding Neverland (2004), as the young Arthur. One surprise name on the credits is that of actor James Coburn, listed as executive producer, where Coburn apparently laboured for more than a decade to bring to the book to the screen. Although it is incongruous though to think of a man's man actor like James Coburn so passionately dedicated to an ardently feminist work like The Mists of Avalon.
---
---