---
Crew
Director – Nancy Savoca, Screenplay – Nancy Savoca & Richard Guay, Based on the Novel by Francine Prose, Producers – Richard Guay & Peter Newman, Photography – Bobby Bukowski, Music – Stephen Endelman, Production Design – Kalina Ivanova. Production Company – Jones Entertainment Group/Newman-Guay Productions.
Cast
Lili Taylor (Teresa Carmela Santangelo), Vincent D'Onofrio (Joseph Santangelo), Tracey Ullman (Catherine Falconetti Santangelo), Judith Malina (Carmela Santangelo), Victor Argo (Lino Falconetti), Michael Rispoli (Nicky Falconetti), Rachael Bella (Young Teresa), Michael Imperoli (Leonard Villanova), Sebastian Roche (Jesus Christ)
---
Plot
During a heatwave in the summer of 1949, Lino Falconetti jokingly bets the hand of his daughter Catherine in marriage in a pinochle game and loses to butcher Joseph Santangelo. Joseph and the feisty Catherine are duly married. Catherine's becomes pregnant but miscarries maybe, according to the superstitions of Joseph's mother, because she walks into the butcher's shop while he is killing a turkey. Soon after, she gives birth to a daughter Teresa. In her teens, Teresa becomes obsessed with Catholicism and the manifestation of miracles.
---
This likeable and appealing film is reminiscent of Queen of Hearts (1989), which likewise concerned itself with multiple generations of working class Italian immigrants and had Magical Realist elements. There is a witty earthiness to director Nancy Savoca's hand. Her touch is surprisingly whimsical at times, such as Vincent D'Onofrio and Tracy Ullman's first night together where the bed takes off onto a literal sea of bliss while his mother floats through snoring dead asleep.
Household Saints is a long film – some subplots such as Vincent D'Onofrio's brother Michael Rispoli's obsession with Madame Butterfly and eventual suicide could perhaps have been dropped. The film is actually two different plots – one Catherine's story, the other Teresa's. The theme that unites both and, what the film ultimately concerns itself with, is superstition and miracles. However, the two stories approach superstition very differently. Catherine's story is about accepting superstition and eventually learning to shuck it off; on the other hand, Teresa's story is a wholehearted comic throwing of itself into Catholic miracles and sainthood.
As to whether any of the superstition is real or not, Nancy Savoca keeps her distance and never says. At best we have some ambiguous maybe miracles – the hint at the end that maybe God tipped Joseph's hand during the pinochle game, the possibility that Catherine's witnessing Joseph slaughtering a turkey caused her miscarriage, flowers outside the hospital that may not have been blooming the day before. Nancy Savoca is happy to remain on the fence and has no more to say about the miracles than that they might be there, then again might not.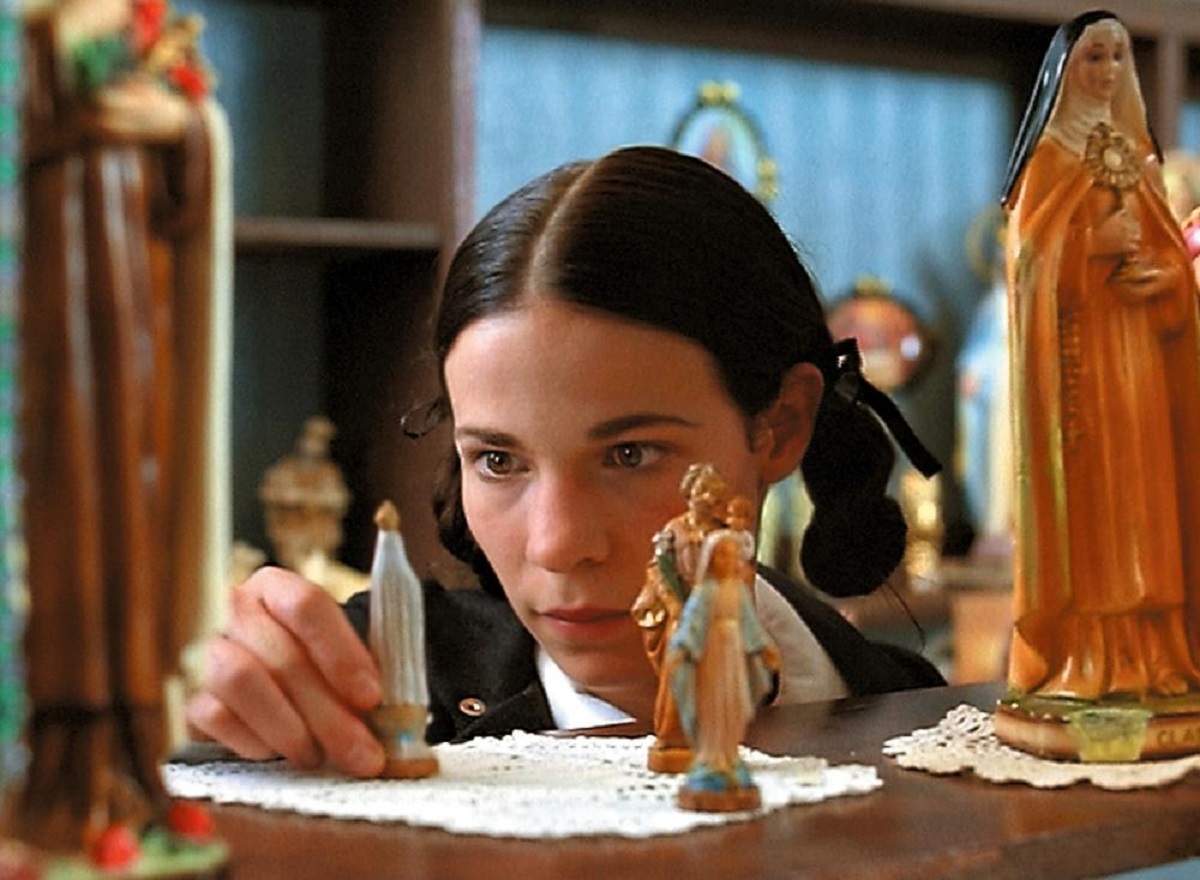 Savoca's delight is in comic reactions of ordinary people to belief in the otherworldly – be it Tracey Ullman's cautious praying about taking the curse away, Judith Malina's phlegmatic certainty in the existence of miracles, and especially Lili Taylor's steadfast desire for sainthood and the particularly witty little stories about her, God, Jesus and St Paul playing a game of pinochle or a surreal vision where Jesus appears in her living room while she is doing the ironing. Nancy Savoca's blessing is an ability to come from an agnostic's distance and create an everyday comic sense of wonder out of what other people believe.
The film features a particularly good cast. Top-billed Tracey Ullman is far too old to seem convincing as a teenager, nevertheless plays with a feisty fire that is appealing – one wishes that she had not given to accept Vincent D'Onofrio so easily, the sparks between her fire and his lazily assured amusement would have been great to see drawn out further. The other unfortunate thing is that when Tracy Ullman gets to play her own age during the second half, the character's fire is completely toned down and she drops into the background.
On the other hand, Vincent D'Onofrio is completely convincing in both parts – he plays his macho role with considerable humour and his becoming a hard-headed middle-aged father with a stubbornly made-up mind is an authentic transformation. The best performances however come in the supporting cast – Victor Argo as Tracey Ullman's gruff father and Judith Malina who is a thorough scene-stealer as Vincent D'Onofrio's phlegmatic old bird of a mother.
Nancy Savoca has made a number of other films as director. The only other work of hers that falls within genre territory is the Virgina Andrews tv movie If There Be Thorns (2015).
---
Trailer here
---