(Sud Pralad)
---
Thailand/France/Germany/Italy. 2004.
Crew
Director/Screenplay – Apichatpong Weerasethakul, Producer – Charles de Meaux, Photography – Jarin Pengpanitch, Vichit Tanapanitch & Jean-Louis Vialard, Digital Visual Effects – TVT (Supervisor – Markus Degen), Production Design – Akekarat Homlaor. Production Company – Anna Sanders Films/Downtown Pictures/Thoke-Moebius Pictures/Kick the Machine/TIFA.
Cast
Banlop Lomnoi (Keng), Sakda Kaewbuadee (Tong), Udom Promma (Ekarat)
---
Plot
1. A solider, Keng, is attracted to Tong, a semi-illiterate villager who works at an ice-cutting plant. The two gradually fall in love. 2. A soldier lost in the jungle finds himself haunted by a ghost that is trapped in the body of a tiger. As the tiger hunts and toys with him, the other jungle animals tell the soldier that the only freedom will come when either he or the tiger destroys the other and absorbs their spirit.
---
Tropical Malady comes from Apichatpong Weerasethakul, a Thai director who has since gained a considerable reputation on the film festival circuit. Weerasethakul, by his own confession, works outside the Thai studio system. This is perhaps why his films have made the rare crossover into release outside of the Thailand. Weerasethakul previously made Mysterious Objects at Noon (2000), a unique experiment where he travelled through Thailand asking people he encountered to each make up the next part of a story. Weerasethakul's most well known film was Blissfully Yours (2002), which follows various people on a drive into the mountains. Not much happens throughout and the film is generally regarded as pretentious, although it gained controversy after being banned in Thailand because of its sex scenes.
Weerasethakul's most recent film prior to Tropical Malady was the intriguingly named The Adventures of Iron Pussy (2003) about a transvestite secret agent. He subsequently went onto the acclaimed Syndromes and a Century (2006), the enormous success of the Cannes Award winning ghost story Uncle Boonmee Who Can Recall His Past Lives (2010). He has subsequently stayed in genre material with ghost stories Mekong Hotel (2012) and Cemetery of Splendor (2015) and the cryptic Memoria (2021).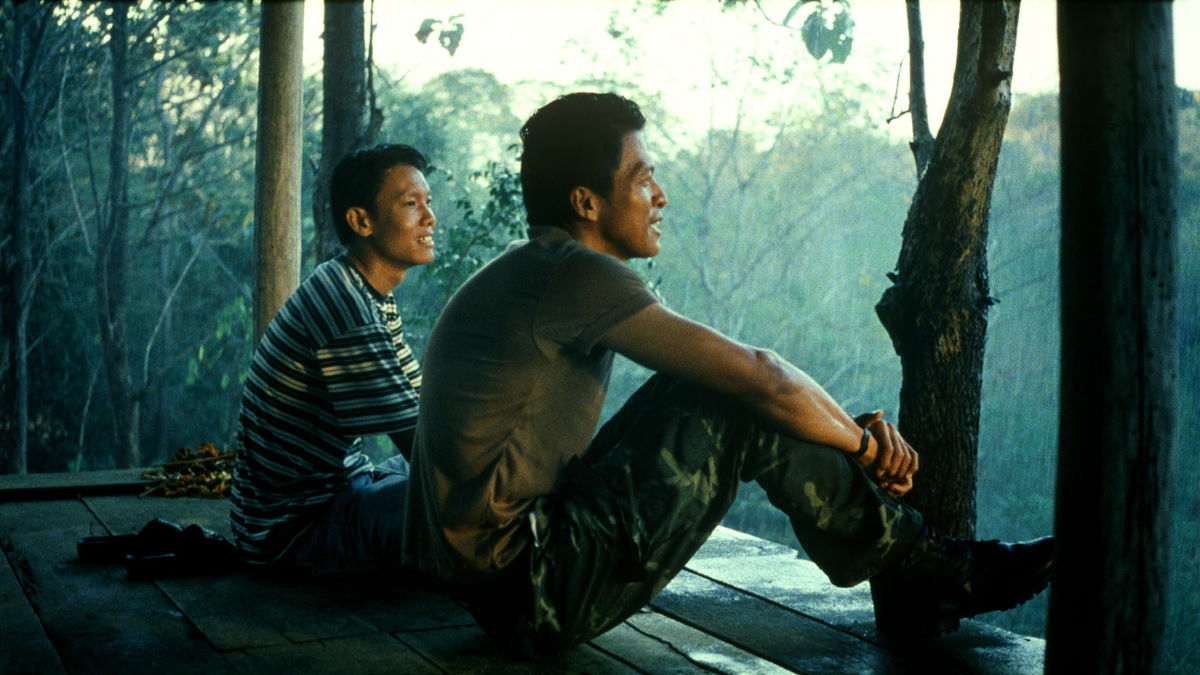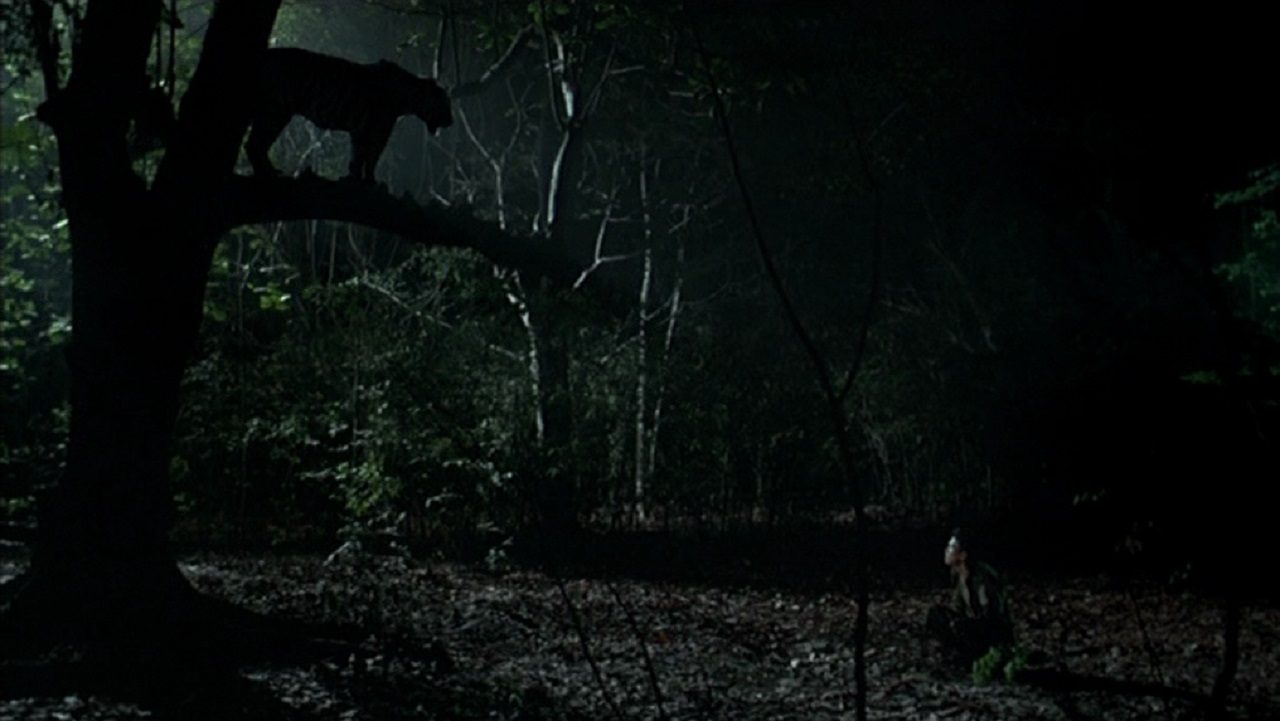 Tropical Malady is an anthology film. It tells two different and unrelated stories. The first story is fairly much a variant on what Weerasethakul did in Blissfully Yours – that is to say, it is a love story in which nothing much happens. I must confess I found this approach occasionally interesting but mostly dull. Weerasethakul seems to have construed the piece almost as a travelogue centred around life in a rural Thai village – where he observes workers in an ice chipping plant, open-air aerobics classes, one character playing computer games in an internet cafe and follows the two lovers on a trip down into a cave temple. Nothing much happens at all – there is not even a resolution to the story. That said, the two male lovers (both non-professional actors) have a high degree of naturalness and there is a coy sweetness to seeing them come together.
The second episode, wherein comes Tropical Malady's fantastic content, is the standout part of the film. It could almost be one of Rudyard Kipling's The Jungle Book stories, albeit construed as a horror film. Apichatpong Weerasethakul creates a genuinely haunted atmosphere, especially in the scenes moving through the jungle by torchlight at night. This is one of the few films that give one a sense of physically being in the jungle. There is almost no dialogue in this segment – most of what there is is either narrated or subtitled.
Weerasethakul creates something genuinely haunted – a beautiful sense of stillness where we cannot be sure whether there is something moving through the jungle or not – and the segment is filled with a series of often striking images – that of a ghostly bullock getting up and walking through the jungle all lit in green, and the haunting final confrontation between the lost soldier and the tiger standing on a tree branch.
---
---