---
Crew
Director/Producer – Nonzee Nimibutr, Screenplay – Visit Sartsanatieng, Photography – Nattawut Kittikhun, Music – Chatchai Pongprapapun & Pakawat Waiwittaya. Production Company – Tai Entertainment.
Cast
Winai Kraibutr (Mak), Intira Jaroenpura (Nang Nak)
---
Plot
In 1869, Mak leaves his wife Nang Nak to go fight in a war. Wounded on the battlefield, he is nursed back to health at a Buddhist temple, while back home Nak gives birth to a baby son. Mak returns to her and they are happy again. Mak's best friend then comes to tell him that Nak died during the childbirth while he was away and that the person he is with is her ghost. Mak refuses to believe this, even when the ghost starts killing his neighbours.
---
Nang Nak was a huge sell-out success at the Vancouver International Film Festival. In its native Thailand, it was apparently even more successful than Titanic (1997). The story it comes from is a well-known Thai legend – this is the twenty-first film made of the story. It is a legend that is believed to be true by many – before commencing filming, for example, director Nonzee Nimibutr toured Thai temples conducting ceremonies to appease Nang Nak's spirit and obtain good luck for the production.
One knows nothing about any of the other versions of the legend. Nonzee Nimibutr states that his take on the legend was to approach it as a love story. This tends to suggest that the other versions have come across more as ghost stories. As such, Nimibutr's approach takes the film to a different audience than it might have gone to had it been played a different way. The audience at the Vancouver International Film Festival screening were an older crowd who seemed interested in the film for its ethnic background and romance and not for its often strong horror elements.
Certainly, in its playing to the respectable arthouse crowd, Nimibutr has mounted the film with a lavish hand. The sunsets and tropical swamp landscapes are beautifully photographed. The film is very nicely directed – in the opening fifteen minutes, Nimibutr conducts some clever crosscutting between the husband wounded on the battlefield and the wife going into childbirth.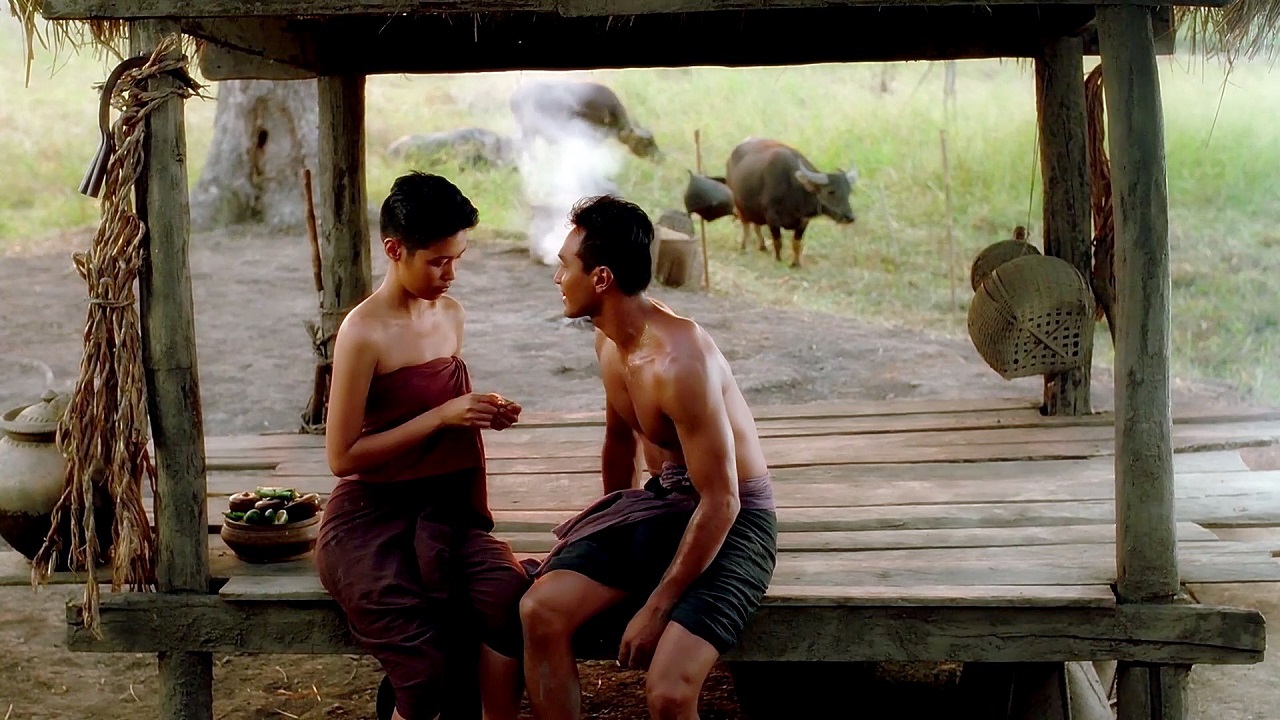 There are a number of often strong horror elements – shock images like finding a body crawling with rats, the spooky image of Nak appearing during the exorcism while hanging upside down from the roof. There is one good moment where the priests go to visit Mak, he offers them food and then points to the baby in the crib where we see for the first time that all that is there is rotting debris.
However, Nimibutr plays the piece more as a love story than a horror film. Unfortunately, he is hamstrung here by two inexpressive leads – he comes across as rather thick, while she is too demure to make much impact. This is a love story that should have set the screen alight with its passion but comes across far too cautiously. When Nimibutr does get around to emotion, all the weepy longeurs and goodbyes at the end go on far too long. The result is a film that falls uncertainly between two poles – a love story that seems conducted more in terms of lavish screen affect than emotion and a ghost story that is sold to an audience that has no interest in horror.
Subsequently, Nonzee Nimibutr went onto direct other genre items, including an episode of Three/Three Extremes II (2002), the fantasy film Queens of Langkasuka/Legend of the Tsunami Warrior (2008) and the science-fiction film Distortion (2012). Nimibutr has also produced the Pang Brothers' Bangkok Dangerous (1999) and The Eye 2 (2004).
(Nominee for Best Cinematography at this site's Best of 1999 Awards).
---
Trailer here
Full film available online here (no subs):-
---