(Loong Boonmee Raleuk Chat)
---
Thailand/UK/France/Germany/Spain. 2010.
Crew
Director/Screenplay – Apichatpong Weerasethakul, Inspired by the Book A Man Who Can Recall His Past Lives by Phra Sripaiyattiweti, Producers – Charles de Meaux, Simon Field, Hans W. Geissendorfer, Keith Griffiths, Luis Minarro, Michael Weber & Apichatpong Weerasethakul, Photography – Yukontorn Mingmongkon, Sayombhu Mukdeeprohm & Charin Pengpanich, Music – Koichi Shimizu, Visual Effects – Francis Alloncle, Special Makeup – Achawan Rupawan, Production Design – Akekarat Homlaor. Production Company – Kick the Machine/Illumination Films/Past Lives/Anna Sanders Film/The Match Factory/GFF Geissendorfer/Eddie Saeta S.A./Fonds Sud Cinema/ZDF-Arte/Haus de Kunst/World Cinema Fund/Hubert Bals Fund
Cast
Thanapat Saisaymar (Uncle Boonmee), Jenjira Pongpas (Auntie Jen), Natthakarn Aphaiwonk (Huay), Sakda Kaewbuadee (Tong), Geerasak Kulhong (Boonsong)
---
Plot
Jen goes to visit her brother-in-law Boonmee who runs a farm but is now dying of liver failure. As they sit eating dinner, they receive a visit from the ghost of Jen's sister Huay, Boonmee's late wife, as well as Boonmee's son Boonsong who has become a Monkey Ghost. They say that Boonmee's illness has drawn many spirits to the house. Huay has come to wait until Boonmee dies.
---
Thai director Apichatpong Weerasethakul has gained some international acclaim in recent years. Weerasethakul first appeared as a filmmaker with several shorts and then made his feature-length debut with Mysterious Objects at Noon (2000), an experiment where he and a film crew toured the countryside asking random people to compose the details of a story, followed by the transvestite spy movie parody The Adventures of Iron Pussy (2003). His subsequent works Blissfully Yours (2003), a slow and uneventful film about various lovers, and Tropical Malady (2004), a duo of stories, one being a ghost story similar to what we have here, were both highly acclaimed and won awards at Cannes. This was followed by Syndromes and a Century (2006), a loose and largely plotless film about two doctors, which Weerasethakul based on the lives of his parents. It was here that Weerasethakul ran up against Thai authorities who demanded cuts to the film, creating a political furore in which Weerasethakul and others headed a protest campaign that demanded a free and uncensored Thai film movement.
Apichatpong Weerasethakul took the idea for Uncle Boonmee Who Can Recall His Past Lives from the non-fiction book A Man Who Can Recall His Past Lives (1983), written by a Buddhist monk who encountered a man who claimed to be able to recall his past lives during meditation. Weerasethakul also made two short films set around the same ideas and locale with A Letter to Uncle Boonmee (2009) and Phantoms of Nabua (2009). Uncle Boonmee opened to rapturous acclaim, including winning the Palme d'Or at the 2010 Cannes Festival.
I have never much gotten a hold on Apichatpong Weerasethakul's work. He directs long scenes where nothing much happens in which we are clearly meant to contemplate the quietude or what the characters are thinking. His films seem to float free from narrative – at least in the sense that narrative is intended in commercial Western filmmaking – and his plots are filled with loose ends and aspects that are never clearly connected together.
This is certainly the case with Uncle Boonmee. The first thing that you notice is that, despite the title, there are no scenes where Uncle Boonmee ever recalls any of his past lives – although there is one scene where he appears to have a flash forward that allows him to recall his future life as an anthropoid being hunted by humanity. There is also a scene that tells the story of a princess obsessed by her beauty who encounters a talking catfish by a waterfall but it is not clear if this is one of Uncle Boonmee's past lives (or even what it has to do with the rest of the story).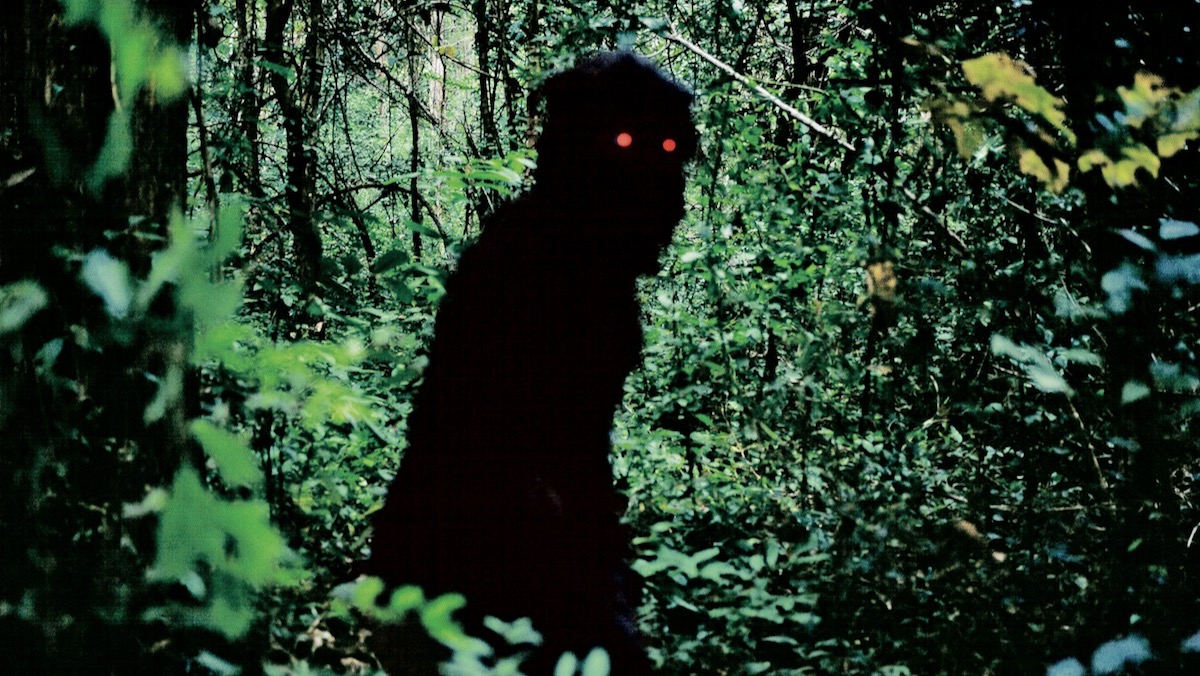 Events happen in ways that are not at all clear – there is a long scene at the end where Sakda Kaewbuadee comes into the motel room of Jenjira Pongpas and her niece after the funeral and talks about how cold he is, uses their shower and then they go out for something to eat where at the very end of the scene we see that it is doppelgangers of Sakda Kaewbuadee and Jenjira Pongpas that are going out to eat while the other three remain lying on the bed unaware of them. What this scene is about and which are the real selves is baffling.
All of that said, Apichatpong Weerasethakul creates an intensely haunted atmosphere in Uncle Boonmee. This becomes apparent from the opening scene that follows a bullock as it manages to loose the tie that holds it to a tree and wanders off into the jungle as those tending it follow to recapture it. Weerasethakul shoots the scene with long, slow shots in which little happens. Suddenly however we see something in the shadows of the jungle – a creature with soot black fur and glowing red eyes (something we later learn is a Monkey Ghost). The effect is so abrupt in the midst of such a laidback scene of non-incident that it jolts us bolt upright.
Subsequently we are introduced to Uncle Boonmee and Auntie Jen as she comes to stay at his farm. Weerasethakul makes a point of casting non-professional actors and as a result both of the actors here seem flat and unengaging as characters. The tour of the farm and the introduction of the characters has a similar slow non-incidental banality as the scenes with the bullock. We watch Boonmee, Jen and his nurse Tong (Sakda Kaewbuadee) as they sit down to eat dinner on the veranda. Suddenly as they talk, we see a figure slowly fading into existence at the table, before others notice her. This is Boonmee's late wife Huay who has returned as a ghost – she sits with them at the table as polite introductions are made as though this were a normal dinnertable conversation. They are joined not long after by one of the Monkey Ghosts who we learn is Boonmee's son Boonsong. It appears (although is never very clear how) that he became a Monkey Ghost after following another Monkey Ghost into the jungle. His story and especially the spooky claim he makes that there are more spirits than they can imagine surrounding the house, having gathered because of Uncle Boonmee's illness, holds an intense eeriness.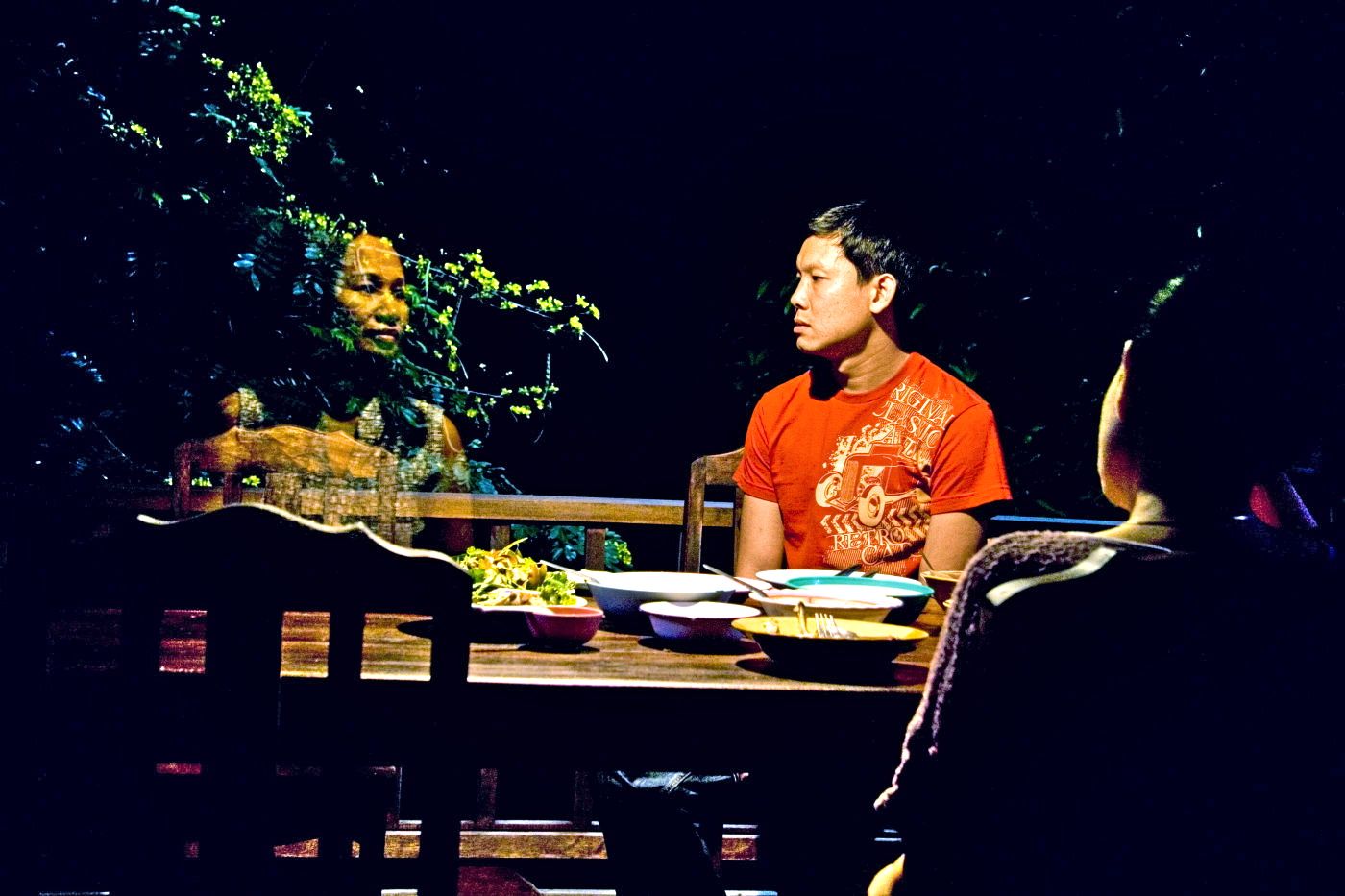 I was surprised about Uncle Boonmee in many ways. It is surely the one genre film of the year that is not perceived as being a genre film. Certainly, seen as a ghost story, Uncle Boonmee is oddly unsatisfying. Bar the aforementioned dinnertable scene, there is little else in the film that attains the same haunted atmosphere. There is a scene where Boonmee's wife tells him she is waiting for him to die, followed by the four of them taking a trek through the jungle to a cave. The torchlit journey into the cave has much of the same haunted atmosphere – and eventually we are rewarded by seeing more Monkey Ghosts lurking in the shadows. However, rather than paying off as a standard ghost story might, the episode tangents off into Uncle Boonmee's peculiar story about being hunted as some kind of creature in the future (all told in stills) and then we see him die. The film then jumps to the funeral and the puzzling abovementioned scene with the doppelgangers in the motel room. The film ends there.
Aside from the interlude with the princess and the catfish, that is the whole of the film. I liked the intensely haunted atmosphere that Weerasethakul creates – equally so though, beyond those first couple of scenes, the mood dissipates. There is no particular plot holding it all together and it is a frustratingly vague film trying to get a handle on, even in terms of what Apichatpong Weerasethakul seems to be wanting to do and say.
Festival audiences praised the haunted otherworldly feel. I agree – but there are also other works that do similar things far better. It seems a case of Uncle Boonmee having praise heaped upon its shoulders simply because it is in the position of being a genre film that has managed to step outside and be perceived by another whole audience altogether; you can guarantee that the film would not have received such wild acclamation if Apichatpong Weerasethakul had made it within the confines of genre cinema.
Apichatpong Weerasethakul subsequently returned to Thai ghosts in Mekong Hotel (2012) and Cemetery of Splendor (2015), along with the cryptic Memoria (2021).
---
---