---
Crew
Director – Nicholas McCarthy, Screenplay – Jeff Buhler, Producer – Tripp Vinson, Photography – Bridger Nielson, Music – Joseph Bishara, Visual Effects – Technicolor Toronto (Supervisor – Edward J. Taylor IV), Special Effects Supervisor – Tim Barraball, Prosthetics – Steve Newbern, Production Design – Aidan Leroux. Production Company – Vinson Films/XYZ Films.
Cast
Taylor Schilling (Sarah Blume), Jackson Robert Scott (Miles Blume), Peter Mooney (John Blume), Colm Feore (Arthur Jacobson), Brittany Allen (Margaret St James), Paula Boudreau (Dr Elaine Strasser), Paul Fauteux (Edward Scarka), Elisa Moolecherry (Zoe)
---
Plot
In Fox Chapel, Pennsylvania, husband and wife John and Sarah Blume give birth to a boy that they name Miles. As he grows up, Miles demonstrates genius-level intelligence but an emotional coldness and disinterest in socialising with other children. After an incident in class where he beats another pupil with a wrench, Miles is examined by psychologist Elaine Strasser. She introduces Sarah to Arthur Jacobson, a colleague who claims that Miles's behaviour can be explained by the fact that another soul is trying to reincarnate in his body. Sarah dismisses this idea but must deal with Miles's increasingly more disturbing behaviour. She is drawn into the realisation that the serial killer Edward Scarka, who died just as Miles was born, is inhabiting his body. As Scarka claims other victims, she tries to stop him before he can gain complete control of Miles's body.
---
Within the space of only three films, Nicholas McCarthy has established himself right at the top of my Up and Coming Directors to Watch List – maybe around the same level that Mike Flanagan was at about 2-3 films ago. McCarthy first appeared with the spooky haunted house film The Pact (2012) and went on to make the equally uncanny Satanic pact film At the Devil's Door (2014), plus Easter, the standout segment of the horror anthology Holidays (2016).
The capsule synopsis for The Prodigy did not do much too inspire me. It seems like a host of other Devil Children films that we have had from The Exorcist (1973) and The Omen (1976) onwards. The plot – mother believes an evil spirit has taken over her eight year-old son – sounds like a standard description that would suffice for any of a dozen Evil Children films. You are reminded of something as generic as Godsend (2004) or Ominous (2015).
The interesting twist placed on this is that the force possessing the child is revealed to not be demonic in nature or that they are the spawn of the Devil but a reincarnated soul. This takes The Prodigy closer to something like Audrey Rose (1977), the big serious reincarnation film in which Anthony Hopkins was certain that Susan Swift was the reincarnation of his daughter. Indeed, when Colm Feore turns up here to proclaim reincarnation as an answer, he steps into fairly much the same role that Hopkins played in Audrey Rose. Audrey Rose seemed awfully cautious about stepping over into actual horror, instead spending the bulk of its time on a court case, and what we have here seems more along the lines of one of the films that built on from Audrey Rose like Retribution (1986).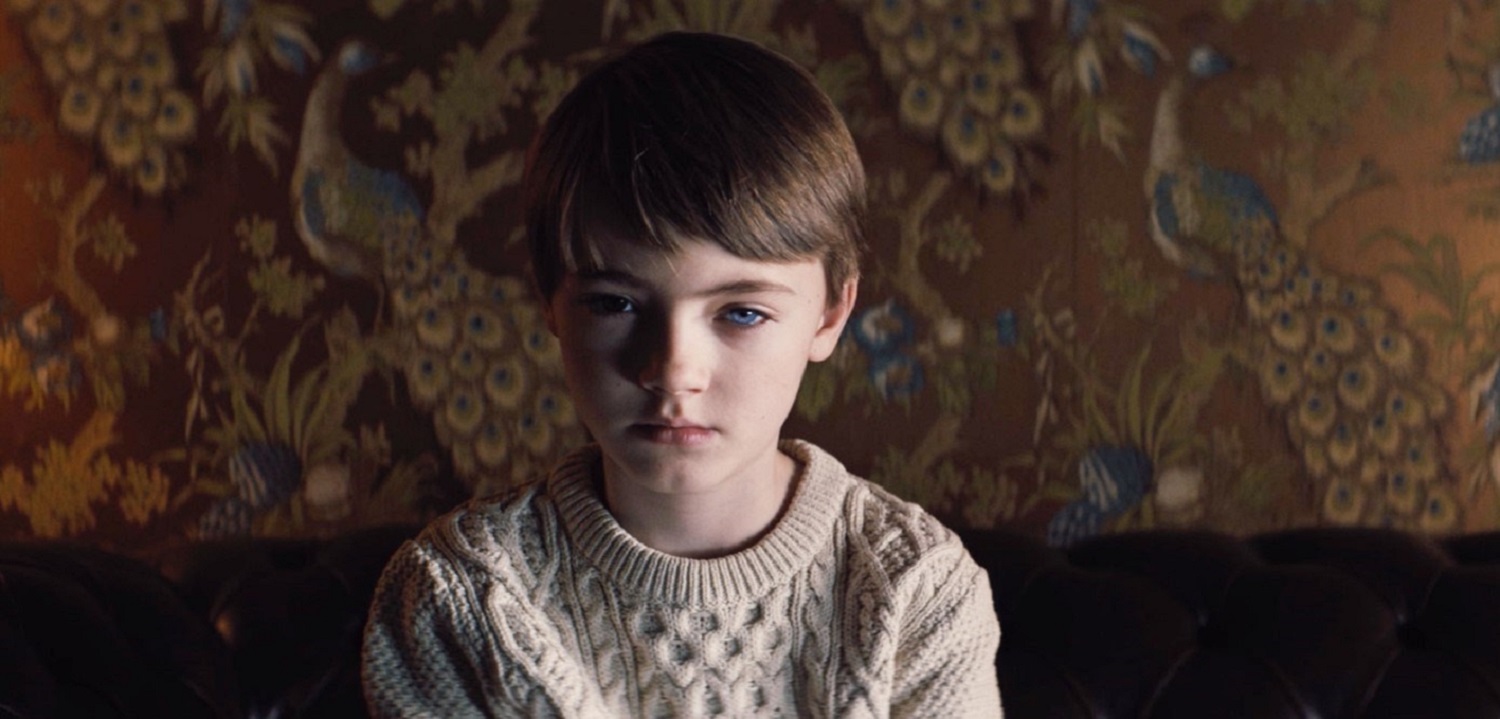 The Prodigy starts in fairly sedate ways. Nicholas McCarthy creates a sense of something dread about to happen as babysitter Elisa Moolecherry goes down the cellar stairs (although oddly the scene ends abruptly without telling us her fate). For the most part, the scenes of Taylor Schilling (in a bland performance) as the mother slowly uncovering the truth about her son all play out by the book. Nevertheless Nicholas McCarthy imbues them with something that makes us sit up and pay attention – a scene where Taylor enters the room and in almost subliminal momentary flash sees Scarka's face instead of Miles's has a jolt to it.
There is one great jumpshock where Jackson Robert Scott runs down a hallway into Taylor Schilling's arms and somewhere in the midst of doing so morphs from a child into a full-grown man. In the role of Miles, Jackson Robert Scott gives a wonderfully chill performance – like the scenes where he suddenly digs into knowledge about Peter Mooney's father and especially where he blackmails Colm Feore's psychologist.
The screenplay comes from Jeff Buhler who also wrote the Clive Barker adaptation The Midnight Meat Train (2008), Jacob's Ladder (2019), Pet Sematary (2019), The Grudge (2020) and Studio 666 (2022), as well as created/produced the George R.R. Martin adapted tv series Nightflyers (2018). Buhler also directed the horror film Insanitarium (2008).
---
---