---
USA. 2019.
Crew
Director/Screenplay – David Marmor, Producers – Jake Alden-Falconer, Allard Cantor, Nic Izzi, Alok Mishra, Jarrod Murray, Sam Sandweiss, Austin Thomas & Shane Vorster, Photography – David Bolen, Music – Ronen Landa, Visual Effects – Adira VFX (Supervisors – Marie Denoga, Lauren Hulsey & Jia Kim), Cameron Carson, Granular Post (Supervisor – David Nieman) & Thermonuclear, Makeup Effects – Josh Russell & Sierra Russell, Production Design – Ricardo Jattan. Production Company – Epicenter/Malevolent Films LLC.
Cast
Nicole Brydon Bloom (Sarah), Taylor Nichols (Jerry), Giles Matthey (Brian), Susan Davis (Edith Stanhope), Clayton Hoff (Lester), Celeste Sully (Lisa), Alan Blumenfeld (Sarah's Father), Earnestine Phillips (Esther), Naomi Grossman (Janice), Curtis Webber (Charles D. Ellerby), Andrea Gabriel (Cristina)e
---
Plot
Sarah has moved to L.A., hoping to make it as a costume designer in the film industry, while paying the bills working as a paralegal. She attends an open house at Asilo Del Mar apartments and is delighted when she is accepted as a tenant. She finds the rest of the tenants very welcoming and is told how they all live as one big family. She sneaks her cat into the apartment even though the building has a no pets policy but then starts to receive threatening notes about it. She is also driven crazy by loud noises at night. Other tenants then burst in and make her a prisoner. She is placed in a stress position against the wall in an empty apartment and threatened with removal of body parts. When she does move, her hands are nailed to the wall. She is told that they have sent messages from her to quit her job and be rid of her friends and family. This is all to free her of her outside emotional attachments so that she can learn to live by the codes by which those who live in the apartment complex abide.
---
1BR was a directorial debut for David Marmor. The film played at several international film festivals.
It is initially difficult trying to get a grip of what type of film 1BR is. In the initial scenes with Nicole Brydon Bloom in the apartment, being tormented by loud noises at night and threatening notes left under her door, I thought that maybe we were in for one of the Strange Apartment Neighbours films we have had with the likes of The Tenant (1976), Apartment Zero (1988), The Apartment Complex (1999), Fever (1999), The 4th Floor (1999), One Point 0/Paranoia 1.0 (2004) and Next Door (2005). This we are sort of but also something different.
Things get interestingly strange when Nicole Brydon Bloom is suddenly imprisoned in a bare room and told to maintain a stress position against the wall at threat of having body parts removed. Subsequently, she has her hands nailed to the wall. That is before she is indoctrinated into the strange society and the book of moral precepts that the people in the apartment complex adhere to that offers a code that allows them to become better people and create a more-inclusive society. All interesting stuff.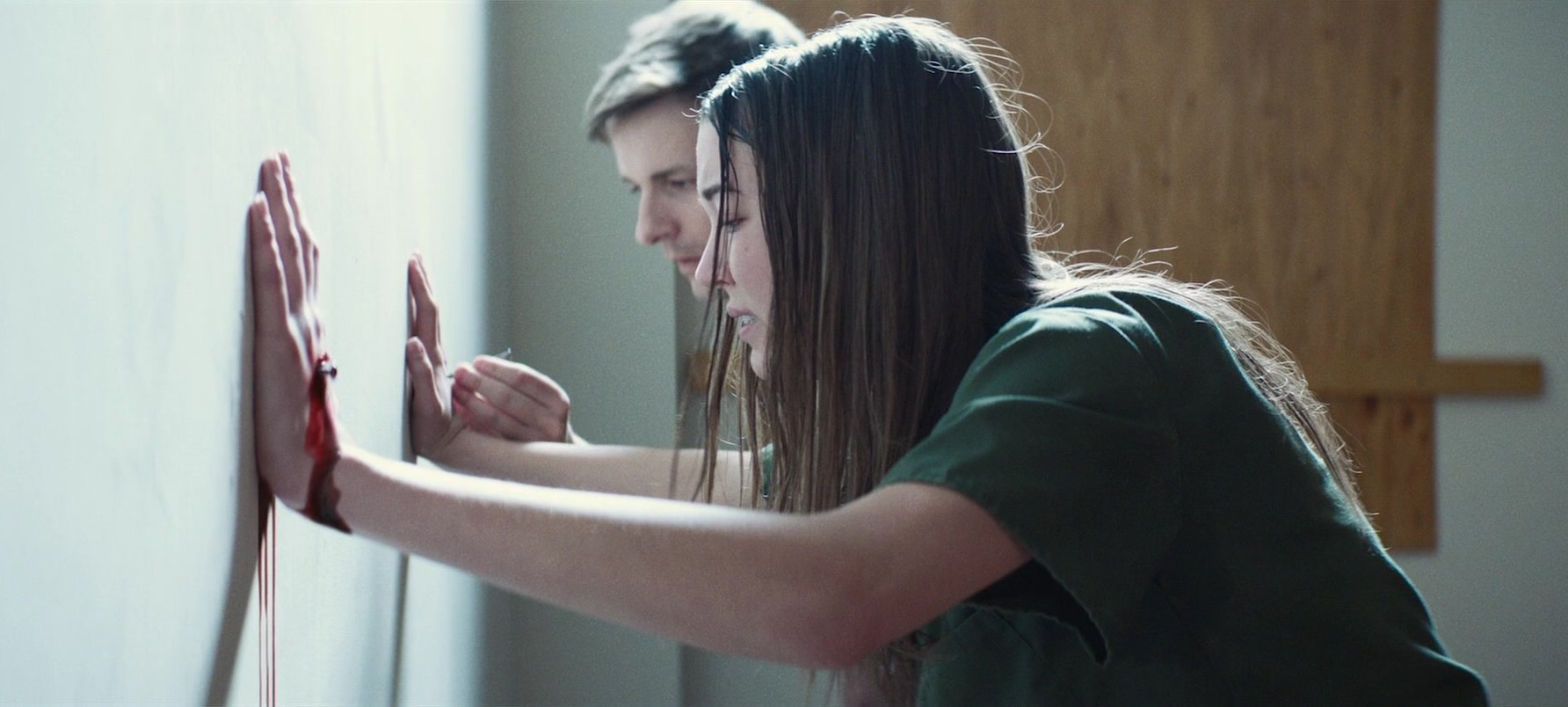 On the other hand, 1BR never quite goes anywhere after that point. It is a fine first act but lacks anything that builds on that, least of all a decent third act. All that the rest of the film seems to hang on is whether Nicole Brydon Bloom is going to join the community or not, before arriving at a fairly predictable end. I kept feeling that much more of an Imprisonment Thriller could have built out of it but apart from the initial scenes David Marmor only does so right at the end. The film does go out on a strange coda, which suggests that the entire neighbourhood (possibly even the city) consists of similar such apartment complexes.
The film also seems to avoid some of the larger questions about its scenario – if people are made to give up their jobs for the community, how do they (and the community) financially support themselves? The other issue that vexed me was where it is decided by the rest of the tenants that Nicole Brydon Bloom will become the new wife of Clayton Hoff who seems mentally damaged/withdrawn after the death of his wife from cancer. It's an interesting twist but the film carefully avoids any question of whether Nicole actually does become his wife in the Biblical sense or just moves in to share the same roof as him. Either case – whether she was forced to participate in having sex with someone who repulsed her or the mutual arrangement of cohabitation they might make – would make for a good story but the film avoids it by simply choosing not to deal with it.
---
---