---
USA. 1987.
Crew
Director – Chuck Russell, Screenplay – Chuck Russell, Wes Craven, Frank Darabont & Bruce Wagner, Story – Wes Craven & Bruce Wagner, Producer – Robert Shaye, Photography – Roy H. Wagner, Music – Angelo Badalamenti, Visual Effects – Dreamquest (Supervisor – Hoyt Yeatman), Mechanical Effects – Peter Chesney, Makeup Effects – Chris Biggs, Greg Cannom, Matthew Mungle & Mark Shostrom, Art Direction – C.J. & Mick Strawn. Production Company – New Line Cinema/Heron Communications/Smart Egg.
Cast
Heather Langenkamp (Nancy Thompson), Robert Englund (Freddy Kruger), Craig Wasson (Dr Neil Goldman), Patricia Arquette (Kristen Parker), John Saxon (Lieutenant Thompson), Ken Sagoes (Kincaid), Jennifer Rubin (Taryn), Rodney Eastman (Joey), Bradley Gregg (Philip), Priscilla Pointer (Dr Elizabeth Simms), Larry Fishburne (Max)
---
Plot
Teenager Kristen Parker is placed in a psychiatric institution after a failed attempt to commit suicide because she was trying to escape from Freddy Krueger in her dreams. However, Freddy follows Kristen to the asylum and starts to slaughter his way through the other dream-haunted teenagers there. Nancy Thompson, now a psychiatrist, takes up a position at the hospital and is the only one who understands what is happening. She realizes that Kristen has a gift where she can physically draw others into her dreams and tries to show her a way of using this to combat Freddy.
---
Wes Craven's A Nightmare on Elm Street (1984) had been a huge success for New Line Cinema. The sequel A Nightmare on Elm Street Part II: Freddy's Revenge (1985) hit a stray ball with critics and the public alike, nevertheless managed to make money. For a third film, New Line Cinema went back the source, creator Wes Craven, and tried to persuade him to come back and fine-tune the series. Craven came up with the idea of a meta-fictional Elm Street film that had Freddy Krueger invading the real world – New Line rejected the idea as too way out and went for a more conventional idea, although Craven was later able to develop this idea into the seventh A Nightmare on Elm Street film Wes Craven's New Nightmare (1994). Heather Langenkamp was brought back, although proves even less convincing as a psychiatrist than she was as a teenager in the first film. John Saxon also makes a return appearance as her father.
A Nightmare on Elm Street III: The Dream Warriors is where the formula of the A Nightmare on Elm Street series began. In the first film, Robert Englund's Freddy Krueger was a genuinely sinister boogey man but by this point he has turned into the equivalent of Wile E. Coyote in a Road Runner cartoon, popping up like a malevolent jack-in-a-box to quip a one-liner and dispatch victims in a display of makeup effects virtuosity. Robert Englund's punning one-liners made the character into a cuddly malevolent anti-hero, even a poster pin-up figure, that people could enjoy in much the same way that Marilyn Manson's shock rock theatrics gained a following a few years later.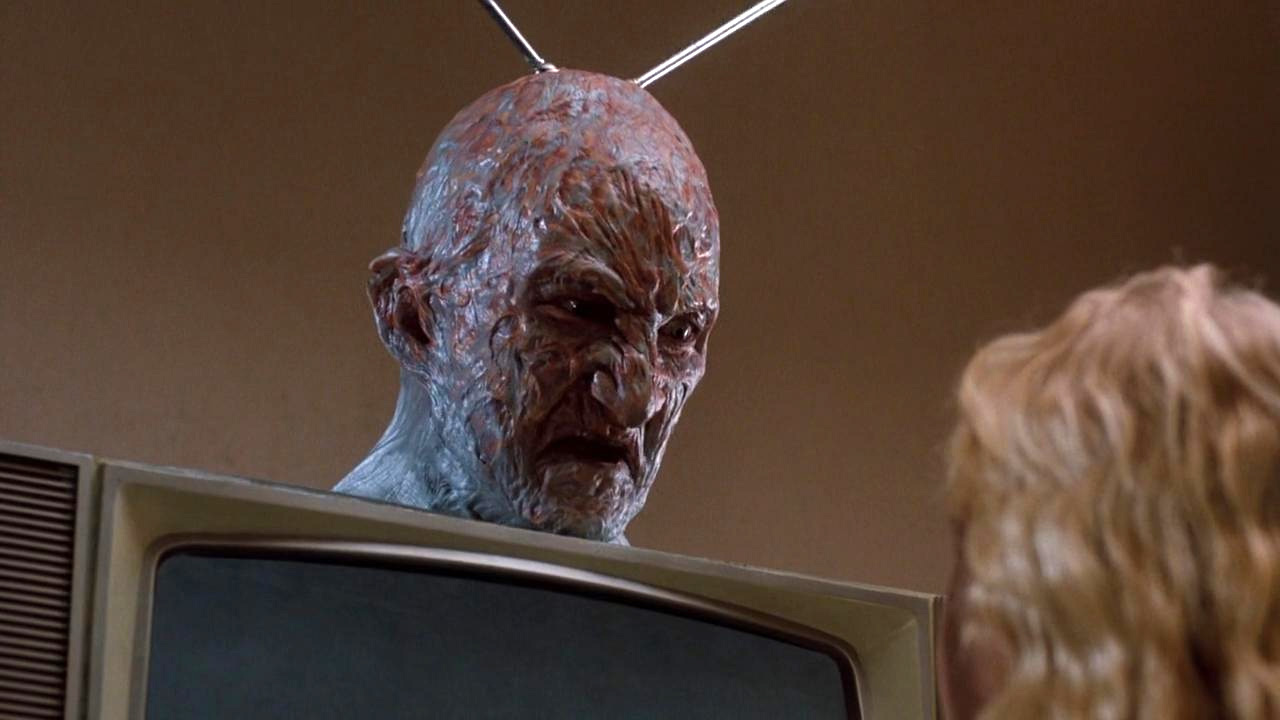 Certainly, Nightmare on Elm Street III: The Dream Warriors stands slightly above the mostly dull and formulaic sequels. It is formulaic but at least mounts its various set-pieces with some imagination – particularly a sequence with a character being walked along like a marionette by his own veins, up to the top of a tower where a maniacally cackling Robert Englund's face fills the sky and his steel claw slashes the strings; and another with the appearance of a bio-mechanoid Freddy tv set where the channels flicker with the disembodied cries of children and arms made of wire and circuitry reach down to grab the victim.
These are balanced by a couple of shoddy sequences – like the unconvincing rubber Freddy snake that turns up at the beginning and the poorly stop-motion animated climactic skeleton dance.
As the A Nightmare on Elm Street series went on, any of the subtle and eerie undermining of reality that occurred in the original film would be supplanted by these novelty makeup effects dispatches. It is really the rubber latex and air bladder transformation whiz kids who are at the helm of this one. As in the previous two films, the twist ending throws previously established logic to the wind.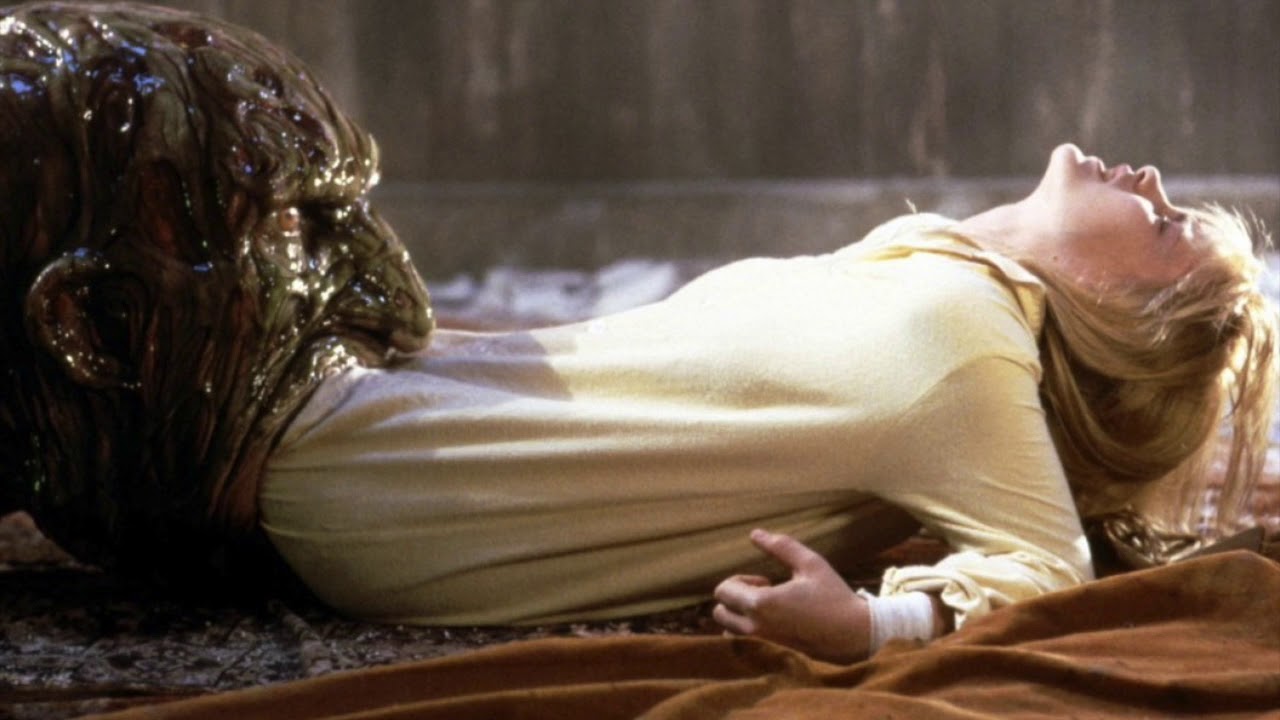 Director Chuck Russell (who sometimes also bills himself as Charles Russell) made his debut here and would go onto make a number of other genre films, usually all effects-centred vehicles. These include the remake of The Blob (1988), the Jim Carrey cartoon superhero film The Mask (1994), the Arnold Schwarzenegger action film Eraser (1996), the occult flop Bless the Child (2000), The Scorpion King (2002) and I Am Wrath (2016).
A few years later, co-writer Frank Darabont caught public attention as director of the acclaimed Stephen King adaptations The Shawshank Redemption (1994), The Green Mile (1999) and The Mist (2007), as well as create the hit zombie tv series The Walking Dead (2010– ). Co-writer Bruce Wagner went on to create the SF tv mini-series Wild Palms (1993) and write the screenplay for the David Cronenberg film Maps to the Stars (2014). The Dream Warriors is also notable for the surprising number of actors present who went onto make names for themselves, including Patricia Arquette, Laurence Fishburne and Jennifer Rubin.
The other Elm Street films are: A Nightmare on Elm Street (1984), A Nightmare on Elm Street Part II: Freddy's Revenge (1985), A Nightmare on Elm Street IV: The Dream Master (1988), A Nightmare on Elm Street: The Dream Child (1989), Freddy's Dead: The Final Nightmare (1991), Wes Craven's New Nightmare (1994) and Freddy vs. Jason (2003). The original was remade as A Nightmare on Elm Street (2010). Robert Englund also introduced the tv anthology series Freddy's Nightmares: A Nightmare on Elm Street – The Series (1988-9), which is unrelated to the films, except for its pilot episode that told a Freddy origin story.
---
---