aka Thursday the 12th
---
Crew
Director – Alfred Sole, Screenplay – Jaime Klein & Richard Whitley, Producer – Doug Chapin, Photography – Michel Hugo, Music – Dana Kaproff, Special Effects Supervisor – Bob Dawson, Production Design – Jack De Shields. Production Company – Krost/Chapin Productions.
Cast
Tom Smothers (Sergeant Reginald Cooper), Carol Kane (Candy Jefferson), Marc McClure (Randy), Judge Reinhold (Glenn Dandy), Paul Reubens (Johnson/Driddle), Candy Azzara (Bambi), Debralee Scott (Sandy), Miles Chapin (Andy Jackson), Teri Landrum (Mandy North), Eve Arden (Warden June), Izabelle Telezynska (Salt), Gary Allen (Dr Fuller), Richard Romanus (Jarrett), Tab Hunter (Blue Grange), David L. Lander (Pepe), Jim Boeke (Fletcher), Candi Brough (Crystal), Randi Brough (China), Jim McKrell (Mandy's Dad), Kaye Ballard (Glenn's Mom), Donald O'Connor (Glenn's Dad)
---
Plot
In 1963 at It Had To Be U in Indiana, the entire cheerleading squad is impaled on a javelin like a shish-kebab. Over the next few years, all the cheerleaders meet gruesome deaths. In the present-day, Bambi, who was rejected from the cheerleading squad back in 1963, starts up a cheerleading school. Several applicants, both female and male, arrive to take the course. These include Candy Jefferson who has psychic abilities and defies her religiously controlling mother to attend. Meanwhile, the local Canadian Mounty Reginald Cooper receives news that crazed inmates have escaped from both the local asylum and local prison at the same time. As the students start partying at the school, someone starts eliminating their numbers.
---
Alfred Sole is a director who has bubbled under the radar of general visibility but has remained almost entirely unrecognised by the mainstream. Nevertheless, he has appeared on one's genre radar screens several times. Sole only ever directed four films. The first was a porn film but all the others fall within genre territory. These include the Catholic psycho-thriller Communion/Alice Sweet Alice (1976), which was in danger of attaining a cult following at one point, and Tanya's Island (1980), an erotic desert island love story between a woman and an ape. Nowadays, Sole has retired from directing and works as a production designer in tv.
Pandemonium was one of a spate of horror parodies, principally of the slasher films, that all appeared around the same time. Others among these include Saturday the 14th (1981), Student Bodies (1981) and National Lampoon's Class Reunion (1982). All of these are centred around spoofing the slasher film, which only really came into existence a couple of years earlier with Halloween (1978) and then Friday the 13th (1980), which produced a host of imitators. All of these parodies share in common the fact that they are not particularly good or even funny. Clearly intending to capitalise on this, the film here was originally titled Thursday the 12th before being given the more anonymous title of Pandemonium for release – as such, it did no business, although you could guarantee that if it had been released under its spoofy title as originally intended, it would have gone much further.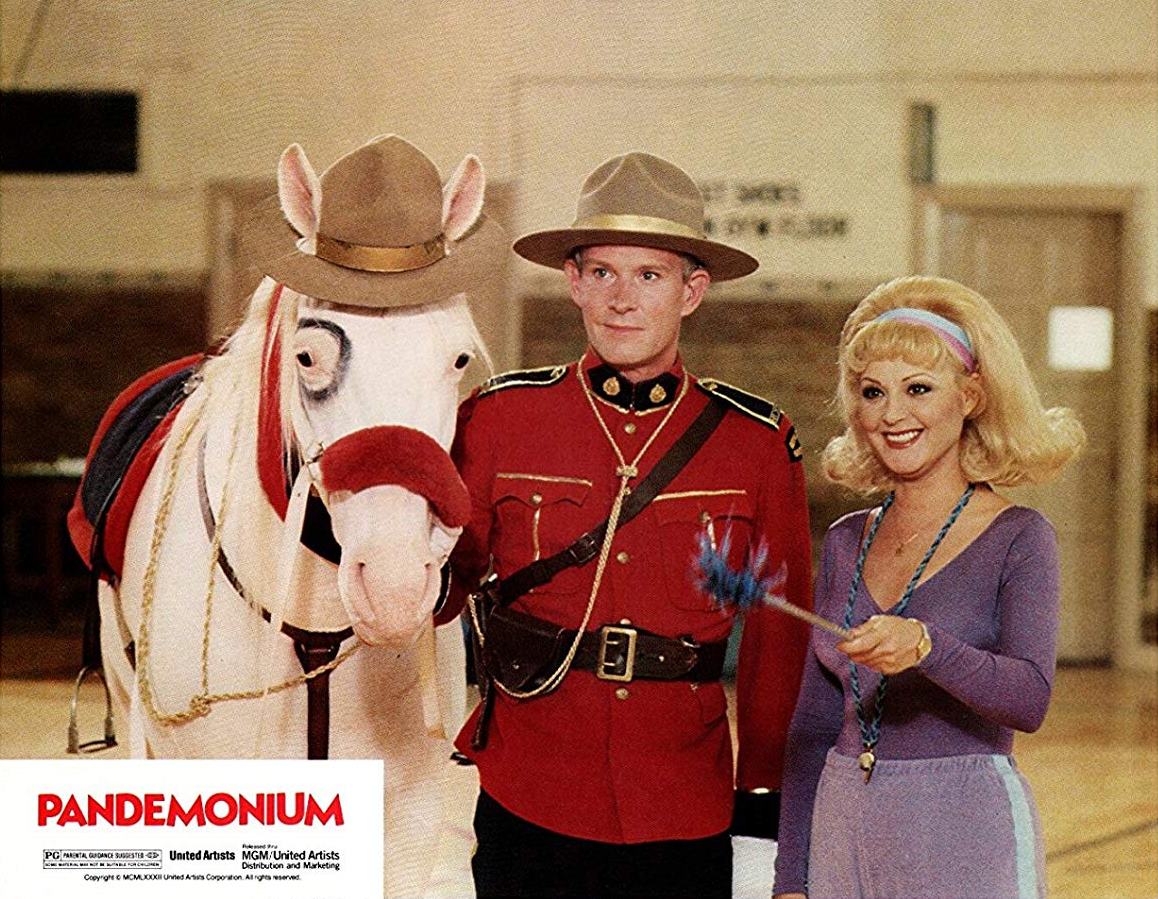 Most of Pandemonium seems to have been assembled with a shambling anything goes haphazardness. I don't get the impression that Alfred Sole is a comedy director by nature and there often seems an attitude of try anything for a laugh, which results in some very frenetic and almost completely unfunny silliness and slapstick. The worst of these might be almost any scene involving a then unknown Judge Reinhold. The most professional of these is Tom Smothers playing a Dudley Do-Right character who has an unnatural relationship with his horse and comes accompanied by a snivelly Paul Reubens (in his pre-Pee-Wee Herman days) as a deputy.
You have the feeling that the people involved in Pandemonium/Thursday the 12th either weren't very experienced in the genre they were drawing from or else had just been given some money and told to go away and make another cartoony spoof in the style of the recent hit of the disaster movie parody Airplane/Flying High (1980). There is only the sporadic gag that is aimed at parodying the genre. There is a spoof quoting of the famous "Every man who is pure in heart …" poem from The Wolf Man (1941) and a brief venture on board an Air Tokyo flight where the stewardess is Godzilla.
Perhaps the most amusing gag is the take on the then recent hit of Carrie (1976), which even manages to get in a cameo appearance from Sydney Lassick, the principal in the original, going on about "dirty pillows." The psycho of the show is eventually revealed as being quarterback Tab Hunter, killing all the cheerleaders in resentment for not being allowed to be one himself (one of several films that the former 1950s heartthrob took around this time signalling he was Out). Not much of Pandemonium is very funny at all.
---
Trailer here
Full film available online here:-
---