(Angustia)
Spain. 1987.
Crew
Director/Screenplay – Bigas Luna, Screenplay Dialogue – Michael Berlin, Producer – Pepon Coromina, Photography – Joseph Maria Civit, Music – J.M. Pagan, Special Effects Supervisor – Paco Terei, Art Direction – Felipe De Paco. Production Company – Spectrafilm/SambaPC/Luna Films.
Cast
Michael Lerner (John Pressman), Zelda Rubinstein (Alice Pressman), Talia Paul (Patty), Clara Pastor (Linda), Angel Jove (Killer)
---
Plot
Optometrist's assistant John Pressman is hypnotised by his domineering mother into going out and killing people and slicing off their eyes. However, this is part of a film called 'The Mommy' being watched by an audience in a theatre. At the same time as John enters a theatre in the film and starts killing people, so does a killer in the theatre where people are watching 'The Mommy'.
---
Anguish is a very strange film. It did middling business when it first came out but gained a small cult reputation in the years since.
Anguish has a most unusual film-within-a-film narrative structure, telling two stories, one of which is a film being watched by the audience in which the other story is taking place. Things become exceedingly strange when events in the film on the screen (within the film) start being paralleled by the killer among the audience watching the first film.
In one striking shot, a character in the film gets up and walks out of the theatre and the camera pulls back looking down the aisle of the theatre first in the film and then down the aisle from the theatre where the audience is watching the character walk down the aisle, one which by implication takes in the fact that there is a third audience in a theatre (us) watching a film about people watching a film in which a character walks down an aisle in a theatre. It is a shot where you cannot help but look over your shoulder and wonder if you cannot get a glimpse of an audience watching you. There is a shock ending that plays between the two which, even if it doesn't make sense, is highly effective.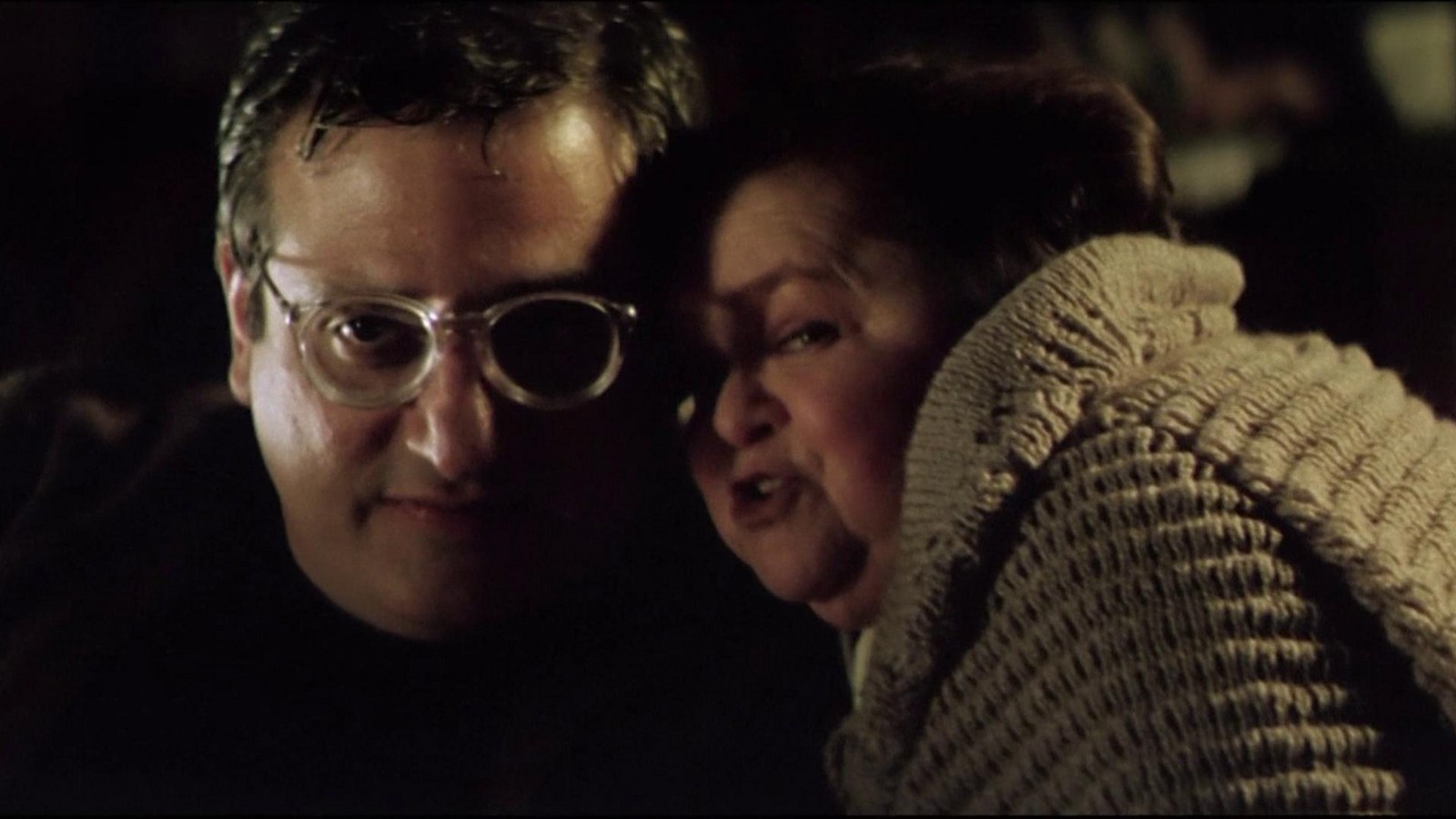 On the minus side, director/writer Bigas Luna never does anything with this intriguing interplay except use it as the basis for a slasher film. The film crudely plays out on the old maxim that violent scenes seen on a screen cause psychotic behaviour in the people watching. In between these ideas, Anguish itself is crudely made. It is drably lit and photographed. Bigas Luna turns most of it into a cheap and monotonous parade of killings ' although admittedly the scenes of Michael Lerner slicing off people's eyeballs are gut-churningly gruesome.
Spanish director Bigas Luna has made several other genre films including Stigmata/Reborn (1981), a horror film about stigmata; the perverse Carniche (1983); and the end of the world film Second Origin (2012). Most of Bigas Luna's films circle around frank and often perverse explorations of sexuality and have developed a cult following. His most famous film was probably Jamon Jamon (1992).
---
---