---
Crew
Directors – Jen & Sylvia Soska, Screenplay – Nathan Brookes & Bobby Lee Darby, Producer – Michael J. Luisi, Photography – Mahlon Todd Williams, Music – The Newton Brothers, Visual Effects – Comen VFX (Supervisor – Tim Carras), Special Effects Supervisor – Darcy Davis, Makeup Effects – Masters FX (Designer – Todd Masters), Production Design – Troy Hansen. Production Company – WWE Studios.
Cast
Glenn "Kane" Jacobs (Jacob Goodnight), Danielle Harris (Amy), Kaj-Erik Eriksen (Seth), Katharine Isabelle (Tamara), Michael Eklund (Holden), Greyston Holt (Will), Chelan Simmons (Kayla), Lee Majdoub (Carter)
---
Plot
Morgue attendant Amy is just about to go off shift to a birthday thrown by her friends when they receive news that a number of bodies are being brought in from the slaughter at the Blackwell Hotel. Amy decides to stay on to help with the workload. Her friends surprise her by turning up to the morgue to hold an impromptu party there. After learning that Jacob Goodnight's body is there, one of the friends Tamara, who is obsessed with serial killers, sneaks into the morgue room and ends up cavorting over his cadaver. Jacob then rises from the table and starts killing. Locked into the building, the others flee as Jacob brutally slaughters his way through their numbers.
---
Canada's twin sisters Jen and Sylvia Soska have had a meteoric rise following their appearance with Dead Hooker in a Trunk (2010) to the point they made this film where they could legitimately be called cultish directors. Dead Hooker was amateurish but the film's title and their smart and sarcastic attitude caught on and they were soon granted a full budget to make the strikingly perverse American Mary (2012), which consolidated their promise. In between the Torture Porn episode of ABCs of Death (2014), the twins managed to turn out See No Evil 2. They subsequently went onto make the revenge film Vendetta (2015) and the remake of Rabid (2019).
The original See No Evil (2006) was a routine slasher film, driven by the presence of hulking WWE wrestler Glenn Jacobs, appearing under his stage name of Kane, who played the brutish psycho of the show. See No Evil was passable but there was nothing about it that stood out from the slasher genre's cliches. The film did okay video business but hardly seemed the sort of hit that you would expect to be spawning sequels, least of all where astute and genre-savvy directors like the Soska Sisters would be lining up to deliver the next entry.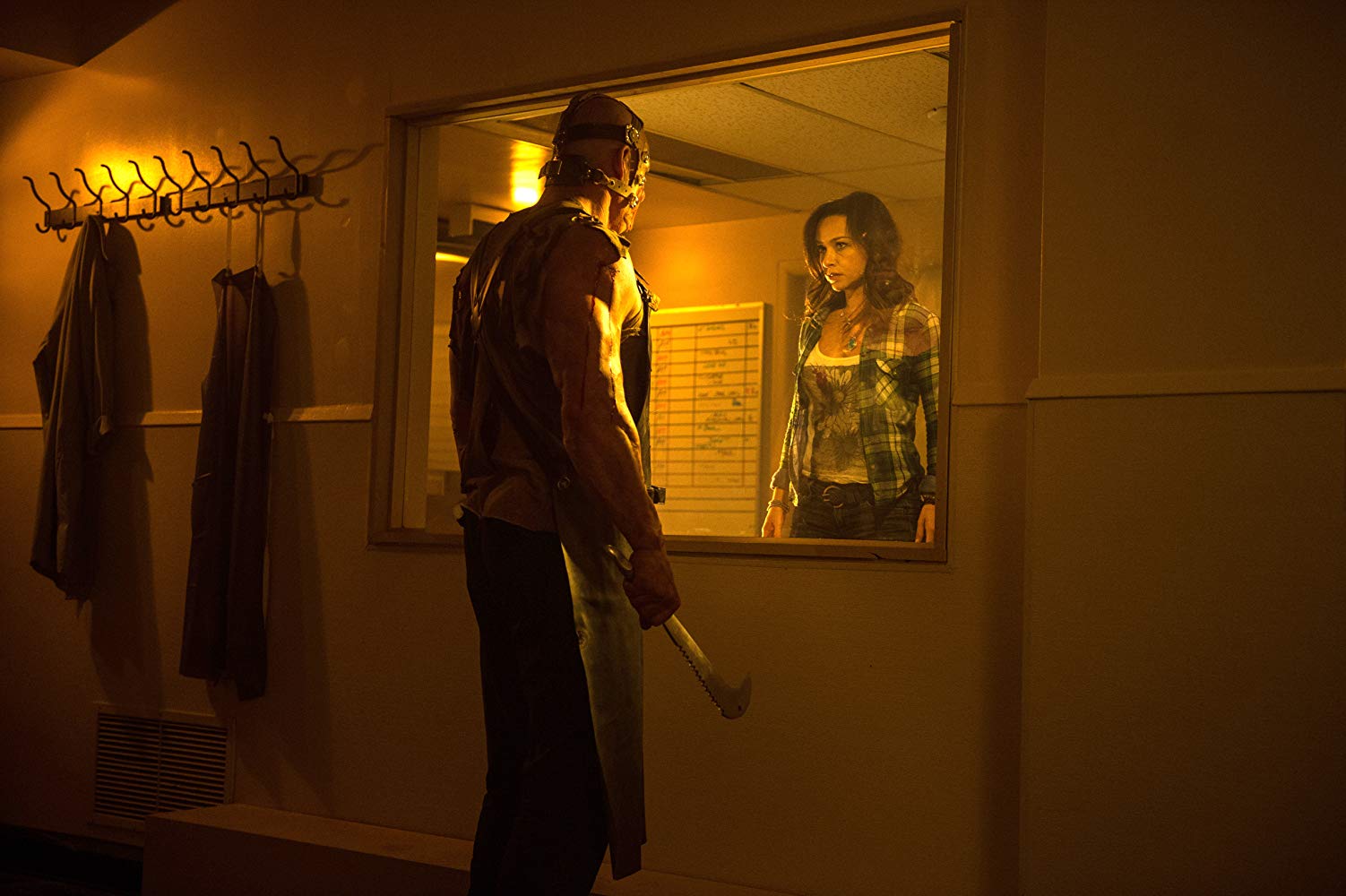 You sort of feel that in taking on a franchise slasher film – moreover, in making a follow-up to such an average original – that the Soska Sisters are choosing to bat well below their capabilities. Indeed, after the perverse and original territory that American Mary entered into, See No Evil 2 feels like a step backwards. The other option worth considering could well be that their sensibilities might bring amazing things that would elevate the slasher genre in sensational ways. Just as equally, one possibility worth considering might be that they are fans of wrestlemania – their subsequent Rabid contains a cameo from top wrestler C.M. Punk, for instance. So I decided to go with and see what they had to offer.
The surprise, I suppose, is that See No Evil 2 follows such traditional genre patterns – the teens partying (an improbable set-up that requires them to hold a party in a morgue during working hours), their hijinks causing the killer to rise, his progressive elimination through their numbers. In the script department, there seems little here that has changed since the inception of the slasher film formula circa 1981-2.
The Soska Sisters bring a certain degree of genre-reflexive humour. The characters actually behave in common sense ways – suggesting they don't split up or lines "I don't want to charge out there while there is a mass murderer running around," and "If we took the stairs, we'd be out of here in ten minutes". The film needed more of this. In fact, you feel as though it should have gone further but the film chooses to stay with the familiar and never approaches anything that deconstructs or sinks its teeth into the cliches of the genre in the way that say Scream (1996) or Behind the Mask: The Rise of Leslie Vernon (2006) did. Equally, you expected the twins to do something astonishingly way out with the slasher element but the slashing sequences are all true to form – the one standout sequence is a shot where Katharine Isabelle has her throat slashed in slow-motion.
What the Soska Sisters bring over and above the first See No Evil is a far superior cast as opposed to the anonymous teen faces that filled out the first film. Indeed, these are actors that are usually far more used to appearing in mainstream material than B-budget filler. There is Canadian actor Michael Eklund who has suddenly been appearing in everything there is – mostly in villainous and psychopathic roles – in the last couple of years. The show-stealer is Katharine Isabelle, the mainstay from American Mary, who gives an outrageous performance – "she's sort of a connoisseur of psychopathic behaviour" it is said of her – capped by a scene where she gets to bump and grind on top of the killer's corpse on a morgue slab.
Danielle Harris has become a genre fixture ever since appearing as Jamie-Lee Curtis's daughter in Halloween IV: The Curse of Michael Myers (1988) and Halloween 5 (1989), while as an grown-up has played regular roles in Rob Zombie's Halloween (2007) and Halloween II (2009) and became the lead in Hatchet II (2010) and Hatchet III (2013), along with appearing in a host of other horror films. By now, she has the slasher heroine role down pat and is very well paired with Kaj-Erik Eriksen (who only a couple of years ago it seems was a child actor) in a relationship that gives the film a surprisingly sweet uplift during the final scenes. Kane, now also billing himself by his given name Glenn Jacobs, gives a performance that is even more brutish and modelled on Jason Voorhees than before.
---
---