---
Crew
Directors – Matt Bettinelli-Olpin & Tyler Gillett, Screenplay – James Vanderbilt & Guy Busick, Producers – Paul Neinstein, William Sherak & James Vanderbilt, Photography – Brett Jutkiewicz, Music – Brian Tyler, Visual Effects – Redefine FX Limited (Supervisor – Andre Bustanoby), Special Effects Supervisor – William Purcell, Makeup Effects – Bearded Skulls and FX Group, Production Design – Chad Keith. Production Company – Project X Entertainment/Radio Silence.
Cast
Melissa Barrera (Sam Carpenter), Jack Quaid (Richie Kirsch), David Arquette (Dewey Riley), Neve Campbell (Sidney Prescott), Courteney Cox (Gale Weathers), Jenna Ortega (Tara Carpenter), Mikey Madison (Amber Freeman), Dylan Minnette (Wes Hicks), Marley Shelton (Sheriff Judy Hicks), Roger L. Jackson (The Voice of Ghostface), Jasmin Savoy Brown (Mindy Meeks-Martin), Mason Gooding (Chad Meeks-Martin), Sonia Ammar (Liv McKenzie), Skeet Ulrich (Billy Loomis), Kyle Gallner (Vince Schneider), Chester Tam (Deputy Vinson), Heather Matarazzo (Martha Meeks)
---
Plot
In Woodsboro, Tara Carpenter receives a call from a mystery voice taunting her about her favourite scary movie before someone attempts to kill her. Tara's estranged sister Sam receives a call in nearby Modesto and returns to Woodsboro with her boyfriend Richie Kirsch. They realise that someone is attempting to resurrect the Stab! film franchise and make a real-life sequel, Sam and Richie track down a now-retired Dewey Riley in an effort to get help. Sam is attacked and believes that she is being targeted because she is the illegitimate daughter of Billy Loomis. They set out to find the identity of the new Ghostface as the killer begins slaughtering their way through Tara's friends.
---
The original Scream (1996) was a hit phenomenon. Director Wes Craven and screenwriter Kevin Williamson did unique things in taking the basics of the 1980s Slasher Film and turning them on their head in a work of Meta-Fiction where the characters in a slasher film were constantly comparing what was happening to other slasher films and deconstructing everything in terms of the genre's formula. Craven, Williamson and the cast returned for three sequels with Scream 2 (1997), the Williamson-less Scream 3 (2000) and a revival of the franchise with Sce4m (2011). There was also the tv series Scream (2015-9), although that dropped all the meta-fictional play and film in-referencing.
The revival of the original slasher franchise with Halloween (2018) proved to be an enormous box-office success. The success of Halloween quickly saw a number of other slasher franchises of the era being resurrected. There was the terrible Black Christmas (2019), a not-too-bed remake of Wrong Turn (2021) and a reworking of Slumber Party Massacre (2021). Scream was theatrically released just a month before another famous franchise was resurrected with Texas Chainsaw Massacre (2022).
This is the first of the Scream films not directed by Wes Craven who died in 2016 – even the tv series boasted his name (and continued to do so even after Craven has passed away) – although Kevin Williamson, the screenwriter of the first film and all but the third film, is present as an executive producer. The three principal actors of the series – Neve Campbell, Courteney Cox and David Arquette make a return, along with other familiar names like Skeet Ulrich, Marley Shelton and Heather Matarazzo, plus Roger L. Jackson who has voiced Ghostface in all the other films.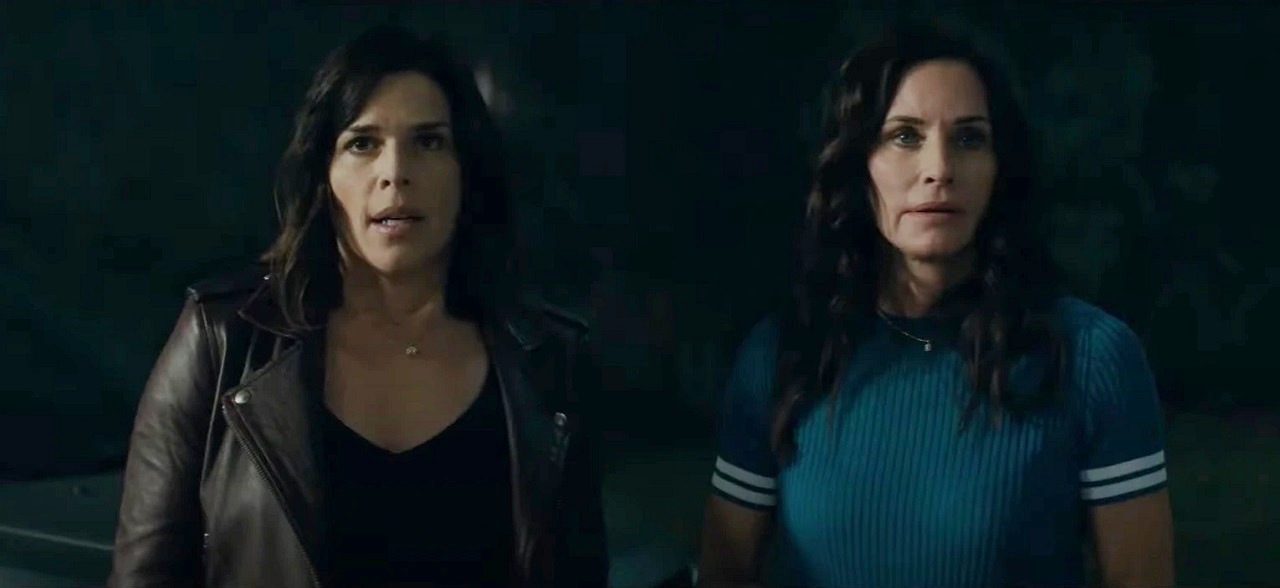 Stepping into Wes Craven's shoes is the directing duo of Matt Bettinelli-Olpin and Tyler Gillett who first appeared as two of the four-person team that make up the collective Radio Silence (along with Justin Martinez and Chad Villella) who directed 10/31/98, one of the better episodes of the Found Footage anthology V/H/S (2012), and episodes of the anthology Southbound (2015). Bettinelli-Olpin and Gillett branched on their own to make the Found Footage diabolical pregnancy film Devil's Due (2014) and more recently had a hit with Ready or Not (2019).
Filling in for Kevin Williamson on script is James Vandebilt, who has written Basic (2003), Darkness Falls (2003), Zodiac (2007), The Losers (2010), The Amazing Spider-Man (2012), White House Down (2013), The Amazing Spider-Man 2 (2014) and Independence Day: Resurgence (2016), among others, as well as produced Altered Carbon (2018-20), The House With a Clock in Its Walls (2018), Slender Man (2018), Suspiria (2018), Ready or Not and Ambulance (2022).
I was sceptical about a new Scream but kept an open mind, especially after the film received some good reviews. I quickly ended up being sold on the new Scream from the point of the opening scene which repeats the Drew Barrymore opening sequence from the original with Jenny Ortega receiving a phone call asking her favourite scary movie. The film wittily subverts the original scene and has her answer The Babadook (2004), which leads into a discussion with Ghostface on the definition of 'elevated horror' and her later defence of It Follows (2014), The Witch: A New-England Folktale (2015), and Hereditary (2018).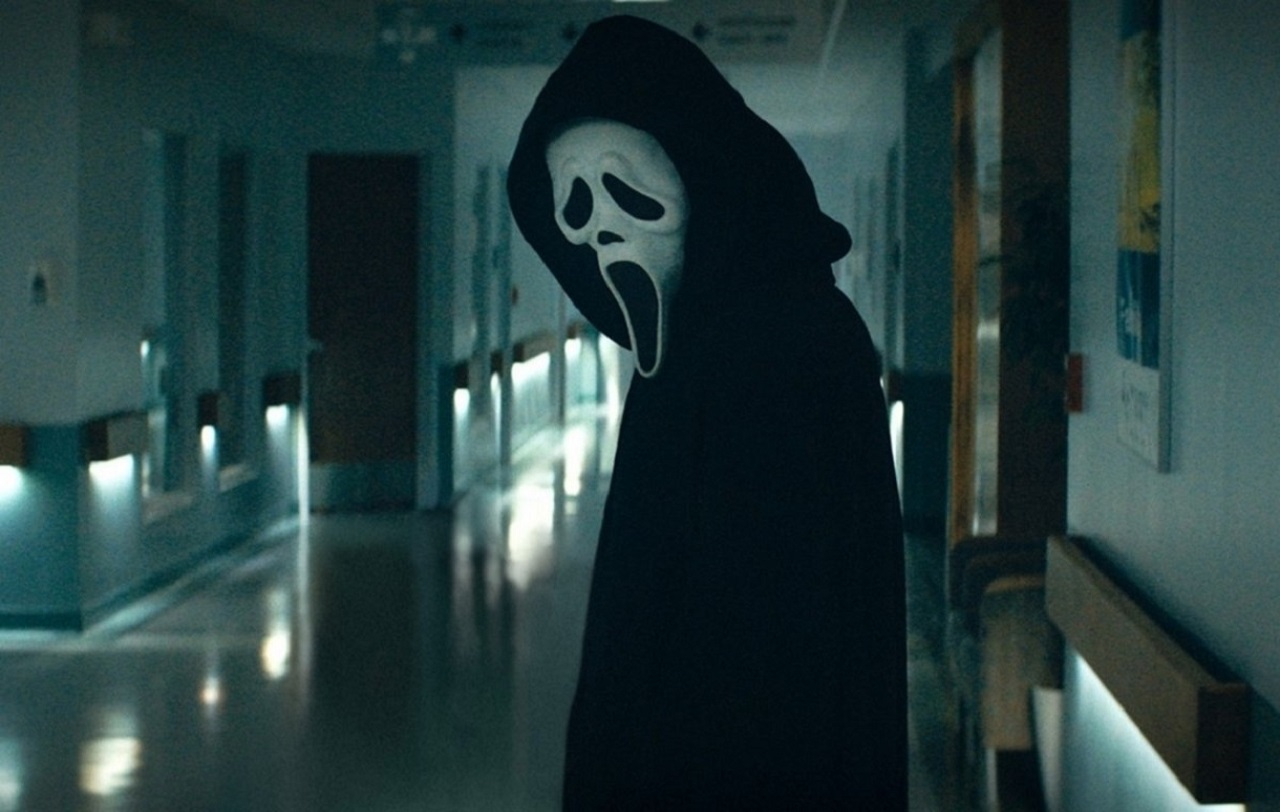 It is not long in before James Vandebilt seems to really get the way that Kevin Williamson approached the slasher genre. The film is somewhat light on the constant in-referencing to other slasher films. On the other hand, it gets a good deal of mileage of the idea of referring to the Stab! franchise (represented in a very meta way by screening of footage from the Scream films) and how its sequels have slid down in quality. There is a great, hilarious speech that Jasmin Savoy Brown gets in the middle of the film where she discusses the idea of a requel or legacy sequel – "You go on 4chan and Dreadit, all they're talking about is how Stab 8 pissed on their childhoods, how they crammed in social commentary just to elevate it, how the main character is a Mary Sue … Real Stab movies are meta slasher whodunits, full stop … You can't just reboot a franchise from scratch anymore – the fans won't stand for it. Black Christmas (2019), Child's Play (2019), Flatliners (2017) – that shit doesn't work. But you can't just do a straight sequel, either. You got to build something new but not too new or the internet goes bug-fucking nuts. It has to be part of an ongoing story line, even if the story shouldn't have been ongoing in the first place. New main characters, yes, but supported by and related to legacy characters" to which the response rather hilariously is "Are you telling me that I'm caught up in the middle of fan-fucking-fiction?"
The film is not a remake but follows the same essential structure of the first Scream – the opening killing, the group sitting around debating the rules of horror films, and the climactic scene, where it is revealed there are two killers, along with the end explanation of the killer's motives, which is also wound around to make a return to have everything happen in the same house.
Bettinelli-Olpin and Gillett are constantly playing with expectation – I liked the way that every time somebody opens the door of a fridge or cupboard, the music builds up leading you to expect something is going to appear on the other side but when it is shut there is nothing there. Particularly witty is the scene where Marley Shelton reacts to Ghostface's threat to her son and races home and straight into the trap the killer has waiting for her. There is a little more in the way of gore than I remember Wes Craven ever serving up.
Matt Bettinelli-Olpin and Tyler Gillett followed this with and Scream VI (2023).
---
Trailer here
---