---
Crew
Director – David Winters, Screenplay – Judd Hamilton, Tom Klassen & David Winters, Producers – Judd Hamilton & David Winters, Photography – Tom De Nove, Music – Jesse Frederick & Jeff Koz, Production Design – Jeff Sharpe. Production Company – Shere Productions Ltd.
Cast
Joe Spinnell (Vinnie Durand), Caroline Munro (Jana Bates), Judd Hamilton (Alan Cunningham), Mary Spinnell (Mary Durand), David Winters (Stanley Kline), Glenn Jacobsen (Bret Bates), Deven Goldberg (Marty Bernstein), Don Talley (Cowboy), Stanley Susanne Benton (Susan Archer)
---
Plot
Vinnie Durand, a taxi driver in New York City, is obsessed with top actress Jana Bates and is determined that she will be in his film. And so he packs his movie camera and flies to the Cannes Festival where she has come to promote her latest horror film Scream. There he proceeds to stalk Jana through the crowds, filming her. However, when he tries to contact her, he is met with a wall of dismissal from the subordinates around her. He resorts to sending each of them flowers with a card announcing that they are part of the 'last horror film' and then proceeds to kill them. When he bursts into Jana's bathroom, she runs screaming through the streets in a towel, only for people to think it is a publicity stunt for her film. Vinnie then determines to abduct Jana so that he can shoot her death scene.
---
The Last Horror Film is usually thrown in with the glut of slasher films that were at the height of their popularity in the period (1980-3) that the film was made. In actuality, The Last Horror Film is more of a psycho-stalker film in the same vein as something like The Seduction (1982) than it sits as a slasher film, which usually concerned themselves with mindless killers targeting an assortment of teenagers. Even more so, The Last Horror Film appears to have been intended as a successor (or at least spiritual sequel) to Maniac (1980), the controversial psycho film that also featured Joe Spinnell as an obsessed figure stalking Caroline Munro.
The novelty that The Last Horror Film has is that it was shot guerrilla-style during the 1981 Cannes Film Festival. Director David Winters and co had no official shooting permits, they just pointed their camera into the crowd as Caroline Munro made appearances and filmed what they could. As a result, they get in completely uncredited appearances from actual celebrities who were appearing at the festival including Karen Black, Cathy Lee Crosby, Isabelle Adjani and others. There is also the novelty of seeing the promotion and publicity for a great many films that were due to come out that year, including Excalibur (1981), For Your Eyes Only (1981), The French Lieutenant's Woman (1981), Mephisto (1981), Possession (1981) and Thief (1981), among others. This gives The Last Horror Film a wonderfully meta quality – when you see Caroline Munro attending press conferences and talking about her upcoming horror film or running through the streets clad only in a towel, you wonder how much of this was staged with the crowds present not even aware of what was happening.
The guerrilla-style filmmaking approach is more interesting than The Last Horror Film actually is as a horror film. David Winters tosses in some negligible scenes with people being killed, while the film winds down to a rather lame ending. The most accomplished sequence is one where Joe Spinnell breaks in to Caroline Munro's bathroom just as she gets out of the shower and she is forced to flee through the hotel, the streets and finally to the premiere of her film wearing only a towel where the crowds applaud her panic, taking it to be a publicity stunt for her horror film. It is a bravura sequence worthy of a Brian De Palma – who himself later created a sequence set during the Cannes Festival in Femme Fatale (2002).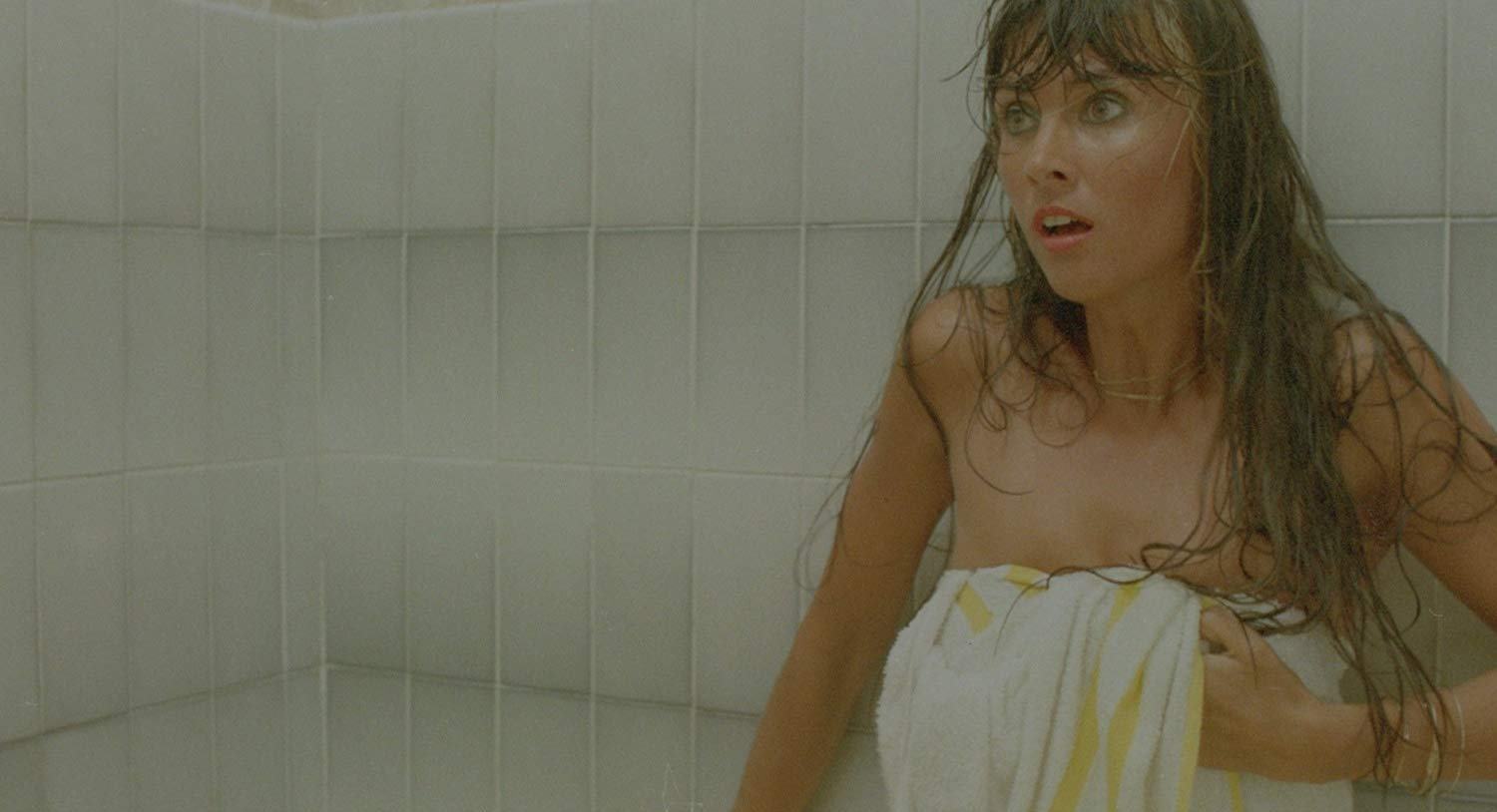 The film is more than eager to locate itself within the context of some of the high-profile celebrity assassinations that were occurring around the time. It namedrops John Hinckley Jr's attempted assassination of Ronald Reagan in 1981 as part of his obsession with Jodie Foster; Mark Chapman's shooting of John Lennon in 1980; and the attempted assassination of Pope John Paul II in 1981. On the other hand, when it comes to holding a point-of-view, the film only falls back on throwing a bunch of kneejerk lines at us about whether horror films provoke violence, while the most profound it ever manages to get is during the press conference when Judd Hamilton responds to the question by saying: "The news headlines are worse."
The Jodie Foster connection makes the influence of Taxi Driver (1976) a clear one. (Admittedly, this seems to be a Taxi Driver that is blurring over into the real-life story of John Hinckley). In both films, we have a New York cab driver who becomes obsessed with a celebrity and sets out to kill so as to be with her. Like Taxi Driver and its surrounds of Times Square porn cinemas and hookers, The Last Horror Film is constantly emphasising protagonist Joe Spinnell's feeling of inadequacy and isolation amid a sea of desire and an excess of sexuality – the background of the film is filled with B-roll shots of women sunbathing topless, partying, discos of the era.
Director David Winters had a none-too-successful career as an actor during the 1950s and early 60s before turning to producing. As director, he made a number of films, including genre entries such as the musical tv version of Dr Jekyll and Mr Hyde (1973) with Kirk Douglas, the Alice Cooper film Welcome to My Nightmare (1975) and the infamously bad space opera Space Mutiny (1988), as well as several low-budget action films. Winters can be spotted in a small appearance as the slasher film director that Joe Spinnell kills off after a screening of his film. Co-writer/producer Judd Hamilton, who also appears as Jana's boyfriend, was married to Caroline Munro at the time.
---
---