---
Crew
Director – Simon West, Screenplay – Jake Wade Wall, Based on the 1979 Film Written by Steve Feke & Fred Walton, Producers – John Davis, Wyck Godfrey & Ken Lemberger, Photography – Peter Menzies Jr, Music – James Dooley, Visual Effects – Asylum (Supervisor – Mitchell S. Drain, Senior Supervisor – Nathan McGuinness), Production Design – Jon Gary Steele. Production Company – Davis Entertainment.
Cast
Camilla Belle (Jill Johnson), Lance Henriksen (Voice of The Stranger), Tommy Flanagan (The Stranger), Katie Cassidy (Tiffany Madison), Tessa Thompson (Scarlet), Clark Gregg (Mr Johnson), Derek de Lint (Dr Tim Mandrakis), Katie Jennings Grant (Kelly Mandrakis), Brian Geraghty (Bobby), David Denman (Office Burroughs), Steve Eastin (Detective Hines), Arthur Young (Will Mandrakis), Madeline Carroll (Alison Mandrakis)
---
Plot
For going wildly over limit on her cellphone bill, teenager Jill Johnson is grounded by her father and given a job babysitting instead of being allowed to go to a big party with her friends. She is sent to babysit the two children of the Mandrakis family. Once she is on her own in the Mandrakis's lavish house, Jill starts receiving a series of alternately prank and harassing phone calls. These become increasingly sinister in nature. Soon Jill realises there is a killer lurking nearby and maybe inside the house.
---
When a Stranger Calls (1979) was one of the first slasher films to follow on from the massive success of John Carpenter's Halloween (1978). When a Stranger Calls originally started out as The Sitter (1978), a short film made by director Fred Walton. This consisted of the scenes with babysitter Carol Kane being menaced by a sinister phone caller, which were then expanded out to form the basis of a feature film. When a Stranger Calls was at best modestly effective, although hardly standout. It did enjoy reasonable success by being one of the first slasher films to climb aboard the slasher bandwagon subsequent to Halloween. Director Fred Walton and star Carol Kane later met up to make a cable-movie sequel When a Stranger Calls Back (1993).
This remake of When a Stranger Calls comes out amidst the mid-00s fad for remakes of late 1970s/early 1980s horror movies, which have included the likes of The Texas Chainsaw Massacre (2003), Toolbox Murders (2003), Willard (2003), Dawn of the Dead (2004), The Amityville Horror (2005), Assault on Precinct 13 (2005), The Fog (2005), Black Christmas (2006), The Hills Have Eyes (2006), The Omen (2006), Sisters (2006), The Wicker Man (2006), Halloween (2007), The Hitcher (2007), April Fool's Day (2008), Day of the Dead (2008), It's Alive (2008), Long Weekend (2008), Prom Night (2008), Friday the 13th (2009), The Last House on the Left (2009), My Bloody Valentine (2009), Night of the Demons (2009), Sorority Row (2009), The Stepfather (2009), And Soon the Darkness (2010), The Crazies (2010), I Spit on Your Grave (2010), Mother's Day (2010), A Nightmare on Elm Street (2010), Piranha (2010), Don't Be Afraid of the Dark (2011), Fright Night (2011), Straw Dogs (2011), The Thing (2011), Maniac (2012), Carrie (2013), Evil Dead (2013), Patrick (2013), Poltergeist (2015), Suspiria (2018), Child's Play (2019), Jacob's Ladder (2019), Pet Sematary (2019), Slumber Party Massacre (2021), Firestarter (2022) and Hellraiser (2022). (For a more detailed listing see Films That Were Remade and Remakes)..
The producer behind the new When a Stranger Calls is action producer John Davis and the director is Britisher Simon West, best known for big and noisy action films such as Con-Air (1997), Lara Croft, Tomb Raider (2001), the remake of The Mechanic (2011) and The Expendables 2 (2012).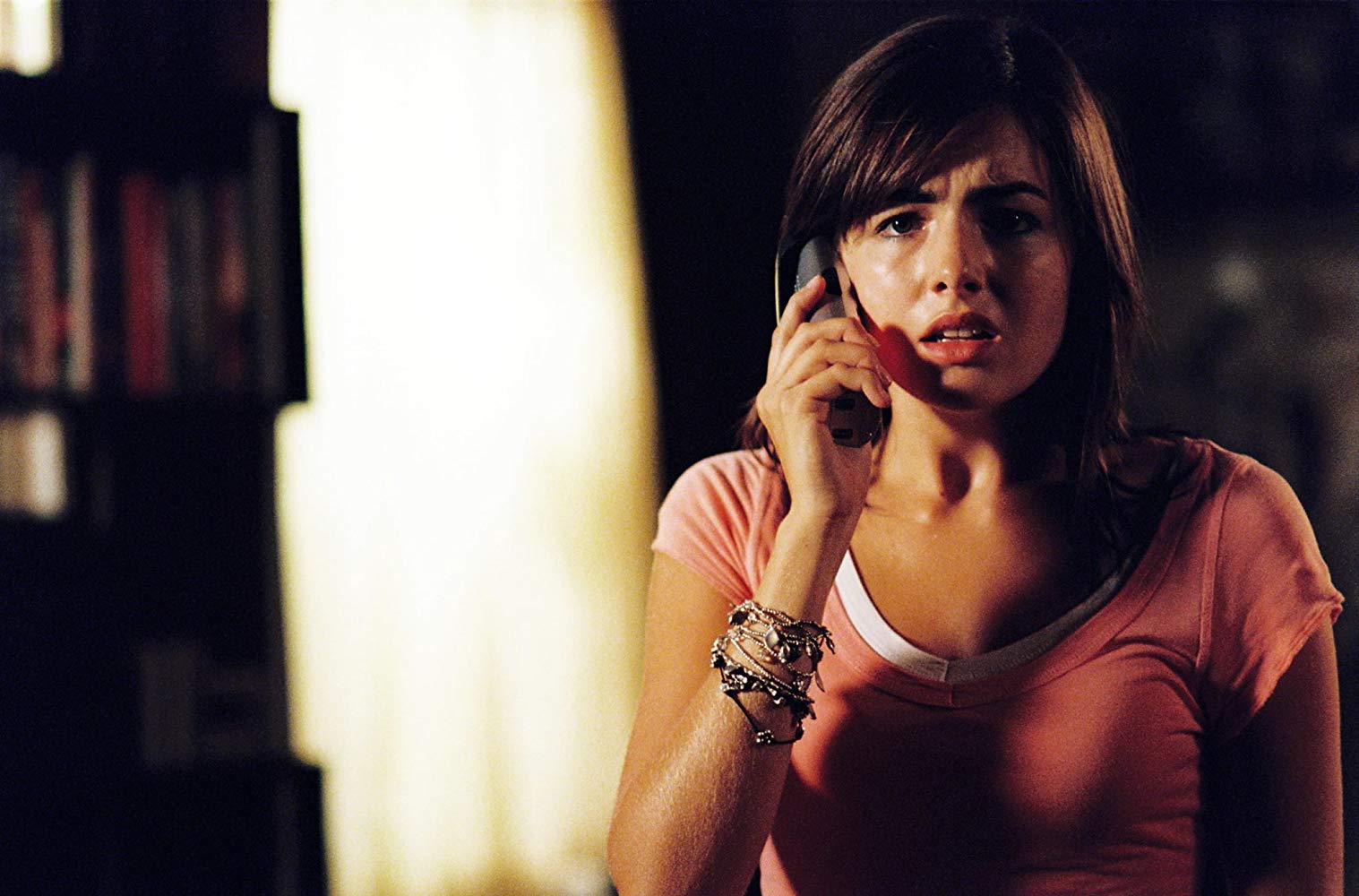 The question that faces When a Stranger Calls 2006 is how to revive the idea of When a Stranger Calls when the film has been parodied in the opening scenes of Scream (1996) and double-parodied by the time of Scary Movie (2000), while the killer inside the house gag was even turned into an urban legend in Urban Legend (1998).
Rather than remake the whole of When a Stranger Calls, Simon West only remakes Fred Walton's original short film The Sitter. The remake dumps the scenes that Fred Walton padded out around The Sitter – that it to say the bulk two-thirds of When a Stranger Calls 1979 involving Charles Durning's detective obsessively pursuing psycho Tony Beckley and Beckley then returning to terrorise Carol Kane who had become a married mother in the interim.
This serves to make When a Stranger Calls 2006 into much more of a slasher film than When a Stranger Calls 1979 ever was, with this version being extruded out around babysitter Camilla Belle being harassed on the phone and then pursued throughout the house. In the opening scenes, Steve Eastin makes a brief appearance as a detective who could have been modelled after Charles Durning, although Eastin never appears again other than this single scene.
Certainly, When a Stranger Calls 2006 makes apposite sense as a remake. The film smartly updates things from 1979 and the era of the cord and dial phone into the modern era of cordless and cellular phones and houses with electronic alarm systems. The production design team have gone overboard and turned the original anonymous family home into an amazing dream home out of an architect's most fanciful budget-unlimited imaginings with open-plan design, indoor atriums, aviaries and fish pools.
Amidst this, Simon West generates competent suspense. When a Stranger Calls 2006 is ultimately not a truly memorable film, but West keeps the tension at an adequate level and achieves decent atmosphere through the use of moody lighting effect. One peculiar thing that Simon West does is to keep the killer's face hidden in shadow up until the very last frame, while for the bulk of the film (up until about the last ten minutes) we never see the killer's presence at all except as the voice of Lance Henriksen.
When a Stranger Calls 2006 emerges as a modest film, not truly memorable but equally neither one that joins the growing pantheon of modern horror remakes that disgrace their originals.
---
Trailer here
---