---
USA. 2015.
Crew
Director/Screenplay – Chris Sparling, Producer – Peter Safran, Photography – Alex Vendler, Music – Victor Reyes, Visual Effects – Local Hero (Supervisor – Andrew Wahlquist), Special Effects Supervisor – Ryan Senegal, Production Design – Richard McGuire. Production Company – The Safran Company/Poznan Film Group
Cast
Rya Kihlstedt (Judith Winstead), William Mapother (Dr Henry West), Harry Groener (Lawrence Henault), Sharon Maughan (Susan Gorman), John Rubinstein (Marcus Wheeler), Julian Acosta (Young Robert Koepp), Franklin Dennis Jones (Robert Koepp), Lou Beatty Jr. (Darrel Price), Hannah Cowley (Young Susan Gorman), Aaron Craven (Young Marcus Wheeler), Gerald McCulloch (Steven West), Brian Chenowith (Father Donnelly), Suzanne Jamieson (Catherine West-Tremello), Jake Carpenter (Norman LeClair)
---
Plot
A documentary is pieced together about what happened at The Atticus Institute in 1976. Under Dr Henry West, a team of scientists were conducting rigorous tests to prove the existence of psychic powers. They felt disappointment after the one success they appeared to have was revealed to be a fake. Judith Winstead was then delivered into the care of the lab by her sister. Placed through a battery of tests, Judith demonstrated an incredible array of abilities that far exceeded the scale in everything she was subjected to. She was also clearly mentally disturbed. West felt an obligation to inform the government whereupon the lab was placed under military control and Judith subjected to even more extreme tests. They soon realised that some entity was inhabiting her. The military found the only way to control the entity was to subject Judith's body to electric shocks or gas. As West and his team realised that the military were trying to control the entity for weapons purposes, it began to taunt them with personal knowledge and caused a series of accidents for them and their families on the outside.
---
The Atticus Institute comes from Chris Sparling who has been making impressive strides as a screenwriter with the conceptual containment thrillers Buried (2010) and ATM (2012), as well as Gus Van Sant's The Sea of Trees (2015), the Young Adult horror Down a Dark Hall (2018), the disaster movie Greenland (2020) and the home invasion film Intrusion (2021). Sparling had earlier made his directorial debut with An Uzi at the Alamo (2005) but this does not appear to have been widely seen. He subsequently went on to direct-write the home invasion thriller Mercy (2016).
The Atticus Institute is another Found Footage film. This has become a genre that has been greatly tapped out of any original moves in the last few years and (as of this writing in mid-2016) seems to finally be on the wane. That said, The Atticus Institute surprised me. I had deliberately not read much about the film beforehand and knew little about it before watching.
As it began, the film started doing a very impressive capturing of the feel of 1970s film footage and of scientists engaged in experiments to prove the existence of psychic powers. These have clearly been taken from the real world footage that emerged in 1968 of the Russian psychic experiments with Nina Kulagina (although these are surrounded by some controversy and it has generally been decided by most that she was guilty of fraud). Kulagina and the Russian experiments are mentioned by name throughout the film.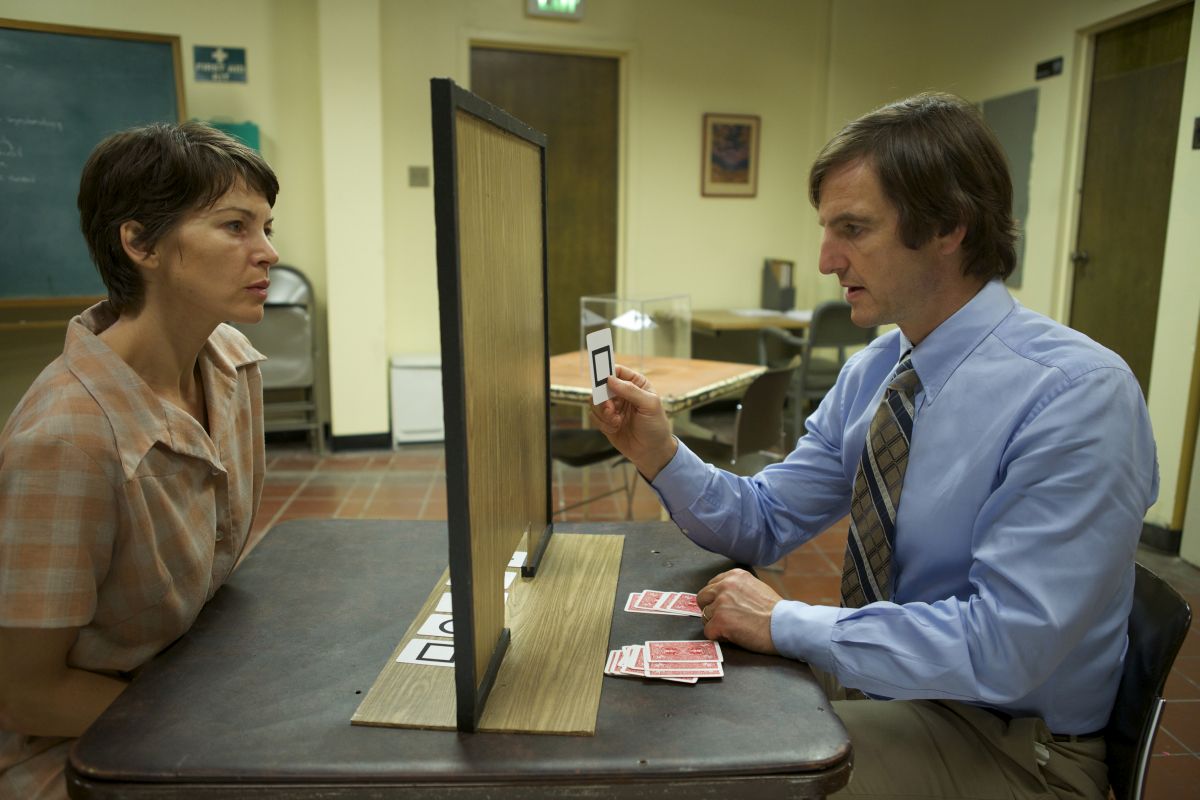 Gradually, after some time spent in adopting this mundane realist tone, The Atticus Institute shifts over into something else. Rya Kihlstedt, not exactly a well-known name, gives an intensely weird and alienated performance. Her acing all of the tests gradually turns into something sinister – her exploding the frog during the test to alter its heart rate, the scene during the stroboscopic red flicker test where her chair abruptly changes position. Particularly chilling is when the film (or at least the various talking heads) reveals the stories of how their families started to experience a string of mysterious accidents, including a disturbing one where Harry Groener recounts how a single staple from the lab found its way into his pocket and the uncanny path taken to the point where it caused the electrocution of his nephew at his birthday party. There are a series of other uncanny and chill revelations – about how Rya Kihlstedt drew a shamrock to taunt Hannah Cowley, how she starts repeating the game of questions about animal parts that William Mapother plays with his children.
In its third act, The Atticus Institute does a bait and switch on us. We go from what started as a Found Footage version of psychic experiments to a possession film. The possession film has been revived greatly in the 2010s and there have been a number of Found Footage examples of this – Chronicles of an Exorcism (2008), The Last Exorcism (2010), Anneliese: The Exorcist Tapes (2011), Back from Hell (2011) and The Devil Inside (2012) – but what we have here is the most ingenious treatment yet.
Chris Sparling rejects all of the usual obscenities and Catholic ritual and tells us a story about a team of scientists and sinister military who are dealing with a force that none of them truly understand as it demonstrates powers that are off the scale and taunts them. There is a particularly disturbing scene where Julian Acosta asks it a series of questions, which it responds to with gibberish – only for these to be decoded and played back, revealing that what the demon is actually doing is ordering Acosta to ask it each of the questions. The film reaches a climactic finale that holds an enormous tension in the scene venturing into the glass cubicle to see whether Rya Kihlstedt has been killed and reattach the electrodes.
---
---