---
Crew
Director – Rodrigo Cortes, Screenplay – Chris Sparling, Producers – Adrian Guerra & Peter Safran, Photography – Eduard Grau, Music – Victor Reyes, Visual Effects Supervisor – Alex Villagrasa, Special Effects – Cube B.Z., Makeup Effects – Monica Alarcon. Production Company – Versus Entertainment/The Safran Company/Dark Trick Films.
Cast
Ryan Reynolds (Paul Conroy)
Voices
Robert Paterson (Dan Brenner), Jose Luis Garcia Perez (Jabir), Stephen Tobolowsky (Alan Davenport), Samantha Mathis (Linda Conroy), Ivana Miño (Pamela Lutti), Warner Loughlin (Maryanne Conroy/Donna Mitchell), Erik Palladino (Special Agent Harris), Chris William Martin (Special Agent Representative), Anne Lockhart (CRT Operator)
---
Plot
Paul Conroy, an American contractor working as a truck driver in Iraq, comes around to find that he is buried inside a wooden coffin. He was abducted after his unit was ambushed by insurgents. He has been left a cellphone with which he attempts to call his family and alert his employers, the FBI and State Department to find him. Meanwhile, his abductor calls demanding a five million dollar ransom.
---
Ever since the success of Phone Booth (2002), we have seen a spate of what I have termed 'conceptual cotainment thrillers', which attempt to set their dramas in the smallest space possible. Phone Booth was designed around the novelty of containing its protagonist inside the title cubicle for the duration of the film. There have been a number of other films that have subsequently built on this idea with the likes of Open Water (2003), which featured no sets, just two characters swimming in the sea surrounded by sharks; Black Water (2007), which took place in a tree as the cast were being menaced by a crocodile in the water below; Wind Chill (2007), a ghost story set inside a car; Shuttle (2008) with its protagonists held hostage in an airport shuttle bus; Frozen (2010) with three characters trapped in mid-air on a ski chairlift; The Night Chronicles 1: Devil (2010) about five people trapped in an elevator with The Devil; 127 Hours (2010) with James Franco trapped in a crevasse; 247oF (2011) with people trapped in a sauna with the heat on the rise; ATM (2012), from the same screenwriter as this film, with three people trapped in an ATM booth by a killer; Detour (2013) and Curve (2015) with characters trapped in SUVs; Landmine Goes Click (2015) with a character trapped standing on a landmine; The Shallows (2016) in which Blake Lively is stranded on a rock by the tide and menaced by a lurking shark; 200 Degrees (2017) in which Eric Balfour is trapped inside a heat kiln; Serpent (2017) with a couple trapped in a tent with a deadly snake; Oxygen (2021) with a woman trapped inside a cryogenic capsule; and Shut In (2022) with a woman locked in a pantry by her abusive ex. The progenitor of these conceptual economy films was probably Alfred Hitchcock's Lifeboat (1944), which kept its characters stranded at sea aboard the title boat for the duration. (For a greater overview of the genre see Imprisonment Thrillers).
Buried could well win some sort of award for the most tightly constrained space that it manages to get its protagonist into – it keeps him buried inside a coffin for the length of the film. It would be interesting to see if any subsequent film in this conceptual economy thriller sub-genre manages to top Buried to the extent to which they constrict the drama. Of course, such a feat requires an exceptional level of dramatic fidelity in order not to cheat on the premise. There must have been enormous pressure on director Rodrigo Cortes and writer Chris Sparling during pitching to open the story up in some way – to show cuts away to the drama happening outside or split the screen up to let us see the people that Ryan Reynolds is communicating with as Phone Booth, Devil and many of these others did.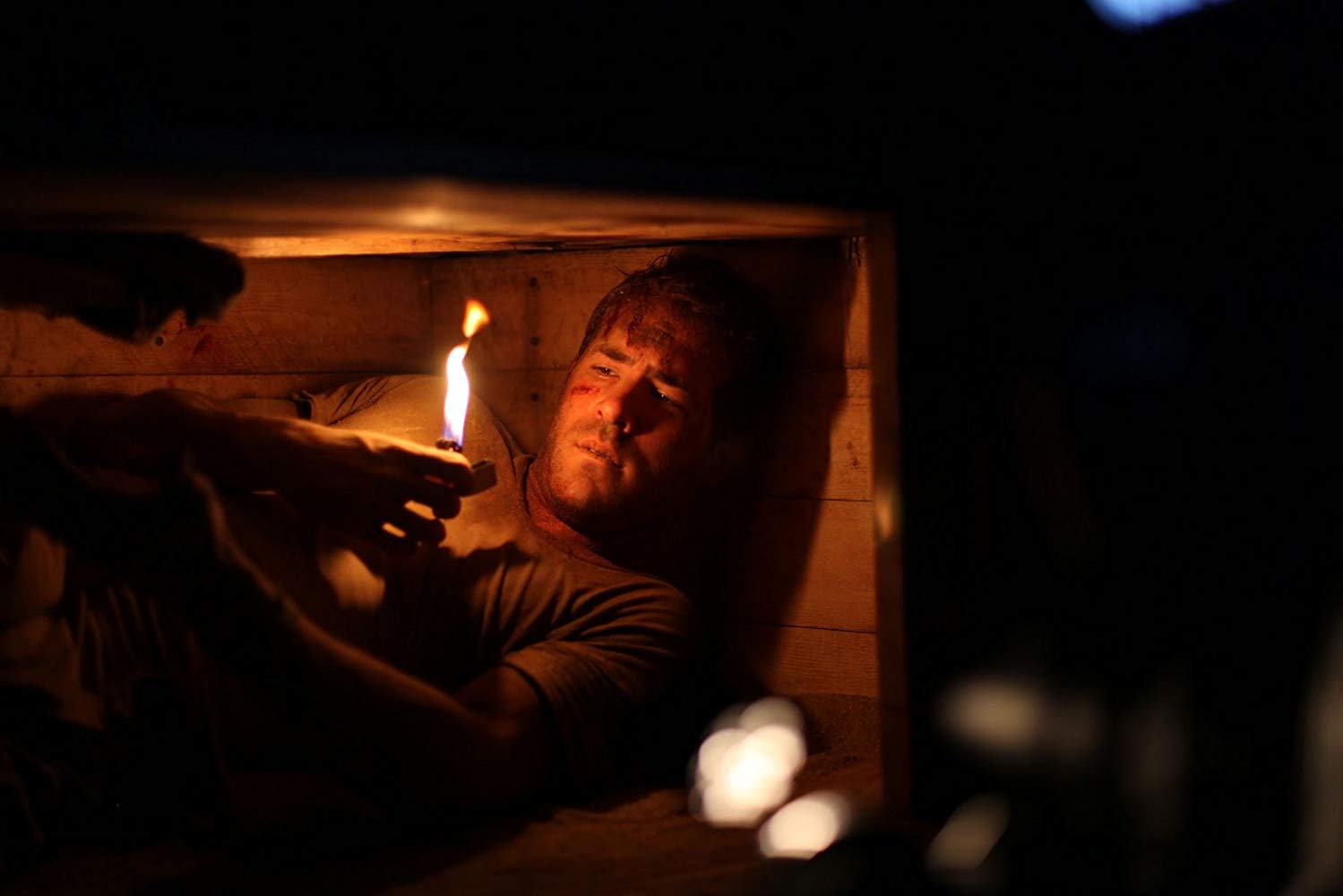 To their credit, Rodrigo Cortes and Chris Sparling keep faith to their premise – the film never moves out of the coffin and is focused solely on Ryan Reynolds throughout. There is a reasonable name cast present but none of them appear as anything other than voices on the other end of the phone. The camera remains inside the box with Ryan Reynolds, although there are the occasional shots where it pulls out beyond or above the frame of the tight confines, however never leaves the coffin.
The question on my mind as I sat down to watch Buried was how much drama could a film that features only one actor who is kept in a coffin for the duration and never moves outside of that manage to achieve. For all the ingenuity of its concept, you have to admit that Buried has taken on an enormous challenge that severely limits it in terms of what it can do. This is compensated somewhat by the conversations as Ryan Reynolds tries to get someone to help him on the phone. These scenes do not necessarily generate suspense but do leave one with a sense of the almost impossible enormity of the task facing Ryan Reynolds as he attempts to get someone somewhere in the world to help him and is constantly being put on hold, facing answering machines, or is being transferred to another department and encountering people obsessed with bureaucratic minutiae.
In this respect, Buried could almost fall into another type of thriller – the Kafka-esque model. This becomes particularly bleak during the climactic scenes when Ryan Reynolds gets through to his mother but she cannot remember him in her Alzheimer's ridden state and then finally gets a response from his boss, only to be asked a series of questions that rapidly become a legal affidavit as he is informed that he is now fired for inappropriate liaison with another member of staff (whether he is guilty of such is a question that remains unanswered).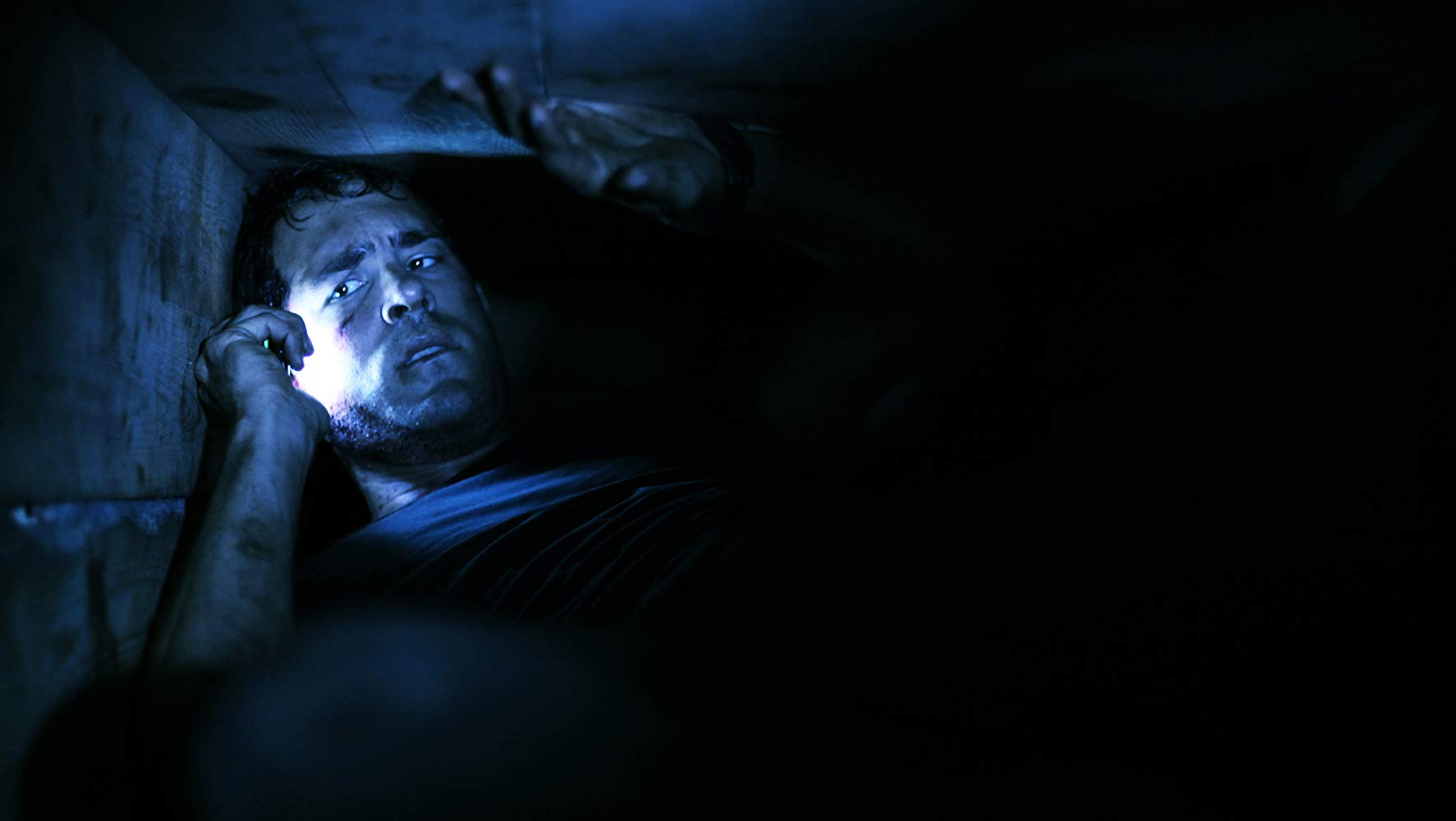 Elsewhere, Rodrigo Cortes amps the drama by introducing things such as a snake inside the coffin during which Ryan Reynolds nearly sets himself on fire, bombing of the area causing the coffin to start filling with sand and the deadline introduced by the abductor who demands that Reynolds make a video for broadcast of him sawing off his own finger. After a slow build-up, Rodrigo Cortes does a more than admirable job of sustaining the tension right up until the end of the film and its final dark sting. As such, Buried can only be commended for keeping to the essential purity of its premise.
Rodrigo Cortes subsequently went onto direct/write the fine psychic investigators films Red Lights (2012) and the Young Adult horror Down a Dark Hall (2018). He also wrote the script for the haunted house film Emergo/Apartment 413 (2011) and produce the thriller Grand Piano (2013). Screenwriter Chris Sparling  subsequently went on to write the scripts for ATM (2012), Gus Van Sant's The Sea of Trees (2015), the Young Adult horror Down a Dark Hall (2018), the disaster movie Greenland (2020) and the home invasion film Intrusion (2021), plus to direct the impressive psychic powers/possession Found Footage film The Atticus Institute (2015).
---
---